QOTY
"He only knows home in his dreams and even those dreams do not mimic large, centuries-old redwoods. Lio doesn't remember the last time he laid his head down and truly felt comfortable." --Elio, written by Phaetra
Heartfire
the devil on your shoulder
Age: 22
Gender: Mare
Breed: Hybrid
Height: 15hh
Player: Insane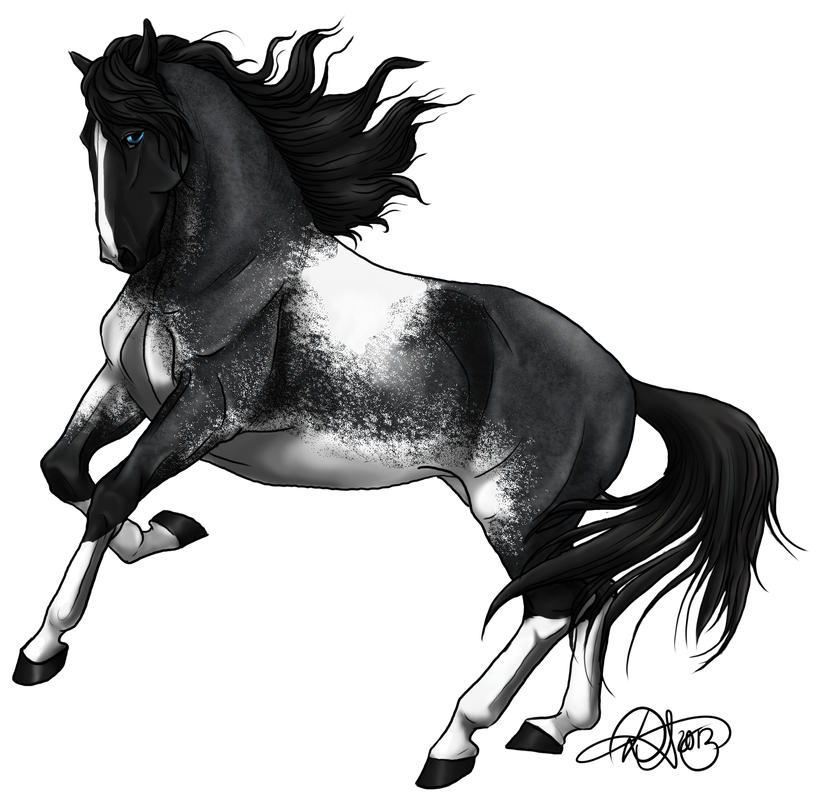 Appearance
Color: Blue Roan Sabino (Ee/aa/Rr/nSb)
Eyes: Blue
Markings: Four stockings, blaze
Mane & Tail:
Lineage
| | |
| --- | --- |
| Parents: Shahrizai x Ilka | Children: Rapture (x Wyrm) Longclaw (x Wyrm) Dagen (x Dovev) Brazen (x Dovev) |
Traits
Genetic Traits: Vision Manipulation, Immortality
Non-Genetic Traits: Disintegration
Trait Genetic Code: tegteg [VISION MANIPULATION][IMMORTALITY][DISINTEGRATION*][shapeshifting wings]
Defects:
History
Heartfire was born in the Deserts along with her twin brother Illum. Her childhood was a peaceful one that she spent exploring with her twin and learning of her vision manipulation. She discovered her ability allowed her spy on others, which taught her more of the world than any youngster should know. She met and befriended a young colt named Wyrm when she offered to show him what dinosaurs used to look like. They developed an odd sort of relationship, one they both sought to make mutually beneficial. When she was around two, the fairies sent her to the land of Illea, where she participated in a competition called the Selection as a human. The goal of the competition was to marry the prince and become princess. Heartfire ended up falling in love with Francis, the prince, and won the competition. She ruled as Queen in Illea with her husband for many years before the fairies brought her back to Beqanna, leaving her with the gift of disintegration for her trouble. She harbored an anger for some time at being taken from the life she had so loved. Eventually, that anger hardened into a coldness and she swore off​ any future romantic relations. As she returned to the same time and age she had been, she was left to resume her life. Her childhood friend, Wyrm, took the throne of the Gates, and Heartfire stood behind him through his short reign. Shortly after his reign had ended, the Gates was raided by the Chamber and war ensued. In the aftermath of war, some upstarts decided to invade the Deserts in an attempt to take the throne. Heartfire returned to defend the Deserts, despite her lack of battle experience. She loses her battle, though no clear winner emerges in the war. Such petty violence seems to anger Beqanna, causing her to wash away the Deserts in a great flood. In one fell swoop, Heartfire both lost her home and is parted from her family. She ensures they are all safe, but does not return to them. Instead, she takes up residence in the meadow and forest until the Reckoning. With the Reckoning, she is left powerless and adrift. For a time, she is upset at the state of affairs, but as her emotions cool, she knows that she will do what is necessary. It is then she decides to go to the Field, a place she had always avoided. There, she meets Djinni and Lucrezia. Ultimately she decides to go with Djinni to Nerine and take up residence in the new land of the former Amazons. Shortly thereafter, she encounters a stallion named Bruise, who takes it upon himself to torment the powerless Heartfire. She manages to escape him, but not before vowing revenge. This inspires her to earn back her traits as quickly as possible, and she quickly has her vision manipulation returned to her. She uses it to catch up on much she had missed in the world since its loss, and she takes it upon herself to meet with several horses who have caught her attention. This is how she meets Dovev. She had seen him attack her youngest sister, Luster, and decided that she must teach him a lesson. Instead she finds herself embroiled in the midst of a drama of star-crossed love and infidelity. Irritated by the entire ordeal, she leaves it, intending to continue her pursuit of revenge. Towards that end, she finds Wyrm once more. He agrees to help, but extracts a promise of child from her in exchange. In short order, she is pregnant and quite confused over her relationship with her childhood friend. A confusion that is furthered by the birth of not just one child, but twins.
Heartfire's Forum Info
Joined:
02-24-2016
Last Visit:
(Hidden)
Total Posts:
419 (0.23 posts per day | 0.52 percent of total posts)
(Find All Posts)
Total Threads:
48 (0.03 threads per day | 0.26 percent of total threads)
(Find All Threads)
Time Spent Online:
(Hidden)
Heartfire's Threadlog · View Profile
Thread
Forum
Participants
Posts
Last Post

[private]

between the lines of fear and blame | heartfire

on 01-04-2021

Islandres
Gale
3
Last post by Gale

on 01-23-2021

[private]

kindness never looked good on me; Aela

on 10-16-2020

Nerine
Aela
11
Last post by Heartfire

on 01-19-2021

[open]

Ice cream, you scream

on 09-12-2020

Pangea
Straia, Leilan, Izora Lethia, Stalag, sixteen, Catryn
10
Last post by Leilan

on 09-16-2020

[private]

no matter how the winds blow

on 06-24-2020

Nerine
yadigar
4
Last post by Heartfire

on 06-25-2020

i'm afraid i'm not pious - heartfire

on 06-09-2020

River
aletta
6
Last post by Heartfire

on 07-17-2020

[private]

Lost in the monster you've become; Wolfbane

on 05-19-2020

Meadow
Wolfbane
7
Last post by Heartfire

on 07-02-2020

[private]

you can't fight this twisted fantasy; Wolfbane

on 05-14-2020

Pangea
Wolfbane, draco
3
Last post by Wolfbane

on 05-17-2020

visions of dazzling rooms i'll never get let into; eurwen, brine, neverwhere

on 12-06-2019

Nerine
lilliana, Eurwen, Brine, Neverwhere
10
Last post by lilliana

on 01-06-2020

[private]

looks like we're in for nasty weather; anyone

on 11-19-2019

Taiga
Lepis
3
Last post by Lepis

on 11-20-2019

[private]

We Must Have A Talk [Heartfire]

on 11-17-2019

Nerine
Aten
3
Last post by Aten

on 11-21-2019

[private]

the world out there has teeth; heartfire

on 11-14-2019

Nerine
Casimira
3
Last post by Casimira

on 11-21-2019

[private]

Gypsy at Heart , Heartfire

on 10-17-2019

Meadow
Carwyn
6
Last post by Heartfire

on 11-18-2019

Paint the sky gold; Heartfire, any!

on 10-10-2019

Nerine
Ruinam
11
Last post by Ruinam

on 11-27-2019

[private]

come into the water

on 10-09-2019

Loess
vulgaris, Castile, litotes, ghaul
10
Last post by Castile

on 10-21-2019

All things want to open.

on 10-09-2019

Nerine
Neverwhere
9
Last post by Neverwhere

on 11-22-2019

[private]

Dipping my toes in the water; Heartfire

on 09-17-2019

Nerine
Ilma
6
Last post by Heartfire

on 11-01-2019

[private]

All for One [Heartfire & Castile]

on 09-15-2019

Nerine
Castile, Jesper
8
Last post by Heartfire

on 11-08-2019

[private]

when the truth hunts you down; Aten

on 08-29-2019

Taiga
Aten
9
Last post by Heartfire

on 10-15-2019

[mature]

i feel a bad moon rising | heartfire

on 08-29-2019

Nerine
Lepis
8
Last post by Heartfire

on 10-08-2019

[open]

breaking like the waves down on the coastline; heartfire, any

on 08-28-2019

Nerine
Eva
4
Last post by Heartfire

on 09-05-2019

you can't hide from who you are; Neverwhere

on 08-27-2019

Nerine
Neverwhere
3
Last post by Heartfire

on 09-18-2019

[private]

take me home, BQ roads

on 08-20-2019

Forest
Velkan
6
Last post by Heartfire

on 11-18-2019

[open]

the blood that was spilled protects me

on 08-18-2019

Nerine
litotes, Elaina, Neverwhere
8
Last post by Heartfire

on 08-29-2019

look up at the stars, {heartfire} they're smiling at us

on 08-18-2019

Nerine
Astana
4
Last post by Heartfire

on 09-18-2019

caught in the crosshairs of the things we've done; Brennen

on 08-16-2019

Nerine
Brennen
3
Last post by Heartfire

on 08-26-2019

[private]

blackbird on my shoulder

on 08-16-2019

Nerine
litotes
8
Last post by Heartfire

on 10-08-2019

oh me oh my, i thought it was a dream... [heartfire]

on 08-09-2019

Forest
Kagerus
6
Last post by Heartfire

on 09-17-2019

[open]

Fall inside the rabbit hole again; Heartfire/Any

on 08-07-2019

Nerine
Briella
8
Last post by Heartfire

on 11-18-2019

as we lie in the dark, mouth is of sapphires; heartfire

on 08-04-2019

Nerine
leliana
10
Last post by Heartfire

on 09-16-2019

[private]

you can't hide from who you are; Starsin

on 07-31-2019

Sylva
Starsin
7
Last post by Heartfire

on 09-16-2019

[private]

make a wish on whispered stars [heartfire]

on 07-03-2019

Forest
Astana
6
Last post by Heartfire

on 08-06-2019

this isn't what it could be; heartfire mostly

on 07-03-2019

Nerine
Kensa
12
Last post by Heartfire

on 09-16-2019

n e v e r w h e r e

on 07-02-2019

Meadow
Neverwhere
15
Last post by Neverwhere

on 08-18-2019

you can't hide from who you are; Wolfbane

on 06-24-2019

Taiga
Wolfbane, Lepis, Eyas
14
Last post by Heartfire

on 08-19-2019

Lean on me, when you're not strong; Heartfire/Brennen

on 06-18-2019

Nerine
Brennen, Izora Lethia
4
Last post by Izora Lethia

on 06-21-2019

One for All [Heartfire, any]

on 05-26-2019

Nerine
Brennen, Jesper
7
Last post by Heartfire

on 06-24-2019

But you don't fucking know me homie you don't want war.

on 05-15-2019

Tephra
Gale, Brennen, Aziz, vulgaris, leliana, Sinner, Castile, Nightlock, Wolfbane, sochi, Titus, Mary, Vadar, Dawn, Maleficar, Kensa, Starsin, litotes, Ophanim, Ruinam, Firen, Casimira, Caelestra, Jakub, Cyprin
42
Last post by Brennen

on 05-20-2019

[mature]

Simple lies, Strange eyes [HEARTFIRE]

on 05-09-2019

Beach
Wyrm, Wolfbane
3
Last post by Wolfbane

on 06-06-2019

Shooting stars cannot fix the world - Heartfire

on 05-09-2019

Nerine
Ilma
2
Last post by Heartfire

on 06-04-2019

it's getting harder to believe in anything ; heartfire, any

on 05-07-2019

Nerine
Sarkis
2
Last post by Heartfire

on 06-04-2019

ACTIVITY CHECK

on 05-05-2019

Nerine
Affirmative, Vanilla Custard, phaetra, ratty, Astana
6
Last post by ratty

on 08-31-2019

[private]

One Leader to Another (Heartfire)

on 04-25-2019

Nerine
insane, Aten
7
Last post by Aten

on 06-21-2019

consume me; heartfire/any

on 04-20-2019

Nerine
Oona
2
Last post by Heartfire

on 05-03-2019

[private]

.:Bloodfeather:. (Heartfire)

on 03-18-2019

Nerine
Wolfbane
7
Last post by Wolfbane

on 05-01-2019

consume me; any

on 03-09-2019

Field
Oona, Kensa
4
Last post by Heartfire

on 03-11-2019

and nothing hurts when I'm alone, Heartfire

on 03-06-2019

Tephra
Ryatah
6
Last post by Heartfire

on 05-04-2019

You can't hide from who you are; Magnus, any

on 03-04-2019

Tephra
magnus
8
Last post by magnus

on 04-14-2019

when the truth hunts you down; Castile, any

on 02-25-2019

Loess
Castile
9
Last post by Heartfire

on 05-03-2019

[open]

Look me in the eyes and confess your lust; Any!

on 02-12-2019

Nerine
Alvorr
6
Last post by Heartfire

on 03-01-2019

[open]

As a rock in the sea; any

on 02-07-2019

Nerine
Eurwen
6
Last post by Heartfire

on 04-08-2019