QOTY
"But the dream, the echo, slips from him as quickly as he had found it and as consciousness comes to him (a slap and not the gentle waves of oceanic tides), it dissolves entirely. His muscles relax as the cold claims him again, as the numbness sets in, and when his grey eyes open, there's nothing but the faint after burn of a dream often trod and never remembered." --Brigade, written by Laura
Neverwhere
Still Cranky, not Queen
Age: baby >:(
Gender: Mare
Breed: hybrid
Height: tall enough
Player: ratty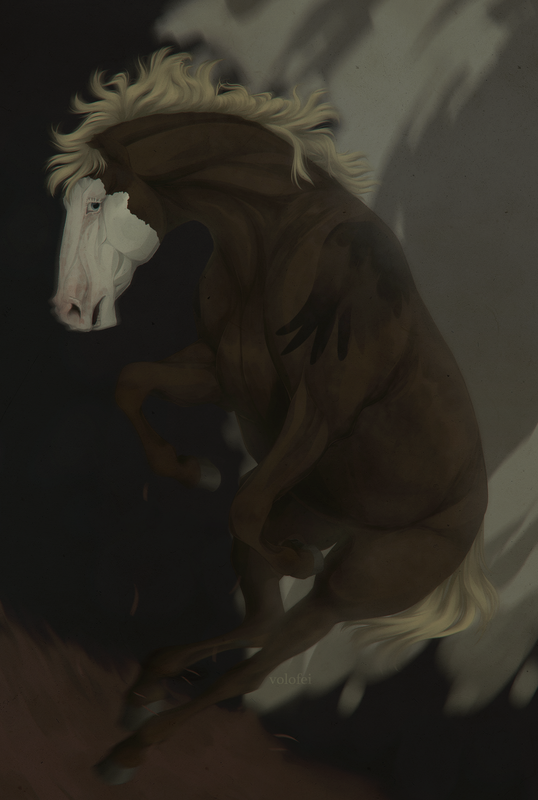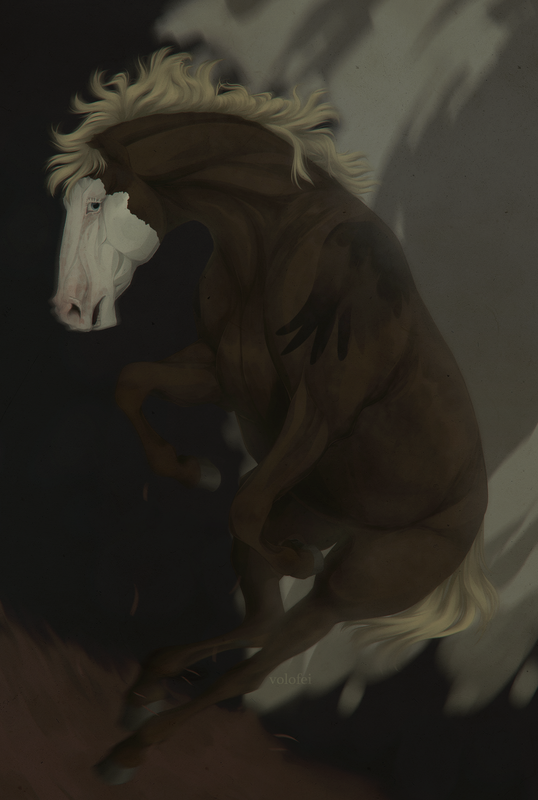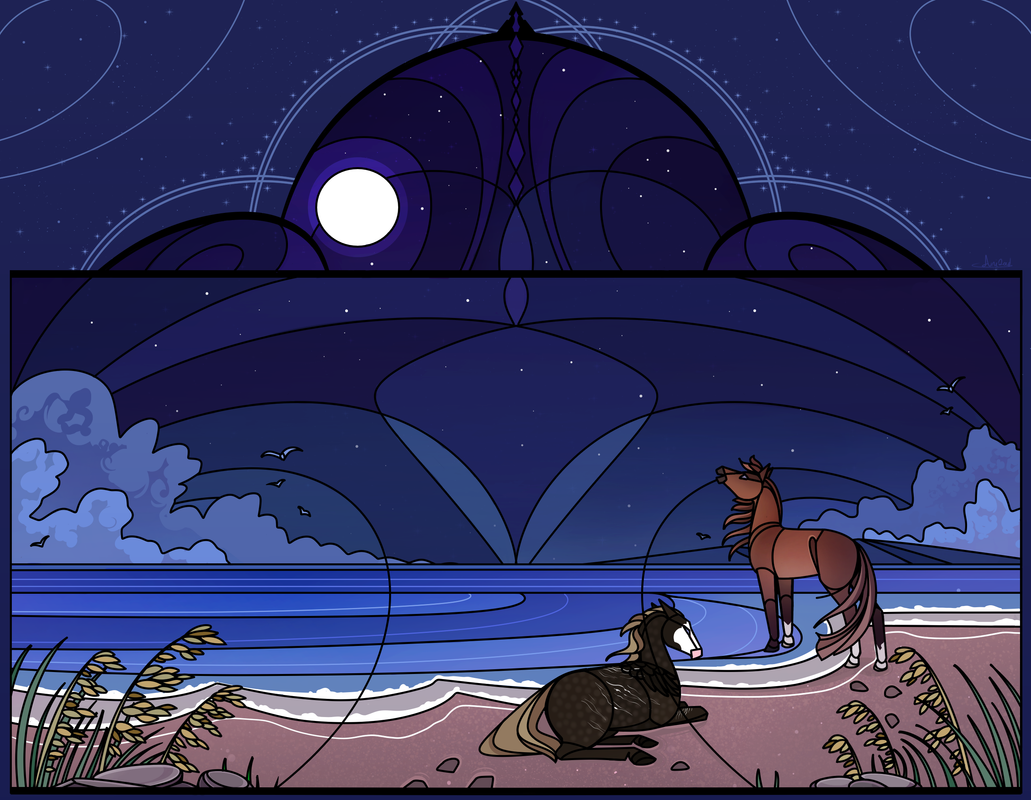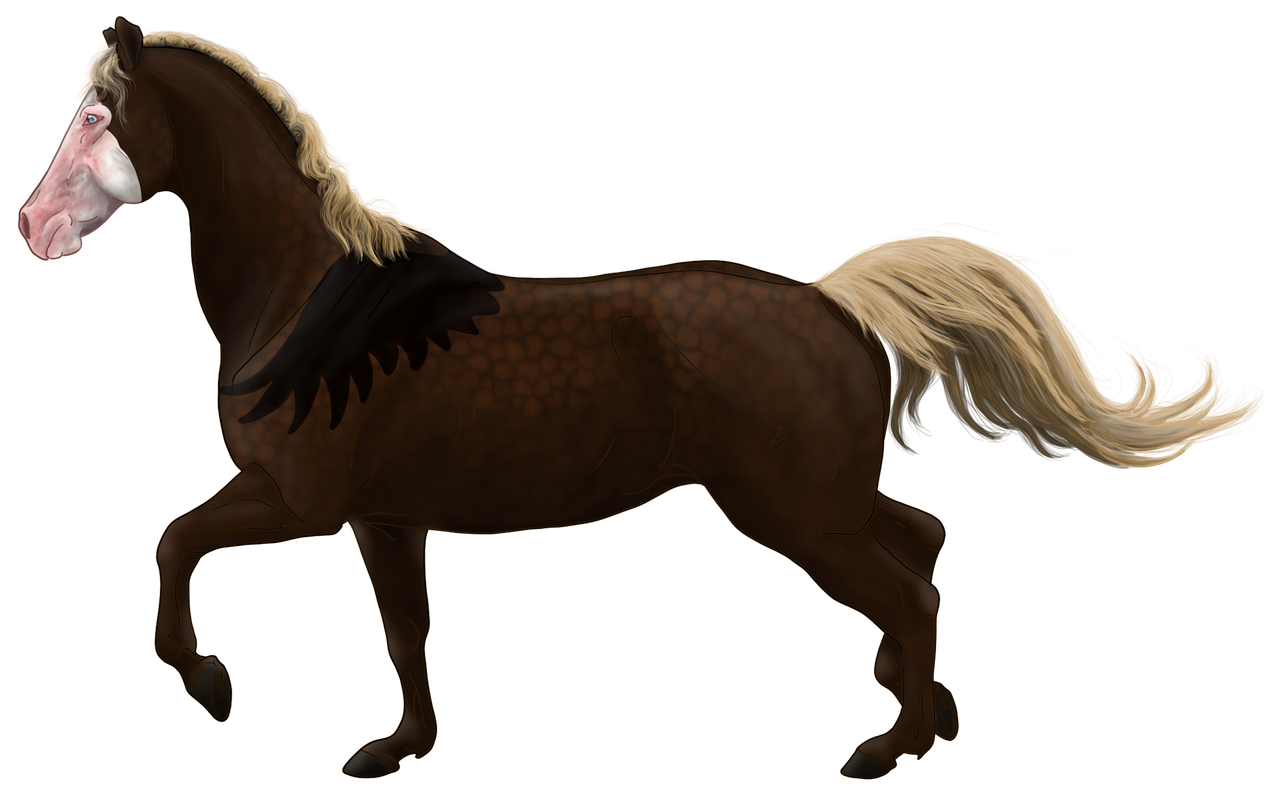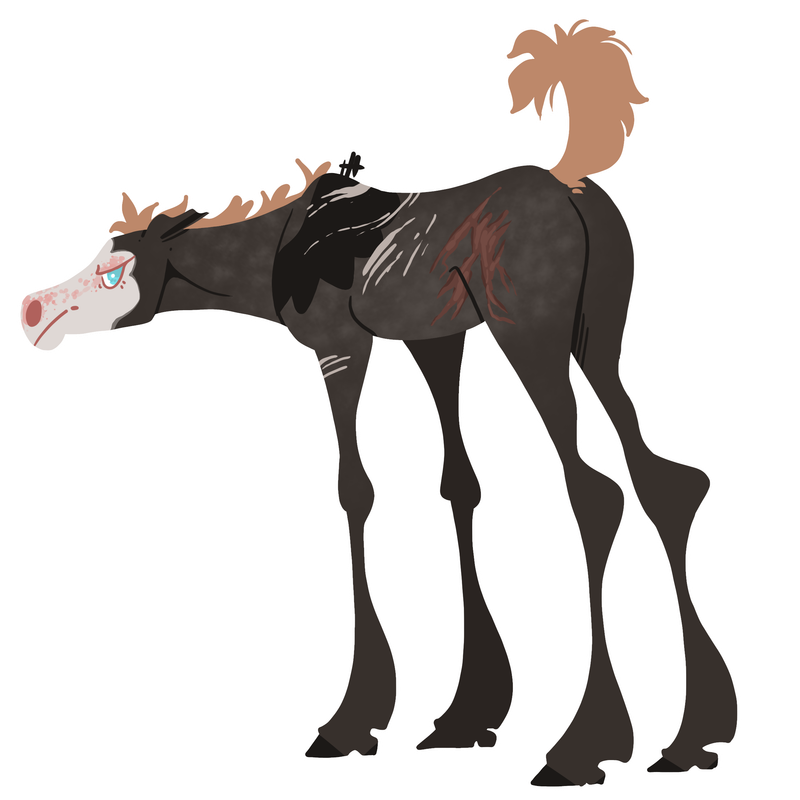 Appearance
Color: silver dapple (Ee/aa/nZ)
Eyes: light blue
Markings: bald face, black wing marking across both shoulders, scars
Mane & Tail: blonde
Personality
Will piss you off and will not care about it.
Lineage
Parents: forgotten

Children: no thank you.
- Wherewolf (x Wolfbane)
Traits
Companion:
Genetic Traits: duplication, stars
Non-Genetic Traits: serial imortality
Trait Genetic Code: tegteg
Defects:
History
Born Elswhere BQ Year 200
Year 204
- Arrived in Beqanna and was desperately boring.
- Met Hurtfur in the Meadow. Made of flies? Hurtfur took her face then gave her tricky vision. Tricksy Hurtfur. Goes to Nerine because why?
- Met Lilliana in the Forest. Talked to her for one whole year. Traveled to the River because maybe wolves. Then no wolves. Became best friends. Went to Summer Camp together. Traded bras and also braided hair. Flower crowns? Yes.

Year 205
- Visits Lilliana in Taiga. Is introduced to Stinky Walfbean. Thinks Lilli has poor taste in men. Considers going to the Mountain to quest for Dislike Button for Real Life (tm).
- Met Eyas in the Meadow. Why did she go to Meadow again? Bad juju. Eyas tries to be tricksy, fails. Convinces Eyas to come back to Nerine through insults, A+ recruiting style.

Year 206
- Oops she's queen now.
- Receives coveted trait of "regular vision" from Hurtfur. Now sees normally all the time.
- Is given Duplication by the deceased Red Mare who apparently enjoys practical jokes that aren't funny like at all.
- Quests by accident. Earns black wing tattoo for not pushing anyone over any cliffs. Almost tried, good job.
Neverwhere's Forum Info
Joined:
07-01-2019
Last Visit:
(Hidden)
Total Posts:
149 (0.1 posts per day | 0.16 percent of total posts)
(Find All Posts)
Total Threads:
14 (0.01 threads per day | 0.07 percent of total threads)
(Find All Threads)
Time Spent Online:
(Hidden)
Neverwhere's Threadlog · View Profile
Thread
Participants
Posts
Last Post

[private]

Immortality has turned us into cartoons

on 07-25-2021

Forest
Wherewolf
2
Last post by Wherewolf

on 08-29-2021

im always dragging this horse around

on 03-20-2021

Afterlife
lilliana
10
Last post by Neverwhere

on 06-24-2021

i'm on the edge of a knife; pangeans

on 09-11-2020

Loess
Anaxarete, Starsin, Malone, draco, Celina, ghaul, gospel, Oceane, stave, Nashua, ciara
13
Last post by Nashua

on 09-19-2020

[private]

Never quite sure if it was the cold that brought the ice dragon....

on 09-01-2020

Icicle Isle
Leilan, Izora Lethia, lilliana
9
Last post by Leilan

on 09-16-2020

[open]

Alliance Shmalliance - Replies due by 11:59 PM EST on 9/14

on 09-01-2020

Nerine
Brazen
3
Last post by Neverwhere

on 09-11-2020

The Alliance: 2020 (sign ups)

on 09-01-2020

Plains
Isilya, Officials, Ashhal, Sabra, Leilan, Aquaria, ghaul, gospel, elio, kensley, Oceane, Gale, breach
14
Last post by Oceane

on 09-28-2020

[open]

And they lived happily ever after, The End. / Lepis /

on 08-22-2020

Loess
Djinni, Wolfbane, Lepis, Santana, Eyas, ghaul, elio, Tarian
22
Last post by Lepis

on 09-24-2020

[open]

it was your heart on the line

on 07-20-2020

Nerine
lilliana
12
Last post by Neverwhere

on 09-12-2020

Nerine activity check! Ends 7/16!

on 07-02-2020

Nerine
lilliana, Bruja, Vanilla Custard, brienna, Squirt
6
Last post by Squirt

on 07-02-2020

[private]

The secret of walking on water - Nev and Lethy

on 06-10-2020

Nerine
Eurwen, Izora Lethia
10
Last post by Eurwen

on 07-05-2020

something wild calls you home

on 05-28-2020

Nerine
Scorch, aletta, Eurwen
12
Last post by Neverwhere

on 08-12-2020

I don't like most people, but I especially dislike you [Wolfbane]

on 05-25-2020

Taiga
Wolfbane
8
Last post by Wolfbane

on 06-19-2020

No mile as long as the one that leads home - Brennen, any

on 05-21-2020

Nerine
Brennen, Djinni, Leilan
11
Last post by Djinni

on 06-18-2020

Damn it Moon Moon [birthing]

on 05-18-2020

Loess
Lepis
5
Last post by Neverwhere

on 05-22-2020

[open]

The dark of December

on 05-08-2020

Forest
Pteron
9
Last post by Neverwhere

on 05-18-2020

[private]

Im the prison without doors, a boat without oars || NeverBabe ||

on 04-24-2020

Nerine
Wolfbane
7
Last post by Wolfbane

on 05-09-2020

On demandé pas le Lune // Nev, Any

on 03-24-2020

Nerine
Eurwen, lilliana, Nashua, Amarine
11
Last post by Eurwen

on 04-30-2020

near, far, (never)where-ever you are?

on 03-18-2020

Nerine
Fiorina
5
Last post by Fiorina

on 05-27-2020

if you give me more time I swear I'll believe; any

on 03-18-2020

Field
sochi, Leilan, ghaul
10
Last post by Leilan

on 04-25-2020

On demandé pas le Lune

on 03-17-2020

Adoption Den
Amarine
6
Last post by Neverwhere

on 03-21-2020

[open]

Things Have Changed Once Again (All Kingdom Residents)

on 02-29-2020

Taiga
Aten, Pteron, Izora Lethia, lilliana, Ruthless
12
Last post by Pteron

on 03-22-2020

[open]

positively glowing

on 02-27-2020

Nerine
Brennen, Brazen, Eurwen, lilliana, Fiorina
14
Last post by Brazen

on 03-24-2020

[open]

the north, the north, the north is on fire.

on 02-19-2020

Nerine
Brazen, Eurwen, lilliana, ghaul
13
Last post by Neverwhere

on 04-16-2020

If my heart was a compass you'd be north

on 02-06-2020

Nerine
Leilan, Beryl
6
Last post by Leilan

on 02-26-2020

[open]

new soul in a strange world; any

on 02-06-2020

Meadow
Isilya
8
Last post by Neverwhere

on 07-30-2020

[private]

give me hope in the darkness; Neverwhere/Lilliana

on 02-04-2020

Nerine
Brennen, lilliana
3
Last post by lilliana

on 02-19-2020

The quiet sense of something lost

on 01-28-2020

Nerine
Brazen, Eurwen, lilliana
5
Last post by Neverwhere

on 02-07-2020

Rain grey towns; Brine, Any

on 01-23-2020

Nerine
Eyas, Brine
4
Last post by Eyas

on 04-05-2020

[open]

Activity check due 1/27

on 01-13-2020

Nerine
Vanilla Custard, lilliana, insane, peregrine jude, Jet, devin, Kuna, Colby
9
Last post by Colby

on 01-21-2020

[private]

i feel a bad moon rising | neverwhere

on 01-12-2020

Nerine
Lepis
9
Last post by Lepis

on 02-03-2020

to the top of the world; nev

on 01-12-2020

Nerine
lilliana
3
Last post by lilliana

on 01-28-2020

Neverwhere;

on 01-09-2020

Nerine
Castile
8
Last post by Neverwhere

on 02-14-2020

Lost in the deep end // Neverwhere

on 01-01-2020

Nerine
Tyr
9
Last post by Tyr

on 02-04-2020

give me hope in the darkness; Neverwhere/Any

on 12-31-2019

Nerine
Brennen, Jesper, Leilan, Brazen, Eurwen
13
Last post by Brazen

on 01-23-2020

[open]

Though Our Lands Are Apart, Our Hearts Are One [Kingdom Residents]

on 12-24-2019

Nerine
Aten, Eurwen
15
Last post by Neverwhere

on 02-19-2020

cedar smoke and summer rain; any welcome

on 12-22-2019

Meadow
Elk, Rehu, Mazeika
5
Last post by Elk

on 12-24-2019

[open]

The bridges are burning, the heat's on my face

on 12-18-2019

Field
Skyefall
4
Last post by Neverwhere

on 12-19-2019

[open quest]

seek me out; round iii

on 12-10-2019

Mountain Archives
Lucrezia, Tatter, Castile, Wishbone, Leilan, peregrine jude, lilliana, Beulah, Aquaria, Lilt, Agetta, Oceane, anatomy, bean, Ruthless
16
Last post by Lilt

on 12-13-2019

visions of dazzling rooms i'll never get let into; eurwen, brine, neverwhere

on 12-06-2019

Nerine
Heartfire, Brine, Eurwen, lilliana
10
Last post by lilliana

on 01-06-2020

[open quest]

seek me out; round ii

on 12-04-2019

Mountain Archives
Lucrezia, Tatter, garbage, Castile, Wishbone, Leilan, peregrine jude, lilliana, Beulah, Aquaria, Lilt, Agetta, Oceane, anatomy, bean, Ruthless
17
Last post by Tatter

on 12-08-2019

[open quest]

seek me out; round i

on 11-30-2019

Mountain Archives
Lucrezia, Tatter, garbage, Castile, Wishbone, Leilan, peregrine jude, Cassian, lilliana, Beulah, Aquaria, Lilt, Agetta, Oceane, anatomy, bean, Ruthless
18
Last post by Lilt

on 12-04-2019

The secret of walking on water; Neverwhere

on 11-21-2019

Nerine
Eurwen
11
Last post by Eurwen

on 01-08-2020

triggity triggity trackers

on 11-03-2019

Trackers
ratty, Popinjay, Dreamscar, Beryl, Starbrow, Quietude, Dace, Crackjaw, Florian, Wherewolf, Shipka, Manikin, Wight, Lorne, Aldrich, Enoch, Sintra, Chimera, Enthrall, Gilda, Blackwell, Raum*, Creatrice, Noceur, Illunis
8
Last post by Illunis

on 03-23-2022

[mature]

Sidewalk scenes and black limousines (Neverwhere)

on 10-18-2019

Meadow
Eyas
10
Last post by Neverwhere

on 11-14-2019

All things want to open.

on 10-09-2019

Nerine
Heartfire
9
Last post by Neverwhere

on 11-22-2019

To crooked eyes truth may wear a wry face - Lilliana

on 09-20-2019

Taiga
Wolfbane, lilliana
17
Last post by Neverwhere

on 10-19-2019

you can't hide from who you are; Neverwhere

on 08-27-2019

Nerine
Heartfire
3
Last post by Heartfire

on 09-18-2019

[open]

the blood that was spilled protects me

on 08-18-2019

Nerine
Heartfire, litotes, Elaina
8
Last post by Heartfire

on 08-29-2019

[private]

you could be the light in my dark night; neverwhere

on 08-12-2019

River
lilliana
7
Last post by lilliana

on 09-07-2019

All things want to open. [any]

on 07-06-2019

Forest
lilliana
21
Last post by Neverwhere

on 08-11-2019

45 active · 6 closed · 32 need replies · 51 total
Neverwhere's Signature