QOTY
"So she smiles prettily and steals away when she can. Feels the brutal pounding of others around her with a savagery that she has never comprehended—their emotions so vast, their hearts so wicked. It warps her more than she was already warped. It presses a thumbprint of cruelty into her darkness, shaping her into a thing of shadow, a thing of longing, a thing carved from the darkness between every breath." --Baptiste, written by Laura
Kagerus
the fantasist
Age: 37
Gender: Mare
Breed: Arabian hybrid
Height: 15.3hh
Player: Sid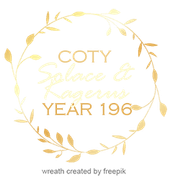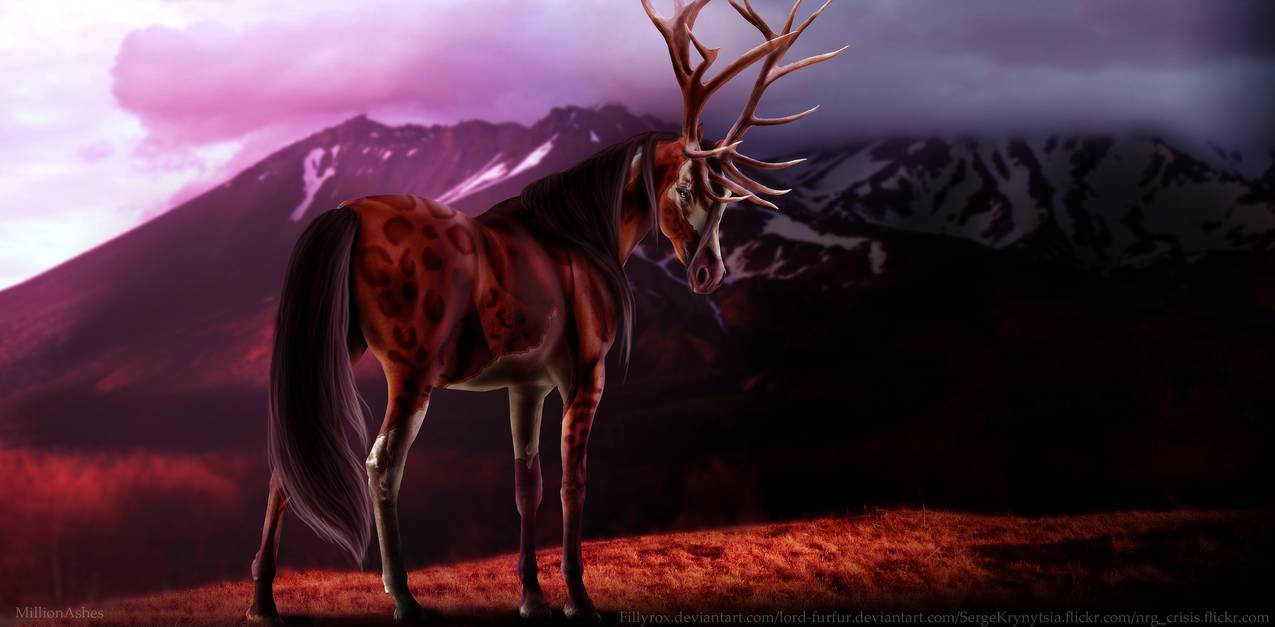 image credit
Appearance
Color: Minimal overo bay w/ clouded leopard markings (Ee/Aa/nT/nO)
Eyes: Nutmeg
Markings: Three leopard print markings below right eye
Mane & Tail:
Lineage
Parents: Kavi x Syntyche

Children:
* Abysm (x Rapt)
* Warlight (x Solace)
* Rhaegor (x Solace)
* Sviko (x Solace)
* Aegean (x Solace)
* Oriash (x Solace)
* Indius (x Solace)
* Iridian (x Solace)
* Oberyn (x Solace)
* Olena (x Solace)
Traits
Companion:
Genetic Traits: Immortal until she births a child, at which point she will die. Dream Manipulation. Obsidian hooves.
Non-Genetic Traits: Psychokinesis
Trait Genetic Code: tegteg [DREAM MANIPULATION][IMMORTALITY][OBSIDIAN HOOVES][PSYCHOKINESIS*][companion animal][antlers]
Defects: Deep scar from right left ear to right nostril
History
Born in the Chamber to Syntyche as she died, rescued by Kavi, her father. Raised in the Chamber, then the Jungle. Lost Kavi during the reckoning. Found Insignificance, and then discovered that she had found her father, and there was a happy family reunion. Then she began to be able to manipulate dreams, and her younger brother was born able to manipulate shadows, and she is meeting people and sucking them into dream land because normal socializing sucks. Fell in love with Rapt and got pregnant in a dream, found out from her brother Khaedrik about how she'd die, avoided this by dreaming that Rapt birthed the child and not her. Ran back to Hyaline, essentially abandoning her family, and falls in love with Solace who saves her when she attempts suicide. They have lesbian dream sex. Then she flirts with Svedka and leads him on for sex, before telling him that his twin sister is a screamer. ;) Then she realizes she is in love with Solace, is happy go lucky and happy with her, asks Warrick for her hand in marriage, only for Solace to tell her that she's having Castile's kid. Dun dun dun.
Kagerus's Forum Info
Joined:
03-23-2016
Last Visit:
06-05-2021, 03:25 PM
Total Posts:
409 (0.2 posts per day | 0.47 percent of total posts)
(Find All Posts)
Total Threads:
60 (0.03 threads per day | 0.3 percent of total threads)
(Find All Threads)
Time Spent Online:
1 Week, 3 Days, 6 Hours
Kagerus's Threadlog · View Profile
Thread
Forum
Participants
Posts
Last Post
out with the golden we sew // Star

on 12-11-2020

Taiga
Elegance
7
Last post by Kagerus

on 01-21-2021

LAST CHANCE! One open Alliance slot!

on 09-28-2020

Plains
kahzie, hanna, Leah, Titanya, Starsin, litotes, Anomaly
8
Last post by Titanya

on 09-30-2020

[open]

with baited breath

on 07-28-2020

Tephra
Set, Solace, Oriash, Olena
9
Last post by Oriash

on 09-01-2020

I wait for light like water from the sky;

on 06-14-2020

Tephra
Solace, Svedka, Ilma
9
Last post by Ilma

on 08-04-2020

[private]

and in my dreams i've kissed your lips a thousand times // oriash

on 05-16-2020

River
Oriash
9
Last post by Kagerus

on 07-11-2020

like the dawn you broke the dark; birthing

on 05-05-2020

Tephra
Solace, iridian
3
Last post by iridian

on 05-17-2020

[private]

the crushing weight of paradise

on 05-03-2020

Tephra
Solace, Svedka
15
Last post by Svedka

on 07-26-2020

Let the shadows fall behind us || Kagerus

on 03-29-2020

Tephra
Tangerine
4
Last post by Kagerus

on 04-25-2020

[private]

oh me oh my, i thought it was a dream... [sabra]

on 12-12-2019

Afterlife
Sabra
4
Last post by Sabra

on 12-19-2019

[private]

oh me oh my, i thought it was a dream... [lilli]

on 12-11-2019

Taiga
lilliana
10
Last post by lilliana

on 03-22-2020

[private]

what has night to do with sleep; kagerus

on 08-21-2019

River
Solace
4
Last post by Kagerus

on 09-07-2019

caught in the afterglow; any

on 08-19-2019

River
Catcher
8
Last post by Kagerus

on 05-21-2020

oh me oh my, i thought it was a dream... [heartfire]

on 08-09-2019

Forest
Heartfire
6
Last post by Heartfire

on 09-17-2019

[private]

oh me oh my, i thought it was a dream... [jen pony]

on 08-09-2019

River
N/A
1
Last post by Kagerus

on 08-09-2019

[private]

oh me oh my, i thought it was a dream... [star pony]

on 07-31-2019

River
lilliana
9
Last post by Kagerus

on 09-14-2019

The Descension; All Kingdom

on 03-15-2019

Silver Cove
Amet, Solace, Ilma, Clayton, Velk, Dawn
13
Last post by Velk

on 04-01-2019

Island Resort: Round 3

on 02-25-2019

Islandres
Beqanna Fairy, Hestoni, Nocturne, naia, Aodhan
6
Last post by naia

on 03-02-2019

Island Resort: Round 2

on 02-17-2019

Islandres
insane, Beqanna Fairy, Hestoni, bright, Aten, Lochwood, Vadar, Leander, Eva, Nocturne, Persea, brigade, naia, Aodhan
15
Last post by Vadar

on 02-22-2019

Island Resort: Round 1

on 02-11-2019

Islandres
Beqanna Fairy, Hestoni, bright, Aten, Lochwood, Vadar, Leander, Eva, Nocturne, Persea, brigade, naia, Aodhan
14
Last post by Aten

on 02-16-2019

in a crown

on 02-08-2019

Loess
litotes
4
Last post by Kagerus

on 02-13-2019

and in my dreams i've kissed your lips a thousand times // Raul

on 02-04-2019

Silver Cove
Raul
3
Last post by Kagerus

on 02-16-2019

[private]

You can't hide from who you are; Kagerus

on 02-04-2019

Silver Cove
Heartfire
7
Last post by Heartfire

on 03-01-2019

[private]

don't get cut on my edges • kagerus

on 01-28-2019

Silver Cove
Amet
7
Last post by Amet

on 02-16-2019

love from the west; kaglace

on 01-25-2019

Silver Cove
Solace, Wishbone
5
Last post by Kagerus

on 02-20-2019

Holding you close feels like a cut throat // Kagerus

on 01-23-2019

Silver Cove
Sabra
6
Last post by Kagerus

on 02-04-2019

Brilliant Pampas: Round 2

on 01-23-2019

Brilliant Pampas
Beqanna Fairy, Ruan, luster, leliana, Anani, Ilma, Y'Kira, Nocturne, Ferran, Rouhi, wander, naia, GODBEAR
15
Last post by leliana

on 01-24-2019

Out with the golden we sew // Solace, my love

on 01-22-2019

Silver Cove
Solace
3
Last post by Kagerus

on 02-27-2019

monday left me broken; Kagerus & Solace

on 01-21-2019

Silver Cove
Kensa, Solace
4
Last post by Kensa

on 02-05-2019

Brilliant Pampas: Round 1

on 01-16-2019

Brilliant Pampas
devin, Beqanna Fairy, Ruan, luster, leliana, Anani, Ilma, Y'Kira, Nocturne, Ferran, Rouhi, wander, naia, GODBEAR
15
Last post by luster

on 01-20-2019

ALL RESIDENTS OF THE EAST | ooc activity update

on 01-13-2019

Silver Cove
Affirmative, Kristin, Nicole, Solace, Vanilla Custard, Velk, Warlight, Kensa, litotes, Nyxistaken
11
Last post by Kristin

on 01-19-2019

Keep your dreams in check; Kagerus, anyone!

on 01-06-2019

Silver Cove
Nyxistaken, Rouhi
7
Last post by Rouhi

on 02-04-2019

ALL EASTERN MEMBERS IN PLEASE

on 01-06-2019

Silver Cove
N/A
1
Last post by Kagerus

on 01-06-2019

Silver Cove Quest - Part 2

on 12-18-2018

Silver Cove
Beqanna Fairy, Mary, Briella, wonder, Brazen, Dagen, Nocturne, Eurwen, aegean
10
Last post by wonder

on 12-23-2018

Velk.

on 12-17-2018

Silver Cove
Velk, Sid
4
Last post by Velk

on 02-02-2019

in my dreams i've kissed your lips a thousand times // Ilma/any diplomats/leaders

on 12-15-2018

Brilliant Pampas
Ilma, Lepis, Noah
9
Last post by Kagerus

on 01-07-2019

i've kissed your lips a thousand times // Velk/Litotes/any diplomats/leaders

on 12-15-2018

Icicle Isle
Leilan, Velk, litotes
9
Last post by Kagerus

on 01-08-2019

I won't allow you to perish alone; Kagerus & any diplomats/leaders.

on 12-14-2018

Islandres
Tiphon, Anninux
7
Last post by Kagerus

on 01-10-2019

KINGDOM VISIT SIGN-UPS: ALL SANCTUARY

on 12-13-2018

Silver Cove
Nicole, Vanilla Custard, Velk, Warlight, Dawn, Nyxistaken
8
Last post by Kagerus

on 12-14-2018

Silver Cove Quest - Part 1

on 12-08-2018

Silver Cove
Beqanna Fairy, Mary, Kleopatra, Briella, wonder, Brazen, Dagen, Nocturne, cosmos, Eurwen, aegean
12
Last post by wonder

on 12-13-2018

I Hate That I Love You {Kag}

on 12-03-2018

Silver Cove
Clayton
8
Last post by Kagerus

on 12-28-2018

slowly did not speak another word, pengs

on 11-15-2018

Silver Cove
Mordgeld, Nyctelios, Tindalos - Tithe
4
Last post by Tindalos - Tithe

on 11-19-2018

Icicle Isle Quest: Round 2

on 11-15-2018

Icicle Isle
Beqanna Fairy, Madelyn, Illum, Wallace, Jinju, Sabrael, Valdis, leliana, Kolera, Ether, Solace, Leilan, Santana, Nalia, Agnieszka, Leander, litotes, Wane, Briella, Nocturne
21
Last post by Illum

on 11-20-2018

[open]

Home is in the sky; Anninux, any

on 11-13-2018

Silver Cove
Ilma, Anninux
7
Last post by Kagerus

on 12-02-2018

Icicle Isle Quest: Part 1

on 11-09-2018

Icicle Isle
Beqanna Fairy, Madelyn, Illum, Wallace, Jinju, Sabrael, Valdis, leliana, Kolera, Ether, Solace, Leilan, Santana, Nalia, Agnieszka, Leander, litotes, Wane, Briella, Nocturne
21
Last post by Illum

on 11-14-2018

like the dawn, you broke the dark - kag

on 11-09-2018

Silver Cove
Solace, aegean
5
Last post by Kagerus

on 12-01-2018

[open]

and in my dreams i've kissed your lips a thousand times // Any

on 11-08-2018

Silver Cove
Velk
5
Last post by Kagerus

on 12-17-2018

[private]

and in my dreams i've kissed your lips a thousand times // Yidhra

on 11-02-2018

Silver Cove
Yidhra
5
Last post by Kagerus

on 11-10-2018

ALL HYALINE RESIDENTS.

on 10-31-2018

Silver Cove
kota, Briseis, Solace, Ilma, Tähti, Adria, Clayton, Velk, Dawn, Kensa, Yidhra, litotes, Kiko, Knaught
19
Last post by Ilma

on 11-11-2018

and in my dreams i've kissed your lips a thousand times // Brine

on 10-27-2018

Hyaline
Brine, Kensa
5
Last post by Kensa

on 11-09-2018

OCTOBER ACTIVITY CHECK

on 10-25-2018

Hyaline
Briseis, Solace, Ilma, Velk, Sviko, Kensa, litotes
8
Last post by Velk

on 11-01-2018
Kagerus's Signature
dreamweaver