QOTY
"There is still something of himself - something of the Wolfbane who would always love her - that rallies against the slime. It says, 'lie in the bed you've made'. So he gathers the covers and tucks himself in." -- Wolfbane, written by Calcifer
Ryatah

Age: immortal
Gender: Mare
Breed: Arabian
Height: 15hh
Player: Colby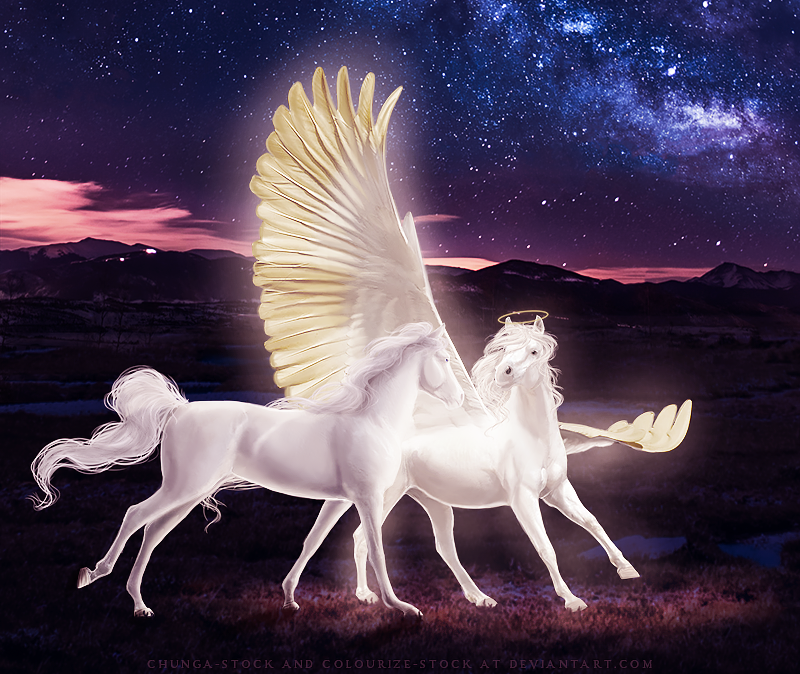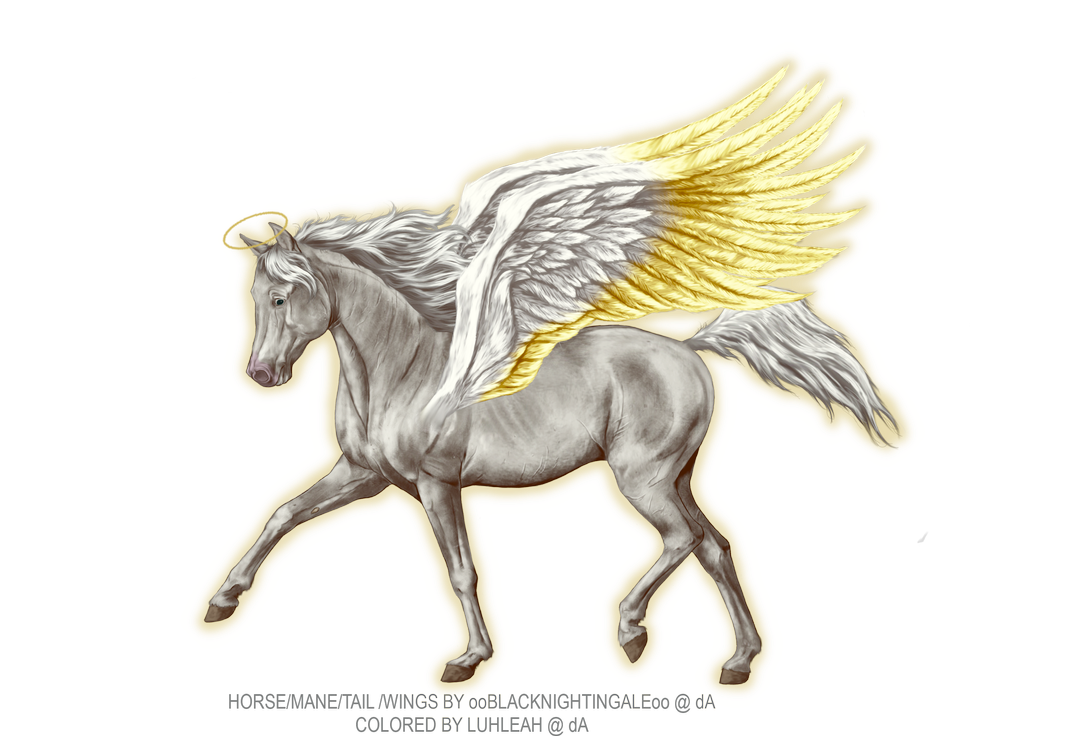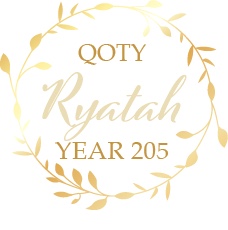 Appearance
Color: White (--)
Eyes: almost black
Markings: some sort of Carnage brand somewhere
Mane & Tail: White
White body/mane/tail, with white angel wings that are laced with gold, gold halo, and a glowing aura.
Personality
Kind of a whore sometimes. Super nice. Questionable morals.
Lineage
Parents:

Children:
Seduire (x Shinigami) [not-Beqanna]
Anonya (x Dhumin)
Astaroth (x Dhumin)
Starlust (x Dhumin)
Eadoin (x Skellig)
Glyndwr (x Alaunus)
Caliph (x Skellig)
Cadhla (x Ashhal)
Donnelly (x Dog Tag)
Liseli (x Skellig)
Raed (x Trashlip)
Ripley (x Depp)
Nightlock (x Carnage)
Davae (x Blayne)
Ilena (x Trashlip)
Brinly (x Larva)
Elya (x Eight)
Evenstar (x Skellig)
Cassian & Casimira (x Ashhal)
Cavern & Islas (x Carnage)
Aislyn (x Atrox)
Alleria (x Carnage)
Stave & Desire (x Carnage)
Noel (x Ashhal)
Traits
Genetic Traits: Angel, Infrared Vision
Non-Genetic Traits: Immortality
Trait Genetic Code: tegteg [INFRARED VISION][ANGEL][immortality*]
Defects:
History

- Started in the Thirteenth Dimension (June 2005) where she first met Dhumin and was eventually kept as a "slave" in Amazonhollow.
- They came to Beqanna together December 2005 and lived in the Valley.
- Was "murdered" by her first-born, Séduire, in early 2006-ish and brought back to life a few months later aka I needed a loophole to bring her back so really she was unconscious and came back with no memories for a little bit.
- Dhumin left and she fell in love with Skellig (Tundra king).
- January 2007 became queen of the Dale when Carnage took it from Moselle and made it a sub-kingdom of the Valley. Moselle gifted her with immortality because she knew Ryatah was nicer than Carnage and wanted her to keep the Dale safe.
- At some point Carnage ripped her eyes out, something about trying to take his and Sage's son and she told him no, idk. This was a pretty insignificant moment in her life which I'm sure explains why I can't remember details.
- Ashley gifted her with infrared vision.
- June 2007 her and Ashley were turned into statues by Charlemagne, and she took the throne.
- She was a statue for a few months because I didn't feel like writing her.
- She also died again for real in like late 2008? 2009? It was before the Catastrophe because the Catastrophe revived her. And when she died her immortality transferred to Jarris.
- Got immortality again somehow in some quest.
- Did literally nothing besides reproduce for years.
- Carnage gave her eyes again in like January 2019, it's pretty sad this just happened and I already can't remember anything.
- Earned the trait of Angel in the Afterlife quest (November 2019).
- Current life goals are just to continue reproducing, annoying Ashhal & Atrox, and not getting killed by Carnage (or getting killed by Carnage, idk).
Ryatah's Forum Info
Joined:
02-26-2017
Last Visit:
01-20-2020, 06:25 PM
Total Posts:
120 (0.11 posts per day | 0.17 percent of total posts)
(Find All Posts)
Total Threads:
21 (0.02 threads per day | 0.13 percent of total threads)
(Find All Threads)
Time Spent Online:
1 Day, 23 Hours, 15 Minutes
Ryatah's Threadlog · View Profile
Thread
Forum
Participants
Posts
Last Post

[private]

following the shadow when I know damn well that behind me is the light; ryatah

on 01-08-2020

Afterlife
gail
4
Last post by Ryatah

on 01-16-2020

[private]

break me like a promise — carnage

on 01-04-2020

Mountain
Carnage
3
Last post by Ryatah

on 01-05-2020

[private]

slipping through the cracks of your cold embrace, Atrox

on 12-29-2019

Hyaline
atrox
6
Last post by atrox

on 01-21-2020

[private]

keep me just hanging on, agetta

on 12-09-2019

Meadow
Anaxarete, Agetta
6
Last post by Ryatah

on 01-17-2020

[private]

nothing hurts when I'm alone, ashhal

on 11-21-2019

Nerine
Ashhal
5
Last post by Ryatah

on 01-20-2020

[open]

peace is a bird who sings

on 11-17-2019

Pangea
Anaxarete, Isilya, Aedan
8
Last post by Anaxarete

on 01-10-2020

[mature]

i tried to sell my soul last night; Ryatah

on 11-05-2019

Meadow
Ashhal
3
Last post by Ashhal

on 11-18-2019

[mature]

like dreams that turn to dust,

on 11-05-2019

Meadow
atrox, meraki
21
Last post by atrox

on 12-27-2019

[open quest]

día de muertos - round 3

on 10-30-2019

Mountain
Rhy, atrox, Rajanish, Thia, Izora Lethia, Agetta, kensley, Saphris, Ion
10
Last post by Saphris

on 11-02-2019

[open quest]

Día de Muertos - round 2

on 10-26-2019

Mountain
Rhy, atrox, Rajanish, Mordgeld, Thia, Izora Lethia, Agetta, kensley, Saphris, Ion
11
Last post by Izora Lethia

on 10-29-2019

breakable, unbreakable; ALL

on 10-22-2019

Tephra
Isilya, vulgaris, Anodyne, Rouhi, Jakub, Tamlin, bea, Dacre
9
Last post by Dacre

on 10-26-2019

[open quest]

Día de Muertos - Round 1

on 10-21-2019

Mountain
Rhy, atrox, Rajanish, Mordgeld, Ruinam, Thia, Izora Lethia, Agetta, kensley, Saphris, Ion
12
Last post by Rajanish

on 10-24-2019

[private]

lost in the centuries

on 10-02-2019

Meadow
Agetta
5
Last post by Agetta

on 11-05-2019

when we walked in fields of gold; ryatah

on 09-29-2019

Meadow
lilliana
10
Last post by Ryatah

on 01-16-2020

[mature]

Set fire to the roses on my grave; Ryatah

on 08-16-2019

Meadow
Ashhal
2
Last post by Ryatah

on 08-20-2019

[private]

made a deal with god

on 08-07-2019

Meadow
fyre
6
Last post by Ryatah

on 10-14-2019

[private]

as she drew her first breath, i learned what love meant; birth of the puppylocks

on 07-27-2019

Tephra
Nightlock, wonder, thorn, Tamlin, bea
10
Last post by bea

on 08-05-2019

and nothing hurts when I'm alone, Sabrael

on 07-05-2019

Meadow
Sabrael
3
Last post by Ryatah

on 07-20-2019

you need a big god; ryatah

on 06-30-2019

Meadow
Carnage
13
Last post by Carnage

on 09-20-2019

Self Quest 1 - Nothing but flowers and sorrows; Ryatah

on 05-28-2019

Meadow
Izora Lethia
8
Last post by Ryatah

on 06-20-2019

[open]

I've been down with the coldest war; any

on 05-20-2019

Tephra
Brennen, leliana, Jakub
6
Last post by Ryatah

on 05-23-2019

I'm better under your reflection, Illum

on 05-19-2019

Tephra
Illum
3
Last post by Ryatah

on 05-22-2019

the knife in my heart couldn't slow me down; ryatah

on 05-11-2019

Tephra
leliana
3
Last post by leliana

on 05-13-2019

[mature]

don't close the coffin yet; ryatah

on 04-20-2019

Tephra
atrox
6
Last post by Ryatah

on 05-08-2019

even angels have their wicked schemes, amenhotep

on 03-28-2019

River
N/A
1
Last post by Ryatah

on 03-28-2019

and nothing hurts when I'm alone, Heartfire

on 03-06-2019

Tephra
Heartfire
6
Last post by Heartfire

on 05-04-2019

Casimira...

on 02-04-2019

Forest
Cassian, Casimira, The Plague
8
Last post by Casimira

on 03-22-2019

I've got a game to play if you like to lose; ryatah

on 01-13-2019

Meadow
Carnage
17
Last post by Carnage

on 03-17-2019

you've got your demons and darling they all look like me -- Skellig

on 01-12-2019

Tephra
N/A
1
Last post by Ryatah

on 01-12-2019

I need you like a heart needs a beat -- birthing

on 01-12-2019

Tephra
N/A
1
Last post by Ryatah

on 01-12-2019

and take the black out of the night -- Eight

on 01-11-2019

River
Eight
5
Last post by Ryatah

on 02-05-2019

shining brighter ||Ryatah

on 12-31-2018

Field
Ariies
2
Last post by Ryatah

on 01-01-2019

what a sight for sore eyes; ryatah

on 12-29-2018

Meadow
Carnage
9
Last post by Carnage

on 01-06-2019

[open]

hunt or be hunted; magnus, any

on 12-12-2018

Tephra
Sinner, magnus
9
Last post by Sinner

on 01-13-2019

everyone I know goes away in the end, Skellig - birthing

on 11-29-2018

Tephra
Skellig
6
Last post by Skellig

on 01-05-2019

milk and honey; ryatah

on 11-18-2018

Meadow
boheme
4
Last post by Ryatah

on 12-21-2018

nobody's watching, drowning in words so sweet; colby pony

on 11-18-2018

Meadow
Eilidh
8
Last post by Ryatah

on 01-19-2019

[mature]

everyone I know goes away in the end, Ashhal

on 11-09-2018

Meadow
Ashhal, The Plague
12
Last post by Ryatah

on 12-15-2018

everyone I know goes away in the end, Skellig or anyone

on 11-04-2018

Tephra
magnus
4
Last post by magnus

on 11-23-2018

[mature]

I tried to sell my soul last night; Ryatah

on 09-22-2018

Meadow
Ashhal
7
Last post by Ashhal

on 10-24-2018

everyone I know goes away in the end, Skellig

on 09-18-2018

Meadow
Skellig
7
Last post by Ryatah

on 10-22-2018

you're ripped at every edge, Garbage

on 11-06-2017

Meadow
garbage
4
Last post by garbage

on 11-22-2017

Everyone I know goes away in the end, anyone

on 07-04-2017

Meadow
Dalten
5
Last post by Ryatah

on 07-09-2017

darling everything's on fire, Pollock

on 04-04-2017

Forest
Pollock
3
Last post by Ryatah

on 04-07-2017

Temp trait

on 02-26-2017

Mountain
N/A
1
Last post by Ryatah

on 02-26-2017

[open]

everyone I know goes away in the end,

on 02-26-2017

Meadow
Ashley
3
Last post by Ryatah

on 02-28-2017