QOTY
"But the dream, the echo, slips from him as quickly as he had found it and as consciousness comes to him (a slap and not the gentle waves of oceanic tides), it dissolves entirely. His muscles relax as the cold claims him again, as the numbness sets in, and when his grey eyes open, there's nothing but the faint after burn of a dream often trod and never remembered." --Brigade, written by Laura
Ryatah

Age: immortal
Gender: Mare
Breed: arabian
Height: 15hh
Player: colby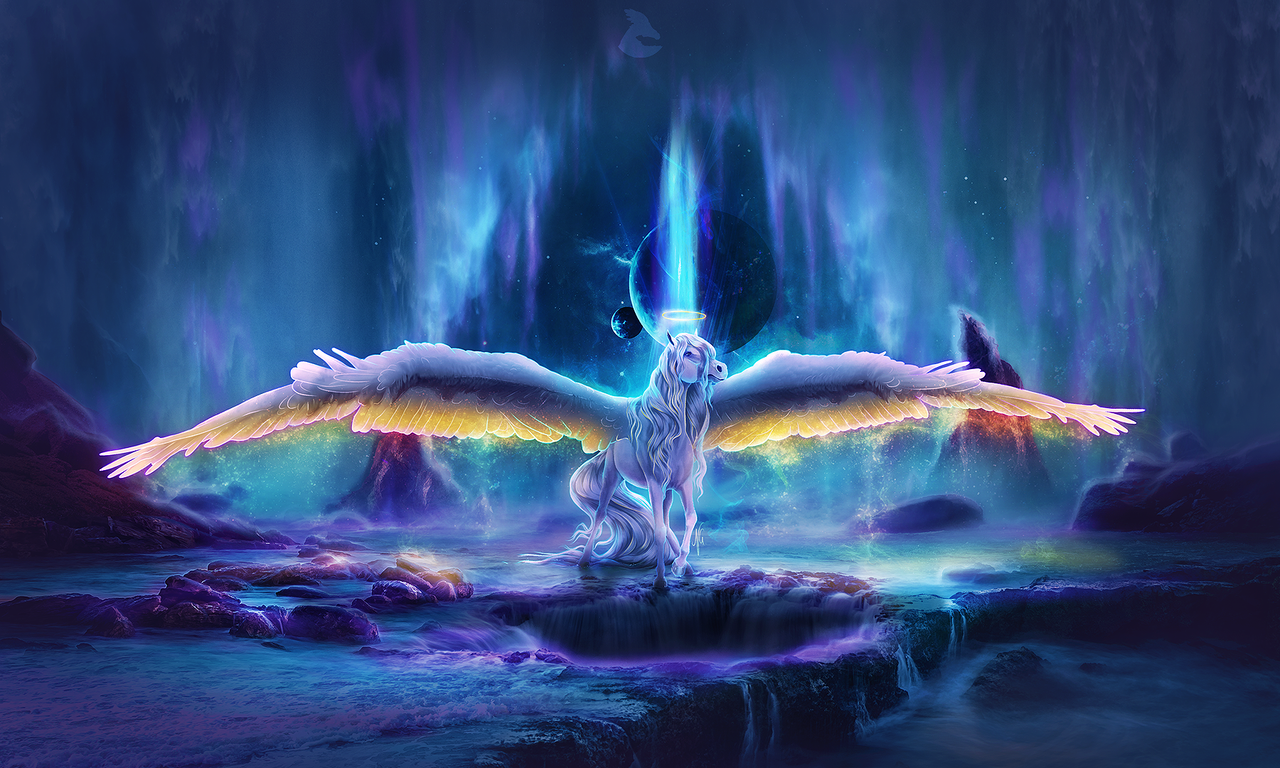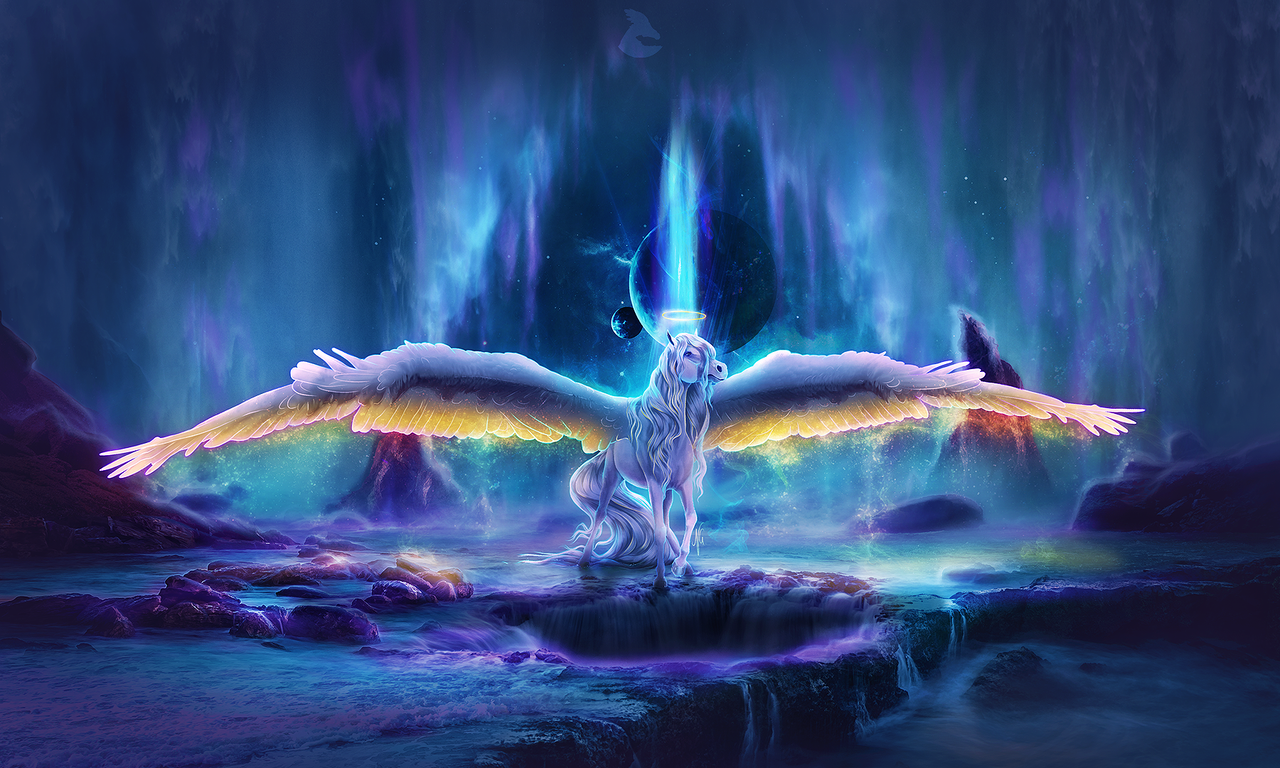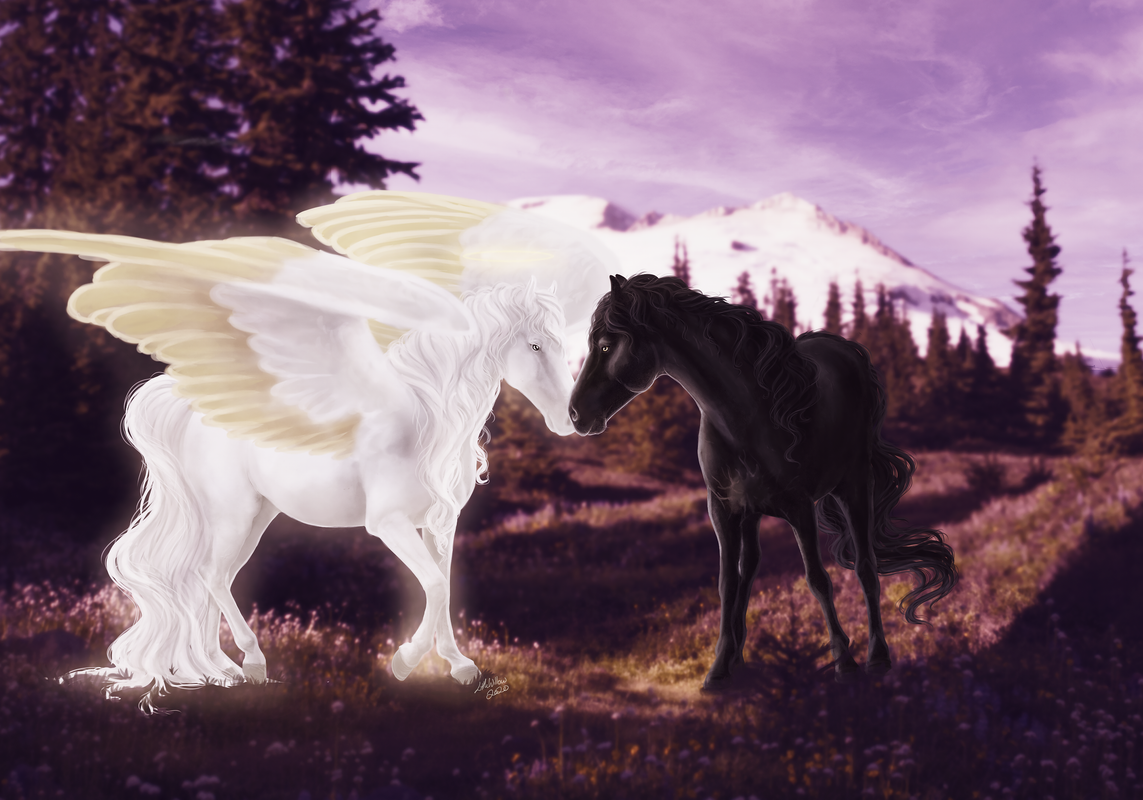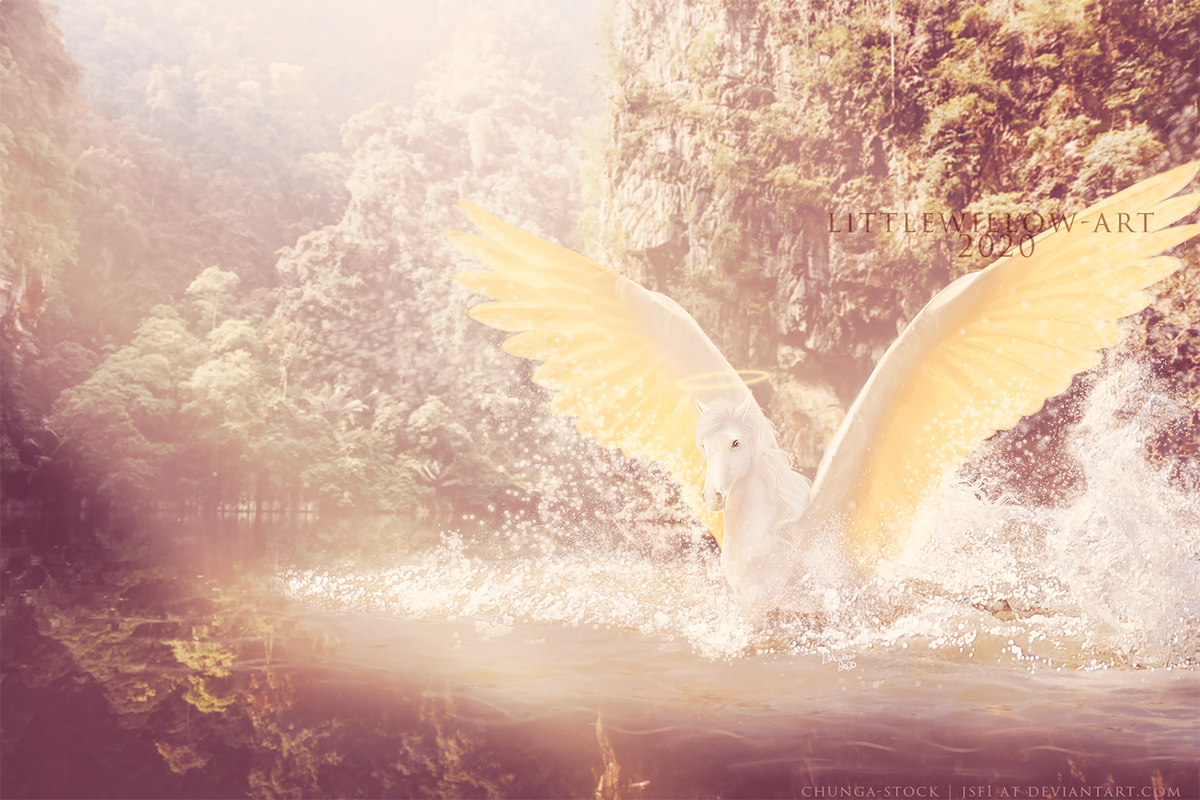 Appearance
Color: white (--)
Eyes: almost black
Markings: scar on chest, some sort of Carnage brand somewhere
Mane & Tail: white

» white body/mane/tail
» white angel wings, with gold stardust underneath that also trails from them
» gold halo
» glowing aura
» brand from Carnage on hip
» scar on chest from when Gale ripped her heart out
Personality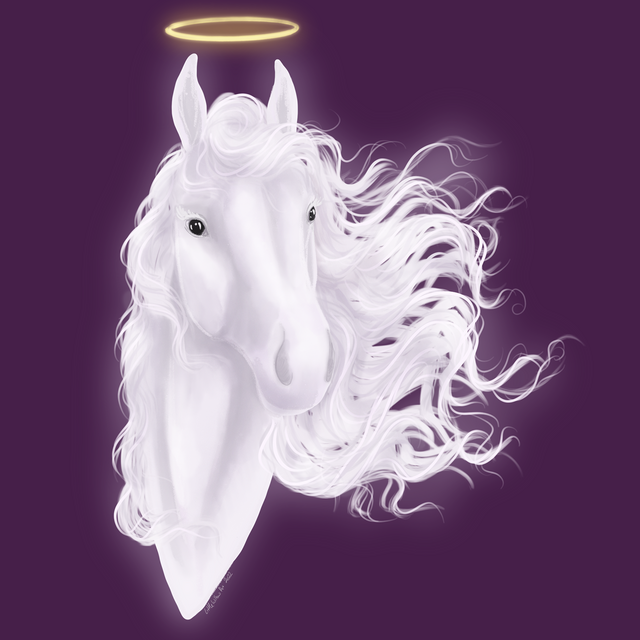 Lineage
Parents:

Children:
1. Seduire (x Shinigami) [not-Beqanna]
2. Anonya (x Dhumin)
3. Astaroth (x Dhumin)
4. Starlust (x Dhumin)
5. Eadoin (x Skellig)
6. Glyndwr (x Alaunus)
7. Caliph (x Skellig)
8. Cadhla (x Ashhal)
9. Donnelly (x Dog Tag)
10. Liseli (x Skellig)
11. Raed (x Trashlip)
12. Ripley (x Depp)
13. Nightlock (x Carnage)
14. Davae (x Blayne)
15. Ilena (x Trashlip)
16. Brinly (x Larva)
17. Elya (x Eight)
18. Evenstar (x Skellig)
19/20. Cassian & Casimira (x Ashhal)
21/22. Cavern & Islas (x Carnage)
23. Aislyn (x Atrox)
24. Alleria (x Carnage)
25/26. Stave & Desire (x Carnage)
27. Noel (x Ashhal)
28. Beyza (x Agetta)
29. Firion (x Atrox)
30. Echis (x Larva)
31/32. Radiance & Illuminae (x Illum)
33/34. Astin & Maea (x Atrox)
35/36. Selaphiel & Este (x Carnage)
37/38. Baptiste & Iliana (x Atrox)
Traits
Companion:
Genetic Traits: celestial magic, gold stardust
Non-Genetic Traits: immortality, darkness aura
Trait Genetic Code: tegteg [CELESTIAL MAGIC 6][STARDUST 0][immortality*][darkness aura*][archangel 5][infrared vision 1]
Defects:
History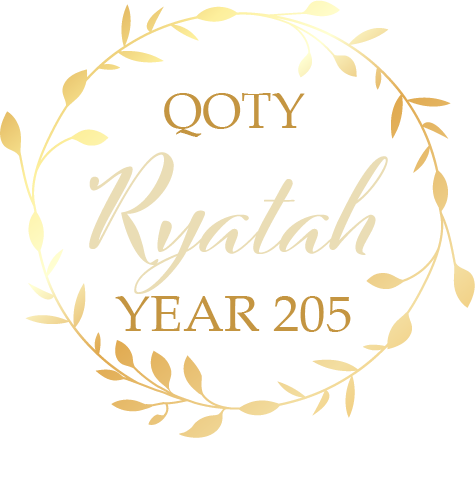 "She was close to touching him now, and there is a fleeting moment where she thinks she sees him flinch, like he thought about touching her, too. And in that moment, she thinks her heart might have stopped, but just like countless times before she is left waiting for a kindness that never comes."
» Started in the Thirteenth Dimension (June 2005) where she first met Dhumin and was eventually kept as a "slave" in Amazonhollow.
» They came to Beqanna together December 2005 and lived in the Valley.
» Was "murdered" by her first-born, Séduire, in early 2006-ish and brought back to life a few months later aka I needed a loophole to bring her back so really she was unconscious and came back with no memories for a little bit.
» Dhumin left and she fell in love with Skellig (Tundra king).
» January 2007 became queen of the Dale when Carnage took it from Moselle and made it a sub-kingdom of the Valley. Moselle gifted her with immortality because she knew Ryatah was nicer than Carnage and wanted her to keep the Dale safe.
» At some point Carnage ripped her eyes out, something about trying to take his and Sage's son and she told him no, idk.
» Ashley gifted her with infrared vision.
» June 2007 her and Ashley were turned into statues by Charlemagne, and she took the Dale throne.
» She was a statue for a few months because I didn't feel like writing her.
» She also died again for real in like late 2008? 2009? It was before the Catastrophe because the Catastrophe revived her. And when she died her immortality transferred to Jarris.
» Got immortality again somehow in some quest.
» Did literally nothing besides reproduce for years.
» Carnage gave her eyes again in like January 2019, it's pretty sad this just happened and I already can't remember anything.
» but then she lost them again because she wouldn't kill an alien (sometime in 2020), and he replaced them with rocks. she got them back in later 2020. I should keep better track of things.
» some time during all of this she tricked Atrox into being in love with her and now he's stuck with her forever
» earned stardust wings after the eclipse ended, and archangel from the anniversary gift.
» murdered by Gale Sept 2021, currently trapped in a black void.
» brought back in January 2022 with the "help" of Carnage and then the actual help of Firion. Sometimes gets confused on what is real and not real.
» her darkness aura is a result from being in the void.
» March 2023 she gained celestial magic, when it switched from Narya to her (won in SWP quest).
TLDR:
she loses her eyes/dies a lot, and her current love interests are Atrox & Carnage, and past love interests are Dhumin, Skellig, Ashhal, and Illum.
Ryatah's Forum Info
Joined:
02-26-2017
Last Visit:
08-27-2023, 09:44 PM
Total Posts:
339 (0.14 posts per day | 0.37 percent of total posts)
(Find All Posts)
Total Threads:
47 (0.02 threads per day | 0.23 percent of total threads)
(Find All Threads)
Time Spent Online:
6 Days, 7 Hours, 3 Minutes
Ryatah's Threadlog · View Profile
Thread
Participants
Posts
Last Post

[private]

this is the light that shines; ryatah

on 05-08-2023

Meadow
Ramiel
2
Last post by Ryatah

on 05-09-2023

[private]

starry eyes sparking up my darkest night, atrox

on 04-15-2023

The Chamber
N/A
1
Last post by Ryatah

on 04-15-2023

[private]

turn a page on a world that you don't need, assailant

on 04-15-2023

The Dale
assailant
6
Last post by assailant

on 07-25-2023

[private]

born under scorpio skies

on 03-30-2023

Forest
achille
6
Last post by Ryatah

on 05-08-2023

[private]

help me hold onto you, beyza

on 03-28-2023

The Dale
Beyza
7
Last post by Ryatah

on 07-30-2023

[private]

fell asleep inside a fantasy & woke up feeling lost

on 03-25-2023

Forest
Narya
2
Last post by Ryatah

on 03-25-2023

[private]

to learn my dreams aren't rare

on 10-25-2022

River
Tavani
5
Last post by Tavani

on 02-26-2023

you love it when I'm bringing you hell; Ryatah

on 10-25-2022

Brilliant Pampas
Carnage
6
Last post by Ryatah

on 01-23-2023

[open]

What is peace?

on 10-24-2022

Brilliant Pampas
Rezza
5
Last post by Rezza

on 01-05-2023

[private]

tied together with a smile but you're coming undone, litotes

on 10-10-2022

Brilliant Pampas
N/A
1
Last post by Ryatah

on 10-10-2022

[TAKEOVER]

heart made of glass, my mind of stone

on 08-07-2022

Brilliant Pampas
N/A
1
Last post by Ryatah

on 08-07-2022

[private]

now and then there's a light in the darkness, ashhal

on 07-31-2022

Forest
Ashhal
9
Last post by Ryatah

on 07-23-2023

i dont know how to take it away from you

on 07-21-2022

Brilliant Pampas
Gale
10
Last post by Ryatah

on 10-31-2022

[private]

they take their shots but we're bulletproof, agetta

on 07-14-2022

Brilliant Pampas
Agetta
3
Last post by Ryatah

on 07-24-2022

[private]

I never dreamed that I'd lose somebody like you; Ryatah

on 04-28-2022

Hyaline
Noel
3
Last post by Noel

on 06-13-2022

[open]

dead love couldn't go no further; any

on 04-16-2022

Forest
violence
4
Last post by Ryatah

on 05-14-2022

[private]

hangman hooded, softly swinging

on 04-14-2022

Hyaline
atrox
2
Last post by Ryatah

on 04-18-2022

[open]

turn a page on a world that you don't need, anyone

on 03-21-2022

The Ruins
Ion
6
Last post by Ion

on 05-16-2022

[private]

i could be someone, ryatah

on 03-20-2022

Hyaline
Selaphiel
4
Last post by Ryatah

on 04-25-2022

[private]

we've got the time to take the world

on 02-19-2022

Hyaline
Beyza
5
Last post by Beyza

on 04-17-2022

[private]

you're the sanctuary; Ryatah

on 02-17-2022

Hyaline
Castor
3
Last post by Castor

on 06-13-2022

[private]

i had a name but they took it from me

on 01-23-2022

Meadow
lilliana
4
Last post by Ryatah

on 03-20-2022

[private]

I fall behind, the second hand unwinds

on 01-18-2022

Hyaline
Fyr
9
Last post by Fyr

on 03-23-2022

[private]

no other sadness in the world would do, atrox

on 01-04-2022

Hyaline
atrox
5
Last post by Ryatah

on 01-31-2022

[private]

my kingdom come undone, firion

on 01-04-2022

Hyaline
firion
5
Last post by Ryatah

on 01-31-2022

[private]

we've been living on a fault line

on 10-09-2021

Mountain
Agetta, Carnage
10
Last post by Ryatah

on 11-19-2021

[private]

i'll be back at it, bad habits die hard

on 09-13-2021

River
Gale
6
Last post by Ryatah

on 09-20-2021

[private]

now you're just turning the knife

on 09-09-2021

Hyaline
Mazikeen
3
Last post by Mazikeen

on 09-13-2021

[private]

love how you built this, I'm gonna tear it down; Ryatah

on 09-03-2021

Hyaline
Noel
3
Last post by Noel

on 09-14-2021

[private]

all these voices in my head get loud

on 08-22-2021

Hyaline
Anath
4
Last post by Ryatah

on 09-07-2021

[open]

I want auroras and sad prose, anyone

on 08-05-2021

Hyaline
Gale
7
Last post by Ryatah

on 09-07-2021

[private]

and its harder than you think

on 06-23-2021

Forest
Nashua
5
Last post by Nashua

on 09-20-2021

[private]

buried it where bones are buried; ryatah

on 05-25-2021

Hyaline
firion
5
Last post by firion

on 06-12-2021

how can you see into my eyes; ryatah [chaos week]

on 05-24-2021

Meadow
Carnage
3
Last post by Carnage

on 05-24-2021

what are we holding onto

on 05-23-2021

Hyaline
Mazikeen, Sabal
7
Last post by Mazikeen

on 06-11-2021

[private]

innocence died screaming, honey ask me I should know, agetta

on 05-21-2021

Hyaline
Agetta
4
Last post by Agetta

on 06-14-2021

[private]

the kind of heartbreak time could never mend, atrox

on 05-21-2021

Hyaline
atrox
7
Last post by Ryatah

on 07-02-2021

[private]

I'm a mess but I'm the mess that you wanted, Atrox

on 03-15-2021

Hyaline
atrox, The Sprites
4
Last post by Ryatah

on 03-22-2021

they all come into the light [round 2]

on 02-28-2021

Mountain Archives
Beqanna Fairy, Wishbone, Leilan, jarris, lilliana, flower, Amarine, Sabal, firion, Manikin, Avelina, Volos, Reave, Memorie, Cheri, Kaenros
17
Last post by Manikin

on 03-08-2021

They all come into the light [ROUND 1]

on 02-14-2021

Mountain Archives
Beqanna Fairy, Wishbone, Leilan, jarris, lilliana, flower, Amarine, Sabal, firion, Manikin, Avelina, Skandar, Volos, Reave, Memorie, Cheri, Kaenros
18
Last post by jarris

on 02-22-2021

[private]

with shortness of breath, you explained the infinite; ryatah

on 02-03-2021

Hyaline
Illum
10
Last post by Ryatah

on 06-07-2021

[private]

I'm a mess but I'm the mess that you wanted, Balto

on 01-31-2021

Forest
Balto
6
Last post by Balto

on 06-08-2021

[private]

the world out there has teeth, Beyza

on 01-31-2021

Hyaline
Beyza
5
Last post by Ryatah

on 02-16-2021

[private]

i'm baptised in your name, mazikeen

on 01-31-2021

Hyaline
The Sprites, Mazikeen, Selaphiel
11
Last post by Selaphiel

on 02-25-2021

[private]

All my life I've been heading for hell; Ryatah

on 01-13-2021

River
Ashhal
21
Last post by Ashhal

on 06-08-2021

[private]

sometimes to create, one must first destroy

on 01-10-2021

Meadow
Nostromo
7
Last post by Nostromo

on 03-23-2021

[mature]

don't close the coffin yet; ry

on 12-23-2020

Hyaline
atrox
13
Last post by atrox

on 02-28-2021

there's just too much that time cannot erase; ryatah

on 11-20-2020

Meadow
Carnage
10
Last post by Ryatah

on 03-22-2021

[private]

with this love like a hole, swallow my soul - Atrox

on 11-12-2020

Hyaline
atrox, breach
8
Last post by Ryatah

on 11-29-2020

[open]

I've been here, I've done this all before— any

on 10-19-2020

Meadow
Eight
4
Last post by Ryatah

on 11-12-2020

115 active · 1 closed · 51 need replies · 116 total