QOTY
""Content to admire you from afar." Well that's just bullshit. She wasn't *content* to be admired from afar. She would rather not see him at all then be tortured by a buffered distance." --Mazikeen, written by Squirt
Age: --
Gender: Mare
Breed: hybrid
Height: 15hh
Player: laura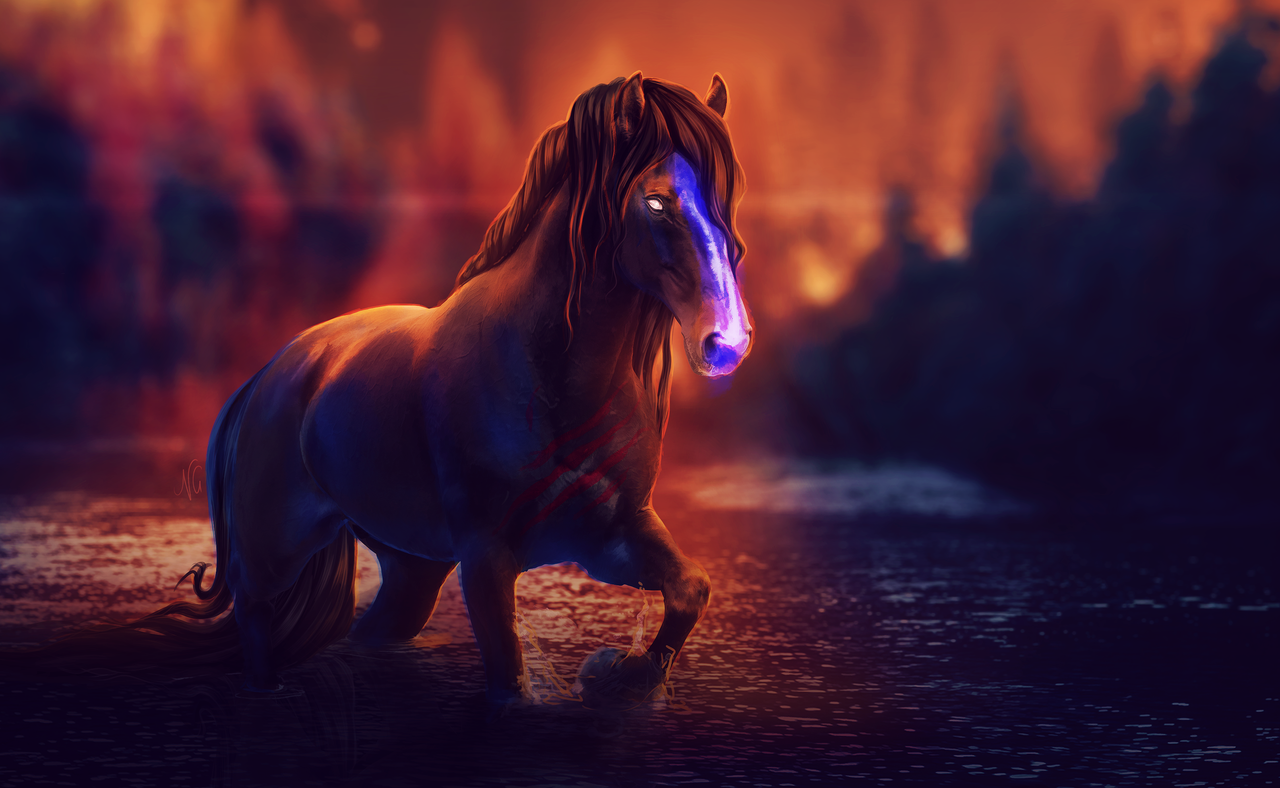 Appearance
Color: smoky black (Ee/aa/nCr)
Eyes: silver
Markings: iridescent blue blaze
Mane & Tail: black
Personality
FERAL. PREDATORY. SINGLE-MINDED.

sochi grew up fighting her tigress form, but eventually, she gave into it and then fully lost herself in what it means to be a predator. as she's grown older, she has become more and more sure of herself, that confidence beginning to slide into arrogance. she's no longer ashamed of her predatory nature and she refuses to apologize for who she is. she is nearly feral and mostly serves her own self-interests, although she is deeply loyal to her family and those she believes to belong to it. she sees no issue in choosing the route of violence and believes the end justifies the means.
Lineage
Parents:
aquilo & sloene

Children:
reia (x castile)
nikolaus (x castile)
despoina (x sinner)
villanelle (x castile)
spirit (x risk)
breach (x risk)
Traits
Companion:
Genetic Traits: tiger shifting, self healing
Non-Genetic Traits: --
Trait Genetic Code: tegteg [TIGER SHIFTING][SELF HEALING][color changing][immortality][sound mimicry][serial regeneration][hypnotism]
Defects: --
History
YEAR 189
* sochi was born to her mother sloene who, at the time, lived in nerine.
* she liked to adventure and was dropped off at the playground where she met khaedrik, kaurma, and trekori.
* she meets wishbone in the playground while in her tigress form and scares the young girl.

YEAR 190
* volunteers to be part of a child exchange with nerine and hyaline and leaves to go live in hyaline.

YEAR 191
* continues to wander around hyaline, getting to know her home better.
* attends a kingdom meeting held by solace but mostly just watches everything.
* meets with ilma who offers to set up meetings for her with members of both kingdom castes.

YEAR 191-198
* continues to live in hyaline but keeps to herself, fighting against her growing predatory instincts.

YEAR 199
* leaves hyaline as a home and goes to the forest where she meets daye. they go on sochi's first hunt.
* unwillingly participates in carnage's quest to raise pangea.
* as part of the quest, she kills a mare who she thought had been a monster. she starts to doubt who she is.
* she is successful in helping raise pangea and gains self-healing but also becomes sick because of it.
* she gains a crimson tattoo of tiger slashes across her chest.
* after the quest, she stumbles to loess where she seeks out daye for help.
* meets castile after the quest where they bond over their predatory nature and develop a quick attraction.
* she responds to carnage's call in pangea and is the first to rip into rhonen's throat, helping release the plague.
* because of her participation in raising pangea, she is immune to the plague that follows.

YEAR 200
* meets garbage and has a terse conversation that quickly ends when she realizes they have nothing to discuss.
* she slowly starts to heal from the plague and gives birth to her daughter with castile, reia.
* during this moment, she explains to castile how she is partially responsible for the plague.

YEAR 201
* sochi raises her daughter reia, teaching her out to be a predator.
* she eventually moves to island resort to be with castile although they have no formal relationship.
* she meets nightlock in the forest and they become a strange form of friends.
* runs into sabra at the holiday party where they have a heated conversation that goes quickly south.
* supports castile in his attempt to takeover island resort, standing by him during the heated argument.
* when that doesn't work out, she goes with him to loess where he becomes king and she meets pteron.
* she meets castile's sister isobell and suggests a hunting party to celebrate castile becoming king of loess.

YEAR 202
* shares tender moments with castile where they both claim one another to be 'theirs.'
* spends much of her time patrolling the loess border, meeting horses such as zeus.
* welcomes nightlock to loess and is surprised when he actually shows up.
* in a strange turn of events, she helps cure the plague and is successful in doing so.

YEAR 203
* when loess proclaims war on tephra, she joins in the battle and fights with atrox.
* she is heavily wounded in the war but is able to heal herself.
* she finds castile when the fighting is over and they realize their son nikolaus has gone missing.
* she is stolen by sinner and goes to sylva where he attacks and forces himself on her.

YEAR 204
* she returns to loess pregnant after castile beats sinner and maintains control over sylva.
* she gives birth to a daughter, despoina, and considers killing her but abandons her instead.
* leliana finds nikolaus and returns him to loess where they reunite as a family.
* during the reunion, the children leave and sochi and castile admit their true feelings for one another.

YEAR 205-206
* sochi spends much of her time with her children and protecting the loessian border.
* after losing his ability to shift into a dragon, castile returns to loess where sochi does her best to comfort him.
* she leaves loess to go on a hunt in the forest where she meets lugosi and kindling.
* while on her trip away, she meets and attacks ghaul. they then break into a violent fight.

sochi's Forum Info
Joined:
01-29-2018
Last Visit:
(Hidden)
Total Posts:
149 (0.12 posts per day | 0.18 percent of total posts)
(Find All Posts)
Total Threads:
16 (0.01 threads per day | 0.08 percent of total threads)
(Find All Threads)
Time Spent Online:
(Hidden)
sochi's Threadlog · View Profile
Thread
Forum
Participants
Posts
Last Post

[private]

she said a war ain't a war before both sides bleed; wilt

on 08-16-2020

Forest
wilt
4
Last post by wilt

on 08-23-2020

[private]

what to do next

on 07-03-2020

Silver Cove
Straia
5
Last post by Straia

on 08-18-2020

[open]

i was blind, all members

on 05-12-2020

Silver Cove
gospel, yadigar
3
Last post by sochi

on 05-19-2020

[open]

are we lost or found

on 05-09-2020

Silver Cove
Dayé, Mazikeen
9
Last post by Dayé

on 06-14-2020

[private]

a war ain't a war before both sides bleed; ghaul / straia

on 04-28-2020

Silver Cove
Straia, ghaul
4
Last post by sochi

on 05-19-2020

i got my heart right here

on 04-20-2020

Forest
Risk
4
Last post by sochi

on 04-28-2020

when a tornado meets a volcano

on 03-30-2020

Forest
Castile
8
Last post by sochi

on 05-19-2020

if you give me more time I swear I'll believe; any

on 03-18-2020

Field
Leilan, Neverwhere, ghaul
10
Last post by Leilan

on 04-25-2020

but now i'm coming home, sochi

on 01-29-2020

Meadow
Risk
4
Last post by sochi

on 03-18-2020

[private]

I'm in the space between the spaces; Castile

on 01-29-2020

Loess
Castile
8
Last post by Castile

on 02-17-2020

[private]

of his bones are coral made

on 01-26-2020

Forest
Oceane
7
Last post by Oceane

on 01-29-2020

[open]

spent all this time choking truth for lies; any

on 01-25-2020

Forest
Sinner
3
Last post by sochi

on 01-26-2020

because i want it all, sochi

on 01-09-2020

Meadow
Risk
6
Last post by sochi

on 01-21-2020

[private]

YOU'VE GOT TO BE SO COLD || SOCHI

on 01-08-2020

Forest
Set
2
Last post by sochi

on 01-09-2020

[private]

lost to the way we were

on 12-20-2019

Forest
peregrine jude
9
Last post by peregrine jude

on 01-22-2020

[private]

let it all go, sochi

on 12-20-2019

Forest
messiah
6
Last post by sochi

on 01-03-2020

this reckless wandering love was never ours; risk

on 12-20-2019

Forest
Risk
9
Last post by sochi

on 12-28-2019

Sochi;

on 12-10-2019

Loess
Castile
11
Last post by Castile

on 01-27-2020

there's a wildfire with your name on it, sochi

on 11-12-2019

Meadow
ghaul
10
Last post by sochi

on 11-22-2019

this reckless wandering love was never ours; any

on 11-12-2019

Forest
Kindling, Lugosi
4
Last post by sochi

on 11-16-2019

[private]

Sochi;

on 10-11-2019

Loess
Castile
6
Last post by sochi

on 11-16-2019

how do I learn my dreams to mold; family

on 08-17-2019

Loess
Castile, Reia, nikolaus
6
Last post by Castile

on 09-12-2019

there are reasons to leave; castile

on 08-03-2019

Loess
Castile
6
Last post by Castile

on 08-27-2019

EVERYONE

on 07-08-2019

Sylva
Castile
5
Last post by Castile

on 07-26-2019

all the ashes in my wake; kensa

on 07-08-2019

Loess
Kensa, brigade
26
Last post by Kensa

on 08-17-2019

[mature]

if you are a queen then, honey, I am a wolf; sinner

on 06-20-2019

Sylva
Sinner
6
Last post by Sinner

on 07-13-2019

darling, you're wild-eyed, empty, and tongue-tied; castile

on 05-22-2019

Loess
Castile
5
Last post by sochi

on 07-05-2019

But you don't fucking know me homie you don't want war.

on 05-15-2019

Tephra
Gale, Brennen, Aziz, vulgaris, Heartfire, leliana, Sinner, Castile, Nightlock, Wolfbane, Titus, Mary, Vadar, Dawn, Maleficar, Kensa, Starsin, litotes, Ophanim, Ruinam, Firen, Casimira, Caelestra, Jakub, Cyprin
42
Last post by Brennen

on 05-20-2019

it's hard to stop what you can't see; anyone

on 04-14-2019

Loess
Nightlock
5
Last post by Nightlock

on 05-11-2019

On The Hunt {Sochi}

on 04-04-2019

Loess
Zeus
4
Last post by sochi

on 04-30-2019

Sochi;

on 03-06-2019

Loess
Castile
8
Last post by sochi

on 05-06-2019

bottom of the deep blue sea; sochi/castile/any

on 02-24-2019

Loess
Castile, Isobell
5
Last post by sochi

on 03-06-2019

anyone;

on 01-29-2019

Loess
Castile, Pteron, The Monsters
10
Last post by Pteron

on 02-22-2019

Sochi;

on 01-28-2019

Islandres
Castile
4
Last post by sochi

on 02-03-2019

[open]

ISLAND RESORT

on 01-23-2019

Islandres
Shahrizai, Kyra, Beqanna Fairy, Affirmative, Reilly, Tiphon, Wallace, Roma, Lior, dark, Kerberos, luster, Zynistra, Castile, Gilt, abashed
19
Last post by Beqanna Fairy

on 02-02-2019

[open]

a new king will rise from the ashes; everyone

on 01-16-2019

Islandres
Shahrizai, Cress, Reilly, Tiphon, Wallace, Roma, Lior, Kerberos, Kharon, luster, Kali, Castile, Ophanim, Gilt
25
Last post by Wallace

on 01-24-2019

holiday party; sabra

on 01-08-2019

Islandres
Sabra
10
Last post by Sabra

on 01-13-2019

stranger in this land; colby pony

on 01-05-2019

Forest
Nightlock
12
Last post by Nightlock

on 04-07-2019

Sochi;

on 01-03-2019

Islandres
Reia
4
Last post by sochi

on 01-12-2019

there was a garden of evil in the palm of my hand; castile

on 01-03-2019

Islandres
Castile
6
Last post by Castile

on 01-16-2019

some ancient call that I've answered before; birthing

on 11-24-2018

River
Castile
9
Last post by sochi

on 12-16-2018

feed the fire and burn it slow; laura pony

on 11-17-2018

Forest
violence, garbage
6
Last post by sochi

on 12-04-2018

they all go into the dark; ALL

on 10-21-2018

Pangea
Tithe, auric, Sid, Rocinante, Nihlus, Cress, Ramiel, Kingslay, Zoryn, Carnage, chantale, Rhonen, Raelynx, Cassady, Raeg'n, Dovev, leliana, Kolera, Ryan, Nightlock, Zain, Raul, Rajanish, Warlight, Maleficar, Leokadia, Yidhra, Leander, shroud
31
Last post by Rhonen

on 10-29-2018

there was a garden of evil in the palm of my hand; dayé

on 10-10-2018

Loess
Dayé
3
Last post by sochi

on 10-14-2018

sochi/laura pony;

on 09-09-2018

Meadow
Castile
8
Last post by sochi

on 10-27-2018

[open]

you're going home, you're rag and bone; any

on 09-03-2018

Forest
Dayé
13
Last post by sochi

on 10-01-2018

kingdom announcement & activity check - ALL

on 05-09-2018

Hyaline
Kagerus, Briseis, Smoak, Solace, Svedka, Embark, Ilma, Hephaestus, Baltas, Gedrinth
11
Last post by Hephaestus

on 05-17-2018

...and I'm home - Sochi, anyone

on 05-06-2018

Hyaline
Ilma
5
Last post by Ilma

on 05-21-2018

Terms of Agreement; Solace/Hestia/Scorch/Sochi/diplomats

on 04-21-2018

Nerine
Scorch, Hestia, Solace, Ilma
8
Last post by Scorch

on 04-30-2018

lost to these linens / any

on 02-16-2018

Playground
Wishbone
7
Last post by Wishbone

on 03-29-2018
sochi's Signature


I was less than graceful, I was not kind
be out watching other lovers lose their spine