QOTY
"She presses into him greedily, hungrily, and demands more. She does not know how to be gentle when she is with him—does not know how to quell the aching in her belly, the neediness in her touch. She would devour him whole. She would sacrifice herself completely. She would give and give and give—" --Tabytha, written by Laura
leliana
the healer
Age: --
Gender: Mare
Breed: hybrid
Height: 15.2hh
Player: laura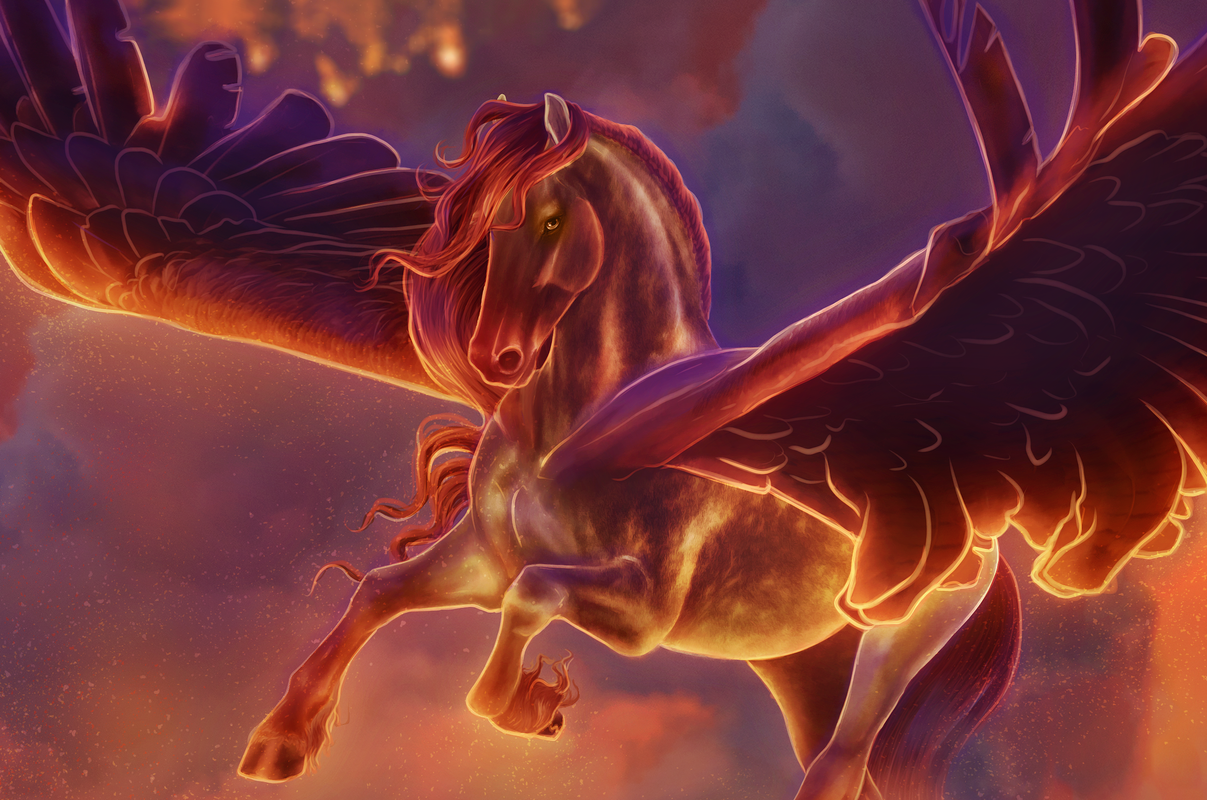 Appearance
Color: mahogany bay (Ee/Aa)
Eyes: hazel
Markings: crimson points
Mane & Tail: crimson w/ red flowers
Personality
KIND. STEADFAST. GENTLE.

leliana spent much of her life living on the outside of the world, watching but not actively participating. she is a steady presence and does her best to hide away the true depth of her emotions, regardless of which extreme. she gives most of herself away and will heal others, even to the point of exhaustion. she takes great pride in being a good wife, mother, and sister. her children are her pride and joy, despite the sometimes painful circumstances surrounding them. in all things, she is calm and maintains control of her emotions. she can be a romantic at heart and has an endless capacity for love.
Lineage
Parents:
gendry & victra

Children: all children with vulgaris
* adna (f) equus viperous
* sabbath (f) equus viperous, horn
* malca (f) singular regeneration, kelpie mimicry
* linnea (f) equus arbor
* chronos (m) anaconda shifting, water immunity
* larke (f) horn, healing
* saint (f) plant dragon shifting
* drache (m) plant dragon shifting
* meraki (f) equus plantae, wings
* linnet (f) water immunity, horn, singular regeneration
Traits
Genetic Traits: plant magic
Non-Genetic Traits: shapeshifting wings
Trait Genetic Code: tegteg [PLANT MAGIC][FLOWERS][SHAPESHIFTING WINGS*][beak][immortality][healing][singular regeneration]
Defects: --
History
YEAR 188
* leliana and her twin exist are born during the reckoning on the mountain. leliana names her sister.
* shortly after, exist restores her powers and they regain their wings and their gift of healing.

YEAR 189-190
* leliana spends much of her time wandering around the common lands, healing others from afar.
* her and her sister move to tephra where their "uncle" magnus watches over them.
* during one visit to the meadow, she takes a nap and meets dovev who has lost his memories.
* after dovev flees, she takes the one word he told her (ischia) and goes to meet him there.
* in ischia, dovev takes her to his home. she realizes she has feelings for him and spends the night.
* her and dovev continue to run into one another and her feelings for the stallion intensify.
* during a rainstorm, she meets rhonen and they share their stories together, becoming unlikely friends.
* heartfire finds leliana in the meadow and takes her sight, showing her why she shouldn't love dovev.
* zoryn, someone in dovev's life, finds and attacks her, leaving her seriously wounded.
* dovev comes to tephra to find her, seeing that she refuses to heal herself from zoryn's attack.
* dovev regains his memories and leliana feels intense guilt for loving someone who is already loved.
* while in tephra, magnus intervenes with her and dovev, bringing his daughter to them. leliana flees.
* in the meadow, she meets dovev's mentor ashley and heartfire before briefly reuniting with dovev.

YEAR 191-197
* for several years, leliana withdraws and spends time by herself.
* she continues to heal but doesn't interact with anyone else and grows distant.

YEAR 198
* she returns to beqanna and meets vulgaris where she quickly develops feelings for him.
* in the meadow, she meets abysm who she bonds with over their mutual pain.
* she meets vulgaris again by the river and he offers to take her to his home in loess.
* she meets rhonen once more and gets introduced to his daughter noah.
* leliana lives in loess, feeling herself care for vulgaris despite knowing he is hiding things from her.

YEAR 199
* dovev returns with his memories tampered with but grows upset when he sees she is pregnant.
* leliana gives birth to her first child, a little girl named adna who has her father's snake qualities.
* leliana and her sister exist are recruited to help heal warrick who is injured from his dealings with carnage.
* no matter how hard they try to heal him though, they can only make him comfortable.
* after leaving warrick, leliana tries to return home but passes out by the river.
* dovev finds her and regains some of his memories her in his distress.
* vulgaris fights him when he sees him standing over her. heartfire intervenes, dissolving the bank of the river.
* dovev comes to find her in loess and takes her to his friend / lover for her to heal.
* vulgaris smells dovev and uses it as an excuse to drive her from loess to protect her from his sister.
* she flees loess and is comforted separately by both chaol and vulgaris' sister khuma.
* leliana send her daughter adna to be safe in tephra before flying to pangea to try and protect her friend rhonen. she is unsuccessful.
* dovev finds and tries to protect her during this but they are separated in the aftermath.

YEAR 200
* chaol finds her and she asks him to send a message to adna, letting her know she is safe.
* eventually, vulgaris finds her to apologize. during this reunion, she gives birth to sabbath by the river in winter.
* she returns to loess but splits her time between there and island resort where she meets cress and tiphon.
* she agrees to help both tiphon and cress in their quest to heal as many as they can from the plague.
* leliana contracts the plague and grows sick but continues to work to try and heal others.
* dovev brings heartfire to her and, although she is hurt by their relationship, she tries to heal the mare.
* leliana participates in the icicle isle quest where she works together with wallace and illum.
* eventually, leliana is healed from the plague and returns home to be with her family.
* vulgaris goes to the mountain to try and help leliana heal others but carnage takes his memory instead.
* when he returns, he attacks and forces himself on leliana who is deeply affected by the incident.
* she begins to spend most of her time at the island resort, although she doesn't abandon her family.

YEAR 201
* chaol finds her in the aftermath of vulgaris' attack and tries to comfort her, but she feels nothing.
* dovev finds her at island resort and she realizes that she still has feelings for him.
* for the first time, leliana gives birth alone to her third daughter and names her malca.
* she meets abysm again and he helps take her mind off her pain by taking her to the dream world.
* leliana unknowingly meets vulgaris' son with his sister shiya and offers to adopt him.
* leliana participates in another quest in the brilliant pampas and wins flowers in her mane as a result.
* vulgaris finds her in island resort and brings her back to loess where he holds her captive as a healer.

YEAR 202
* she spends months captive, growing more and more ill as she does her best to care for malca.
* eventually, darling comes and helps reunite her with vulgaris who regains his memories.

YEAR 203
* leliana gives birth to the twins larke and chronos at the same time that the cure hits beqanna.
* during this time, she gains magic which overtakes her and then overwhelms her mind completely.
* she leaves loess and returns to tephra where she sets out on a vendetta against loess.
* magnus steps aside and gives her the crown, supporting her in her quest for justice.
* she meets adria who asks her to give her ischia. leliana agrees and overthrows isobell.
* vulgaris comes to her and she gives him an ultimatum, to stand with her or stand against her.
* she helps rescue her friend cress from loess and brings her to safety. cress is later stolen back.
* tensions continue to rise and leliana eventually makes the first move against loess by building a maze in their home as a warning.
* her magic goes haywire though and the maze becomes dangerous, hurting several loessian children.
* loess retaliates by raiding tephra, setting it on fire while leliana does her best to shield what she can with brennen's help.
* she watches vulgaris fall into the volcano and it then explodes. she creates portals to let people escape before she falls under the magma.
* after several days, leliana returns to life and sets to begin rebuilding tephra from the ashes.
* her memories and control of her mind begin to return to her and she goes to the afterlife to reunite with vulgaris and bring him home.
* while there, she discovered her daughter linnea had died, as well. she brings her back but needs to spend several months "regrowing" her to bring her back to life.

YEAR 204
* in an attempt to bring out peace, she works with kensa to throw a masquerade party in hyaline.
* she travels to loess to negotiate a treaty but is denied. she tells castile she won't let tephra be harmed again.
* she continues to regrow tephra and build relationships with others including jakob, isilya, and rae.
* her and vulgaris begin to build trust once more, falling in love with each other all over again.
* she gives birth to another pair of twins, saint and drache, who eventually turn into plant dragons.
* she travels to nerine to meet heartfire. the two overcome their history and decide to work together to stand against loess.
* sabbath returns home and leliana gets to meet her very first grandchild, prayer.
* in a visit from ischia, leliana meets vita, learning that she has another half-sister.
* linnea finally wakes up and asks for nikolaus, the son of castile and sochi.
* leliana searches and finds him isolated in icicle isle. she brings in tephra to heal his wounds, before sending him home.

YEAR 205
* leliana grows tired of leading tephra and asks vulgaris to take over, handing him the crown.
* maleficar wakes from the volcano and they spend time getting to know one another.
* wolfbane comes to tephra and, despite her reservations from the war, she does her best to help him but eventually fails.
leliana's Forum Info
Joined:
01-08-2017
Last Visit:
(Hidden)
Total Posts:
322 (0.24 posts per day | 0.42 percent of total posts)
(Find All Posts)
Total Threads:
42 (0.03 threads per day | 0.23 percent of total threads)
(Find All Threads)
Time Spent Online:
(Hidden)
leliana's Threadlog · View Profile
Thread
Forum
Participants
Posts
Last Post
Help! I need somebody - Plant Ladies

on 01-15-2020

Tephra
Fern, Isilya
5
Last post by Isilya

on 03-06-2020

i feel a bad moon rising | any

on 11-16-2019

River
Lepis
10
Last post by leliana

on 12-28-2019

[private]

Bloodfeather [Pt. 2] || Vulgaris, Leliana ||

on 10-31-2019

Tephra
Wolfbane
2
Last post by leliana

on 11-05-2019

[open]

Bloodfeather || Vulgaris, Leliana, Any ||

on 10-10-2019

Tephra
vulgaris, Wolfbane, Jakub
12
Last post by vulgaris

on 10-23-2019

i said i'm sorry mama for my vices; leli/any

on 09-20-2019

Tephra
Maleficar
8
Last post by leliana

on 09-20-2019

Long May She Reign ||Vulgaris||

on 09-09-2019

Tephra
vulgaris, Mary
6
Last post by Mary

on 09-19-2019

from the pinnacle to the pit; leliana

on 08-29-2019

Tephra
vulgaris
4
Last post by leliana

on 09-09-2019

Vulgaris, Leliana, anyone;

on 08-22-2019

Tephra
vulgaris, Skaide
4
Last post by Skaide

on 08-30-2019

Paint the sky blue, Leliana, Any!

on 08-21-2019

Tephra
Ruinam
5
Last post by Ruinam

on 10-08-2019

break these bones until they're better; leliana

on 08-16-2019

Tephra
linnea, nikolaus
10
Last post by nikolaus

on 08-18-2019

Eyes turned skyward: Formal visit, Any!

on 08-12-2019

Tephra
Ruinam
2
Last post by leliana

on 08-16-2019

Fear Controls You |Leliana|

on 08-12-2019

Tephra
Vita
8
Last post by leliana

on 09-02-2019

all the stars are closer; leliana and prayer

on 08-06-2019

Tephra
Sabbath, prayer
6
Last post by prayer

on 08-24-2019

as we lie in the dark, mouth is of sapphires; heartfire

on 08-04-2019

Nerine
Heartfire
10
Last post by Heartfire

on 09-16-2019

I have seen to many men go down;Leliana

on 07-28-2019

Tephra
Jakub
6
Last post by leliana

on 08-16-2019

[private]

the meetings of the waters just below the ribs; birthing

on 07-26-2019

Tephra
vulgaris, saint, Drache
5
Last post by leliana

on 08-10-2019

[open]

golden days; Leliana and any

on 07-24-2019

Tephra
Isilya
7
Last post by Isilya

on 09-19-2019

earth and sky both

on 06-12-2019

Tephra
Rae, Jakub
13
Last post by Jakub

on 08-29-2019

your skin tastes of gorse flowers; vulgaris

on 06-12-2019

River
vulgaris
6
Last post by vulgaris

on 08-06-2019

[open]

one day it's here and then it's gone; leliana, any

on 06-07-2019

Tephra
Titus
5
Last post by Titus

on 06-12-2019

Unplayed pianos are usually by a window where nobody loved goes; Leliana

on 06-04-2019

Tephra
Jakub
7
Last post by Jakub

on 06-12-2019

who would've thought it was pure gold; castile / any

on 06-04-2019

Loess
Castile
5
Last post by leliana

on 06-20-2019

the wars are raging on, leliana

on 06-01-2019

Tephra
Dawn
4
Last post by leliana

on 06-03-2019

[open]

[Party] anyone;

on 05-29-2019

Hyaline
vulgaris, NPC, Jakub
14
Last post by vulgaris

on 06-11-2019

haunted by the ghost of you; vulgaris

on 05-21-2019

Afterlife
vulgaris, linnea
9
Last post by vulgaris

on 06-05-2019

[open]

I've been down with the coldest war; any

on 05-20-2019

Tephra
Brennen, Ryatah, Jakub
6
Last post by Ryatah

on 05-23-2019

But you don't fucking know me homie you don't want war.

on 05-15-2019

Tephra
Gale, Brennen, Aziz, vulgaris, Heartfire, Sinner, Castile, Nightlock, Wolfbane, sochi, Titus, Mary, Vadar, Dawn, Maleficar, Kensa, Starsin, litotes, Ophanim, Ruinam, Firen, Casimira, Caelestra, Jakub, Cyprin
42
Last post by Brennen

on 05-20-2019

now watch me burn it down; any / all

on 05-15-2019

Loess
Oxytocin, Lepis, Noah, Starsin, brunhilde, Oriash, Tiercel, Malone, Morgayne
10
Last post by Tiercel

on 05-17-2019

truth it breaks by the night; kensa

on 05-14-2019

Hyaline
Kensa
7
Last post by leliana

on 06-01-2019

you'll know you're mine when the silence comes; adria, isobell

on 05-14-2019

Ischia
Adria
2
Last post by Adria

on 05-17-2019

follow my voice, I am right here; vulgaris

on 05-12-2019

Loess
vulgaris
5
Last post by leliana

on 05-14-2019

will you rail against your dying day; isilya

on 05-11-2019

River
Isilya
9
Last post by leliana

on 06-08-2019

only love could kill me; noah

on 05-11-2019

Brilliant Pampas
Noah
4
Last post by Noah

on 05-16-2019

the knife in my heart couldn't slow me down; ryatah

on 05-11-2019

Tephra
Ryatah
3
Last post by leliana

on 05-14-2019

[private]

hunt or be hunted; leliana

on 05-08-2019

Tephra
Sinner
3
Last post by Sinner

on 05-15-2019

[private]

throw me into the fire ; leliana

on 05-08-2019

Tephra
Cress
5
Last post by Cress

on 05-15-2019

You could be happy; I hope you are, Leliana

on 05-07-2019

Tephra
vulgaris
5
Last post by vulgaris

on 05-08-2019

[open]

The things we leave behind (Leliana, Any)

on 05-07-2019

Tephra
Adria
5
Last post by Adria

on 05-13-2019

we are crooked souls trying to stand up straight; any

on 05-06-2019

Tephra
Radar, Warrick
5
Last post by Warrick

on 05-15-2019

[open]

we're not meant to stay forever; any

on 05-05-2019

Tephra
Agnieszka
2
Last post by leliana

on 05-05-2019

so bring me the dawn

on 05-04-2019

Tephra
Ilma, Dawn, magnus, Jakub
7
Last post by Ilma

on 05-09-2019

[open]

no gentle word could wake me from this slumber; any

on 05-02-2019

River
Rae
9
Last post by leliana

on 06-12-2019

as if death itself was undone; birthing, vulgaris

on 05-02-2019

Loess
vulgaris
7
Last post by leliana

on 05-03-2019

how it can hold me up and kill me in the end; vulgaris

on 03-31-2019

Loess
vulgaris, linnea
9
Last post by vulgaris

on 05-02-2019

I know that love is all about the wind; any

on 01-24-2019

Loess
vulgaris
3
Last post by leliana

on 01-29-2019

Brilliant Pampas: Round 2

on 01-23-2019

Brilliant Pampas
Beqanna Fairy, Kagerus, Ruan, luster, Anani, Ilma, Y'Kira, Nocturne, Ferran, Rouhi, wander, naia, GODBEAR
15
Last post by leliana

on 01-24-2019

here lies the love of my life, leliana

on 01-20-2019

Islandres
vulgaris
2
Last post by leliana

on 01-20-2019

Brilliant Pampas: Round 1

on 01-16-2019

Brilliant Pampas
devin, Beqanna Fairy, Kagerus, Ruan, luster, Anani, Ilma, Y'Kira, Nocturne, Ferran, Rouhi, wander, naia, GODBEAR
15
Last post by luster

on 01-20-2019

I can't get you off my mind; LELIANA

on 01-14-2019

River
Chaol
4
Last post by leliana

on 01-16-2019

they are wicked things, leliana and dovev

on 01-10-2019

Brilliant Pampas
despair
6
Last post by leliana

on 01-17-2019
leliana's Signature

the heaviness in my heart belongs to gravity