Year:

218

Season:

Summer

SWP: here
QOTY
"She approaches the cave and there is nothing but that anticipation and her ever-present fire inside her. No fear, no flickering echoes of love. It's all been consumed for now. She is a wildfire contained only by the thin layer of her flesh." --Mazikeen, written by Squirt
Age: Adult
Gender: Mare
Breed: Mustang
Height: 15hh
Player: Lyr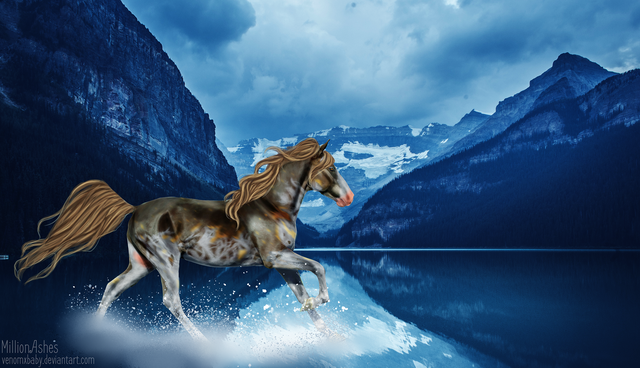 Appearance
Color: Liver Chestnut & Gold Sabino (ee/AA/nSb)
Eyes: Topaz
Markings: White and gold sabino markings
Mane & Tail: Flaxen
Personality
pleasure driven
flirtatious
bold
intense
curious
Lineage
Parents: unknown x unknown

Children:

Astarielle (Adopted)

Brunhilde [x Litotes]

Crynn (Adopted)

Valek [x Ivar]

Kelynen [x Litotes]

Risk (Adopted)

Aloy [x Brigade]

Anath [x Carnage]
Traits
Companion:
Genetic Traits: Enhanced Beauty, Water Teleportation, Super Fertile
Non-Genetic Traits:
Trait Genetic Code: tegteg [ENHANCED BEAUTY][WATER TELEPORTATION][SUPER FERTILE]
Defects:
History
Kensa was born to a family made up of four mares and two stallions involved in a commited polyamorous relationship. She was raised by all of them and is not entirely sure which were her biological parents and never cared to find out.
At the age of three Kensa wished to leave home for a place unlike any she had been before and so came to Beqanna by means of whatever mysterious force so often deposits beings in that land. In the field she met Rhaegor and Magnus. Immediately taken with the mute colt she followed him back to Hyaline, becoming a resident there.
Her first year in the mountain kingdom was spent exploring and getting to know others her age. She was one of many youngsters attracted to The Sanctuary during the summer before the plague the mountains were overflowing with young hormonal horses. During this period Kensa met a melancholy stallion of her own age named Litotes. A romance sparked between the pair immediately, Kensa's vivacity drawing the cremello stallion like a moth to the flame. The two of them temporarily distracted from other potential conquests.
When The Plague rolled over Beqanna Kensa could not leave Hyaline behind, and so remained in the mountain kingdom with Litotes, Solace, and a very few others to hold onto their alpine home. In time Hyaline was given to Litotes and Kensa to rule, a territory of the Eastern Kingdom.
That Spring Kensa gave birth to her firstborn with Litotes, Brunhilde. They also adopted two other children Astarielle and Crynn..
It wasn't long before Litotes attempted to capture Starsin from Loess. Vulgaris countered the steal and kept Litotes as his prisoner. Back in Hyaline Kensa was frightened and sick with three young children to care for. She went to the Cove to report his disappearance to Kagerus and Solace, she was not received warmly.
Kensa made up her mind to go to Loess to try and ask its King to release Litotes. Instead she met Litotes there, he was in his lion form and the two fought. Litotes drew Kensa's blood before she fled back to Hyaline without seeing the king. Back in Hyaline Amet was placed opposite her in leadership without her consent. During this period she returned to Ischia, having met Ivar on a diplomatic mission and been attracted to him. He fathered the son she bore before the plagues end, Valek.
The plague and its difficulties and betrayals fire-hardened Kensa. Following it she chose to move forward as the lone power in Hyaline. She'd had a difficult reunion with Litotes but became pregnant again. Ilma who had taken the throne after Solace and Kagerus stepped down at last turned it over to Dawn, Kensa's best friend. Kensa was reunited with Litotes again following his death trying to cure the plague, she births Kelynen but is unable to bond with the boy after the stress if losing his father and difficult birth.
Kensa meets Leliana shortly before the war of thorns and fire that rages between that magician Queen of Tephra and the dragon King of Loess, Castile. She admires Leliana and considers her a friend, and her relationship with Castile is complicated by his relationship with her husband, their shared border, and the attraction she feels toward him. When Kensa goes to the battlefield, she does not fight anyone but attacks her Queen and friend Dawn before the polar bear shifter can harm Litotes, the three of them scatter and Kensa helps Starsin to rescue a gravely wounded Ophanim.
Following the atrocities of the war, Kensa returns to Hyaline determined to scrub away its history of pacifism. She hopes to see Hyaline become a place of pleasure, freedom, and the kinds of little disruptions that satisfy Beqanna's desire for chaos. A visit to Ophanim in his Sylvan prison results in pregnancy with her second daughter, Soothe.
In the time that follows Kensa has an affair with Starsin and falls in love with a young stallion named Brigade. Her long relationship with Litotes comes to a terrible and painful end, though her love for him abides she has done unforgivable damage to her mate. She gives birth to a daughter, Aloy, who is unmistakably Brigade's but the romance disintegrates.
Kensa loses her way and leaves Hyaline, ashamed and heartbroken she chooses to live apart from her many friends. Her daughter Aloy leaves her behind at a very young age. During her time in solitude she bears a child of Carnage, Anath, she abandons the girl in the den.
The end of Kensa's self-imposed banishment ends when Leilan accidentally teleports her to Icicle Isle during the summer of 217.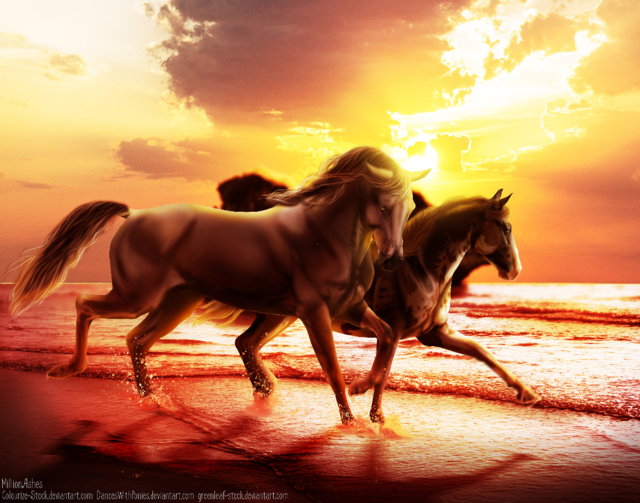 Kensa's Forum Info
Joined:
09-10-2018
Last Visit:
(Hidden)
Total Posts:
267 (0.23 posts per day | 0.3 percent of total posts)
(Find All Posts)
Total Threads:
51 (0.04 threads per day | 0.25 percent of total threads)
(Find All Threads)
Time Spent Online:
(Hidden)
Kensa's Threadlog · View Profile
Thread
Forum
Participants
Posts
Last Post

[open]

back to you; any

on 09-08-2021

Icicle Isle
Nashua
2
Last post by Nashua

on 09-08-2021

[open]

that's how love goes

on 09-06-2021

Meadow
N/A
1
Last post by Kensa

on 09-06-2021

[private]

Everything that drowns me, makes me want to fly

on 08-25-2021

Icicle Isle
Leilan
3
Last post by Leilan

on 09-14-2021

[open]

an abandonment; any

on 07-23-2021

Adoption Den
Malik, Anath
11
Last post by Malik

on 08-08-2021

[open]

we wrote our own story; any

on 11-06-2019

Meadow
Set
2
Last post by Set

on 11-06-2019

[TAKEOVER]

from the ashes - ALL CITIZENS

on 10-21-2019

Pangea
Anaxarete, Ripley, Dawn, Rayie, Darkling, ghaul, Desire, stave
10
Last post by Anaxarete

on 10-26-2019

[open]

cowboys aint easy to love

on 10-09-2019

Hyaline
Chemdog, Sevda
3
Last post by Sevda

on 10-26-2019

[private]

made in the middle of the madness; brigade

on 09-13-2019

Sylva
brigade
3
Last post by Kensa

on 09-29-2019

[private]

Purpose and Pain

on 09-04-2019

Meadow
Melinoë
6
Last post by Kensa

on 09-30-2019

[open]

Activity Check [Closes 9.8.19]

on 09-01-2019

Hyaline
Nicole, Chemdog, Vanilla Custard, Nyxistaken, Nixus
6
Last post by Chemdog

on 09-12-2019

[private]

we wrote our own story; elaina

on 08-31-2019

Hyaline
N/A
1
Last post by Kensa

on 08-31-2019

[private]

come whichever hell or high water; brunhilde

on 08-31-2019

Hyaline
brunhilde
5
Last post by Kensa

on 10-13-2019

[open]

Silent moments

on 08-29-2019

Field
Duskfall
5
Last post by Duskfall

on 09-09-2019

[open]

blood sweat and heartbeats; any

on 08-29-2019

Hyaline
Leilan
6
Last post by Leilan

on 10-26-2019

[mature]

we wrote our own story; brigade

on 08-22-2019

Forest
brigade
19
Last post by Kensa

on 09-08-2019

[private]

we were neon in a grey crowd; starsin

on 08-18-2019

Hyaline
Starsin
6
Last post by Starsin

on 09-08-2019

hold the nail for the hammer stroke; kensa

on 08-15-2019

Hyaline
brigade
11
Last post by brigade

on 08-18-2019

[private]

a dangerous game love; litotes

on 08-12-2019

Pangea
litotes
11
Last post by Kensa

on 08-15-2019

[private]

tales of an endless heart; clayton

on 08-09-2019

Silver Cove
Clayton
6
Last post by Clayton

on 09-20-2019

[private]

A Wish

on 08-05-2019

Hyaline
N/A
1
Last post by Kensa

on 08-05-2019

[open]

truth hurts; needed something more exciting

on 08-02-2019

Hyaline
Leilan, Celina
8
Last post by Leilan

on 09-17-2019

Activity Check [Closes 8.8.19]

on 07-27-2019

Hyaline
laura, Chemdog, Leilan, Rouhi, Elaina
6
Last post by laura

on 08-04-2019

[open]

The sun hung from a string, looking down on the world - any

on 07-16-2019

Hyaline
Leilan
7
Last post by Leilan

on 08-02-2019

[private]

momma had a baby and the head popped off - Soothe & Ophie

on 07-09-2019

Loess
soothe, Ophanim
5
Last post by Ophanim

on 08-05-2019

all the ashes in my wake; kensa

on 07-08-2019

Loess
sochi, brigade
26
Last post by Kensa

on 08-17-2019

she's a little explosion of hope [kensa]

on 07-07-2019

Field
Elaina
5
Last post by Elaina

on 08-03-2019

[open]

Half Way on a Slow Move [Any Recruiters]

on 07-04-2019

Field
Tiercel
3
Last post by Tiercel

on 08-07-2019

this isn't what it could be; heartfire mostly

on 07-03-2019

Nerine
Heartfire
12
Last post by Heartfire

on 09-16-2019

[private]

love is madness; Hyaline Meeting - Members Only

on 07-02-2019

Hyaline
Rouhi, aegean
4
Last post by Kensa

on 07-25-2019

come a little closer; any

on 06-24-2019

Field
Cor
2
Last post by Kensa

on 06-24-2019

[private]

tell your baby that i'm your baby

on 06-16-2019

Hyaline
litotes
8
Last post by Kensa

on 08-12-2019

i'm the bad guy, kensa

on 06-09-2019

Hyaline
Chemdog
9
Last post by Chemdog

on 08-25-2019

[private]

Brigade;

on 06-09-2019

Meadow
brigade
19
Last post by Kensa

on 07-08-2019

[open]

[Party] Raindrops On Roses

on 05-31-2019

Hyaline
NPC, Vadar
4
Last post by Vadar

on 06-18-2019

[open]

MASQUERADE BALL - READ THIS FIRST - ALL

on 05-29-2019

Hyaline
N/A
1
Last post by Kensa

on 05-29-2019

[private]

Risk;

on 05-26-2019

Hyaline
Risk, Kelynen
4
Last post by Risk

on 06-13-2019

[private]

Kensa;

on 05-24-2019

Hyaline
Castile
7
Last post by Castile

on 08-12-2019

[open]

Activity Check [Closes 6.1.19]

on 05-21-2019

Hyaline
laura
2
Last post by laura

on 05-22-2019

[open]

everybody knows we've got unfinished business [Meeting/New Hyaline]

on 05-21-2019

Hyaline
Chryseis, Aldric, Rouhi, aegean
5
Last post by Aldric

on 05-24-2019

this isn't what it could be

on 05-18-2019

Hyaline
N/A
1
Last post by Kensa

on 05-18-2019

But you don't fucking know me homie you don't want war.

on 05-15-2019

Tephra
Gale, Brennen, Aziz, vulgaris, Heartfire, leliana, Sinner, Castile, Nightlock, Wolfbane, sochi, Titus, Mary, Vadar, Dawn, Maleficar, Starsin, litotes, Ophanim, Ruinam, Firen, Casimira, Caelestra, Jakub, Cyprin
42
Last post by Brennen

on 05-20-2019

truth it breaks by the night; kensa

on 05-14-2019

Hyaline
leliana
7
Last post by leliana

on 06-01-2019

A breeze underneath your wings; ALL, Council

on 05-13-2019

Silver Cove
Ilma, Dawn
3
Last post by Dawn

on 05-14-2019

[private]

simply save me; Litotes

on 05-11-2019

Pangea
litotes
5
Last post by Kensa

on 05-26-2019

May Activity Check; closes 5.20.19

on 05-10-2019

Hyaline
Nyxistaken, Risk
3
Last post by Risk

on 05-23-2019

[open]

tell me that it's all okay, any

on 05-09-2019

Adoption Den
Virgo, Risk
3
Last post by Risk

on 05-23-2019

I would rather walk with a friend in the dark, than alone in the light; kensa/any

on 05-01-2019

Hyaline
Izora Lethia
6
Last post by Kensa

on 05-25-2019

[private]

a violent daydream; Jassal

on 04-25-2019

Meadow
Ophanim
3
Last post by Kensa

on 05-12-2019

[mature]

you are insane, my desire; starsin

on 04-25-2019

River
Starsin
13
Last post by Kensa

on 08-02-2019

One For Old Times {Kensa}

on 04-16-2019

Hyaline
Clayton
3
Last post by Clayton

on 04-25-2019
Kensa's Signature