QOTY
"She presses into him greedily, hungrily, and demands more. She does not know how to be gentle when she is with him—does not know how to quell the aching in her belly, the neediness in her touch. She would devour him whole. She would sacrifice herself completely. She would give and give and give—" --Tabytha, written by Laura
ghaul
The Voice of Hunger
Age: 6
Gender: Stallion
Breed: Hybrid
Height: 17.3hh
Player: Jassal
Appearance
Color: Buckskin (Ee/Aa/nCr)
Eyes: none
Markings: Galaxy markings on face and legs
Mane & Tail: black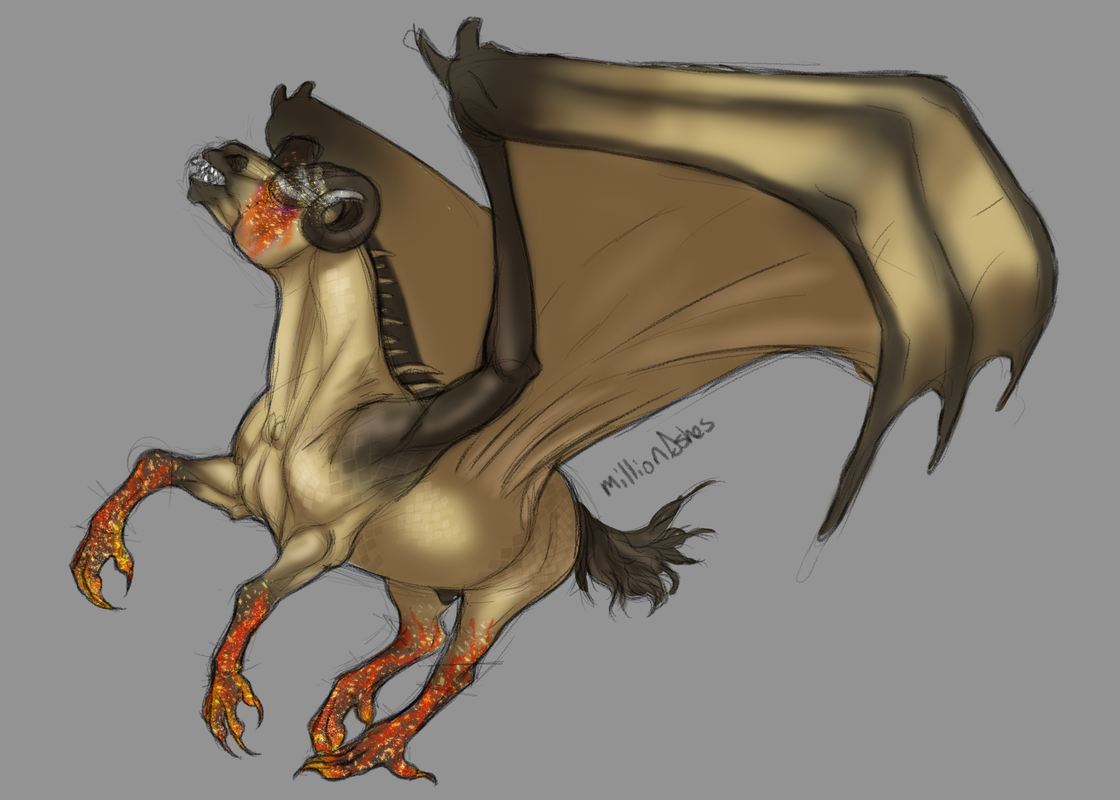 Ghaul has horns where his eyes should be, with galaxy markings twisted from the high points of his cheekbones up on to his horns. His lower legs also have these galaxy markings. Ghaul's scales cover nearly his entire body except for a ridge down his belly with a larger ridge of spines along his back and hips. He has crocodile-like fangs and talons instead of hooves. His mane is very short, maybe an inch or so, and stands upright as a result of its length. Ghaul's has a thin equin tail and powerful draconic wings.
Personality
Personality Type: ESTP-A

Strengths:
Bold - Ghaul is full of life and energy. There is no greater joy for him than pushing boundaries and discovering and using new things and ideas.
Rational and Practical - He loves knowledge and philosophy, but not for their own sake. He enjoys finding ides that are actionable and drilling into the details so they can be put to use. If a discussion is arbitrary, there are better uses for his time.
Original - Combining his boldness and practicality, he loves to experiment with new ideas and solutions. He puts things together in ways no one else would think to.
Perceptive - His originality is helped by his ability to notice when things change - and when they need to change. Small shifts in habits and appearances stick out to him and he uses these observations to help create connections with others.
Direct - He prefers to communicate clearly, with direct and factual questions and answers. Things are what they are.
Sociable - Ghaul has a knack for making excellent use of social interactions and networking opportunities.

Weaknesses:
Insensitive - Feelings and emotions come second to facts and reality for him. Emotionally charged situations are awkward, uncomfortable affairs, and his blunt honesty doesn't help. He has difficulty acknowledging and expressing his own feelings as well.
Impatient - He moves at his own pace to keep himself excited. Slowing down for others or having to stay focused on a single detail for too long is extremely challenging for him.
Risk-Prone - His impatience can lead him to push into uncharted territory without thinking of the long-term consequences. He sometimes intentionally combats boredom with extra risks.
Unstructured - If he sees an opportunity, he tries to seize the moment and ignores rules or social expectations in the process. Things will get done, but it may create social fallout.
Defiant - He refuses to be boxed in. Repetition, hard set rules, sitting quietly while being lectured at - he despises it. He is action-oriented and tedious environments are intolerable for him, requiring extra effort to stay focused.
Lineage
| | |
| --- | --- |
| Parents: Litotes x Bible | Children: None |
Traits
Genetic Traits: Equus Draconis, horns, galaxy markings
Non-Genetic Traits: Light beam emission
Trait Genetic Code: tegteg [EQUUS DRACONIS][GALAXY MARKING][HORN][light beam emission*][companion animal][immortality]
Defects: Blind af
History
-Born by ripping his way out of Bible's belly, where he was discovered by Litotes and Dawn, his surrogate mother.
-Met Gospel as a blood-soaked newborn, claimed her and brought her to Pangea.
-Met Greta in Pangea and also claimed her as his.
-Attended a meeting in Loess with Litotes, where he discovered Clarissa for the first time.
-Proclaimed himself heir of Pangea when Anaxarete took over.
-Snuck back to Loess to proclaim his love for Clarissa before being chased away by Castile.
-Met Soch, whom he tried to eat, but instead she clawed his face up.
-Met his new bff Pteron, whom he chews on sometimes.
-Raped and ate Jenova, kept her wing as a souvenir.
ghaul's Forum Info
Joined:
09-02-2019
Last Visit:
09-23-2020, 08:42 PM
Total Posts:
139 (0.33 posts per day | 0.18 percent of total posts)
(Find All Posts)
Total Threads:
35 (0.08 threads per day | 0.19 percent of total threads)
(Find All Threads)
Time Spent Online:
5 Days, 2 Hours, 30 Minutes
ghaul's Threadlog · View Profile
Thread
Forum
Participants
Posts
Last Post
and i hope that you remember me.

on 09-14-2020

Beach
N/A
1
Last post by ghaul

on 09-14-2020

i'm on the edge of a knife; pangeans

on 09-11-2020

Loess
Anaxarete, Starsin, Malone, draco, Neverwhere, Celina, gospel, Oceane, stave, Nashua, ciara
13
Last post by Nashua

on 09-19-2020

The Alliance: 2020 (sign ups)

on 09-01-2020

Plains
Isilya, Officials, Ashhal, Sabra, Leilan, Neverwhere, Aquaria, gospel, elio, kensley, Oceane, Gale, breach
14
Last post by Oceane

on 09-28-2020

i took a calculated risk; straia

on 08-24-2020

Silver Cove
Straia
4
Last post by Straia

on 08-25-2020

[TAKEOVER]

feel the weightlessness sink in

on 08-23-2020

Hyaline
yadigar, breach
5
Last post by breach

on 08-24-2020

[open]

And they lived happily ever after, The End. / Lepis /

on 08-22-2020

Loess
Djinni, Wolfbane, Lepis, Santana, Eyas, Neverwhere, elio, Tarian
22
Last post by Lepis

on 09-24-2020

you know who the god is; ALL

on 08-22-2020

Pangea
Anaxarete, gospel, stave, Beyza
5
Last post by Anaxarete

on 08-26-2020

[mature]

but, oh, I got an iron in that fire; ghaul

on 08-15-2020

Pangea
adna
2
Last post by ghaul

on 08-18-2020

[mature]

let me in under your bed and i will show you darkness as it turns to light.

on 07-28-2020

Nerine
N/A
1
Last post by ghaul

on 07-28-2020

[mature]

another dreamless night;

on 07-07-2020

Pangea
breach
6
Last post by breach

on 07-28-2020

a fistful of anything is still a fist.

on 05-25-2020

Pangea
Wolfbane
2
Last post by Wolfbane

on 05-27-2020

Where the rocks lie - Lilli

on 05-20-2020

Pangea
Eurwen, lilliana
12
Last post by lilliana

on 05-27-2020

[private]

we're up in flames

on 05-15-2020

Silver Cove
Cress
3
Last post by Cress

on 05-22-2020

[open]

a reason like mine

on 05-11-2020

Nerine
Eurwen, Celina, Amarine
10
Last post by Celina

on 05-13-2020

oh, i fall apart.

on 05-06-2020

Taiga
Kyra, Officials, Castile, Izora Lethia, draco, Popinjay, Skeleton Ghoul, Nashua
9
Last post by Officials

on 05-09-2020

i want everything, gospel

on 05-06-2020

Silver Cove
gospel
10
Last post by gospel

on 05-06-2020

[open]

Darkness calls - Ghaul & ALL

on 05-06-2020

Pangea
Anaxarete, Squirt, draco, Gluttony, Beyza
5
Last post by Beyza

on 05-09-2020

[private]

a reason to shine, lilliana

on 05-05-2020

Pangea
lilliana
5
Last post by ghaul

on 05-11-2020

i'll burn your name into my throat, asphyxea

on 05-04-2020

Silver Cove
yadigar, asphyxea
5
Last post by ghaul

on 05-26-2020

[private]

bother me, tell me awful things.

on 04-29-2020

Silver Cove
craft
8
Last post by craft

on 07-22-2020

[private]

a war ain't a war before both sides bleed; ghaul / straia

on 04-28-2020

Silver Cove
Straia, sochi
4
Last post by sochi

on 05-19-2020

[private]

my, what big eyes you have

on 04-27-2020

Silver Cove
Beyza
7
Last post by Beyza

on 06-09-2020

none of your cuts go very straight, lepis

on 04-26-2020

Loess
Lepis
8
Last post by Lepis

on 04-30-2020

[open]

The Sweet Sting || Ghaul, Any ||

on 04-23-2020

Pangea
Wolfbane
6
Last post by ghaul

on 05-11-2020

[private]

don't stay awake for too long, ghaul

on 04-22-2020

Pangea
clarissa
2
Last post by ghaul

on 04-22-2020

[challenge]

hey aten gimme your stuff

on 04-22-2020

Challenges
Officials
4
Last post by Officials

on 04-26-2020

[mature]

i'd burn here if that's what it takes

on 04-21-2020

Meadow
Cress
6
Last post by ghaul

on 04-26-2020

[private]

we are not the end; draco & lie

on 04-20-2020

Pangea
litotes
4
Last post by litotes

on 04-26-2020

[open]

without bringing me dreams; any

on 04-18-2020

River
kota
2
Last post by kota

on 04-22-2020

if you give me more time I swear I'll believe; any

on 03-18-2020

Field
sochi, Leilan, Neverwhere
10
Last post by Leilan

on 04-25-2020

Come On Down To Dragon Laaand {Dragons}

on 03-10-2020

Silver Cove
Cynder
4
Last post by ghaul

on 04-18-2020

She was the kind of person that keeps a parrot. [Ghaul]

on 02-28-2020

Nerine
Popinjay
5
Last post by Popinjay

on 05-06-2020

throwing shadows

on 02-23-2020

Meadow
bible
2
Last post by ghaul

on 02-23-2020

[open]

the north, the north, the north is on fire.

on 02-19-2020

Nerine
Brazen, Eurwen, lilliana, Neverwhere
13
Last post by Neverwhere

on 04-16-2020

ghaul, all - hello darkness

on 02-19-2020

Silver Cove
Anaxarete
2
Last post by ghaul

on 02-23-2020

Like a moth into flame, I consecrate the pain; Ghaul, Lilliana, any

on 02-13-2020

Pangea
Brazen, lilliana
3
Last post by lilliana

on 02-19-2020

[private]

you're a room without a key, a field without a fence.

on 02-07-2020

Pangea
clarissa
4
Last post by clarissa

on 03-12-2020

[private]

now our livingroom set is ruined!

on 02-05-2020

Loess
Starsin, Ophanim
6
Last post by Starsin

on 02-26-2020

Never land inside my hand; Alcinder, any

on 02-04-2020

Pangea
Anaxarete, Ripley and Nostromo, Ilma, draco, Alcinder
13
Last post by Anaxarete

on 02-27-2020

it comes in waves, ghaul/any

on 01-30-2020

Pangea
Dreamscar, clarissa, Alcinder, Cormorant
6
Last post by clarissa

on 02-11-2020

and i'm terrified i won't get out, brinly

on 01-30-2020

Pangea
Brinly
3
Last post by ghaul

on 02-07-2020

if i come without a thing, i come with all i need.

on 01-27-2020

Pangea
Brine
5
Last post by ghaul

on 02-19-2020

the fear of good love -- ghaul

on 01-25-2020

Pangea
greta
3
Last post by greta

on 02-16-2020

[private]

press me up against the brick; draco

on 01-17-2020

Pangea
draco
4
Last post by draco

on 02-23-2020

[private]

our little feast of kings, anaxarete.

on 01-16-2020

Pangea
Anaxarete
4
Last post by Anaxarete

on 02-19-2020

[open]

rotten peaches on the breath of the Colossus.

on 01-16-2020

River
Fiorina
6
Last post by Fiorina

on 02-02-2020

[private]

the fire and the flood, ghaul

on 12-20-2019

Pangea
gospel
6
Last post by ghaul

on 01-16-2020

and in the end i saw // gluttony

on 12-20-2019

Pangea
N/A
1
Last post by ghaul

on 12-20-2019

[open]

chew it up and swallow it, party/any

on 12-02-2019

Ischia
Loire
4
Last post by Loire

on 12-08-2019

[open]

devil in disguise

on 11-28-2019

Pangea
draco, clarissa, Desire
7
Last post by Desire

on 12-25-2019