QOTY
""Content to admire you from afar." Well that's just bullshit. She wasn't *content* to be admired from afar. She would rather not see him at all then be tortured by a buffered distance." --Mazikeen, written by Squirt
Age: adult
Gender: Stallion
Breed: anglo-arabian
Height: 16.3hh
Player: laura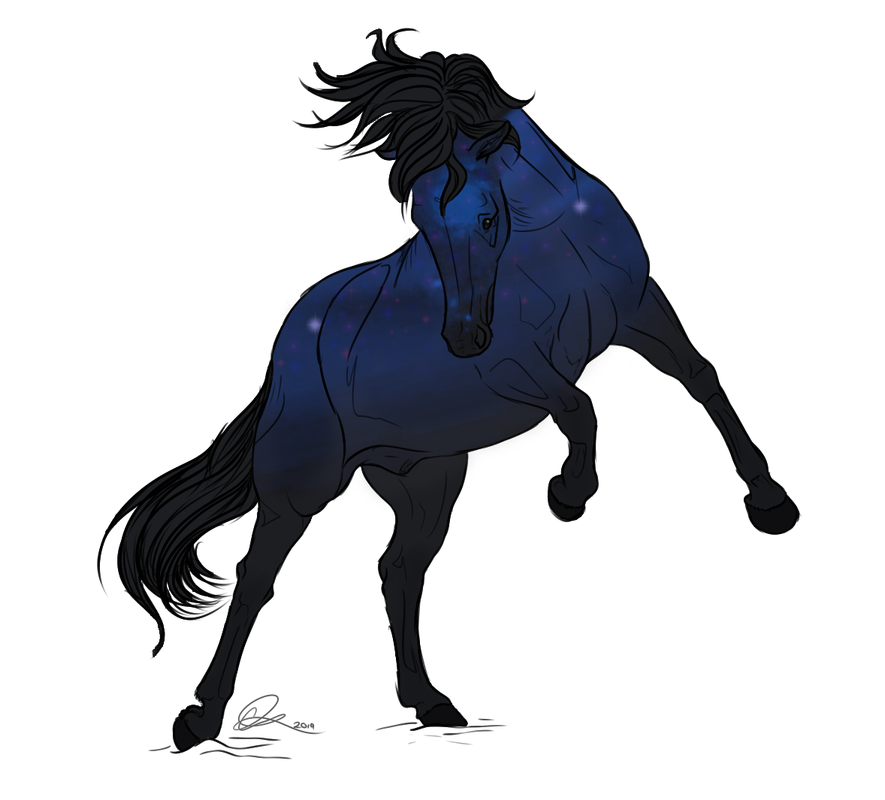 Appearance
Color: galaxy to black ombre (--)
Eyes: black
Markings: --
Mane & Tail: black
Personality
CRUEL. COLD. POWER-HUNGRY.

from birth, stave has been fascinated with death due to his gift and spends a good amount of his time killing and then reanimating larger creatures. as he grew older, that expanded to horses, as well. he feels nothing for others except the random feeling of possessiveness, especially around his twin sister desire. he believes that he is owed everything that he wants and is ambitious with a hunger for chaos.
Lineage
Parents: carnage & ryatah

Children:
gravitas & tirza (x gospel)
Traits
Companion:
Genetic Traits: necromancy
Non-Genetic Traits: --
Trait Genetic Code: tegteg [NECROMANCY][infrared vision]
Defects: --
History
YEAR 205
* stave is born with his twin sister desire to his mother ryatah.
* they mostly strike out on their own and wander around beqanna uninhibited.
* he meets the magician anaxarete in the river who invites him and desire to pangea.
* stave brings his sister desire to pangea to serve under its new queen.

YEAR 206
* stave approaches star ace in the field where he also meets set, lugosi, and a small army of children.
* he is the first to greet isilme after she comes to pangea to meet the new leadership.
* he runs across gospel in pangea and tests draining her life-force from her.

stave's Forum Info
Joined:
10-13-2019
Last Visit:
(Hidden)
Total Posts:
28 (0.05 posts per day | 0.03 percent of total posts)
(Find All Posts)
Total Threads:
3 (0.01 threads per day | 0.02 percent of total threads)
(Find All Threads)
Time Spent Online:
(Hidden)
stave's Threadlog · View Profile
Thread
Forum
Participants
Posts
Last Post
i'm on the edge of a knife; pangeans

on 09-11-2020

Loess
ghaul, Celina, ciara, Oceane, gospel, Starsin, Malone, Anaxarete, draco, Neverwhere, Nashua
13
Last post by Nashua

on 09-19-2020

you know who the god is; ALL

on 08-22-2020

Pangea
Anaxarete, ghaul, gospel, Beyza
5
Last post by Anaxarete

on 08-26-2020

[private]

I'm not here looking for absolution; gospel

on 08-09-2020

Silver Cove
gospel
12
Last post by gospel

on 08-28-2020

[private]

sparkle sparkle

on 05-12-2020

Silver Cove
Tirza, gravitas
12
Last post by gravitas

on 07-21-2020

such selfish prayers; any

on 02-22-2020

Forest
Questa
2
Last post by Questa

on 04-09-2020

[private]

the scum of it, stave

on 11-17-2019

Pangea
gospel
12
Last post by stave

on 02-22-2020

with weightless souls; ana, any

on 11-16-2019

Pangea
Anaxarete, isilme
6
Last post by stave

on 01-21-2020

[open]

they said i did something bad

on 11-05-2019

Field
Set, Tauti, Sota, Starlace, Lugosi
9
Last post by Sota

on 11-16-2019

[TAKEOVER]

from the ashes - ALL CITIZENS

on 10-21-2019

Pangea
Anaxarete, Rayie, Ripley, ghaul, Dawn, Desire, Darkling, Kensa
10
Last post by Anaxarete

on 10-26-2019

like water flowing into lungs - laura pony

on 10-15-2019

River
Anaxarete
5
Last post by Anaxarete

on 11-08-2019

I feel it running through my veins; desire

on 10-14-2019

Meadow
Desire
3
Last post by stave

on 10-16-2019