Year:

218

Season:

Summer

SWP: here
QOTY
"She approaches the cave and there is nothing but that anticipation and her ever-present fire inside her. No fear, no flickering echoes of love. It's all been consumed for now. She is a wildfire contained only by the thin layer of her flesh." --Mazikeen, written by Squirt
Popinjay
The kind of person that keeps a parrot
Age: adult
Gender: Mare
Breed: hybrid
Height: 14.3hh
Player: ratty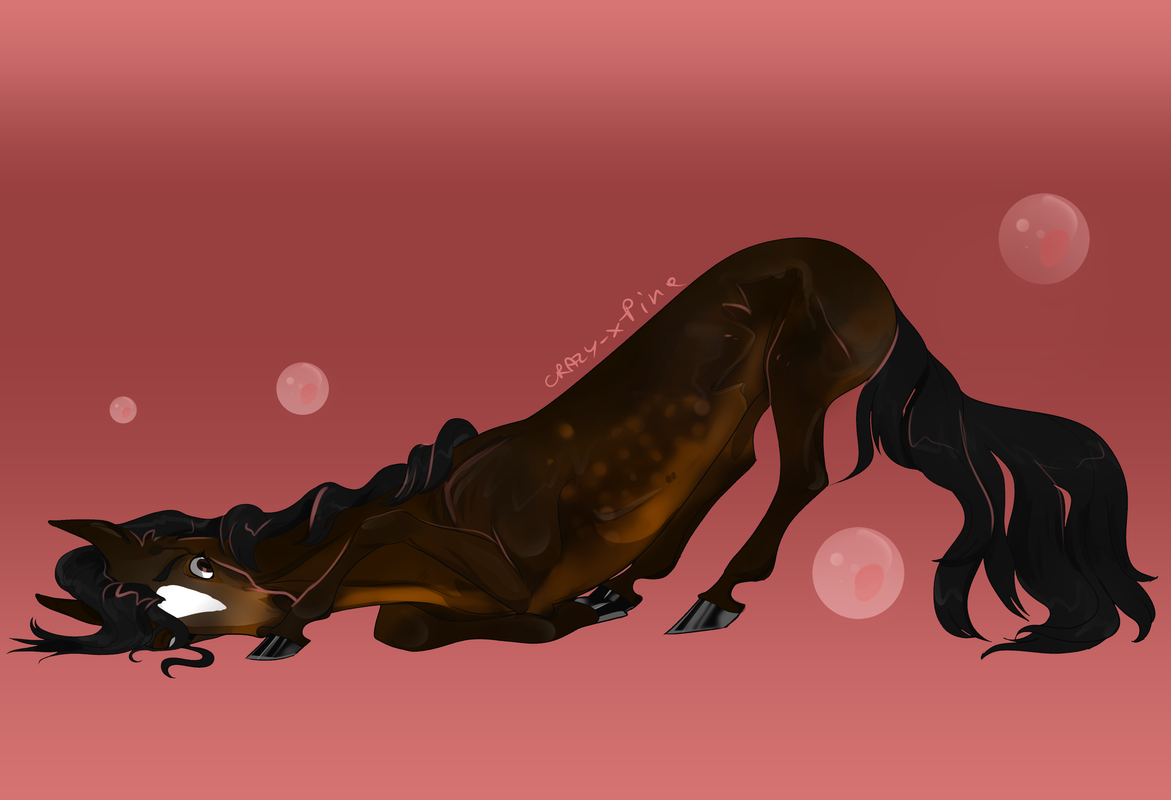 Appearance
Color: seal brown (Ee/AtAt)
Eyes: brown
Markings: star
Mane & Tail: black
Seal bay/brown with a large star, burn scars on left flank. Will sometimes be seen wearing black and red wings. When shifted, approximately bus-sized, black, bird of prey shape, single red band on each wing.
Lineage
Parents: Forgotten
Adopted by Izora Lethia

Children: Avocet & Manikin (x Dreamscar)
Traits
Companion:
Genetic Traits: lightning bird shifting
Non-Genetic Traits: lightning manipulation
Trait Genetic Code: TEGteg
Defects:
History
Born elsewhere fall of year 203

Year 204
- Arrives in Beqanna and is adopted by Izora Lethia.
- Assorted hijinks ensue.

Year 205
- Gets high on mushrooms with Celina. Becomes a mountain and swallows Celina who won't get off her tongue.
- Wins Lightning Bird Shifting in storytelling quest. Takes an entire year to figure out she has powers now.

Year 206
- Goes to the Mountain for fun and falls off while playing mountain goat. Falls for a really long time, then at the last second, shifts into her Lightning Bird form. Is fairly certain she died and came back as a giant bird. Returns to Taiga but doesn't know how to land and literally crashes Pteron's inauguration.
- Isn't actually dead. Still doesn't know about her lightning manipulation.
Popinjay's Forum Info
Joined:
07-07-2019
Last Visit:
(Hidden)
Total Posts:
105 (0.12 posts per day | 0.12 percent of total posts)
(Find All Posts)
Total Threads:
14 (0.02 threads per day | 0.07 percent of total threads)
(Find All Threads)
Time Spent Online:
(Hidden)
Popinjay's Threadlog · View Profile
Thread
Forum
Participants
Posts
Last Post

[open]

Not quite what you would call refined

on 06-28-2021

Hyaline
Gale
13
Last post by Popinjay

on 07-18-2021

[open]

when it falls into place | popinjay, any

on 02-09-2021

Nerine
Gale
3
Last post by Gale

on 03-01-2021

Activity Check!

on 01-14-2021

Nerine
insane, Affirmative, Vanilla Custard, Star, Wherewolf
6
Last post by Affirmative

on 01-16-2021

[open]

Eyes are the soul's windows...

on 01-11-2021

Field
Fenestra
6
Last post by Popinjay

on 02-24-2021

[open]

She's mad but she's magic [All Welcome!]

on 01-03-2021

Nerine
Random Event, avocet
5
Last post by avocet

on 01-14-2021

[open]

though rapt in the ruin; any

on 12-24-2020

Forest
breach
5
Last post by breach

on 01-30-2021

I am the creator of chaos, the order of life; Poppy, Lilli

on 12-09-2020

Nerine
lilliana, Reave
5
Last post by lilliana

on 01-15-2021

[private]

I'm not a hoarder I'm the curator of an extensive private collection

on 12-08-2020

Taiga
N/A
1
Last post by Popinjay

on 12-08-2020

[open]

The kind of person that keeps a parrot [any!]

on 12-02-2020

Nerine
Yanhua
6
Last post by Yanhua

on 01-07-2021

[TAKEOVER]

The storm likes to go where it's not invited

on 11-16-2020

Nerine
Leilan, crowns
10
Last post by Popinjay

on 12-14-2020

[open]

no, really, i ain't even mad anymore [field]

on 10-28-2020

Field
Kukka, Tarian, xii
8
Last post by xii

on 11-06-2020

when opportunity knocks

on 09-21-2020

Meadow
Straia
7
Last post by Straia

on 11-17-2020

[open]

Dark cathedrals spilling midnight on their altars

on 09-15-2020

Nerine
Fiorina, wilt
5
Last post by Popinjay

on 10-25-2020

Rain, rain don't go away // Nerinians

on 09-14-2020

Nerine
lilliana, Amarine, Fechin, Yanhua
7
Last post by lilliana

on 09-25-2020

[open]

you're the means and the end

on 09-11-2020

Forest
asphyxea
6
Last post by Popinjay

on 11-26-2020

skin to bone, steel to rust. [popinjay]

on 08-02-2020

Brilliant Pampas
Set
4
Last post by Popinjay

on 08-23-2020

I'm an ex-parrot pinin' for the fjords [Avocet]

on 07-12-2020

Brilliant Pampas
Manikin, avocet
6
Last post by avocet

on 08-13-2020

[open]

I am the pattern, the plague, and the prison; any

on 06-09-2020

River
morrowind
9
Last post by morrowind

on 08-09-2020

oh, i fall apart.

on 05-06-2020

Taiga
Kyra, Officials, Castile, Izora Lethia, draco, ghaul, Skeleton Ghoul, Nashua
9
Last post by Officials

on 05-09-2020

[TAKEOVER]

you got me used to loving you

on 04-30-2020

Taiga
Virgo, Castile, Ether, Izora Lethia, Celina, elio, Nashua
17
Last post by Izora Lethia

on 05-07-2020

**Activity Check / Lethy meeting** - Ends 5/01/20

on 04-22-2020

Taiga
kota, Izora Lethia, Celina, Owin, Skeleton Ghoul, Nashua
8
Last post by Popinjay

on 05-01-2020

Mine is a Quest for a Mouthful of Skies

on 04-18-2020

Taiga
Nashua
6
Last post by Nashua

on 05-14-2020

She was the kind of person that keeps a parrot. [Ghaul]

on 02-28-2020

Nerine
ghaul
5
Last post by Popinjay

on 05-06-2020

Any and all;

on 02-26-2020

Icicle Isle
Djinni, Castile, Ardashir, Leilan, Eurwen, Ruinam, Dracarys, Jesla, Beryl
15
Last post by Dracarys

on 03-27-2020

[open]

i am the chief of sinners

on 01-05-2020

Forest
Cassi, violence, Stalag
9
Last post by Popinjay

on 04-09-2020

[open]

Alone One Is Strong; Together, We Are Stronger [Residents]

on 12-15-2019

Taiga
Aten
2
Last post by Popinjay

on 12-25-2019

i feel a bad moon rising | territory meeting

on 12-05-2019

Taiga
Aten, Lepis, Pteron, Reia, Izora Lethia, lilliana, Celina, Owin, elio
13
Last post by Popinjay

on 12-21-2019

Tell me your stories; Popinjay

on 11-05-2019

Taiga
Izora Lethia
5
Last post by Izora Lethia

on 11-17-2019

[open]

i want the world in my hands

on 11-05-2019

Meadow
Straia, Aten, lilliana, Aquaria
11
Last post by Popinjay

on 11-16-2019

triggity triggity trackers

on 11-03-2019

Trackers
ratty, Neverwhere, Dreamscar, Beryl, Starbrow, Quietude, Dace, Crackjaw, Florian, Wherewolf, Shipka, Manikin, Wight, Lorne, Aldrich, Enoch, Sintra, Chimera, Enthrall, Gilda, Blackwell, Creatrice
15
Last post by Creatrice

on 11-14-2021

Loyal, new and old; Orion, Popinjay, Aten

on 10-25-2019

Taiga
Aten, Izora Lethia, Orion
6
Last post by Aten

on 11-07-2019

She sells seashells by the sea shore // ratty pony

on 10-14-2019

River
Aquaria
7
Last post by Aquaria

on 11-06-2019

The kind of person that keeps a parrot [Saint]

on 10-07-2019

Tephra
saint
2
Last post by saint

on 10-15-2019

not a superstitious man: Lilliana & Popinjay

on 08-18-2019

Taiga
lilliana, Thales
5
Last post by Popinjay

on 09-12-2019

truth hurts; needed something more exciting; Popinjay

on 08-12-2019

Taiga
Celina
9
Last post by Celina

on 11-13-2019

oh, my siren won't you call; any

on 08-03-2019

Taiga
Aten, aegean, Izora Lethia, Owin
16
Last post by Aten

on 08-23-2019

[open]

its not my fault

on 07-31-2019

River
Morgayne, kildare
6
Last post by Popinjay

on 08-07-2019

I don't mean to offend you; Popinjay

on 07-27-2019

Taiga
Izora Lethia, Owin
16
Last post by Popinjay

on 08-23-2019

[mature]

Because I can't forget [birthing]

on 07-24-2019

Taiga
Aten, GamerGirl63, Izora Lethia
9
Last post by GamerGirl63

on 08-06-2019

She was the kind of person that keeps a parrot. [Lethy, any]

on 07-15-2019

Taiga
Aten, Izora Lethia
11
Last post by Izora Lethia

on 07-23-2019

She was the kind of person that keeps a parrot. [any]

on 07-07-2019

Adoption Den
Izora Lethia
6
Last post by Izora Lethia

on 07-11-2019

there's a bad moon on the rise; Popinjay

on 07-05-2019

Taiga
Lepis, Celina
9
Last post by Popinjay

on 08-02-2019
Popinjay's Signature