Year:

218

Season:

Summer

SWP: here
QOTY
"She approaches the cave and there is nothing but that anticipation and her ever-present fire inside her. No fear, no flickering echoes of love. It's all been consumed for now. She is a wildfire contained only by the thin layer of her flesh." --Mazikeen, written by Squirt
Isilya
-
Age: 47
Gender: Mare
Breed: Hybrid
Height: 14.3 hh
Player: Squirt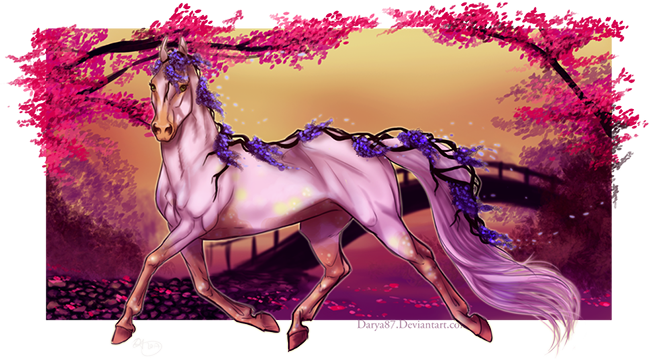 Appearance
Color: porceline white with gold skin and points ()
Eyes: Gold/Green Hazel
Markings: none
Mane & Tail: No mane, tail is long and crisp white
Decorates woody vines with flowers, type of flower often changes depending on the season/what she's feeling

Gold points shimmer in the sunlight


Art of Isilya
Personality
Isilya is everything you could expect from someone with flowers in their hair. She is sweet, gentle, and kind and perpetually innocent. She believes the best in everyone she meets and is fast to assume friends with everyone as well!
Lineage
Parents:
Tiphon x Katniss

Children:
Grove - colt
Eludora - filly
Crania - filly
Aeife - filly
Daedalus - colt
Traits
Companion:
Genetic Traits: Plant Magic, shimmering, vines
Non-Genetic Traits: none
Trait Genetic Code: tegteg [PLANT MAGIC][SHIMMERING][VINES][light aura]
Defects: none
History
To come! She's been outside of Beqanna for many years, exploring and learning, but recently decided to come home!
Isilya's Forum Info
Joined:
06-03-2015
Last Visit:
10-23-2021, 12:06 PM
Total Posts:
97 (0.04 posts per day | 0.11 percent of total posts)
(Find All Posts)
Total Threads:
22 (0.01 threads per day | 0.11 percent of total threads)
(Find All Threads)
Time Spent Online:
4 Days, 2 Hours, 19 Minutes
Isilya's Threadlog · View Profile
Thread
Forum
Participants
Posts
Last Post
when the land was godless and free, all tephrans

on 10-14-2021

Tephra
Casimira, savior, Gilda, Ahti
6
Last post by savior

on 10-24-2021

[private]

i'm saving my coins up, isilya

on 10-14-2021

Tephra
savior
7
Last post by savior

on 10-24-2021

[private]

the world is waiting

on 05-30-2021

Tephra
sorren
3
Last post by Isilya

on 06-04-2021

[open]

a gift of light

on 01-10-2021

Tephra
N/A
1
Last post by Isilya

on 01-10-2021

[open]

time for a new start - all

on 11-15-2020

Tephra
Solace, Warden, Warlight, Sabbath
5
Last post by Solace

on 11-25-2020

[open]

what have you done

on 10-29-2020

Tephra
Starsonder
2
Last post by Starsonder

on 10-29-2020

[open]

baking with love

on 10-22-2020

Tephra
Grove
5
Last post by Isilya

on 01-31-2021

the heady perfumes of summer; squirt-pony

on 10-05-2020

River
Moonlet
3
Last post by Moonlet

on 10-22-2020

[open]

and you will see me

on 10-03-2020

Tephra
wilt, crowns
9
Last post by crowns

on 10-27-2020

[open]

spring cleaning - ruler edition

on 09-27-2020

Tephra
Warden, Asena, astra
7
Last post by Warden

on 10-22-2020

So You Wanna Be in the Alliance?

on 09-01-2020

Tephra
Warlight, Sabbath, Jakub
5
Last post by Isilya

on 09-11-2020

The Alliance: 2020 (sign ups)

on 09-01-2020

Plains
Officials, Ashhal, Sabra, Leilan, Neverwhere, Aquaria, ghaul, gospel, elio, kensley, Oceane, Gale, breach
14
Last post by Oceane

on 09-28-2020

i will have to die for this, isilya

on 07-21-2020

Tephra
leonora
3
Last post by leonora

on 08-10-2020

Sweet speak with a mean streak; Isilya

on 06-15-2020

Tephra
Warlight
7
Last post by Warlight

on 07-26-2020

[private]

fell asleep inside a fantasy and woke up feeling lost, isilya

on 05-05-2020

Tephra
Casimira
2
Last post by Isilya

on 05-06-2020

Ice, forged in fire - Isilya&diplomats

on 04-30-2020

Tephra
Leilan, Maleficar, saint
6
Last post by Isilya

on 06-16-2020

[open]

long live the pioneers

on 04-28-2020

Tephra
Gale
7
Last post by Gale

on 05-17-2020

[open]

i hear the voice of rage and ruin | lomasi + diplomats

on 04-08-2020

Tephra
kahzie, Lepis, Lomasi
11
Last post by Isilya

on 07-26-2020

rainy days; Toivo

on 02-06-2020

Tephra
Toivo
4
Last post by Toivo

on 03-07-2020

[open]

new soul in a strange world; any

on 02-06-2020

Meadow
Neverwhere
8
Last post by Neverwhere

on 07-30-2020

life's what you make it; Oceane

on 01-19-2020

Loess
Oceane
5
Last post by Isilya

on 03-02-2020

someone new - Warlight

on 01-15-2020

Tephra
Warlight
6
Last post by Warlight

on 02-28-2020

Help! I need somebody - Plant Ladies

on 01-15-2020

Tephra
leliana, Fern
5
Last post by Isilya

on 03-06-2020

Activity Check: ends Jan 31

on 01-11-2020

Tephra
Shelbi, Kyra, Venge, Leah, Kiara, Colby, Jassal, laura, Salomea, Bruja, Vanilla Custard, Warlight, Rouhi, Jakub
16
Last post by Warlight

on 01-28-2020

[open]

let's start something new; any

on 11-19-2019

Meadow
Symba, leonora
4
Last post by Isilya

on 12-09-2019

[open]

peace is a bird who sings

on 11-17-2019

Pangea
Anaxarete, Ryatah, Aedan
8
Last post by Anaxarete

on 01-11-2020

[open]

new lights

on 11-17-2019

Islandres
Ruinam, Gale, bean
6
Last post by Gale

on 12-28-2019

[open]

smiles and sunbeams

on 11-16-2019

Ischia
Adria, Eva, Aquaria
8
Last post by Isilya

on 12-22-2019

[open]

better together; any/all

on 11-15-2019

Tephra
Aedan
2
Last post by Aedan

on 11-15-2019

[open]

he came to me with the sweetest smile, any

on 11-13-2019

Meadow
messiah
3
Last post by messiah

on 11-20-2019

Hurry, the sun is waking - Vul/Leli/Isilya/any

on 11-04-2019

Tephra
Ilma
5
Last post by Ilma

on 12-18-2019

breakable, unbreakable; ALL

on 10-22-2019

Tephra
vulgaris, Ryatah, Anodyne, Rouhi, Jakub, Tamlin, bea, Dacre
9
Last post by Dacre

on 10-26-2019

Dreams of Fire; Any

on 10-18-2019

Tephra
Rouhi
2
Last post by Isilya

on 11-13-2019

[private]

wild things

on 10-18-2019

Forest
Ripley, Anaxarete
4
Last post by Isilya

on 11-11-2019

[open]

to things new and wonderful

on 09-08-2019

Tephra
vulgaris
5
Last post by Isilya

on 10-18-2019

[private]

sweetest thing; Brinly

on 07-26-2019

Meadow
Brinly
9
Last post by Isilya

on 11-11-2019

[open]

golden days; Leliana and any

on 07-24-2019

Tephra
leliana
7
Last post by Isilya

on 09-19-2019

[private]

neverending nightmares - isilya

on 06-05-2019

Meadow
Najya
4
Last post by Isilya

on 06-20-2019

will you rail against your dying day; isilya

on 05-11-2019

River
leliana
9
Last post by leliana

on 06-08-2019

[open]

back to your roots; any

on 05-08-2019

Meadow
Astrophel
11
Last post by Isilya

on 11-17-2019

Squirt's Stupid Children

on 05-07-2019

Trackers
Eremis, Cinona, Squirt, Ripley, Vastra, Anuya, Velkan, Altissima, Tamlin, Malkin, Agetta, Garett, Tiasa, Fiorina, Beyza, Mazikeen, Tirza, Mesec, Laurelin, Avelina, Edrahil, Derelict, Catryn, Lyali, Viridis, Stellaria, Anubias, Nostromo, Pax, Israfel, Maurtia, Helion, Risa, Sickle, Nemeon, Sokali, Alanis, Starros
40
Last post by Starros

on 09-21-2021