QOTY
"She presses into him greedily, hungrily, and demands more. She does not know how to be gentle when she is with him—does not know how to quell the aching in her belly, the neediness in her touch. She would devour him whole. She would sacrifice herself completely. She would give and give and give—" --Tabytha, written by Laura
Oceane
to the lonely sea and sky
Age: 19
Gender: Mare
Breed: Lipizzan
Height: 16.3 Hands
Player: Tangi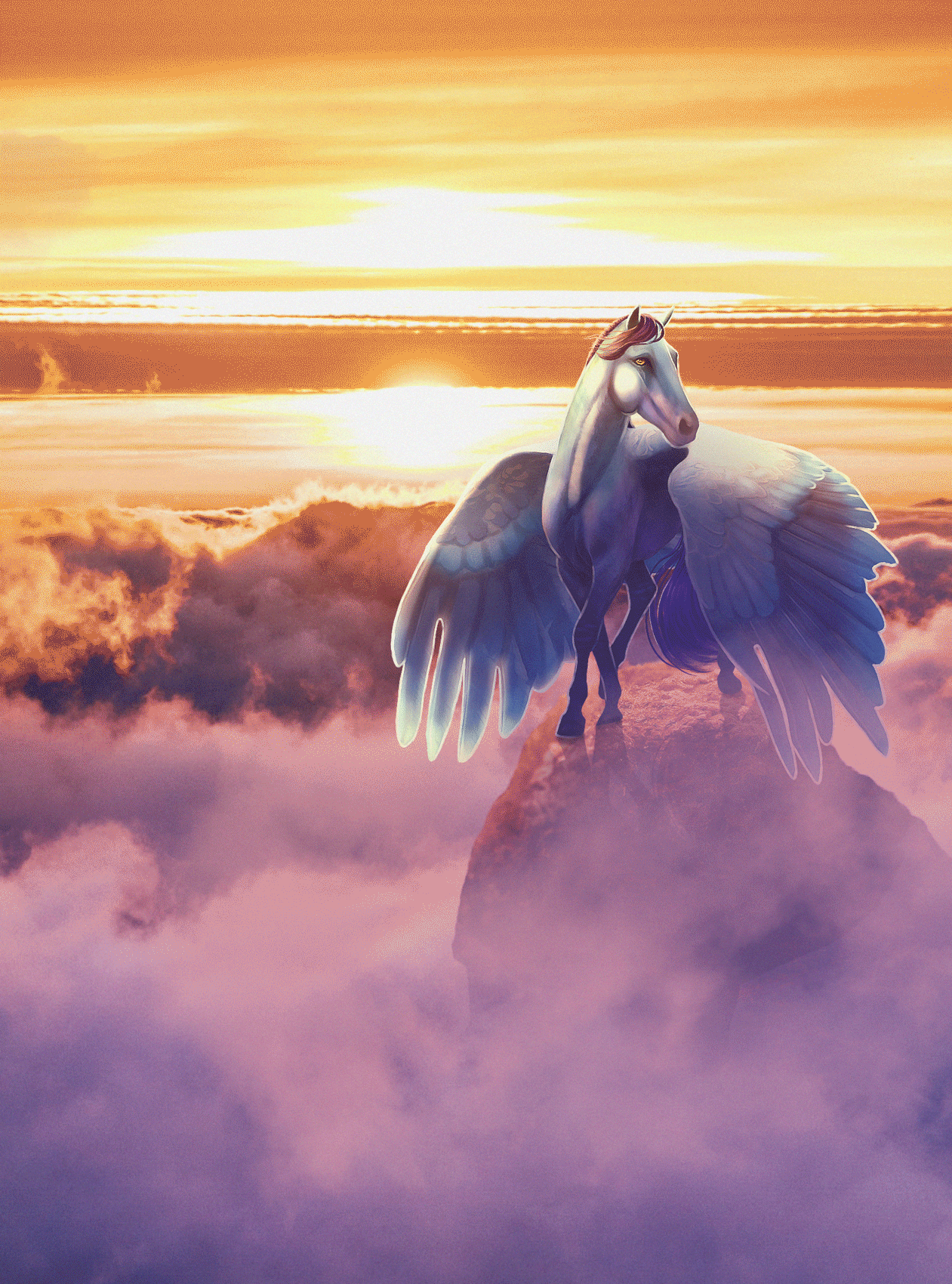 Appearance
Color: Opalescent Blue & Purple ()
Eyes: Amber
Markings: Striping on Neck
Mane & Tail: Violet
Personality
— personality —
First and foremost, Oceane is an intellectual being. Her passion for knowledge, and for the collection of knowledge, is nearly unmatched.

Because of this, the pegasi tends to be adventurous and bold with an affinity for putting herself in harm's way if it means that the ultimate outcome will be discovering the unknown or gaining information that had been previously unavailable to her.

While she is quick-witted, Oceane often strategically chooses whether or not to acknowledge when others are addressing her with sarcasm and will sometimes pretend not to notice, especially if it's in her best interests to feign obliviousness.

She is caring beneath the blanket of her determination, though she is not the greatest at outwardly expressing it. There is only one instance in whether Oceane would ever be an aggressor; she does not condone war or battle. Despite this, she does try her hardest to understand the motivators of war and will happily learn about wartime strategy if there is a necessity for such things.
neamrel
Lineage
Parents:

— Parents —
Oceane refuses to reveal any additional information about her parents


» Bahari
` father, Nau-Aib

» Kukori
` mother, Nau-Aib


Children:

— Children —
Oceane refuses to reveal any additional information
about her children in Nau-Aib


» Colt
` deceased

» Colt
` deceased


— Children —
Beqanna


» Alcinder
` born Spring 207 — january 2020
` son of Castile
` wings, zoolingualism, immortality

» Altum
` born Spring 209 — may 2020
` son of Soran
` traitless
Traits
Genetic Traits: Wings
Zoolingualism
Non-Genetic Traits:
Trait Genetic Code: tegteg [WINGS][ZOOLINGUALISM]
Defects:
History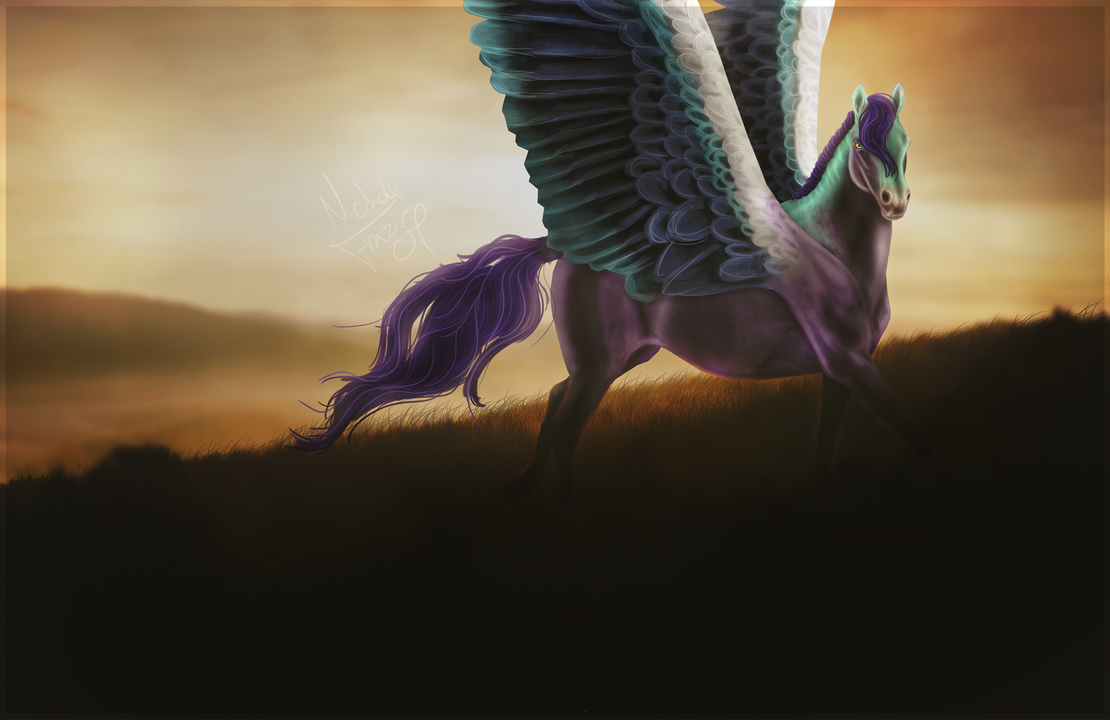 — history —
(Oceane's life in Nau-Aib and the events leading
up to her arrival in Beqanna are unimportant.)
Year 205 ||
october 2019 - november 2019
In the
Summer
, following a number of nomadic years, Oceane arrived in Beqanna.
Summer turned to
Autumn
, and after spending a fair amount of time in the Field, Oceane finally moved away from the outskirts and into the action. She met
Gale (Blue), Ruinam, and Castile
before deciding to move to Loess (Current Ruler: Castile). Upon arrival in her new foothills home, the blue and purple pegasi met
Isobell & Leilan
. She became fast friends with Isobell but harbored a small amount of suspicion for Leilan, mostly on account of Castile's reaction towards him.
In the
Winter
, with Isobell's accompaniment, Oceane decided to
visit Gale (Blue)
in Island Resort. Pleased that he seemed relaxed in his new home, the two women accepted a quick tour from the kind stallion before returning home. In the following weeks, Oceane met
Oriash
, a fellow resident of Loess, and then was able to find
some alone time with King Castile
, in which he jokingly granted her three wishes. She found herself enjoying the company of the Loessian King more than she had originally anticipated.
Year 206 ||
november 2019 - january 2020
During
Spring
of the new year, Oceane visited an isle north of Ischia (Current Ruler: Eva), where she crossed paths with a
kelpie named Ivar
, who hypnotized her into agreeing to escort him to see Isobell in Loess. Thankfully, Castile's presence acted as a safeguard for Oceane and Isobell when the
husband and wife kelpie pair
were finally reunited. Following the events in Loess, distance from Ivar gave Oceane an understanding of the effects his hypnosis had on her psyche. She visited the Forest for some
alone time
, where instead she spoke with Bean and Leilan.
Life was uneventful until the
Summer
, when the opaline woman was called to
the Mountain
by a mysterious voice. Oceane helped bring Craft
back to life
and
reunited her with her lover
, Anatomy. After returning home, she grappled with the guilt of killing Garbage during the quest. Following the events on the Mountain, Oceane decided that learning battle strategy could be a good idea. She completed a
mock battle
with a new friend, Lilliana.
Autumn
marked the anniversary of her first year in Loess, and with the
help of Castile
, Oceane conceived her first
Beqannan baby
. Despite her hormonal changes, Oceane was still feeling adventurous and visited the Brilliant Pampas (Current Ruler: Noah) for the first time. She met
Aodhan and Alija
. After returning from the Pampas and realizing she was pregnant, Oceane took to the Field for some time to think. She decided to speak to
Soran and Desire
while she was there. The foothills of Loess always call her back, so Oceane did not remain in the Field for long. She was pleasantly surprised when
Soran showed up
a few weeks later. He was not the only visitor that Oceane spent time with, however, as Ilma came to Loess to discuss her idea for a third-party
political mediator
, before accidentally revealing to Oceane that her unborn baby would be a boy. Deciding to spend a bit of time away from Loess with her thoughts, the opaline woman ventured to the edge of Beqanna, where she met
Kensley in the River
.
In the
Winter
, upon suffering from a bout of stir crazy wanderlust, Oceane decided to visit the River a second time, where she became fast friends with
Aquaria
. The two women discussed reuniting in the spring in Loess, where Aquaria could meet Oceane's new child, and then Oceane would accompany the nereid woman back to Ischia for a few days of relaxation. It was not long after her conversation with Aquaria that Oceane was finally able to meet Lepis in Loess. The former Queen showed Oceane a hidden canyon to the northern part of the territory where she could birth her foal, but the conversation was not all positive ─ Lepis unknowingly revealed the existence of
Castile's consort, Sochi
, and Oceane shared with Lepis the identity of her unborn son. While searching for Sochi, Oceane happened upon her friend
Oriash
again, who offered her companionship in her last few weeks of pregnancy.
Year 207 ||
january 2020 - march 2020
When Winter turned to
Spring
, Oceane found herself more and more ready to birth her son ─ to distract herself, the opaline pegasi greeted the current ruler of Tephra,
Isilya
, at Loess' border and offered her a tour of the foothills. A few weeks later, when Soran came to visit her again, the newly appointed Lady of Loess
offered him a home
, to which the scar-eyed stallion remained noncommittal. After learning about the existence of Castile's consort from Lepis during the winter, Oceane took to searching for the elusive Sochi, despite the fact that her adventuring would take her out of Loess so far into her pregnancy. She finds the other woman eventually, but during her attempt to tell the tiger-shifter about Castile's unborn child, Oceane goes into labor and
gives birth beneath the willow
in the Forest. Sochi leaves her there in solitude.
The
Summer
gifted Oceane with a visit from her friends ─ Aquaria, Halcyon, and Cormorant came to see Loess for the first time at the turn of the season. The young children hit it off quite well, but Oceane was not afforded any time to revel in the glory of new motherhood ─ when they fell asleep after a day of playing,
Alcinder was stolen
by Ghaul of Pangea (Current Ruler: Anaxarete). In the weeks that followed, Oceane searched for her son with no success. She was, however, able to
save Lepis
when another Pangean, Draco, attempted to steal her in the middle of the night. Wrought with guilt that she was able to save the Loessian Cleric but not her son, Oceane sought comfort in
Leilan's company
when he came to visit her in the foothills. She took to the common lands in search for her son, and came across
a young filly named Lovelusts
frolicking in the Meadow; she had been unable to provide Oceane with any information on the missing Alcinder, but Oceane has remembered her innocent face nonetheless. After failing to track down any indication of her son, the Loessian woman returned home to greet the King of Icicle Isle, Jesper, who had been
taken as a captive
by Castile. His plan would reveal itself later, but Oceane was distracted in the meantime by her first look at
Castile as a dragon
. Fueled by the pain of Alcinder's absence, Oceane demanded that Castile murder those responsible for taking him.
As Summer turned to
Autumn
, Oceane's heart nearly exploded with a combination of happiness and relief when
Alcinder escaped his captivity
and returned home to Loess with the help of Leilan. However, the relief was short-lived: when the Loessian Lady traveled to Pangea in search of answers, she, too, was
taken captive by Draco
.
Year 208 ||
march 2020 - may 2020
Oceane's
Winter
was uneventful. Still a captive in Pangea, the opaline woman did her best to remain well-behaved and hoped that her time would pass quickly. She responded when called to gather, but otherwise kept to herself for the duration of her captivity, though she privately hoped that she would hear word from Loess ─ especially following the news that Castile had razed one of Nerine's territories to the ground.
Spring
brought Lepis to her. Overjoyed by the visit from her friend, Oceane was surprised but pleased to hear that Castile had
named Lepis Regent
of Loess, and she tried not to hope too hard that the woman had come to Pangea to bring her home ─ she, of course, had not, but Oceane still used the meeting to tide her over until it was time to go home.
Going again Lepis' orders, Castile
stole Oceane back
from Pangea in the
Summer
. They stopped in the Forest, just on the edge of Loess, where Castile told her that he would be not returning home. Upon her own return to Loess (Current Ruler: Lepis), Oceane
found Lepis
and discussed the future of their foothills home, and of Lepis and Oceane's roles in it.
Soran, with assistance from Alcinder's Mind Control, had agreed to stay in Loess until Oceane returned; finally, in
Autumn
,
they were reunited
and Oceane soon began to expect her
second Beqannan foal
. Not long after, the opaline woman came across
Leilan and Nashua
in the Forest, where she agreed to go visit the ice-dragon the next season.
Year 209 ||
may 2020 - july 2020
At the turn of
Winter
, Oceane and Alcinder
flew to Icicle Isle
(Current Ruler: Leilan) to discuss the damage done by Castile. The pair came to the agreement that the Southern Kingdom would send one yearling or two-year-old to the Isle every Spring for them to be trained by Leilan and then returned to Loess at the end of their sessions. Oceane left Alcinder with him as a sign of good faith.
Oceane
gave birth to Altum
in the
Spring
after she and Soran voewed to make their relationship work regardless of politics or the horrors of their past.
Lepis caught Oceane off-guard in the
Summer
when she asked for the opaline woman to watch over her child, Kestrell, and to wear the
crown of the South
when the time came.
Year 210 ||
july 2020 - september 2020
---
neamrel
Oceane's Forum Info
Joined:
10-13-2019
Last Visit:

2 hours ago

Total Posts:
133 (0.35 posts per day | 0.17 percent of total posts)
(Find All Posts)
Total Threads:
25 (0.07 threads per day | 0.14 percent of total threads)
(Find All Threads)
Time Spent Online:
1 Week, 5 Days, 14 Hours
Oceane's Threadlog · View Profile
Thread
Forum
Participants
Posts
Last Post

[private]

you loved me in waves

on 10-06-2020

Sylva
Sabra
4
Last post by Sabra

on 10-21-2020

Loess Hierarchy | 10.20.2020

on 10-06-2020

Loess
N/A
1
Last post by Oceane

on 10-06-2020

[open]

i must go to the seas again | all

on 10-04-2020

Loess
Soran, Mesec, Tarian
5
Last post by Oceane

on 10-21-2020

you've been talking with your fists | oceane

on 09-27-2020

Loess
Gale
7
Last post by Gale

on 10-23-2020

I fell for your magic; any

on 09-16-2020

Field
Leilan, Finian
7
Last post by Finian

on 10-20-2020

i'm on the edge of a knife; pangeans

on 09-11-2020

Loess
Anaxarete, Starsin, Malone, draco, Neverwhere, Celina, ghaul, gospel, stave, Nashua, ciara
13
Last post by Nashua

on 09-19-2020

The Alliance: 2020 (sign ups)

on 09-01-2020

Plains
Isilya, Officials, Ashhal, Sabra, Leilan, Neverwhere, Aquaria, ghaul, gospel, elio, kensley, Gale, breach
14
Last post by Oceane

on 09-28-2020

[open]

(any) thing could happen

on 07-27-2020

Forest
Fiorina
8
Last post by Oceane

on 10-06-2020

[private]

lost at sea

on 06-10-2020

Loess
Lepis
8
Last post by Lepis

on 07-24-2020

[private]

they let the waves carry them wherever they please

on 05-25-2020

Loess
Altum
2
Last post by Altum

on 05-25-2020

[private]

water keeps passing by as life does, in a dream

on 05-07-2020

Icicle Isle
Leilan
6
Last post by Leilan

on 05-27-2020

[open]

kingdom meeting / activity check

on 05-02-2020

Loess
Jassal, Lepis, Warstorm, mako, Larentia
6
Last post by Warstorm

on 05-07-2020

[private]

soft enough to cleanse you, deep enough to save you

on 04-28-2020

Loess
Soran
4
Last post by Soran

on 05-06-2020

[open]

Ice forged in fire - any

on 04-25-2020

River
Leilan, Nashua
8
Last post by Oceane

on 05-06-2020

[private]

the stars nodded, the ocean agreed

on 04-14-2020

Loess
Lepis
7
Last post by Oceane

on 04-30-2020

[private]

catch a tide, my dear, and only think of me

on 04-14-2020

Forest
Castile
6
Last post by Castile

on 05-07-2020

i feel a bad moon rising

on 03-10-2020

Pangea
Lepis
5
Last post by Lepis

on 03-18-2020

[open]

sea nymphs hourly ring his knell

on 02-20-2020

Pangea
Anaxarete, draco
4
Last post by Oceane

on 02-28-2020

[private]

on laugh-silvered wings

on 02-17-2020

Loess
Castile, Leilan, Lepis, Alcinder
10
Last post by Leilan

on 02-26-2020

Oceane;

on 02-11-2020

Loess
Castile
4
Last post by Oceane

on 03-10-2020

sealed with a kiss; any

on 02-10-2020

Meadow
Lovelusts
2
Last post by Oceane

on 02-11-2020

All for One [Castile, any]

on 02-08-2020

Loess
Castile, Jesper, Jackel
5
Last post by Jesper

on 03-20-2020

i feel trouble on the rise | oceane

on 02-05-2020

Loess
Lepis
6
Last post by Oceane

on 02-17-2020

If my heart was a house; Oceane

on 02-04-2020

Loess
Leilan
7
Last post by Leilan

on 02-19-2020

She sells seashells by the sea shore // Oceane, Any

on 01-29-2020

Loess
Aquaria, Halcyon, Cormorant
6
Last post by Oceane

on 02-04-2020

[private]

of his bones are coral made

on 01-26-2020

Forest
sochi
7
Last post by Oceane

on 01-29-2020

[private]

bound between the tides of the sea

on 01-19-2020

Loess
Soran
6
Last post by Soran

on 02-21-2020

life's what you make it; Oceane

on 01-19-2020

Loess
Isilya
5
Last post by Isilya

on 03-02-2020

[private]

we were the first that ever burst into that silent sea

on 01-13-2020

Loess
Lepis
10
Last post by Lepis

on 01-30-2020

caught in the current

on 01-12-2020

Loess
Oriash, Tangi
5
Last post by Oriash

on 01-28-2020

[private]

She sells seashells by the sea shore // Oceane

on 01-08-2020

River
Bruja, Aquaria
10
Last post by Oceane

on 01-17-2020

[private]

[mature] at me, the sea withdrew

on 01-07-2020

Loess
Castile
9
Last post by Oceane

on 02-04-2020

[open]

the glad indomitable sea

on 12-30-2019

River
kensley
5
Last post by Oceane

on 01-19-2020

[private]

will a gentleness come?

on 12-28-2019

Loess
Soran
9
Last post by Soran

on 01-13-2020

Pretty butterfly; Oceane

on 12-26-2019

Loess
Ilma
11
Last post by Ilma

on 01-29-2020

[open]

can you hear it?

on 12-24-2019

Field
Desire, Soran
6
Last post by Oceane

on 01-04-2020

[open]

where the wind's like a whetted knife

on 12-21-2019

Brilliant Pampas
Aodhan, Alija
12
Last post by Oceane

on 01-12-2020

[open quest]

seek me out; round iii

on 12-10-2019

Mountain
anatomy, bean, Leilan, Castile, Ruthless, Wishbone, Tatter, Neverwhere, Lucrezia, Agetta, Beulah, lilliana, Aquaria, peregrine jude, Lilt
16
Last post by Lilt

on 12-13-2019

[mock]

Oceane

on 12-06-2019

Challenges
lilliana
4
Last post by Oceane

on 02-05-2020

[open quest]

seek me out; round ii

on 12-04-2019

Mountain
anatomy, bean, Castile, Ruthless, Neverwhere, Aquaria, Wishbone, Lilt, Leilan, Lucrezia, Beulah, garbage, lilliana, peregrine jude, Agetta, Tatter
17
Last post by Tatter

on 12-08-2019

[open quest]

seek me out; round i

on 11-30-2019

Mountain
anatomy, Aquaria, bean, garbage, Wishbone, Lucrezia, lilliana, Neverwhere, Ruthless, Beulah, Castile, Leilan, Agetta, Cassian, Tatter, peregrine jude, Lilt
18
Last post by Lilt

on 12-04-2019

[private]

could i use you as a warning sign | oceane, castile, isobell

on 11-24-2019

Loess
Ivar, Castile, Elle Belle, Isobell
8
Last post by Ivar

on 01-12-2020

[open]

i must go to the seas again

on 11-17-2019

Forest
Kristin, Leilan, bean
10
Last post by Oceane

on 12-20-2019

[private]

for the call of the running tide

on 11-12-2019

Ischia
Ivar
8
Last post by Ivar

on 11-20-2019

[private]

grey mist on the sea's face & a grey dawn breaking

on 11-08-2019

Loess
Castile
12
Last post by Castile

on 01-07-2020

[open]

a dream and a nightmare; any

on 11-05-2019

Loess
Oriash
6
Last post by Oceane

on 12-18-2019

[open]

the wind's song and the white sail's shaking

on 11-04-2019

Islandres
Isobell, Gale
5
Last post by Gale

on 11-05-2019

[open]

a tall ship and a star to steer her by

on 10-26-2019

Loess
Castile, Leilan, Isobell
9
Last post by Leilan

on 11-04-2019

[open]

to the lonely sea and sky

on 10-14-2019

Field
Castile, Ruinam, Gale
10
Last post by Gale

on 10-26-2019
Oceane's Signature
i must go down to the seas again, to the lonely sea and the sky,
and all i ask is a tall ship and a star to steer her by