QOTY
"He will inevitably decide that it all fell apart because he had orchestrated it and he will carry the blame like a stone in his chest, too. He will add it to the pile and perhaps, someday when there are enough stones to weigh him down, he will walk into the sea and let them drown him" -- Kensley, written by Savage
Dreamscar

Age: 4
Gender: Colt
Breed: Anglo-Arab Hybrid
Height: Crouching
Player: ratty
Appearance
Color: Black tobiano (genetically grey) (Ee/aa/Gg)
Eyes: Amber
Markings: white patches are skinless, revealing bleeding muscle tissue underneath
Mane & Tail:
Genetically grey with constellation markings, however due to his defect he appears as a black tobiano whose white patches are skinless, revealing bleeding muscle tissue underneath.
Amber-colored eyes. Black beak and front legs styled after bird of prey legs and talons, tends to walk in a semi-crouch as a result. Sparse feathering at his elbows, front legs, and chest. Constantly surrounds himself with a smog of Love Inducement like a teenage boy with Axe Body Spray.
Herbivorous, but due to his physical structure, he cannot efficiently chew most grasses and plant matter, so he subsists off the stomachs and entrails of smaller herbivores. As a results, he is frequently in the company of a flock of crows that scavenge off his kills.
Pre-Defect Appearance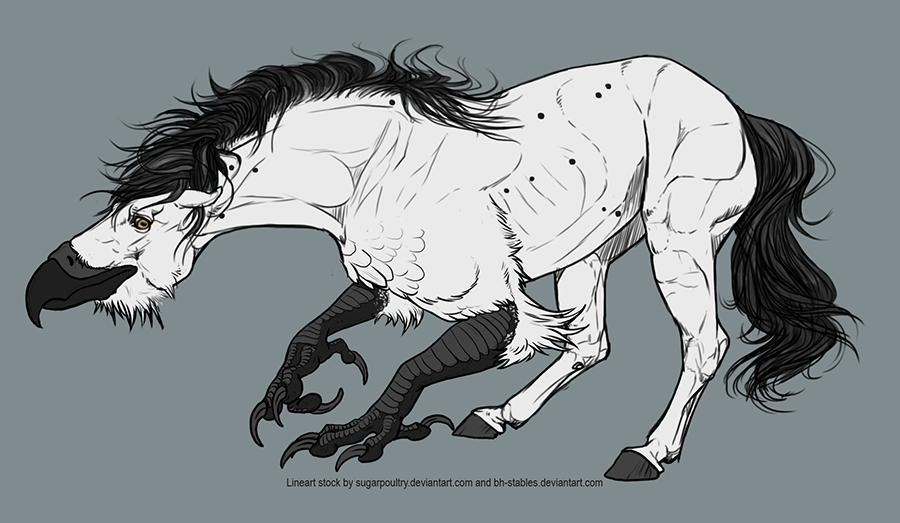 Personality
HIPOGRYPH MIMICRY "User can use the abilities of a hippogryph, including: wings, talons, paws, beak, super speed, bird of prey vision, love or lust inducement, and egg laying. Character may have up to 3 characteristics. If there is a fitting characteristic not listed, feel free to contact an owner or officer."
Lineage
| | |
| --- | --- |
| Parents: Carnage x Hippogryph | Children: Crackjaw (x Hippogryph) |
Traits
Genetic Traits: Hippogriff Mimicry (beak, claws, love inducement)
Non-Genetic Traits:
Trait Genetic Code: tegteg
Defects: Cenobite's Sweetheart
History
Born fall of year 204 - 9/1/2019
winter of 208 - Participated in the Anti-Valentine's Day quest and recieved the defect "Cenobite's Sweetheart: The court of pain and despair has found him fit to join their ranks. For as long as they enjoy his company, he will become a tobiano in color whose white patches are skinless, revealing bleeding muscle tissue underneath. He will learn to love the pain that comes with this or he will have to torture a new victim to take on his curse."
Dreamscar's Forum Info
Joined:
08-21-2019
Last Visit:
(Hidden)
Total Posts:
20 (0.09 posts per day | 0.03 percent of total posts)
(Find All Posts)
Total Threads:
5 (0.02 threads per day | 0.03 percent of total threads)
(Find All Threads)
Time Spent Online:
(Hidden)
Dreamscar's Threadlog · View Profile
Thread
Forum
Participants
Posts
Last Post
Like I could eat the world raw

on 03-10-2020

Pangea
N/A
1
Last post by Dreamscar

on 03-10-2020

[open quest]

final round: and with strange aeons, even death may die.

on 02-24-2020

Mountain
Jassal, Sabra, Torryn, jarris, thorn, Waverly
7
Last post by Torryn

on 03-02-2020

[open quest]

round four: and with strange aeons, even death may die.

on 02-17-2020

Mountain
Jassal, Sabra, Torryn, jarris, thorn, Waverly
7
Last post by jarris

on 02-24-2020

[open quest]

round three: and with strange aeons, even death may die.

on 02-10-2020

Mountain
Jassal, Sabra, Torryn, jarris, thorn, Waverly
7
Last post by jarris

on 02-16-2020

[open quest]

round two: and with strange aeons, even death may die.

on 02-03-2020

Mountain
Jassal, Sabra, Torryn, jarris, thorn, Waverly
7
Last post by jarris

on 02-09-2020

it comes in waves, ghaul/any

on 01-29-2020

Pangea
clarissa, ghaul, Alcinder, Cormorant
6
Last post by clarissa

on 02-10-2020

[open quest]

round one: and with strange aeons, even death may die.

on 01-25-2020

Mountain
Jassal, Sabra, Torryn, jarris, thorn, Waverly
7
Last post by Waverly

on 02-03-2020

Activity Check - 1/10

on 01-10-2020

Pangea
Shelbi, Set, Anaxarete, Ripley and Nostromo, Rayie, draco, ghaul, kensley
9
Last post by Shelbi

on 01-11-2020

[open]

another man's problem

on 11-13-2019

Pangea
Set, draco, Meiilyn
9
Last post by draco

on 12-21-2019

triggity triggity trackers

on 11-03-2019

Trackers
ratty, Popinjay, Beryl, Starbrow, Neverwhere, Quietude, Dace, Crackjaw, Florian
10
Last post by Florian

on 03-28-2020

i'm hovering throughout time - any

on 10-15-2019

Meadow
Anaxarete, Niklas, Jakub
8
Last post by Dreamscar

on 10-27-2019

[open]

Love Sickened and Infirmed

on 10-05-2019

Meadow
Altissima
5
Last post by Dreamscar

on 10-26-2019

nightmares are the devils in your bloodlines

on 09-07-2019

River
Jesper
5
Last post by Dreamscar

on 09-22-2019

all extremes of feeling are allied with madness

on 09-02-2019

Forest
N/A
1
Last post by Dreamscar

on 09-02-2019

[open]

Only one way in and one way out of this world. [Birthing Post]

on 08-31-2019

Meadow
N/A
1
Last post by Dreamscar

on 08-31-2019