Year:

218

Season:

Summer

SWP: here
QOTY
"She approaches the cave and there is nothing but that anticipation and her ever-present fire inside her. No fear, no flickering echoes of love. It's all been consumed for now. She is a wildfire contained only by the thin layer of her flesh." --Mazikeen, written by Squirt
yadigar
son of rage and ruin
Age: 10
Gender: Colt
Breed: hybrid
Height: 18hh
Player: jassal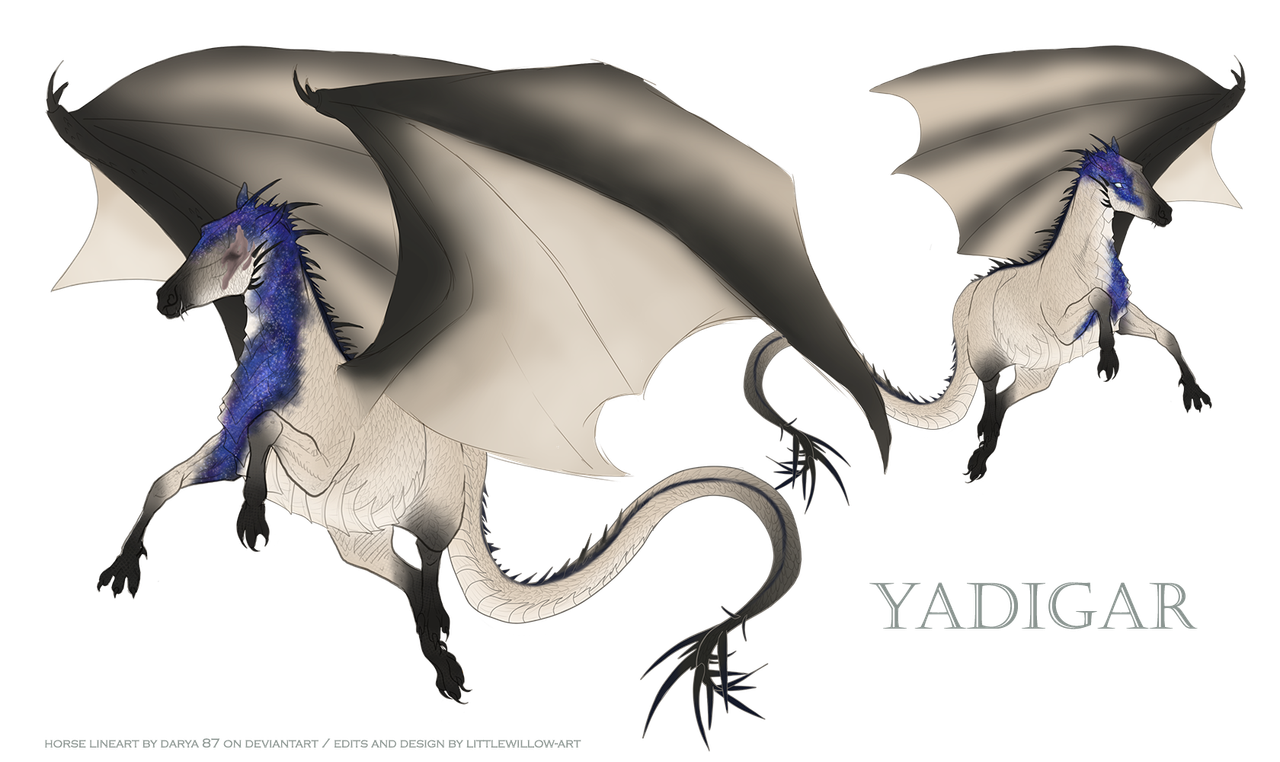 Appearance
Color: buckskin (Ee/Aa/nCr)
Eyes: milky white
Markings: galaxy marking running down his face and chest
Mane & Tail: none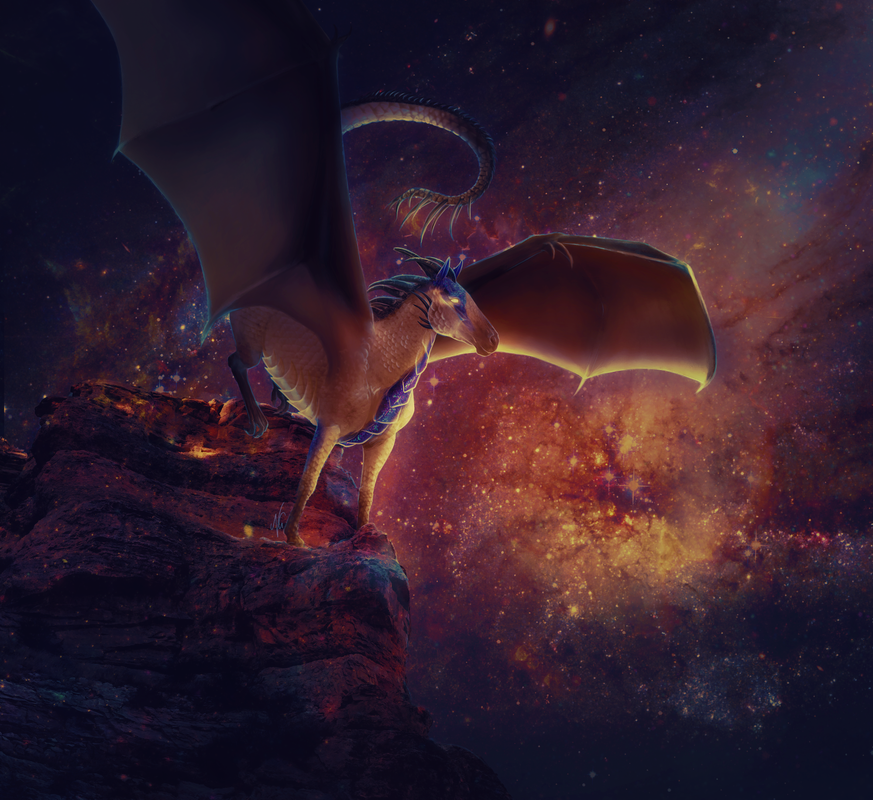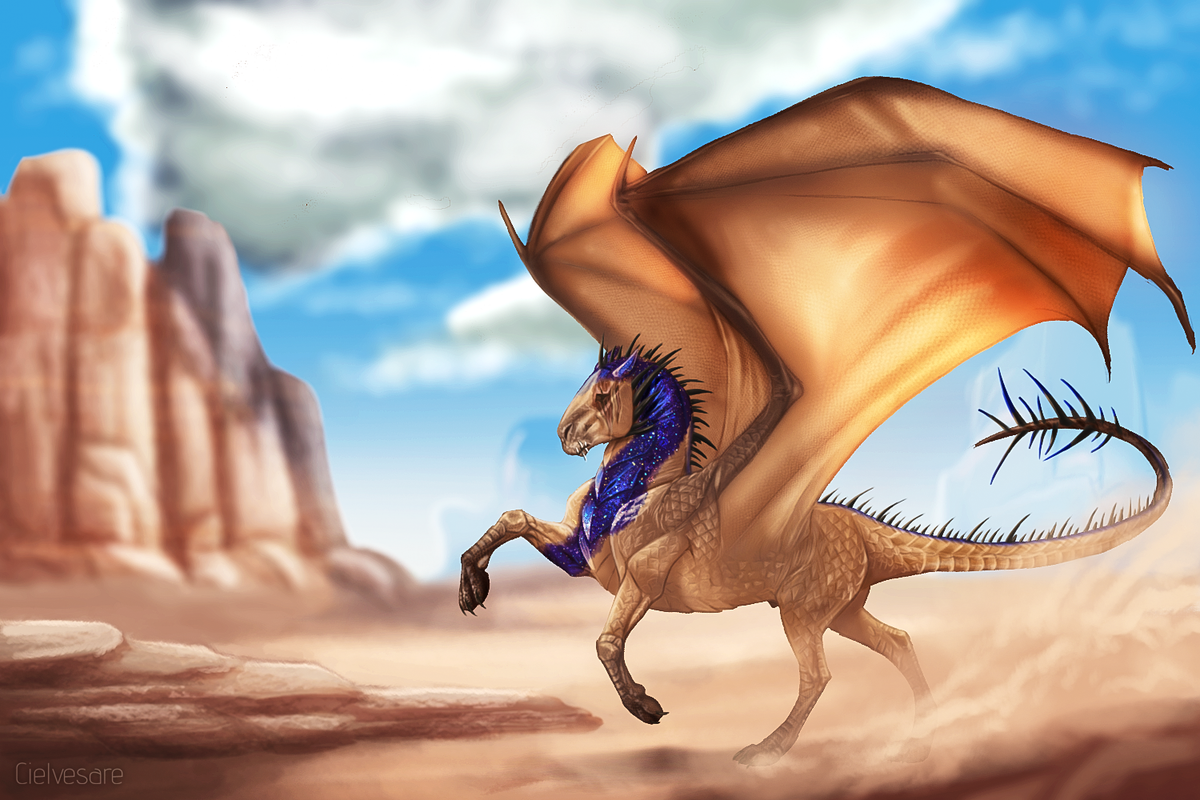 Lineage
| | |
| --- | --- |
| Parents: Ghaul x Clarissa | Children: None, ever. |
Traits
Companion:
Genetic Traits: equus draconis, galaxy markings, electric aura, scrying eye
Non-Genetic Traits: infrared vision, immortality, super senses
Trait Genetic Code: tegteg [EQUUS DRACONIS][GALAXY MARKING][SCRYING EYE][ELECTRIC AURA][horn][companion animal][light beam emission][fire healing]
Defects: very blind
History
Yadigar is the youngest triplet from Ghaul and Clarissa's first nest. As a baby, his sister Asphyxea accidentally tore his eye out when he startled her while playing. Rather than comforting his son, Ghaul told her good job and cauterized the wound so he couldn't get his eye back.

One day while hunting with dear old dad, they stumbled upon Cress just after she gave birth to Frenzy, Ghaul's bastard child. Ghaul forced Gar to murder Cress but he refused to kill Frenzy so instead he was charged with watching over her.

Yadigar later met Tarte at the playground while he snuck away one day. They quickly became good friends due to their troubled homes and awful parents. Tarte later came to Silver Cove where she learned the depth of Yadigar's abuse, which led her to suggest they run away together. He naturally loved the idea and they took his sister Cirilla with them north to get away.

After escaping to Nerine, Ghaul tracked Gar down and showed him his friend Breach's severed leg. He explained he would torture every one of Yadigar's friends if he disobeyed again. Cirilla got a pass because she's the favorite and Tarte isn't Ghaul's baby so he couldn't really tell her what to do.

Now, Yadigar is preparing to set fire to Nerine and fulfill his destiny, but he hates it and thinks this is all a nightmare.
yadigar's Forum Info
Joined:
04-23-2020
Last Visit:
11-10-2021, 10:15 PM
Total Posts:
58 (0.1 posts per day | 0.07 percent of total posts)
(Find All Posts)
Total Threads:
16 (0.03 threads per day | 0.08 percent of total threads)
(Find All Threads)
Time Spent Online:
3 Days, 1 Hour, 14 Minutes
yadigar's Threadlog · View Profile
Thread
Forum
Participants
Posts
Last Post
now we're coming for the throne

on 12-01-2020

River
Rapture
4
Last post by Rapture

on 01-08-2021

i just need everyone, ghaulbies?

on 11-24-2020

Pangea
cirilla
2
Last post by yadigar

on 11-28-2020

[open]

what's a king to a god; pangea residents

on 11-22-2020

Pangea
Carnage, Desire, Beyza, breach, Sepulcher
11
Last post by Beyza

on 12-31-2020

[private]

even death himself pales; crowns

on 11-20-2020

Meadow
crowns, rosebay
13
Last post by rosebay

on 11-23-2020

[open]

and from the ashes we rise

on 11-19-2020

Pangea
Straia, Warship, atrox, draco, Beyza, Aela, Yanhua, breach, Iris, Skandar
16
Last post by Aela

on 11-24-2020

you've never seen my horizon.

on 11-18-2020

Tephra
Warden
6
Last post by Warden

on 12-29-2020

give me reasons we should be complete

on 11-16-2020

Pangea
Tarian
10
Last post by Tarian

on 12-02-2020

Speeding fast on the run, never want to get caught up.

on 11-03-2020

Loess
Tarian, Officials
3
Last post by Officials

on 11-09-2020

[private]

roll the bones; yadigar

on 10-09-2020

River
breach
14
Last post by yadigar

on 10-31-2020

swallow gasoline and talk to god

on 10-09-2020

Trackers
Jassal, echis, sixteen, crowns, grimjaw
6
Last post by grimjaw

on 11-22-2020

Entwined we will both die, so stay away and stay alive.

on 09-15-2020

Pangea
Straia, Anaxarete, draco, Beyza, crowns
10
Last post by crowns

on 10-14-2020

baby, kiss it better; pangeans

on 09-11-2020

Nerine
Brennen, Straia, Anaxarete, Eurwen, lilliana, Beryl, greta, Nikkai, Beyza, Amarine, spirit, Tarte, Yanhua, asphyxea, cirilla, breach, virgil, Sachin
30
Last post by lilliana

on 09-15-2020

[private]

family is who you set fires with

on 09-08-2020

Forest
Sepulcher, Isotope, Derelict, altar, Ozorne
9
Last post by altar

on 10-21-2020

[private]

dive in, I'll show you where the river ends; yadigar

on 08-23-2020

River
breach
6
Last post by yadigar

on 09-08-2020

[TAKEOVER]

feel the weightlessness sink in

on 08-23-2020

Hyaline
ghaul, breach
5
Last post by breach

on 08-24-2020

[private]

the stars never rise, mals

on 07-28-2020

Tephra
Maleficente / Malefica
3
Last post by yadigar

on 08-18-2020

[PQ - in progress]

the mountain cannot bow

on 07-27-2020

Mountain
Wysteria Fairy
2
Last post by Wysteria Fairy

on 07-28-2020

line them up, lions on them.

on 07-16-2020

Nerine
Dacian
4
Last post by Dacian

on 08-24-2020

[private]

no matter how the winds blow

on 06-24-2020

Nerine
Heartfire
4
Last post by Heartfire

on 06-25-2020

maybe its for the best

on 06-22-2020

Forest
Oriash
5
Last post by Oriash

on 08-02-2020

Not your baby // Yadigar, Any

on 06-03-2020

Silver Cove
Bruja, Tarte, cirilla
12
Last post by Tarte

on 07-19-2020

[private]

we come alive just past the edge of the midnight; yadigar

on 05-22-2020

Forest
breach
9
Last post by breach

on 08-08-2020

[open]

i was blind, all members

on 05-12-2020

Silver Cove
sochi, gospel
3
Last post by sochi

on 05-19-2020

so come rain on my parade

on 05-05-2020

Silver Cove
N/A
1
Last post by yadigar

on 05-05-2020

i'll burn your name into my throat, asphyxea

on 05-04-2020

Silver Cove
ghaul, asphyxea
5
Last post by ghaul

on 05-26-2020

[open]

wait right here, tarte/any

on 05-04-2020

Playground
Tarte
6
Last post by Tarte

on 05-27-2020

i want to hear your mother tongue

on 05-03-2020

Silver Cove
N/A
1
Last post by yadigar

on 05-03-2020

[private]

now is the end of days

on 05-01-2020

Silver Cove
cirilla
2
Last post by cirilla

on 05-15-2020