QOTY
""I don't know how to do this," she says. What she actually means is I'm sorry, but she doesn't know how to apologize either." --Titanya, written by Mirage
Svedka
the heart
Age: 18
Gender: Stallion
Breed: hybrid
Height: 15.2hh
Player: radar
Appearance
Color: palomino overo (ee/Aa/nCr/nO)
Eyes: cerulean
Markings: bald face, white stockings
Mane & Tail: white with blue highlights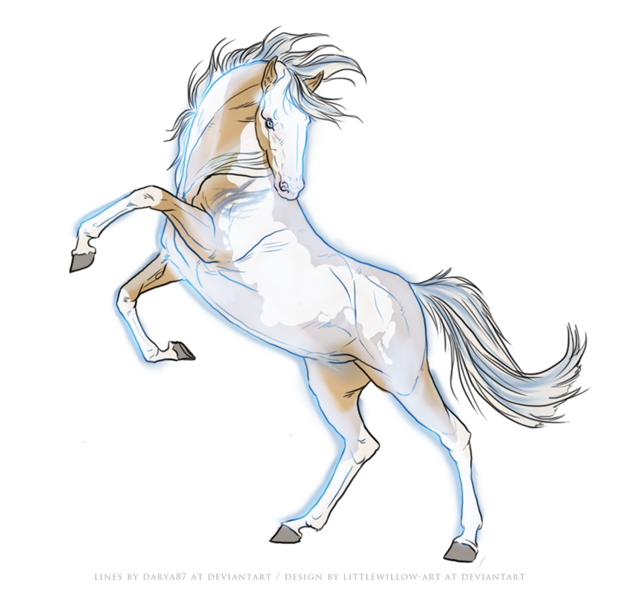 Personality
Svedka is bold, confident, flirtatious, spontaneous and charming. He lives for experiences that fuel his adrenaline and leaves him breathless. Despite this, however, he is extremely gentle-hearted and is quite the gentlemen. He is overtly romantic and unable to give his heart to only one.
Lineage
Parents: Warrick x Tangerine

Children:
Kukka (x Ilma)
Kirsikka (x Ilma)
Skandar (x Carnage)
Leijona (x Carnage)
Sundari (x Vastra)
Ciroc (x Vastra)

Traits
Companion:
Genetic Traits: light armor
Non-Genetic Traits:
Trait Genetic Code: tegteg [LIGHT ARMOR][light beam emission]
Defects:
History
Svedka was the first born son of Warrick and Tangerine, twin brother to Solace. Most of his childhood was spent recklessly, while his sister ensured his safety. For a year in his teenage prime, he spent his time in his mother's homeland where he learned to worship the sun and the moon, placing roots in the spirituality of his mother's ancestors. In his older years, he lived in Hyaline alongside Solace and her wife, Kagerus, who ruled there. He felt complacent, but his love for his sister was stronger than his need to be free.
Just before the plague, Svedka was given the ability to shift into a mountain lion. It was not something that was asked for (as he was always content without any abilities) but thrown upon him anyway without any knowledge. The shift lasted many years and is viewed by him as a curse - as he has no control over the lion and remembers nothing when he awakes.
Somehow, the lion relented and has been dormant for some time. Svedka feels like himself again; making new relationships, finding a home beside Kagerus and Solace in Tephra, as well as finding his dear friend Ilma along the way.
After a brutal fight with Vastra and her lion in the meadow, Svedka's own lion found itself drawn to Carnage's call. After being brutally torn apart, Svedka found himself in the afterlife. To return, he left a part of himself (the lion) in the afterlife and found himself back in Beqanna - though he doesn't feel completely whole. Svedka gave birth to two children, Skandar and Leijona, a direct result of his time spent with Carnage in the afterlife.
Svedka's Forum Info
Joined:
07-20-2017
Last Visit:
02-21-2021, 08:22 PM
Total Posts:
197 (0.14 posts per day | 0.24 percent of total posts)
(Find All Posts)
Total Threads:
18 (0.01 threads per day | 0.09 percent of total threads)
(Find All Threads)
Time Spent Online:
5 Days, 17 Hours, 11 Minutes
Svedka's Threadlog · View Profile
Thread
Forum
Participants
Posts
Last Post
show me the sun; svedka

on 11-26-2020

Tephra
Wishbone
12
Last post by Svedka

on 01-16-2021

[private]

your personal ghost who haunts your dreams

on 11-11-2020

Tephra
Vastra
14
Last post by Svedka

on 01-16-2021

[private]

You're the only way; Svedka

on 09-27-2020

Tephra
Ilma
5
Last post by Ilma

on 02-19-2021

[private]

for all of the light that I shut out, Svedka

on 09-27-2020

Tephra
Ryatah
13
Last post by Ryatah

on 01-10-2021

sunshine, won't you be my mother? aquaria

on 09-19-2020

Ischia
Aquaria
5
Last post by Svedka

on 10-13-2020

my shadows prove the sunshine; solace

on 09-19-2020

Tephra
Solace
3
Last post by Svedka

on 10-02-2020

[private]

such a simple thing

on 07-19-2020

Meadow
Vastra
24
Last post by Svedka

on 11-02-2020

And I am lost again; Svedka (&fam)

on 07-03-2020

Tephra
Ilma
9
Last post by Ilma

on 09-05-2020

I wait for light like water from the sky;

on 06-14-2020

Tephra
Kagerus, Solace, Ilma
9
Last post by Ilma

on 08-04-2020

maybe redemption has stories to tell; elio

on 05-25-2020

Tephra
elio
5
Last post by Svedka

on 06-20-2020

with the birds i'll share this lonely view | svedka

on 05-23-2020

Tephra
kahzie, Pteron
9
Last post by Pteron

on 07-24-2020

sunshine, won't you be my mother? || ilma

on 05-22-2020

Tephra
Ilma
13
Last post by Svedka

on 06-17-2020

[private]

the crushing weight of paradise

on 05-03-2020

Tephra
Kagerus, Solace
15
Last post by Svedka

on 07-26-2020

[private]

You'll lose yourself in the clouds; Svedka

on 05-03-2020

River
Ilma
9
Last post by Ilma

on 05-19-2020

[private]

leaving all my past and silhouettes up on the wall; svedka

on 05-01-2020

Forest
Pteron
18
Last post by Svedka

on 05-21-2020

let my shadow prove the sunshine || any

on 09-13-2018

Hyaline
Ilma
8
Last post by Ilma

on 10-04-2018

[open]

oh you'll be strong, you'll hold on; any

on 09-03-2018

Meadow
Xero, Lepis
8
Last post by Xero

on 10-03-2018

[private]

i feel it in my bones

on 08-25-2018

Hyaline
Kagerus
6
Last post by Kagerus

on 09-08-2018

[mature]

no tears left to cry || Svedka

on 06-21-2018

Meadow
Nymf
7
Last post by Nymf

on 07-03-2018

be my escape || kylin

on 06-14-2018

Ischia
Kylin
6
Last post by Kylin

on 07-02-2018

be my escape || any

on 06-08-2018

Hyaline
Ilma
8
Last post by Ilma

on 06-23-2018

WE BOTH LOST THE WAR • Svedka

on 05-22-2018

Hyaline
Smoak
4
Last post by Svedka

on 05-29-2018

lost to these linens / svedka

on 05-21-2018

Hyaline
Wishbone
7
Last post by Wishbone

on 06-19-2018

[birthing] Easier for you to let me go; any

on 05-19-2018

Hyaline
Faellyn, Ilma, Arithmetic
10
Last post by Ilma

on 05-30-2018

Teach these broken wings to fly || Svedka

on 05-14-2018

River
Nymf
13
Last post by Nymf

on 06-01-2018

[private]

lost to these linens / any

on 05-13-2018

Sylva
Wishbone, Jackel, Abra
8
Last post by Wishbone

on 06-10-2018

Shooting stars cannot fix the world; Svedka

on 05-09-2018

Hyaline
Ilma
14
Last post by Svedka

on 05-17-2018

kingdom announcement & activity check - ALL

on 05-09-2018

Hyaline
Kagerus, Briseis, Smoak, Solace, Embark, sochi, Ilma, Hephaestus, Baltas, Gedrinth
11
Last post by Hephaestus

on 05-17-2018

Be the Anchor [Svedka]

on 05-08-2018

Hyaline
Embark
6
Last post by Svedka

on 05-11-2018

be my escape || kylin

on 05-05-2018

River
Kylin
18
Last post by Kylin

on 06-03-2018

man you shoulda seen her light up; svedka

on 04-29-2018

Hyaline
glim
2
Last post by Svedka

on 05-02-2018

[private]

Out with the golden we sew // Svedka

on 04-27-2018

Hyaline
Kagerus
11
Last post by Kagerus

on 06-22-2018

You're dripping like a saturated sunrise, anyone

on 04-27-2018

Hyaline
Radar, Kagerus, Briseis, Ilma
11
Last post by Kagerus

on 05-10-2018

[private]

Out with the golden we sew // Solace/Ilma/Svedka

on 04-15-2018

Hyaline
Kagerus, Solace, Ilma
5
Last post by Kagerus

on 04-18-2018

Its a beautiful day in the neighborhood || Any

on 04-13-2018

Hyaline
Solace, Lavendel, Tähti
9
Last post by Lavendel

on 04-20-2018

be my escape || kagerus

on 03-29-2018

Hyaline
Kagerus
10
Last post by Kagerus

on 04-18-2018

larger than the moon, my love for you || ilma

on 03-29-2018

Hyaline
Ilma
12
Last post by Ilma

on 05-02-2018

i'm carrying your heart in mine || solace & any

on 02-17-2018

Hyaline
Solace
3
Last post by Svedka

on 02-23-2018

you're the beacon / solace, any - diplomatic visit

on 02-11-2018

Hyaline
Kagerus, Solace, wound
15
Last post by wound

on 03-18-2018

you're the pulse that i've always needed || any

on 01-20-2018

Meadow
Lavendel
6
Last post by Lavendel

on 01-27-2018

It is Only Necessary to have Courage[Any]

on 01-08-2018

Hyaline
keeper, Kasanova
5
Last post by Svedka

on 01-26-2018

Come back to me, my wild darling - Svedka

on 12-10-2017

Hyaline
Solace
10
Last post by Svedka

on 01-18-2018

keep a little fire burning; svedka, any

on 12-09-2017

Hyaline
Smoak
8
Last post by Svedka

on 01-06-2018

[mature]

the moonlit wings reflect the stars -- any

on 12-09-2017

Hyaline
Corvus
20
Last post by Corvus

on 12-29-2017

be my escape; any

on 12-01-2017

Hyaline
keeper, Solace
7
Last post by Svedka

on 01-20-2018

ALL ♥

on 11-25-2017

Hyaline
Corvus, keeper, Amet, Solace
5
Last post by keeper

on 11-26-2017

larger than the moon, my love for you; solace

on 11-08-2017

Hyaline
Solace
6
Last post by Solace

on 11-26-2017

larger than the moon, my love for you; solace

on 09-17-2017

Tephra
Levi, Maugrim, Solace
5
Last post by Maugrim

on 11-09-2017

The Bastards, The Vultures, The Wolves [Solace/Kaiode/Any]

on 08-30-2017

Tephra
Sirana, Diable Rouge, Tangerine, Solace, Kaiode, Kuma
13
Last post by Solace

on 09-07-2017

keep a little fire burning; solace & svedka

on 08-16-2017

Tephra
Smoak, Solace
10
Last post by Smoak

on 09-06-2017