Year:

218

Season:

Summer

SWP: here
QOTY
"She approaches the cave and there is nothing but that anticipation and her ever-present fire inside her. No fear, no flickering echoes of love. It's all been consumed for now. She is a wildfire contained only by the thin layer of her flesh." --Mazikeen, written by Squirt
Manikin
Age: adult
Gender: Mare
Breed: Anglo-Arab Hybrid
Height: 14.3hh
Player: ratty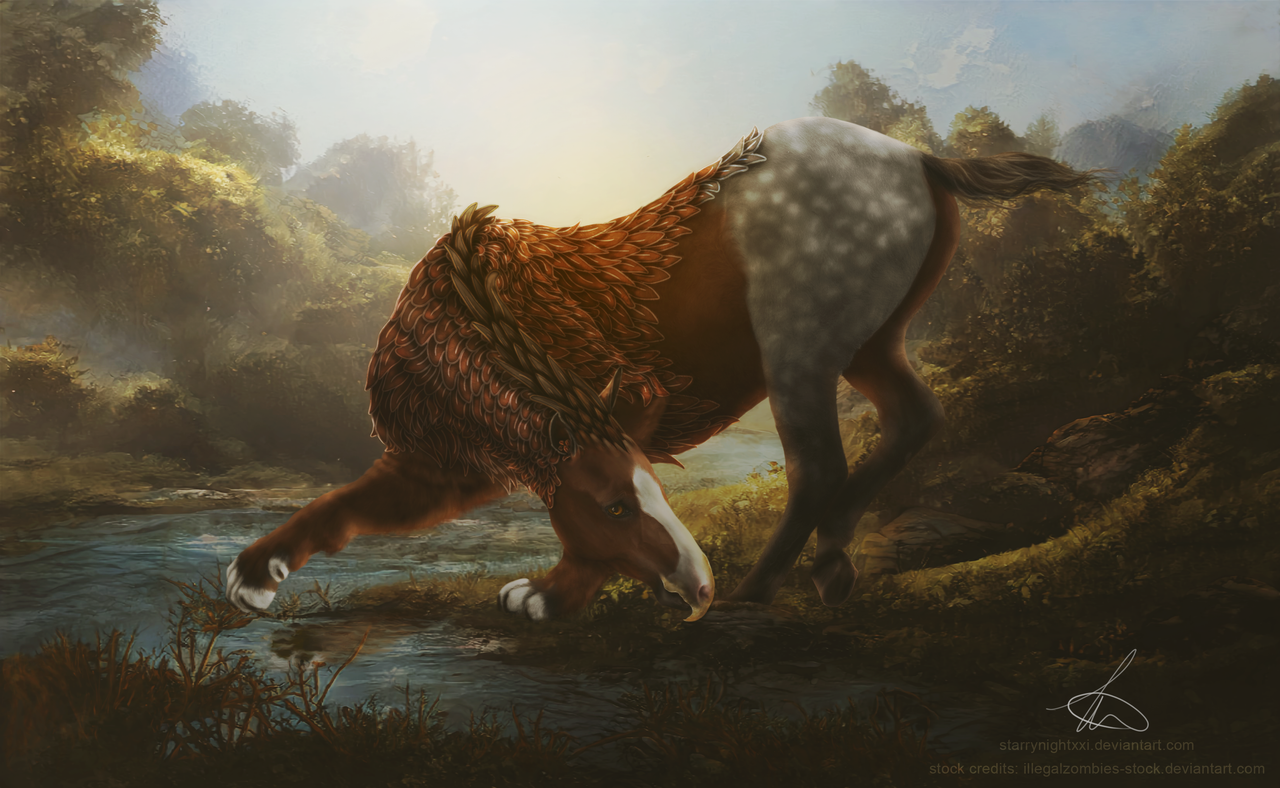 Appearance
Color: Bay (Ee/Aa)
Eyes: Amber
Markings: Broad blaze, white toes, grey somatic mutation left hind leg
Mane & Tail: Black feathered crest, horse tail
Bay mare with yellow eyes. She has a short, sharp beak, body feathering along her neck, chest, back, and belly, and the forelegs of a lion. Her tail is short, having lost the lower portion of it in a fight with an elkear.
She has a broad blaze, white toes on both front paws, and a somatic mutation causing her left leg to be grey.
Personality
Feral and anti-social by nature and nurture. Has been allowed to run wild without consequence by her mother, and regularly attempts to hunt her twin brother (like for serious, she wants to eat him.)
Lineage
Parents: Dreamscar x Popinjay
((twin to Avocet)) - Pedigree

Children:
Traits
Companion:
Genetic Traits: Equus Hippogryph, Memory Manipulation
Non-Genetic Traits: Peace Induction
Trait Genetic Code: tegteg
Defects:
History
Participated in the Carnage Quest of 210 as a 6mo filly.
Manikin's Forum Info
Joined:
07-02-2020
Last Visit:
(Hidden)
Total Posts:
25 (0.05 posts per day | 0.03 percent of total posts)
(Find All Posts)
Total Threads:
3 (0.01 threads per day | 0.01 percent of total threads)
(Find All Threads)
Time Spent Online:
(Hidden)
Manikin's Threadlog · View Profile
Thread
Forum
Participants
Posts
Last Post

[open]

the light of a thousand suns

on 08-30-2021

Sylva
Link, Lillibet
7
Last post by Lillibet

on 10-15-2021

[open]

Set fires to my forest and let it burn [Any]

on 08-22-2021

Sylva
Ledger
8
Last post by Manikin

on 10-26-2021

[open]

You pray to stars that can help you get by [Any]

on 06-28-2021

Meadow
Ciri, Leilan, Obscene
8
Last post by Obscene

on 07-04-2021

It's a long way down to the bottom of the river // Residents

on 06-27-2021

Sylva
Sabra, Balto
3
Last post by Balto

on 06-30-2021

[mature]

What can be won by deception [any]

on 05-16-2021

Sylva
Sabra
8
Last post by Sabra

on 07-03-2021

[private]

It's nothing complicated, I just want to kill him

on 09-10-2020

Brilliant Pampas
avocet
7
Last post by Manikin

on 11-21-2020

I'm an ex-parrot pinin' for the fjords [Avocet]

on 07-12-2020

Brilliant Pampas
Popinjay, avocet
6
Last post by avocet

on 08-13-2020

triggity triggity trackers

on 11-03-2019

Trackers
ratty, Neverwhere, Popinjay, Dreamscar, Beryl, Starbrow, Quietude, Dace, Crackjaw, Florian, Wherewolf, Shipka, Wight, Lorne, Aldrich, Enoch, Sintra, Chimera, Enthrall, Gilda, Blackwell, Creatrice
15
Last post by Creatrice

on 11-14-2021