QOTY
"He only knows home in his dreams and even those dreams do not mimic large, centuries-old redwoods. Lio doesn't remember the last time he laid his head down and truly felt comfortable." --Elio, written by Phaetra
Tangerine
Head in the Clouds.
Age: 23
Gender: Mare
Breed: Morgan mix
Height: 15.0
Player: Lavender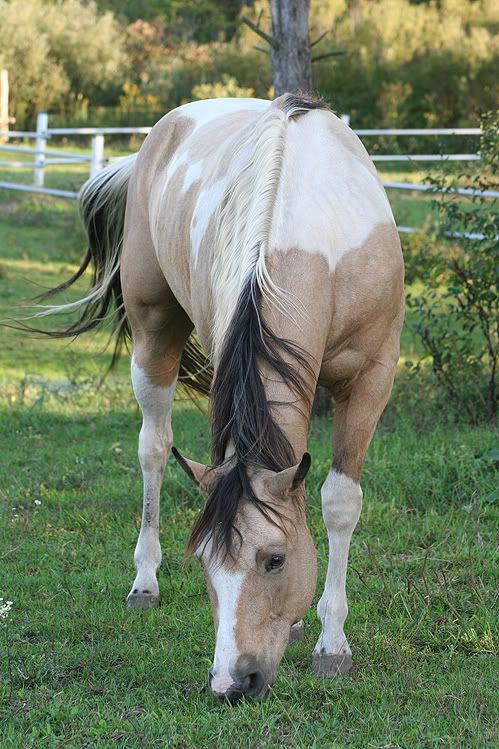 Appearance
Color: Buckskin Overo ()
Eyes: Amber
Markings: Overo - rich gold along top line black legs white patches along belly haunches and shoulders
Mane & Tail: Full and jet black
Personality
Full of life. naturally friendly. Daydreamer. Adventurer.
Tangerine is lively and relishes excitement. She enjoys approval but also knows her own value. She gets along with others well and often finds herself in the peacemaker roll. She sees other positive attributes even when they are not obvious. So far she has never stayed in one place for very long.
Lineage
Parents:

Children:
Solace & Svedka (xWarrick)
Celest (xCarnage)
Marble (xWarrick)
Sibyl (xWarrick)
Traits
Genetic Traits: Precognition
Non-Genetic Traits:
Trait Genetic Code: tegteg
Defects:
History
Her First Life
Came from a small family group. She left home on good terms to find her own way. Previous home was a small ever changing group of horses who lived on "The Great Plains" . Her mother was a storyteller, well known on their plains. They traveled across the plains like the other groups of nomadic (non magical) horses there. Often they would find other groups and camping together for a week or more. Her family group consisted of her Father, Mother, older half sister, younger full brother. She had other half siblings that she had met in passing.

Arrives in Beqanna in the fall of year 189 - April 2017

Two years old - Arrives in the field where she meets Warrick and follows him to Tephra. Winters in Tephra becoming close friends with Warrick. She is falling for the kind yet sad stallion with the tragic past, but he is not ready to be more than friends. As she leaves to travel Beqanna, she often thinks of the time they spent together and the love she feels for him, the first to greet her in this new world.

Year 190
Now three, Tang travels to Hyaline in the spring where she meets Amet, the Dragon king who is charming and beautiful. She spends the summer with the young residents of Hyaline, forming a close friendship with Amet. There is an attack (a group of young horses burn and poison the land) one night in early fall and Tangerine is burnt on her left hock. In the aftermath she makes diplomatic visits with Amet and helps keep watch over the territory. Warrick Also pays her a visit that fall, and Tang becomes pregnant with his twins. Now having spent over a year in Beqanna, she feels herself becoming more attune to the magic of the place and begins to have dreams which hint at her future and the future of those she cares about. In the winter, she dreams of the birth of her twins and decides she needs to travel to Tephra to find Warrick.

Year 191
When she finds Warrick, he is elated to find out she is carrying his twins. Solace and Svedka are born and the young family spends six months in quiet happiness. Along the way, Tang helps nurse an abandoned foal named Kaiode. He bonds with her children, especially Solace, and the colt and his adopted father "Rou" spend much of their time with Tang and the twins. Then Kaiode is killed in a freak accident and Solace is involved. Tang had received a premonition that one of the colts was in danger but wrongly assumed it was Svedka, her rambunctious son, and she feels very guilty that she did not clue Rou in on her dream. Six more moths pass in Tephra and Tangerine is growing restless in the peaceful kingdom. Solace will not process the event with her mother, Svedka is independent and wild, and Warrick has gained several well-deserved promotions for his diligent work as a diplomat. But she yearns to run again and leave the confines of the tropical island.

Tangerine soon had a dream where she meets Carnage, the dark god, in The Meadow where they conceive a child. When she awakens from her dream she leaves her sleeping children to go find him. In the meadow, the god comes down from the stars and during that surreal night, she becomes pregnant with Celest.

Year 192
Tang travels back to Hyaline, after a difficult goodbye with the father of her twins, hoping to cure the festering restlessness in her chest. She has told no one of her pregnancy yet. After a falling out with Amet, she is lured by Carnage to his lair where she is tortured and given strange visions of the filly, she carries.

Year 193
When carnage is done with her she wanders through a wasteland of his creation, heavily pregnant and dehydrated, only to magically re-appear in Hyaline where she gives birth to Celest. The mother and foul then hide in the riverlands for six months while Tang suffers from anxiety related to her torture. Celest bring Amet to Tang and she says goodbye, that she is returning to her homeland. After several large disagreements, Celest then runs away, having no interest in leaving Beqanna. Tang travels to Tephra to say her goodbyes to Warrick, but he decides to accompany her on her journey and they leave with Svedka for the journey.
Year 193
Tang spends the year recovering. Warrick helps her hear, and together they dance under the moon and enjoy the carefree lifestyle of her ancestors. Warrick returns and tang takes more time to see family.

Year 194
In the winter, Tang returns to Tephra where Warrick is now King
........................................................................................................


Tangerine's Forum Info
Joined:
04-18-2017
Last Visit:
04-21-2020, 05:05 PM
Total Posts:
125 (0.09 posts per day | 0.15 percent of total posts)
(Find All Posts)
Total Threads:
19 (0.01 threads per day | 0.1 percent of total threads)
(Find All Threads)
Time Spent Online:
3 Days, 1 Hour, 34 Minutes
Tangerine's Threadlog · View Profile
Thread
Forum
Participants
Posts
Last Post
Let the shadows fall behind us || Kagerus

on 03-29-2020

Tephra
Kagerus
4
Last post by Kagerus

on 04-25-2020

[private]

we are crooked souls trying to stand up straight ||

on 08-25-2018

Tephra
Warrick, exist, leliana, marble
6
Last post by Warrick

on 09-19-2018

Sea Salt & Sugar; Warrick

on 05-21-2018

Tephra
Warrick, Sibyl
8
Last post by Warrick

on 06-19-2018

Let the shadows fall behind us - wound, any

on 04-21-2018

Tephra
wound
2
Last post by wound

on 04-25-2018

no one's going to love you more than i do [marble birthing]

on 03-27-2018

Tephra
Warrick, marble
3
Last post by marble

on 07-28-2018

Face to the Sun [Warrick]

on 03-07-2018

Tephra
Warrick
3
Last post by Tangerine

on 03-27-2018

lost to these linens / tangerine

on 02-27-2018

Tephra
Wishbone
5
Last post by Wishbone

on 04-03-2018

sunshine, won't you be my mother? || ALL

on 02-10-2018

Tephra
Leah, Warrick, Amorette, Kristin, Neo, swxrdsandpxns, Diorae, wound, Valensia, Gansey, Saedìs
13
Last post by Kristin

on 02-21-2018

[private]

your mess is mine - warrick

on 12-22-2017

Tephra
Warrick
7
Last post by Tangerine

on 02-17-2018

[private]

Let the only sound; Tangerine

on 10-19-2017

River
Circinae
2
Last post by Tangerine

on 10-28-2017

Wolf mother at the door- she don't smile anymore [Amet]

on 10-13-2017

River
Amet
10
Last post by Amet

on 10-21-2017

Let the shadows fall behind us [open]

on 10-01-2017

River
Cordis
10
Last post by Cordis

on 10-22-2017

Of Earth & Starlight - Celest Birthing [Jah - Any]

on 09-20-2017

Hyaline
Circinae, keeper, Jah-Lilah
7
Last post by Circinae

on 09-25-2017

The Edge of the World [Tangerine/Any]

on 09-18-2017

Tephra
Diable Rouge
5
Last post by Diable Rouge

on 09-22-2017

do you feel like a young god? all

on 09-16-2017

Hyaline
Circinae, Ciri, Amet, Fiato, Rubble
6
Last post by Rubble

on 09-21-2017

[private]

Face to the Sun [Warrick]

on 09-16-2017

Tephra
Warrick
6
Last post by Warrick

on 09-22-2017

[private]

do you feel like a young god? tangerine

on 09-15-2017

Hyaline
Amet
9
Last post by Amet

on 10-01-2017

pharaohs, gods and dragon kings

on 09-13-2017

Hyaline
Ciri, Amet
8
Last post by Ciri

on 09-24-2017

The Bastards, The Vultures, The Wolves [Solace/Kaiode/Any]

on 08-30-2017

Tephra
Sirana, Diable Rouge, Solace, Kaiode, Svedka, Kuma
13
Last post by Solace

on 09-07-2017

Rubble, any?;

on 08-25-2017

Hyaline
Kharon, Rubble
4
Last post by Rubble

on 09-13-2017

[private]

strange stars in my sky . carnage

on 08-21-2017

Meadow
Carnage
7
Last post by Tangerine

on 08-23-2017

do you feel like a young god? tang, warrick & twins

on 08-15-2017

Tephra
Warrick, Amet, Solace
8
Last post by Solace

on 09-08-2017

{Open} The Thunder of Young Hooves in the Winter

on 07-06-2017

Field
Rubble
15
Last post by Rubble

on 08-28-2017

[open]

You make my heart beat like the rain;

on 07-06-2017

Field
Nova Star, Terran, Ivar
7
Last post by Tangerine

on 07-08-2017

Hungry for Adventure || Any

on 07-04-2017

Field
Pyrite, Ivar
3
Last post by Tangerine

on 07-05-2017

Golden Slumbers | Open | {Tangerine}

on 07-03-2017

Meadow
Jah-Lilah
8
Last post by Tangerine

on 07-19-2017

Face to the Sun [Solace & Svedka Birth]

on 07-03-2017

Tephra
Warrick, Jah-Lilah
11
Last post by Jah-Lilah

on 07-28-2017

do you feel like a young god? fiato, tang, any

on 07-01-2017

Hyaline
Amet, Fiato
7
Last post by Amet

on 07-30-2017

kiss away the bad dreams

on 06-28-2017

Hyaline
Amet
12
Last post by Amet

on 08-20-2017

deep roots are not reached by the frost - any

on 06-21-2017

Loess
Merida, Heda, Amet
11
Last post by Heda

on 07-28-2017

Borrowed Peace [Warrick]

on 06-19-2017

River
Warrick
6
Last post by Warrick

on 06-26-2017

sky's heavy with refinery clouds; tangerine

on 06-16-2017

Meadow
Spear + Spark
4
Last post by Tangerine

on 06-27-2017

The Summer Months Were Our Best [Iset]

on 06-16-2017

Hyaline
Iset
5
Last post by Tangerine

on 07-21-2017

we have arrived; the lost boys, residents of hyaline

on 06-15-2017

Hyaline
Deathwish, Levi, Kolera, Molotov, Amet, Iset, Maugrim, Castile, Sakir
17
Last post by Kolera

on 07-02-2017

do you feel like a young god? ALL

on 06-04-2017

Hyaline
Siba, Amet, Iset
4
Last post by Siba

on 06-06-2017

as if a glass could contain the sea; any

on 05-28-2017

Hyaline
Warrick, Molotov, Amet
14
Last post by Tangerine

on 06-20-2017

hello~spring [open]

on 05-22-2017

Hyaline
Amet
12
Last post by Amet

on 06-24-2017

as if a glass could contain the sea; tang

on 05-10-2017

Tephra
Warrick
14
Last post by Tangerine

on 05-22-2017

the hills games; week one [extension allowed, see inside for details]

on 05-03-2017

Loess
Canaan, Shelbi, Venge, Heda, AuroraElis, crota
6
Last post by Shelbi

on 05-09-2017

games; week one - sign ups

on 04-29-2017

Loess
Canaan, Bai, Shelbi, Venge, sanaa, Heda, AuroraElis, crota
8
Last post by sanaa

on 05-01-2017

Face to the sun || Warrick - Any

on 04-26-2017

Tephra
Warrick
7
Last post by Tangerine

on 05-09-2017

do you feel like a young god? any

on 04-26-2017

Hyaline
Amet
10
Last post by Tangerine

on 05-15-2017

Face to the sun

on 04-18-2017

Field
Warrick, Bristol
9
Last post by Tangerine

on 04-23-2017
Tangerine's Signature