QOTY
""I don't know how to do this," she says. What she actually means is I'm sorry, but she doesn't know how to apologize either." --Titanya, written by Mirage
Ciri

Age: Adult
Gender: Mare
Breed: Hybrid
Height: 15.4
Player: Jeje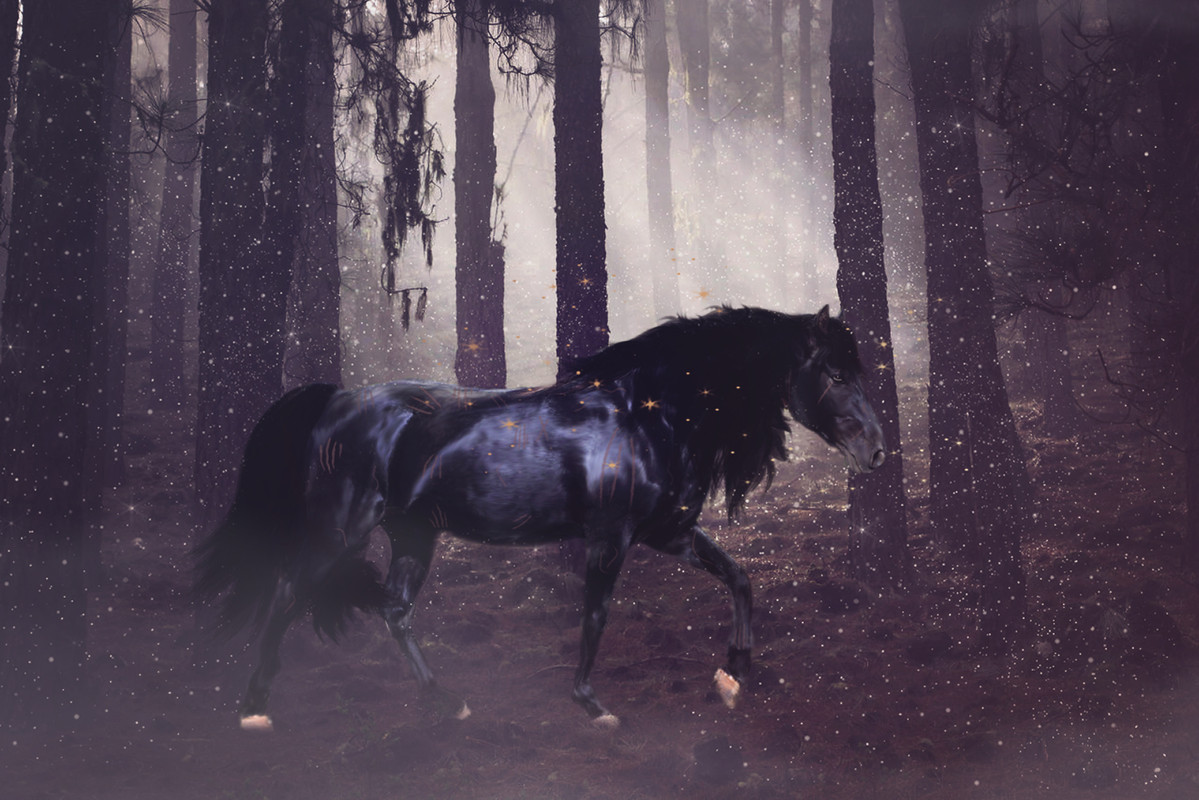 Appearance
Color: Smoky Black (Ee/aa/nCr)
Eyes: Swirling Silver
Markings: Scars all over her body, three long claw marks on left shoulder, long scar beneath her eye across left cheek
Mane & Tail: Black
Scars all over her body, three long claw marks on right shoulder, long scar beneath her eye across right cheek all gained from her time in the Underneath. Stars hover all around her, gained from when the light returned to BQ after the Eclipse and an apology from the stars for leaving her in the dark.
Personality
Wise beyond her years but can be socially clueless. Old soul. Mysterious. Protector and defender. Lady of time and space.
Lineage
| | |
| --- | --- |
| Parents: Atrox x Soliel | Children: Takhar (x Amet) |
Traits
Companion:
Genetic Traits: Stellar Aura, Stars
Non-Genetic Traits:
Trait Genetic Code: tegteg [STAR AURA][STARS][panther shifting]
Defects:
History
Ciri was born one spring evening to a white mare named Soliel in the Dale. She was marked to be different, with swirling silver eyes that told too much for a newborn child.

She was happy enough in the Dale although she was looked at a little strangely due to her constant watching and saying little. The swirling of her silver eyes.

She disappeared during the Reckoning only to return much later when she was 3.

Her eyes had become solid, she had forgotten much of her childhood and her birth. One day she was wandering and fell into a portal. She ended up in the cruel world of The Underneath, an upside down version of Beqanna. There she met many a foe and battled many terrors. The world was black and she saw through dragon vision. She tried to escape whatever was chasing her in the forest only to fall into the middle of it's home. Attacked by the ancient woodland spirit called a Leshen, she barely escaped the woods only to be attacked by it's legion of ravens. She battled the ravens and survived with many wounds to tell the tale. From their she traveled to the Underneath version of Hyaline's lake. There she was tempted by a vision of herself as a child. It was a siren and disguise but it unlocked a key to her memories that she had forgotten. Born of space and time, one of the stars. Using the power of Equus Aura and lit up due to being under extreme threat. Her light blinded the Siren and she was able to fight it and escape.

Now the Underneath has spit her out on Hyaline's shores exactly where she had collapsed in the alternate version. She has gained the ability of Stellar Aura but is unaware of this yet. Her eyes once again swirl with time and space and she remembers her childhood and where she comes from.

Amet, Hyaline's Ruler, quickly discovered her. He was kind and protective, something she wasn't use to. Despite his best intentions, she grew sick while her wounds became infected. Jah-Lilah (another survivor of the Underneath) luckily stumbled upon her. She told Amet of what they had faced and made a healing balm for her wounds. Under Amet's gentle care, she slowly began to heal. They were both young and nervous and most of all naive when it came to love but it was clear that the two had fallen for each other and soon came to be with each other in every sense of the word. Ciri was unsure though. She loved Amet but was scared of being tied to someone when she had lived alone for so long. Was scared of letting him down and getting hurt in the process. A flirtation with Castile made her more doubtful and when she told Amet that she was unsure if she could be faithful only to him, they broke up. However, neither knew that she was pregnant with Amet's child at the time.

Heartsick, Ciri left Hyaline and went to Ischia where Jah-Lilah quickly figured out she was with child. Now more scared then ever and also alone, Ciri's sadness quickly turned to anger. An argument with Amet brought the unborn child to light as well as unspoken feelings and for a moment it seemed like things could be resolved between them. But as soon as Ciri had given birth to her son, she was suddenly swept away by a mysterious portal that magically appeared behind her and vanished from Beqanna entirely.

Ciri eventually ended up in a land called Eternal years later. Her son Jah-Lilah, and Amet had all ended up there as well and all of them had moved on in their lives. Jah had raised her son as her own and when Ciri reappeared, the two old friends now regarded each other with jealousy and pain. It was worse with Amet. Ciri was slowly starting to rebuild a bond with her lost child when the world of Eternal broke apart entirely and another portal swept Ciri back up to spare her. She landed back in Hyaline and was left there, trying to pick up the pieces of everything she had lost and left behind.
Ciri's Forum Info
Joined:
10-05-2015
Last Visit:
04-12-2021, 03:15 PM
Total Posts:
86 (0.04 posts per day | 0.1 percent of total posts)
(Find All Posts)
Total Threads:
11 (0.01 threads per day | 0.06 percent of total threads)
(Find All Threads)
Time Spent Online:
1 Day, 5 Hours, 18 Minutes
Ciri's Threadlog · View Profile
Thread
Forum
Participants
Posts
Last Post

[open]

To the stars who listen and the dreams that are answered [Any]

on 04-09-2021

Meadow
Gale
4
Last post by Gale

on 04-14-2021

[open]

you can keep your black tongue; any

on 04-09-2021

Meadow
Padme
2
Last post by Ciri

on 04-09-2021

[open]

waiting for the hint of a spark, any

on 04-05-2021

Forest
The Monsters, basilica
5
Last post by Ciri

on 04-11-2021

[open]

Bind our fortune, damn what the stars own [Atrox/Any]

on 04-01-2021

Hyaline
Mazikeen
9
Last post by Ciri

on 04-12-2021

[private]

do you feel like a young god? ciri

on 11-10-2017

Ischia
Amet
7
Last post by Amet

on 11-18-2017

Do you think of me when you fell free? [Castile]

on 11-09-2017

Ischia
Castile
4
Last post by Castile

on 11-20-2017

I stretch myself beyond my means [Any]

on 11-06-2017

Ischia
Krone, Canaan
4
Last post by Ciri

on 11-10-2017

[private]

You flee my dream come morning [Levi]

on 11-04-2017

Hyaline
Levi
4
Last post by Levi

on 11-09-2017

How does it feel to be the enemy [Jah/Any]

on 11-04-2017

Ischia
Jah-Lilah, Modicum Mortem
11
Last post by Jah-Lilah

on 11-15-2017

[private]

do you feel like a young god? ciri

on 11-03-2017

Hyaline
Amet
11
Last post by Amet

on 11-05-2017

[private]

You flee my dream come morning [Castile]

on 10-20-2017

River
Castile
10
Last post by Castile

on 11-08-2017

do you feel like a young god? ciri, offspring, any

on 10-18-2017

Tephra
Amet, Longclaw
3
Last post by Longclaw

on 10-19-2017

[private]

do you feel like a young god? ciri

on 10-16-2017

Hyaline
Amet
2
Last post by Ciri

on 10-17-2017

i feel a bad moon rising - zhenga, amet, any

on 10-13-2017

Hyaline
Zhenga, Amet, Ivar
8
Last post by Ivar

on 10-23-2017

[private]

For a Brighter Future [Planting of seed #2]- [Amet]

on 09-30-2017

Hyaline
Kolera, Amet
9
Last post by Kolera

on 10-10-2017

you flee my dream come morning [Thana]

on 09-28-2017

River
Thana
5
Last post by Ciri

on 10-20-2017

amet, anyone;

on 09-28-2017

Hyaline
Amet, Castile
12
Last post by Castile

on 10-18-2017

you flee my dream come morning [Jah Lilah]

on 09-24-2017

Hyaline
Jah-Lilah
5
Last post by Ciri

on 10-15-2017

[mature]

do you feel like a young god? ciri

on 09-19-2017

Hyaline
Amet
21
Last post by Amet

on 10-16-2017

do you feel like a young god? all

on 09-16-2017

Hyaline
Circinae, Amet, Tangerine, Fiato, Rubble
6
Last post by Rubble

on 09-21-2017

pharaohs, gods and dragon kings

on 09-13-2017

Hyaline
Amet, Tangerine
8
Last post by Ciri

on 09-24-2017

do you feel like a young god? ciri

on 09-11-2017

Hyaline
Amet
12
Last post by Ciri

on 09-17-2017

You flee my dream come morning [Jah Lilah/Any]

on 09-06-2017

Hyaline
Amet, Jah-Lilah
12
Last post by Ciri

on 09-11-2017

You flee my dream come morning [Any]

on 07-29-2017

Hyaline
Amet
7
Last post by Ciri

on 09-06-2017

-Jeje Character Bios-

on 07-19-2015

Trackers
Gryffen, Jeje, Tantalize, Ledger, No Crosses Count, Obscene
7
Last post by Ledger

on 04-08-2021