QOTY
"(souls are not meant to live more than once — death was not meant to be temporary, and she is so sure that every time her heart starts to beat again that irreversible damage is further inflicted)" -- Anonya, written by Colby
atrox
the one without a heart
Age: --
Gender: Stallion
Breed: mustang / welsh mountain pony hybrid
Height: 15hh
Player: laura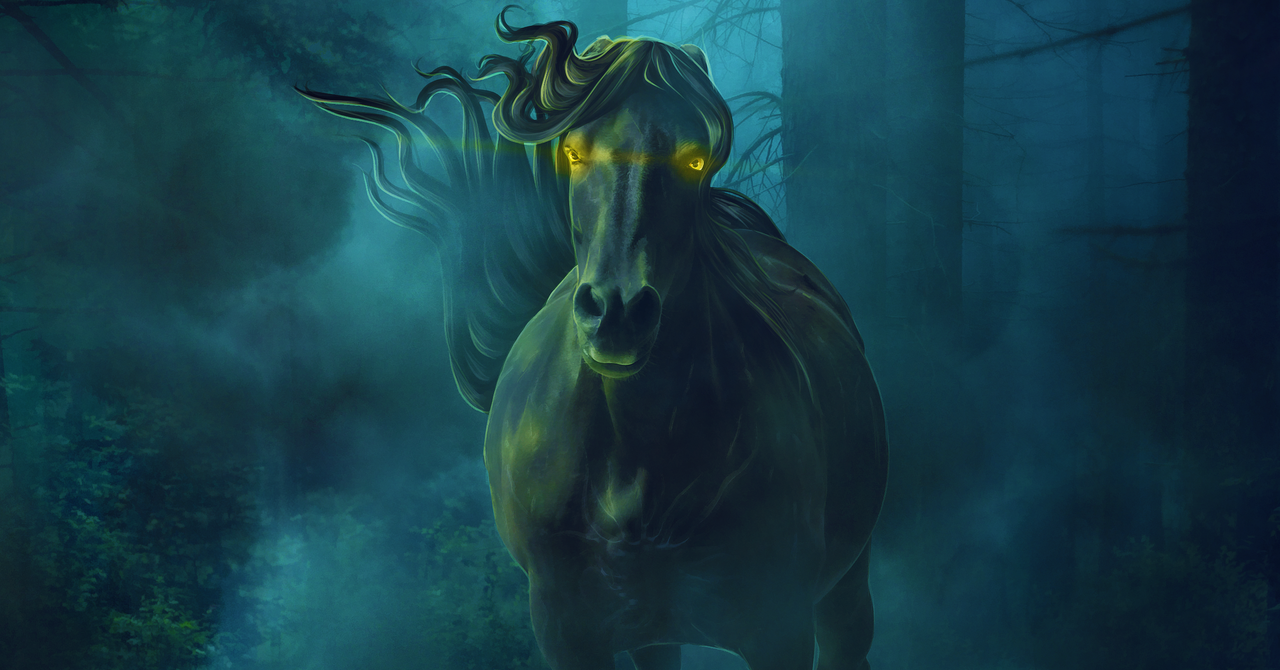 Appearance
Color: black (--)
Eyes: yellow
Markings: --
Mane & Tail: black
Personality
SARCASTIC. SELFISH. APATHETIC.


After several long lives, Atrox has settled into an entirely self-centered existence. He is often bored and finds that it is difficult for him to care about much of anything. He has a sharp sense of humor, often at the expense of others. He says whatever comes to mind, does whatever he pleases, and gives little thought to the potential consequences of both. He gave both of his former lives to the service of the Chamber and now that it is gone, he gives his life to himself alone. He is sardonic, mildly sadistic, and lazy. No matter what he is doing, he is doing it in the pursuit of his own pleasure, whether it is war or women.
Lineage
| | |
| --- | --- |
| Parents: mass murderer & afterglow | Children: 100+ & counting |
Traits
Genetic Traits: panther-shifting, soul summoning
Non-Genetic Traits: --
Trait Genetic Code: tegteg [PANTHER SHIFTING][SOUL SUMMONING]
Defects: --
History
PRE-AWAKENING
* Grew up in the Chamber after being born as the son of one of its soldiers.
* Killed his mother when he was a yearling and enlisted in the Chamber army.
* Rose up the ranks and eventually became General of the Chamber before dying.
* After returning, he challenged Eight for the throne and won, becoming King.
* During his reign, he was known for being blood-thirsty and warmonger.
* At one point, the Chamber took Atrox's heart and gave him panther-shifting in return.
* Atrox later died by Twinge's side in the jungle when they refused to leave during a flood. The Chamber viewed it as him choosing Twinge over the kingdom and stopped his heart.
* The Chamber eventually brought him back to life where he served in various roles over the years. He had a particular affinity for annoying its current residents, including Rodrik, Straia, and Kavi.
* He raised one of his children, Anastasia, in the mountains before sending her in the wild.
* When the Chamber died, he wandered without purpose, eventually settling in Tephra with Magnus, one of his few children with Twinge, and one of the only he actually cared about.
* He fought for Tephra during Loessian war, occupying and wounding Sochi until they tumbled through a portal.
* When the afterlife opened, he died and returned to Twinge, leaving her behind after a brief reunion.
* To come back, he sacrificed Magnus' memories of him. He left with the promise that Magnus would only remember him if he was able to get his heart back from the long-gone Chamber.
* After returning to life, Beqanna gifted him with the ability to summon souls. He now utilizes it often to summon guardians who silently follow him around in his wanderings.
* He does everything that he can to annoy Ryatah. Best friends for life.

YEAR 205
* Met Starlace, a magical entity, after she rose from the dead. She briefly considered adopting him.
* Met up with Ryatah after the quest to see her in her angel-form. He "comforted" her.
* Ran into one of his relatives, Ion, in panther-form and then Prague, an acquaintance from a past life.
* Went to Pangea after hearing rumors to meet up with Anaxerete and see what she is up to.
* Ran across Aquaria bathing in the river and decided to stay and annoy her for a while.

YEAR 206
* Took over Hyaline with Anaxerete's help and set it up as a pseudo-herd.
* Brought Ryatah back home with him as his favorite chew toy.

atrox's Forum Info
Joined:
08-16-2015
Last Visit:
(Hidden)
Total Posts:
70 (0.04 posts per day | 0.09 percent of total posts)
(Find All Posts)
Total Threads:
8 (0 threads per day | 0.05 percent of total threads)
(Find All Threads)
Time Spent Online:
(Hidden)
atrox's Threadlog · View Profile
Thread
Forum
Participants
Posts
Last Post

[private]

don't close the coffin yet; ryatah

on 06-30-2020

Hyaline
Ryatah
2
Last post by Ryatah

on 07-04-2020

[mature]

tell that devil to take you back; ryatah

on 02-23-2020

Hyaline
Ryatah
12
Last post by Ryatah

on 04-22-2020

[private]

a rematch

on 02-20-2020

Hyaline
Agetta
5
Last post by Agetta

on 04-21-2020

The needle moves gracefully; Atrox, any

on 02-06-2020

Hyaline
Leilan
4
Last post by atrox

on 02-29-2020

[open quest]

[ROUND 3] crimson blood on my skin

on 01-18-2020

Mountain
Anaxarete, Lucrezia, Ripley and Nostromo, Aten, peregrine jude, Brazen, Oriash, Cyprin, Aislyn, Luath, Shadowmere, Starlace, Cor
14
Last post by Shadowmere

on 01-25-2020

[open quest]

[ROUND 2] i can feel the flames on my skin

on 01-07-2020

Mountain
Anaxarete, Lucrezia, Ripley and Nostromo, Aten, peregrine jude, Brazen, Oriash, Cyprin, Aislyn, Luath, Shadowmere, Starlace, Cor
14
Last post by Lucrezia

on 01-15-2020

activity check.

on 01-02-2020

Hyaline
N/A
1
Last post by atrox

on 01-02-2020

[private]

slipping through the cracks of your cold embrace, Atrox

on 12-29-2019

Hyaline
Ryatah
11
Last post by Ryatah

on 02-03-2020

[open quest]

then why'd it feel so good?

on 12-29-2019

Mountain
Anaxarete, Lucrezia, Ripley and Nostromo, Aten, Elk, peregrine jude, Brazen, Oriash, Cyprin, Aislyn, Luath, Shadowmere, Starlace, Cor
15
Last post by Lucrezia

on 01-05-2020

[open]

don't close the coffin yet; any

on 12-27-2019

Forest
Agetta
8
Last post by Agetta

on 01-28-2020

[open]

what goes around - ATROX & ALL

on 12-08-2019

Hyaline
Anaxarete, Yuki
3
Last post by atrox

on 12-14-2019

She sells seashells by the sea shore // Laura pony

on 11-12-2019

River
Aquaria
10
Last post by atrox

on 12-14-2019

[private]

hangman hooded; ana

on 11-09-2019

Pangea
Anaxarete
5
Last post by atrox

on 12-08-2019

One of them was me; Atrox

on 11-07-2019

Forest
Maiko
4
Last post by atrox

on 12-14-2019

[mature]

like dreams that turn to dust,

on 11-05-2019

Meadow
Ryatah, meraki
21
Last post by atrox

on 12-27-2019

don't close the coffin yet, I'm alive; any

on 11-04-2019

Forest
prague, Ion
4
Last post by prague

on 11-09-2019

they said i did something bad

on 11-04-2019

Plains
Starlace
14
Last post by atrox

on 12-08-2019

[open quest]

día de muertos - round 3

on 10-30-2019

Mountain
Rhy, Ryatah, Rajanish, Thia, Izora Lethia, Agetta, kensley, Saphris, Ion
10
Last post by Saphris

on 11-02-2019

[open quest]

Día de Muertos - round 2

on 10-26-2019

Mountain
Rhy, kensley, Agetta, Rajanish, Ion, Ryatah, Saphris, Thia, Mordgeld, Izora Lethia
11
Last post by Izora Lethia

on 10-29-2019

[open quest]

Día de Muertos - Round 1

on 10-21-2019

Mountain
Rhy, Ryatah, Rajanish, Mordgeld, Ruinam, Thia, Izora Lethia, Agetta, kensley, Saphris, Ion
12
Last post by Rajanish

on 10-24-2019

[mature]

don't close the coffin yet; ryatah

on 04-20-2019

Tephra
Ryatah
6
Last post by Ryatah

on 05-08-2019