QOTY
"(souls are not meant to live more than once — death was not meant to be temporary, and she is so sure that every time her heart starts to beat again that irreversible damage is further inflicted)" -- Anonya, written by Colby
aegean
the impossible one
Age: adult
Gender: Stallion
Breed: hybrid
Height: 15.2hh
Player: laura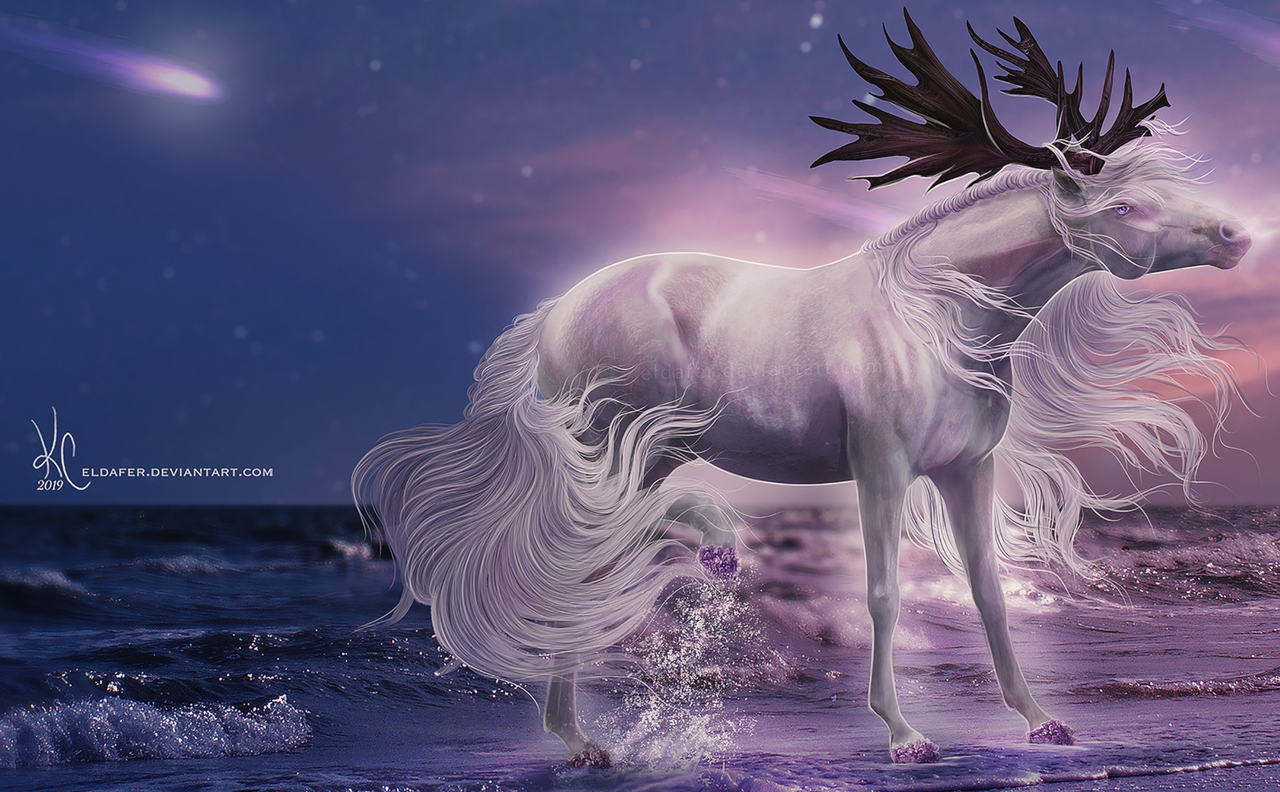 Appearance
Color: lethal white (Ee/Aa/OO)
Eyes: dark purple
Markings: --
Mane & Tail: white
Personality
DREAMY. ETHEREAL. SENSITIVE.

aegean falls in love easily and often. the kind of love that he feels often varies from one person to another and is rarely the same. in some cases, it is a familial love; in others, it is romantic, but he very rarely feels nothing for someone he meets. he is kind and intuitive and extremely articulate. he matured quickly and doesn't often feel playful, even though he enjoys watching others indulge such things. he prefers to be thoughtful and will get lost in his own dreams and the illusions that he weaves—sometimes spending weeks by himself wandering. when he does connect, he seeks deep, meaningful interactions.
Lineage
| | |
| --- | --- |
| Parents: kagerus & solace | Children: -- |
Traits
Genetic Traits: illusionism, immortality
Non-Genetic Traits: --
Trait Genetic Code: tegteg [IMMORTALITY][GLOWS][ANTLERS][STONE HOOVES][ILLUSIONISM][wings][dream manipulation]
Defects: --
History
YEAR 200
* aegean is born to kagerus and solace, caretaker queens of the east, in the silver cove.
* he is born with lethal white syndrome but does not die due to his inherited immortality.
* as a young boy, he goes to the playground and meets cosmos, kleopatra, evenstar, and myraki.
* he joins his mother kagerus in the silver cove quest to help heal the plague.
* he is eliminated and returns home with his hooves now made of amethyst.
* he meets his half-brother abysm and enters into the dream world with him.
* he reunites with evenstar during the island resort holiday party and spends the evening with her.

YEAR 201
* cosmos comes to visit him in the silver cove and he shows her the beach during a storm.
* pteron and astarielle come to the cove and aegean shows them around.

YEAR 202
* aegean travels to visit hyaline, which should have been his birth place, where he meets jah-lilah.
* he gains the power of illusionism and begins to practice, often getting lost in his own creations.
* he meets a girl named sabbath in his travels and falls in love with her after thinking her an illusion.
* after seeing her dream of his mothers, he meets his younger sister oriash and reunites with her.

YEAR 203
* aegean decides to leave silver cove to live in hyaline and attends the first meeting with kensa.
* he mostly keeps to himself but continues to practice his own illusionism.

YEAR 204
* he attends his second kingdom meeting and volunteers to travel to taiga.
* pteron makes a visit to hyaline and aegean finds him. he begins to develop feelings for him.
* he runs across a young girl named astana and spends the evening painting pretty illusions for her.
* while visiting taiga, he meets with popinjay, aten, owin, and lethy. he forgets why he is there.
* as he leaves taiga, he meets marni and spends a few moments enjoying her company.
* one evening, he finds evenstar who is recovering from an attack and attempts to comfort her.

YEAR 206
* after spending a year by himself, he begins to move back into the company of others.
* pteron comes to see him in hyaline and his feelings develop into something much deeper.

aegean's Forum Info
Joined:
11-30-2018
Last Visit:
(Hidden)
Total Posts:
87 (0.14 posts per day | 0.11 percent of total posts)
(Find All Posts)
Total Threads:
8 (0.01 threads per day | 0.05 percent of total threads)
(Find All Threads)
Time Spent Online:
(Hidden)
aegean's Threadlog · View Profile
Thread
Forum
Participants
Posts
Last Post

[private]

won't you help me recover?

on 06-26-2020

Ischia
Halcyon, Aquaria, Pteron
6
Last post by Aquaria

on 07-14-2020

i've never fallen from quite this high | aegean

on 06-14-2020

Tephra
Pteron
9
Last post by Pteron

on 07-24-2020

nothing fades like the light

on 05-24-2020

Tephra
elio
8
Last post by aegean

on 06-30-2020

I know I need us more than I need me // any siblings

on 05-16-2020

Tephra
Indius, Locheed, Laia, Asena, aureus
9
Last post by Laia

on 06-12-2020

all the missing pieces of my heart finally collide | aegean

on 05-16-2020

Forest
Pteron
8
Last post by aegean

on 06-05-2020

[private]

ive never fallen from quite this high | aegean

on 02-29-2020

Forest
Pteron
11
Last post by Pteron

on 04-29-2020

[private]

I shut my eyes and all the world drops dead; reia

on 01-26-2020

Forest
Reia
3
Last post by aegean

on 02-08-2020

[open]

I think I made you up inside my head; any

on 01-21-2020

River
Larva
3
Last post by aegean

on 01-25-2020

[private]

I think I made you up inside my head; pteron

on 12-08-2019

Taiga
Pteron
7
Last post by aegean

on 01-04-2020

i've never fallen from quite this high; aegean

on 11-08-2019

Hyaline
Pteron
19
Last post by Pteron

on 11-22-2019

fell asleep inside a fantasy, aegean

on 08-22-2019

River
Evenstar
5
Last post by Evenstar

on 09-09-2019

For It Has Been Some Time |Aegean|

on 08-19-2019

Taiga
Marni
3
Last post by Marni

on 09-07-2019

oh, my siren won't you call; any

on 08-03-2019

Taiga
Aten, Izora Lethia, Popinjay, Owin
16
Last post by Aten

on 08-23-2019

[private]

i've never fallen from quite this high; Aegean

on 07-30-2019

Hyaline
Pteron
12
Last post by aegean

on 09-02-2019

[Aegean] you had your maps drawn

on 07-09-2019

Forest
Astana
9
Last post by Astana

on 09-09-2019

[private]

love is madness; Hyaline Meeting - Members Only

on 07-02-2019

Hyaline
Kensa, Rouhi
4
Last post by Kensa

on 07-25-2019

Sidewalk scenes and black limousines (Alita)

on 05-24-2019

Loess
alita, Eyas
6
Last post by alita

on 08-03-2019

[open]

everybody knows we've got unfinished business [Meeting/New Hyaline]

on 05-21-2019

Hyaline
Chryseis, Kensa, Aldric, Rouhi
5
Last post by Aldric

on 05-24-2019

love is my religion; oriash

on 05-12-2019

Loess
Oriash
6
Last post by Oriash

on 06-12-2019

I could die for you; sabbath

on 04-20-2019

Forest
Sabbath
7
Last post by aegean

on 05-26-2019

and the scars that mark my body, they're silver and gold; jah

on 03-10-2019

Hyaline
Jah-Lilah
5
Last post by aegean

on 04-17-2019

[private]

stargazers

on 02-04-2019

Silver Cove
cosmos
6
Last post by aegean

on 03-10-2019

i've never fallen from quite this high; anyone

on 01-30-2019

Silver Cove
Astarielle, Pteron
15
Last post by aegean

on 04-17-2019

holiday party; any

on 12-30-2018

Island Resort
Evenstar
9
Last post by aegean

on 01-22-2019

little prince; aegean

on 12-20-2018

Silver Cove
abysm
8
Last post by aegean

on 04-17-2019

Silver Cove Quest - Part 2

on 12-18-2018

Silver Cove
Beqanna Fairy, Kagerus, Mary, Briella, wonder, Brazen, Dagen, Nocturne, Eurwen
10
Last post by wonder

on 12-23-2018

Silver Cove Quest - Part 1

on 12-08-2018

Silver Cove
Beqanna Fairy, Kagerus, Mary, Eurwen, Kleopatra, cosmos, Brazen, Dagen, Nocturne, Briella, wonder
12
Last post by wonder

on 12-13-2018

[open]

everything's gonna be all right!

on 11-30-2018

Playground
Kleopatra, Myrkari, The Plague, cosmos, Evenstar
11
Last post by The Plague

on 12-30-2018

like the dawn, you broke the dark - kag

on 11-09-2018

Silver Cove
Kagerus, Solace
5
Last post by Kagerus

on 12-01-2018