QOTY
"But the dream, the echo, slips from him as quickly as he had found it and as consciousness comes to him (a slap and not the gentle waves of oceanic tides), it dissolves entirely. His muscles relax as the cold claims him again, as the numbness sets in, and when his grey eyes open, there's nothing but the faint after burn of a dream often trod and never remembered." --Brigade, written by Laura
Talulah

Age: Immortal
Gender: Mare
Breed: Hybrid
Height: 16 hh
Player: Mirage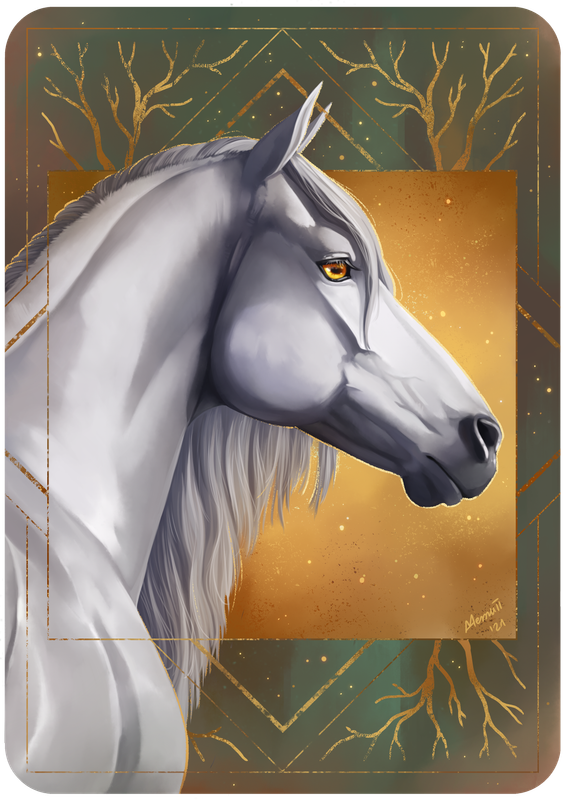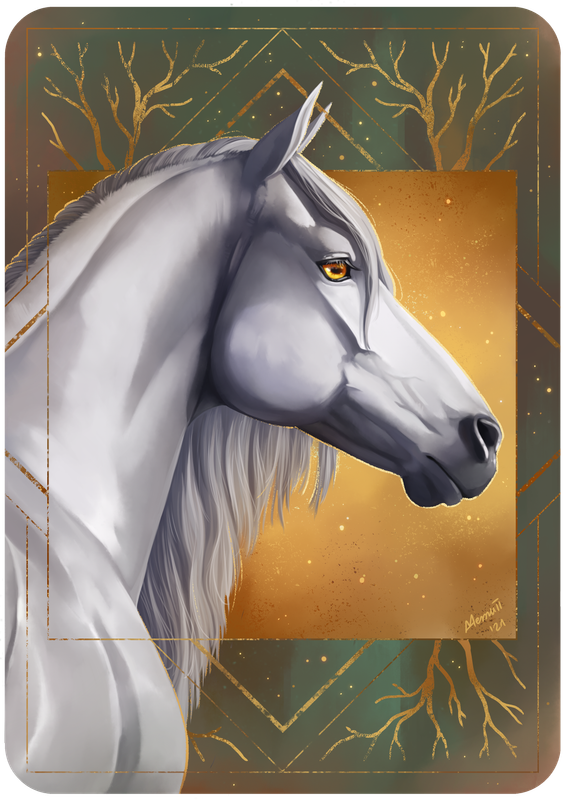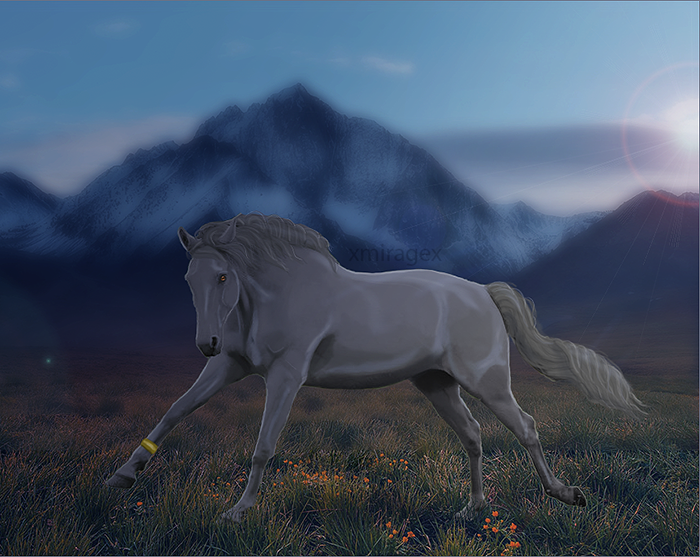 Appearance
Color: Metallic silver ()
Eyes: Amber
Markings:
Mane & Tail: Silver
Her entire body is encased in shiny, silver metal that is hard to the touch. Gold anklet on her front right leg.
Personality
Generally outgoing like her father and stubborn like her mother. Very loyal to the Dale and its inhabitants and considers them her family. She has a strong sense of justice and morality.
Lineage
Parents:
Erros x Adolpha

Children:
Ramiel (x Tiphon) m, black will grey with gold streaks in mane and tail
Eldrian (x Jason) m, bay will grey
Titanya (x Tiberios) f, twin to Terran, black sabino, gold-tipped ears
Terran (x Tiberios) m, twin to Titanya, black, gold hooves
Elaria (x Tiphon) f, black will fade to grey with gold sheen, undead

Traits
Companion:
Genetic Traits: Equus metallum (electricity manipulation), Immortality, Self-sustenance, Memory sharing
Non-Genetic Traits: Ring of Power (can turn invisible)
Trait Genetic Code: TALULAH: tegteg [SELF-SUSTENANCE 0][IMMORTALITY 0][EQUUS METALLUM 4][MEMORY SHARING 1][ring of power*][invisibility*][cloven hooves 0][fire breathing 2][wings 1]
Defects:
History
Raised in the Dale with her mother Adolpha. When she was a yearling, she and her mother were coming down from the mountains and were attacked by a pack of wolves. Talulah escaped down into the kingdom center, but her mother was not so lucky. After a few months, she was stolen to the Chamber by Frostreaver and lived in their slave pens. A year later, she returned to the Dale mostly grown, where she began working in both the army and peace castes. She always sought after her father (and always asked Lion, Erros' good friend, if he had run into him). By the time Erros made it back to the Dale, he was an old man on the verge of death. Only Tiphon's healing powers were keeping him alive long enough to say goodbye to his loved ones. It was a pivotal day for Talulah and she vowed to stay in the kingdom to honor both of her parents. One day, while on the fringes of the kingdom, she became completely encased in metal. She stayed this way for three years as a statue unable to eat, breath or sleep. Upon waking, she served for a few more years under the reigns of Lionel, Evrae and Anaxarete, and Lyric before succumbing to her metal skin once more. After two years frozen in place, Talulah awoke to find that her old friend Tiphon was made king.
Talulah's Forum Info
Joined:
03-27-2015
Last Visit:
04-19-2023, 10:25 PM
Total Posts:
48 (0.02 posts per day | 0.05 percent of total posts)
(Find All Posts)
Total Threads:
4 (0 threads per day | 0.02 percent of total threads)
(Find All Threads)
Time Spent Online:
11 Hours, 49 Minutes, 39 Seconds
Talulah's Threadlog · View Profile
Thread
Participants
Posts
Last Post

[private]

all I know is we're going home; Tiberios

on 03-05-2023

River
Tiberios
5
Last post by Talulah

on 04-20-2023

lay down, your dreams are real [any; all]

on 09-08-2016

Ischia
Ashley, Tiphon, Vida
6
Last post by Vida

on 09-18-2016

Silence is golden; [Any]

on 09-06-2016

Forest
Reagan
2
Last post by Talulah

on 09-06-2016

Daleans, anyone;

on 09-02-2016

Meadow
Tiphon, Ashley, Adalyn, Ea, Phaedrus, Vida, Sabrael
13
Last post by Ea

on 09-08-2016

Yellow eyes in the night [Talulah, Any]

on 05-10-2016

The Dale
Lupei, Tiphon
4
Last post by Lupei

on 05-15-2016

we are homeward bound; tiphon, any, birthing

on 05-06-2016

The Dale
Tiphon
4
Last post by Tiphon

on 05-10-2016

Oh, what fickle flame {Lupei}

on 10-26-2015

Beach
Shatter Me, Tyrna, Tiberios, Ramiel, Tiphon, Chezter, Nadyah, Lupei
10
Last post by Talulah

on 11-03-2015

we are homeward bound; tiphon

on 10-13-2015

The Dale
Tiphon
3
Last post by Talulah

on 11-12-2015

Oh, what fickle flame... {Talulah}

on 08-22-2015

Meadow
Tiberios
7
Last post by Tiberios

on 09-25-2015

well I've got thick skin and an elastic heart [Any]

on 08-11-2015

The Dale
Tantalize
8
Last post by Talulah

on 09-18-2015

all peace caste

on 08-01-2015

The Dale
Elysteria, Weir
3
Last post by Talulah

on 08-05-2015

I threw stones at the stars but the whole sky fell, Jason

on 07-15-2015

The Gates
Jason
5
Last post by Talulah

on 08-01-2015

Ramiel, Kingdom

on 07-09-2015

The Dale
Tiphon, Ramiel, Weir, Elysteria
6
Last post by Ramiel

on 07-23-2015

MANDATORY kingdom meeting

on 05-25-2015

The Dale
Elysteria, Tiphon, Weir
4
Last post by Weir

on 06-30-2015

all you have is your fire - diplomats

on 05-16-2015

The Dale
Elysteria, Camrynn, Kreios, Tiphon
10
Last post by Tiphon

on 06-15-2015

Talulah;

on 05-11-2015

The Dale
Tiphon
6
Last post by Talulah

on 06-16-2015

taste the fear ( Chamber, Tundra, Dale)

on 05-01-2015

Field
Noctus, Errant, Erebor
8
Last post by Erebor

on 05-06-2015

everyone;

on 04-25-2015

The Dale
Elysteria, Tiphon
6
Last post by Elysteria

on 05-19-2015

All the lights that shine strong only last for so long (Diplomats, Tiberios)

on 04-16-2015

The Dale
Tyrna, Tiberios, Tiphon
7
Last post by Tyrna

on 05-11-2015

have you got colour in your cheeks? - anyone

on 04-16-2015

Meadow
Finner, Kreios
6
Last post by Talulah

on 05-06-2015

Oh, What Fickle Flame...

on 04-11-2015

The Dale
Tiberios
7
Last post by Tiberios

on 04-21-2015

forget stardust - you are iron

on 04-07-2015

Field
Taoh, Pharaon, Dorne, Librette
9
Last post by Librette

on 04-17-2015

love is a temporary madness... {Birthing, any}

on 04-04-2015

The Dale
clytemnestra, Elysteria
7
Last post by Elysteria

on 04-14-2015

23 active · 0 closed · 14 need replies · 23 total