QOTY
"Because if she had not met him, she knew she would have been searching her whole life for the piece that he filled her heart with." -- Eva, written by Shelbi
Tiphon
Comte of the Island Resort
Age: 6
Gender: Stallion
Breed: Mustang Hybrid
Height: 16.2
Player: Aeris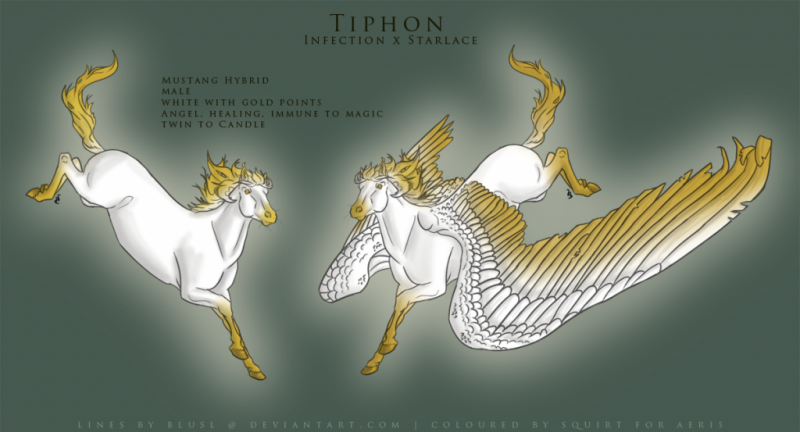 Appearance
Color: Porcelain White with Golden Points ()
Eyes: Gold
Markings:
Mane & Tail: Gold
Lineage
Parents: Infection x Starlace

Children: Koltan (x Alona)
Adalyn (x Emanuelle)
Munroe (x Elah)
Myrina (x Echion)
Sauriel (x Katniss)
Eldane (x Katniss)
Tiberios (x Miraposa)
Uisce (x Porrium)
Dalten (x Lagertha)
Joscelin (x Elysteria)
Ramiel (x Talulah)
Isilya (x Katniss)
Traits
Genetic Traits: Angel, Healing, Immune to Magic
Non-Genetic Traits:
Trait Genetic Code:
Defects:
History
King of the Dale: September 30, 2014 - July 8, 2015
Wiseman of Ischia September 2016 - December 2016?
Tiphon was borne between Infection and Starlace, two former Chamber rulers. Starlace, with her malicious ways, and Infection, with his extensive murders across Beqanna, both scored themselves a lifetime of sins. They brought a plague of fear and darkness that was rectified and abolished with the birth of Tiphon and his twin, Candle. Upon birth the twins murdered their parents with an incinerating white light as a means to destroy the evil of Beqanna.
Tiphon intended to live in the Desert, the home of his angel grandmother, and vowed to protect them from an evil that was rising - a stallion named Aryeh - but as silence blanketed Beqanna, Tiphon lost his purpose and disappeared for years.
His homecoming was when he came across Erros, an old chestnut stallion on his way back to the Dale to bid his family and friends a final farewell. Unable to make the trip due to his age Erros was at a loss, but Tiphon's healing abilities ensured the former king's return. Shortly after, Tiphon took Erros away and ceased his healing abilities to let the old stallion die happy.
Tiphon remained in the Dale from this point on but he kept a distance between himself and most others. With the realization that he would never die Tiphon didn't want to get close to anyone in fear of losing them. Unfortunately, as his roots dug deeper into the Dale's soil, he has found himself with an extended family. He became the King in 2014. With having had multiple love interests Tiphon feels himself conflicted but has decided to simply adore them all (first, Miraposa, then infatuation with Katniss, and finally, Talulah and Elysteria). They, along with his children, give him the purpose he needs to thrive.
Reborn with a cleared memory November 2018 during Version 20: the Contagion.
Tiphon's Forum Info
Joined:
04-24-2015
Last Visit:
11-05-2019, 10:53 AM
Total Posts:
124 (0.07 posts per day | 0.17 percent of total posts)
(Find All Posts)
Total Threads:
30 (0.02 threads per day | 0.17 percent of total threads)
(Find All Threads)
Time Spent Online:
1 Day, 22 Hours, 8 Minutes
Tiphon's Threadlog · View Profile
Thread
Forum
Participants
Posts
Last Post
anyone;

on 01-28-2019

Island Resort
Kharon
2
Last post by Kharon

on 02-05-2019

[open]

ISLAND RESORT

on 01-23-2019

Island Resort
Castile, Kyra, Lior, Affirmative, sochi, Wallace, Kerberos, Reilly, Shahrizai, Gilt, Zynistra, abashed, luster, dark, Roma, Beqanna Fairy
19
Last post by Beqanna Fairy

on 02-02-2019

[open]

a new king will rise from the ashes; everyone

on 01-15-2019

Island Resort
Castile, sochi, Kali, Wallace, Kerberos, luster, Lior, Cress, Kharon, Shahrizai, Roma, Ophanim, Gilt, Reilly
25
Last post by Wallace

on 01-23-2019

JANUARY ACTIVITY CHECK

on 01-08-2019

Island Resort
AbbyNormal, Toli, SamShine, Cress
5
Last post by Cress

on 01-15-2019

the cavalier is burning through my heart; tiphon, any

on 01-03-2019

Island Resort
magnus
5
Last post by magnus

on 01-09-2019

(holiday party) show them the joy and the pain and the ending; Dovev, Luster, any

on 12-28-2018

Island Resort
Heartfire
2
Last post by Tiphon

on 12-28-2018

[open]

acrid wonderland / holiday party

on 12-27-2018

Island Resort
naia
3
Last post by naia

on 01-02-2019

EVERYONE;

on 12-17-2018

Island Resort
Cress, leliana, Zynistra, Cimmerian
6
Last post by Tiphon

on 12-28-2018

I won't allow you to perish alone; Kagerus & any diplomats/leaders.

on 12-14-2018

Island Resort
Anninux, Kagerus
7
Last post by Kagerus

on 01-10-2019

[open]

Blood is Thicker than Water [Claim]

on 11-23-2018

Island Resort
Kromium, Kerberos, Kharon, Kove
10
Last post by Kromium

on 12-05-2018

give me something to believe in; wallace/any

on 11-11-2018

Island Resort
Wallace, Sabrael
6
Last post by Tiphon

on 11-26-2018

I feel it running through my veins; Tiphon

on 11-10-2018

Forest
Joscelin
7
Last post by Joscelin

on 12-29-2018

Wallace;

on 11-08-2018

Island Resort
Wallace
12
Last post by Wallace

on 12-15-2018

Anyone;

on 11-06-2018

Island Resort
N/A
1
Last post by Tiphon

on 11-06-2018

The whole family. And any Ischians.

on 11-03-2018

Island Resort
Reilly, Wallace, Kerberos, Kharon, Kylin, Kyveli, Kypria
9
Last post by Kypria

on 11-09-2018

nobody's watching, drowning in words so sweet; tiphon

on 11-01-2018

Meadow
Eilidh
9
Last post by Eilidh

on 11-27-2018

anyone; claim?

on 11-01-2018

Island Resort
Cress, leliana
8
Last post by leliana

on 11-07-2018

anyone;

on 11-01-2018

Meadow
Madelyn, The Plague
8
Last post by Tiphon

on 11-26-2018

as the world falls down { any }

on 12-04-2016

Ischia
Fascade, Wallace, Ashley
5
Last post by Wallace

on 12-07-2016

vida;

on 11-06-2016

Ischia
Vida
2
Last post by Vida

on 11-08-2016

[open]

Of all the strange things

on 11-04-2016

Field
Uconn, Longear
5
Last post by Longear

on 11-13-2016

anyone;

on 11-02-2016

Meadow
Pevensie
5
Last post by Tiphon

on 11-08-2016

[open]

It's a new day, it's a new plan [ANY]

on 10-31-2016

Field
Cicero, magnus
3
Last post by Tiphon

on 11-09-2016

Wheel in the sky keeps on turnin' (Any)

on 10-31-2016

Ischia
Chaeli, Chiral
3
Last post by Chiral

on 11-01-2016

anyone;

on 10-21-2016

Ischia
Vida, Wallace, Ashley
10
Last post by Ashley

on 11-16-2016

Take back your lies, before you set yourself on fire; Phaedrus, any

on 10-13-2016

Ischia
Clarisse
2
Last post by Tiphon

on 11-01-2016

anyone;

on 09-23-2016

Ischia
Amanita, Vida, Ashley
7
Last post by Amanita

on 09-27-2016

baby, this is what you came for

on 09-13-2016

Field
Bijoux
3
Last post by Bijoux

on 09-14-2016

anyone;

on 09-09-2016

Meadow
Joscelin
4
Last post by Joscelin

on 09-16-2016

lay down, your dreams are real [any; all]

on 09-08-2016

Ischia
Talulah, Vida, Ashley
6
Last post by Vida

on 09-18-2016

when you see my face, hope it gives you hell [Tiphon]

on 09-07-2016

Meadow
Ashley
3
Last post by Ashley

on 09-07-2016

now I'm pulling all the strings, Beqanna Fairy

on 09-06-2016

Mountain
Beqanna Fairy, Phaedrus, Ashley, Ea
5
Last post by Beqanna Fairy

on 09-07-2016

[open]

for the former members of the falls

on 09-05-2016

Meadow
Kreios, Blazed, Ygritte, Raxa, Anahi, Jedi, Andras, Eiria, Neoma
11
Last post by Blazed

on 09-07-2016

Eight;

on 09-02-2016

Meadow
Eight
5
Last post by Tiphon

on 09-09-2016

i won't back down. || sahm, newton & tiphon

on 09-02-2016

Mountain
Offspring, Sahm+Newton, Thanata
8
Last post by Tiphon

on 09-06-2016

[open]

Angry magicians club

on 09-02-2016

Forest
Camrynn, Harmonia, Epithet
6
Last post by Tiphon

on 09-06-2016

Daleans, anyone;

on 09-02-2016

Meadow
Talulah, Phaedrus, Vida, Adalyn, Ashley, Sabrael, Ea
13
Last post by Ea

on 09-08-2016

[open]

Our love's a monster with two heads and one heartbeat; any

on 08-24-2016

Field
Killdare, Calleis
6
Last post by Calleis

on 08-31-2016

they drown us out at sea; any

on 08-24-2016

Field
Malis, Nymphetamine, Aranea, magnus
8
Last post by Tiphon

on 08-29-2016

i'm struggling to breathe in the dark ; open

on 08-22-2016

Field
Cress, eskil
6
Last post by Cress

on 08-31-2016

paint it black; any

on 08-19-2016

Field
Igni, Lior
7
Last post by Igni

on 08-28-2016

anyone;

on 04-28-2016

Meadow
Malka
4
Last post by Malka

on 05-11-2016

anyone;

on 01-05-2016

Forest
Illinois
2
Last post by Illinois

on 01-06-2016

Oh, what fickle flame {Lupei}

on 10-26-2015

Beach
Shatter Me, Tyrna, Talulah, Tiberios, Ramiel, Chezter, Nadyah, Lupei
10
Last post by Talulah

on 11-03-2015