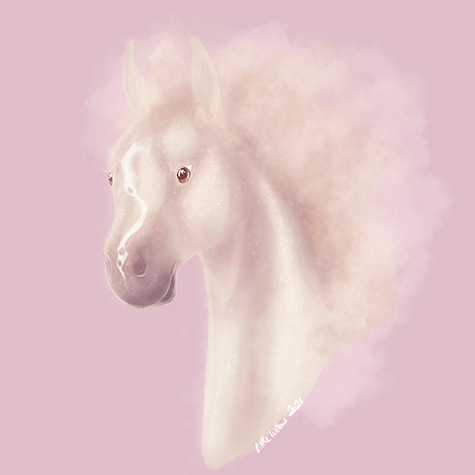 Something is happening to the lands of Beqanna, and since no one else seems to be doing anything about it - the Cloud Fairy decides to intervene. The fog in Taiga is not particularly dangerous (if everyone moves along at a glacial speed to avoid walking face-first into a giant redwood), but it is concerning when tied together with the lightning and lava in Tephra, and the disgustingly wet event that took Loess and its little friends.

She has not called to them before but the knowledge of how to is a part of her - so she does. Her summons comes as afternoon begins to shift towards evening, the summer light bright and golden as pinks and reds appear in the sky.

Not all the clouds are so beautifully painted, though. She is hovering in the air above the mountains, a frown on her pearlescent face as she looks at a strange, spherical storm. The clouds themselves are a dull lifeless grey as they churn, with pale purple lightning flickering among them occasionally. It looks dangerous but she is not worried - the citizens of Beqanna have been through much worse. They are often up for a challenge, and she will be there with them.

To those that come, she grants a small gift if needed - any without the ability to fly are given it. Whether they choose the wings of birds, insects, sunlight, shadows, or something beyond her imagination they are able to join her in the air where she greets them all with a smile that does little to cover her concern.

She doesn't speak, this fairy, but they all hear her anyway. They know that they have come to try to figure out what is happening across Beqanna and to stop it from affecting the other lands.

They see the storm, and they know where they have to go.

She leads them - and as they approach the mass of clouds they are told the fee for entry. A nightmare. Something that has haunted them, whether just for a night or all their lives. The darkest dream they have experienced. They will give it away and in exchange they will enter the storm - and be free of that nightmare for the rest of their days.


***

Cloud Fairy wants to find out what's going on in Beqanna (and how to stop it) and she needs your help!

Anyone without wings will be temporarily granted them - you can choose any type

There is a spherical storm hovering over the mountains, and the Cloud Fairy leads the way to it

The door fee is one (1) nightmare, which will be taken from your character and after this quest they'll have no memory of it (unless you decide for it to come back)

End your post with your character entering the storm


This round will end approximately at midnight on Sunday, June 12th - but you'll have until I get the second round up to enter!

This will not be an elimination quest (unless you don't reply to a round, obviously)