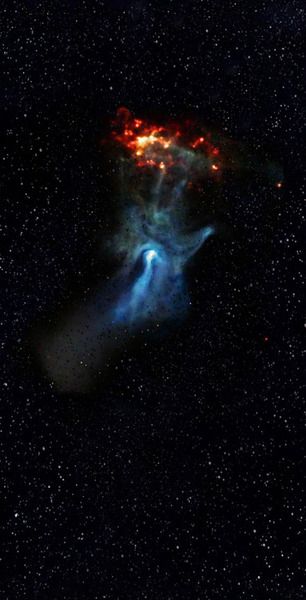 lord, I fashion dark gods too;
They do as they're told. Though their bodies are not innately made for this task, they are creative, or show enough intelligence to ask him for his help. Of course, he does not always grant precisely what they ask for, but it will get the job done. He watches as the hole deepens, dirt and gravel thrown and displaced in all sorts of ways, storms and shadows and animals and bugs and water itself.
Time seems to dilate as they move the earth, and even he – the most patient of gods – becomes restless. What if this was for naught? What if he was mistaken, and they would simply dig and dig and find nothing?
He is so rarely mistaken. He hates the way it tastes in his mouth.
It's then that the first one falls.
It's a silent fall, and he would not have noticed on primitive senses alone. But he had tethered himself to each of them, and he feels the tug of it, the nothingness – no, the
everythingness
of it. For the mountain was full of magic.
And magic, raw like this in its birthplace, is wild and unpredictable.
And hungry.
The mountain shudders, and Carnage almost loses his footing. There is a groaning noise, like something wakening. His ears flatten, but he stands his ground. He reaches out to them again. He wants to see.
At first, it's only blackness, a void, except even he cannot cast light in this one. Images flicker into view, but different for everyone, and he tries to make sense of it, jumping from each of them, but it keeps changing.
And then, one by one, they go mad.
OOC:
- WHOOPS your character fell into what's essentially a big old magic pit. Obviously, you can't do this without consequences. The magic pit first retaliates. You have two choices (or may choose both)
1. Choose 1 (or more) trait(s) to be "scrambled" – the same thing as the monsters did in the last plotline. The trait might go up a space, might go down a space, might turn into a different same space trait. You can choose expressed and/or carried traits. List these at the end of your post and you'll learn what happened in the next round.
2. If you don't have traits, or don't want your character's traits messed with, the magic pit can instead take something from you – an eye, mane, ability to feel love, whatever.
- Your character is falling, then suspended in darkness and feeling the "scrambling" happen.
- You then descend into a made-up world. Once again, you have a choice. Your character is transported into either:
o Their idyllic, perfect world. They're living in a utopia and they're all-powerful.
o Their utter nightmare/hell. Everything is broken and horrible.
- You don't need a rhyme or reason for which one they end up in, just do whatever makes sense for your character. Or ask the bot in Discord. Or I'll flip a coin for you.
- End with your character dying in whichever world they chose and appearing back on the mountain. If you want, as further evidence of how the magic pit changed you, you may claim a 0-space appearance trait and/or color change – if so, list this at the bottom of your post as well.
- Replies are due by 11:59 PM CST on Monday, November 29th. Though once again, if the last round isn't up, you're good to reply until it is. However, if you are not able to post until late on the 30th or after, please let me know ASAP.
c a r n a g e