Agetta feels as though she is walking on thin ice whenever she moves around in this new Beqanna. She's constantly holding her breath, waiting to see whether the ground is going to give way beneath her. Either figuratively or literally. It's hard to accept that there are new kingdoms and new herds and she can't help but wonder that if the land has changed once, it might do so again.

But also, she's been gone for so long she's afraid of what she might discover in the faces of those around her. Is Anaxarete here, lurking in the shadows and waiting to torment her? Is Commandeer standing in the grasses of the meadow, feeling as lost as she is? Will she see the eyes of a long-dead loved one in a foal that runs past her?

She accepted a long time ago that she is obsolete unless she assimilates herself into the lives of the younger generations. She knew this years and years ago when she haunted the Gates still, an advisor that no one asked for and no one remembered.

She has to wonder if she has it in her again to devote herself to a kingdom, to a herd, and all the members within. To do whatever she can to protect them. To start another family and accept that everything she once loved has passed on without her.

It's a lot to think about, to be sure, though she's growing a little tired of thinking. The thoughts swirling around in her mind are no different than the ones that have been there for the last century or so – and she craves something else. She craves connection, even if it's a fleeting conversation.

The warm summer evening has fallen around her as she follows the curves of the river, idly following the current to where it leads to the sea.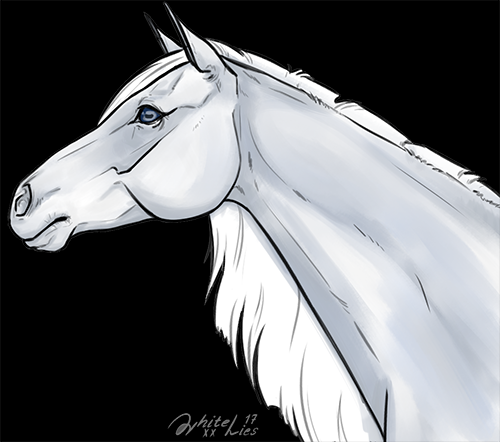 headshot by Leah! <3
open to any!