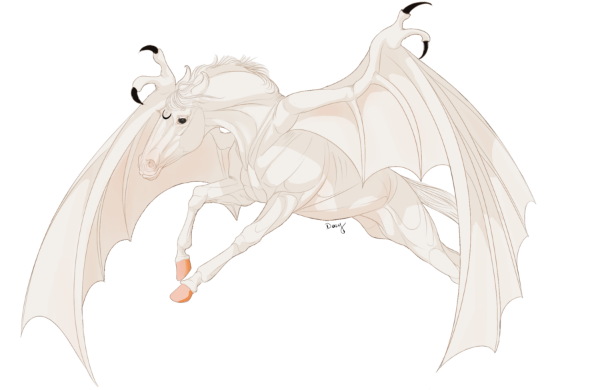 T H I A 

Thia had spent months calling nowhere home.  She'd been continuously on the move fueled by both a powerful curiosity and a heavy wariness. She'd spent most of her time watching - observing how others interacted when they weren't bound in chains. Insecurity had never been something the pale mare had struggled with, but outside of the walls of her temple she was out of her element and uncertain of what to do next. So she'd listened and learned the best she could, given the circumstances. But she felt stronger now - both physically and emotionally. 

The sheer terror of the unknown had abated. The fear that she would say or do something wrong was slowly replaced by a stronger emotion - loneliness. Though she'd spent nearly her entire life in isolation, she had never truly been alone. And while she was confident in her ability to keep herself alive, she felt as if she had not yet truly experienced what it was like to live. 

The pale mare's soft feet sank deeply into the dark sand as she lands on the seashore.  She quickly tucks her large wings to her sides as dark eyes survey the landscape. This had to be the place Dawn had described. The pale priestess' conversation with the girl had been perhaps her most significant to date.  Though she'd been too skittish to follow the girl anywhere, she'd committed the words to memory.  Black sands that glow silver in the moonlight.  The sun had already begun its descent towards the sea, and Thia wondered how long she'd need to wait to see the sands glow under the moon. 

She shifted, feeling the familiar discomfort of uncertainty ripple deep in her stomach, but she did not move from her spot among the shore.  She would see this through, one way or another. 




Dawn
and anyone else welcome.