The dapple queen has found herself bound to Sylva once again. This time though it was not to protect the young growing in her stomach, this time it was because she had no idea who the father of her child was. She allowed two stags to swoon her this fall and now her belly grows with the child of one of them. Thankfully only one stuck around, but with there distinct coloring she can only hope it is Velk's and not Raul's.
The dapple mare travels through the heart of Sylva, the trees were now bare aside from the dusting of snow that drags the branches down. It was bad enough to be heavily pregnant, but she also had to deal with the cold winter brought to them.
She had not seen Sinner since there meeting with Loess and she can only imagine he was busy giving Sabrina a sibling with Valdis. The thought brings a disgruntled look on her face, but it quickly fades when she thinks about the reaction Sinner will have when he sees her pregnant, and not with his child. It was clear they did not have feelings between them, but would he be upset that she carries a child other than his? 
She pushes the thought from her mind, surely he wouldn't, they were great rulers together...but that is all that tied them together, well the crown and Sabrina. None the less she seeks him out today, a moment to catch eachother up on there lives, and most importantly to make sure he had no plans to bump Sabrina from the throne.
Sinnerrr
, she calls out his name, nearly singing it. She was heavily pregnant (unknowingly carrying twins) much larger than she ever was with Sabrina, as soon as he laid eyes on her he would know she was pregnant. She comes to a halt, she allows her ears to find the hound that is sure to be lurking.
Sinner
<3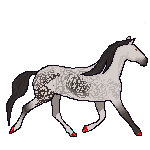 Currently Infected