05-17-2020, 09:55 PM (This post was last modified: 05-21-2020, 12:17 PM by Neverwhere.)
Hey all you cool cats and kittens

The winter passed quietly in the forest, protected from the worst of the wind and snow by the interlocking branches above them. The quiet and the slowness of the season made her anxious to leave, but it took longer than the span of one storm for her wounds to begin to heal, longer than a few days for the fever to fade and her sleep to grow restful again. Weeks had passed and her belly grew round with the child inside, but neither Pteron nor Aegean pried for details and Neverwhere found herself thankful for that - though surely Pteron had guessed enough to tell her what had happened. She, in return, did not voice her perplexity over the swelling of Aegean's sides, did not scowl or shy away from the magic that blended so seamlessly into their lives. If anything, she was jealous of Pteron's ability to heal, even if doing it left shining scars.

It has taken longer than she would prefer, but, at last, the days are growing longer, the sun shining more strongly, filtering through the still-bare branches of the trees, and the silver dapple takes her leave of the pair. Pteron will be moving his family elsewhere soon, and she does not ask where. Whether it is Wolfbane he is hiding from, the responsibilities he'd escaped, or some other thing entirely is none of her business, so she turns her feet to Nerine, catching the cold northern wind in her nose, and follows it home.

The going is not fast, she still limps slightly and the worst of her gashes are covered only in thin, crepey, pink, skin that tears if she moves too roughly, so she has not yet reached Nerine when a dull cramping pain ripples across her skin. The mare's ears pin and she bites irritably at her belly, then stretches, then kicks, as she might at a green horsefly. Her tail lashes against the whipping spring winds, snapping sharply against her haunches and flanks as she scowls and groans her displeasure at the Loessian landscape.

"Shit."

Her voice is a growl when she reaches the low, gnarled, scrub pines that create a windbreak near the border with Taiga, a little dry hollow where the wind howls like wolves around them but barely a draft within. For a short time, she paces, pausing periodically to bite or kick at her swollen belly again, but at last she drops to her knees with a grunt and a shudder and the child slips from her. It is not an endless labor, it is not noisy or dramatic, Neverwhere does this as she does all things, scowling, begrudging, and she is on her feet again in moments, muzzle pressed to the ribcage of an angular colt, his slick hide dark, wet, and the sparse curls of his mane stained red and pressed flat to his neck. Instinct sings in her ear, whining and insistent, but she pauses, frozen, with ears swiveling while the colt coughs himself to life. For a moment he lies still, only the thin curve of his neck upright and holding the heavy weight of his head, wagging, weaving, as the muscles waken and wage war weakly against gravity. Then, bleating, he pulls up into a sitting position, ribcage heaving and the featherless arms of his new wings flapping ineffectually, insistently.

Wings.

She's never seen wings like this, by the time Lilliana had brought her twins to Nerine Nashua was already growing his first feathers, the soft grey down hidden away. She grumbles softly to herself, unsure how to clean them, the delicate bones fragile under her lips. Why does he have to have wings? Of course, wings alone do not mark the child plainly as Wolfbane's son, but they do nothing to improve her mood. At last she settles in to clean him, mind spinning, decisions unmade.

The colt protests her rough methods. He gathers his strength and pulls his small frame up onto all four feet with bending, soft knees and looks up at the sky, at his mother's face, peering through the blur of sleep and afterbirth and the shining halos of light that he has never known. He has never seen before and the reality of it hurts his eyes. He has never hurt before, either, and the blue-green of his eyes blinks shut rapidly again with a shake of his head the nearly sends him tumbling into the rough rock and moss, but he quickly finds that blindness no longer suits him. The grey light of early spring filters through his thin eyelids so he opens them again to look with wonder at the hard grain of the red rock floor, the soft grey-green moss, earth-brown of his mother that nearly matches the rough bark of the twisted trees reaching their arms around Mother and Son in a protective ring. The solid, unforgiving ground is new and he flinches away from it, preferring that soft, fluid, dark place that he knew, but the sense of safety within the windbreak is familiar. He shuffles closer to Neverwhere and she does not move away, only frowns contemplatively - an expression he can barely see, let alone read - and he noses at her belly, her flank, her haunches, searching in ignorance.

He finds a teat and Neverwhere stamps a hind leg sharply against the rocky earth but protests no further than this, only curls her neck to look again and find the iridiscent gold dapples hidden away beneath chocolate counter-shading.

There'll be no hiding that, she thinks, ears flicking back and the pale tendrils of her tail swishing with a strange anxiety to settle across the colt's dark neck. But there was never any going back, anyway.


That bitch, Neverwhere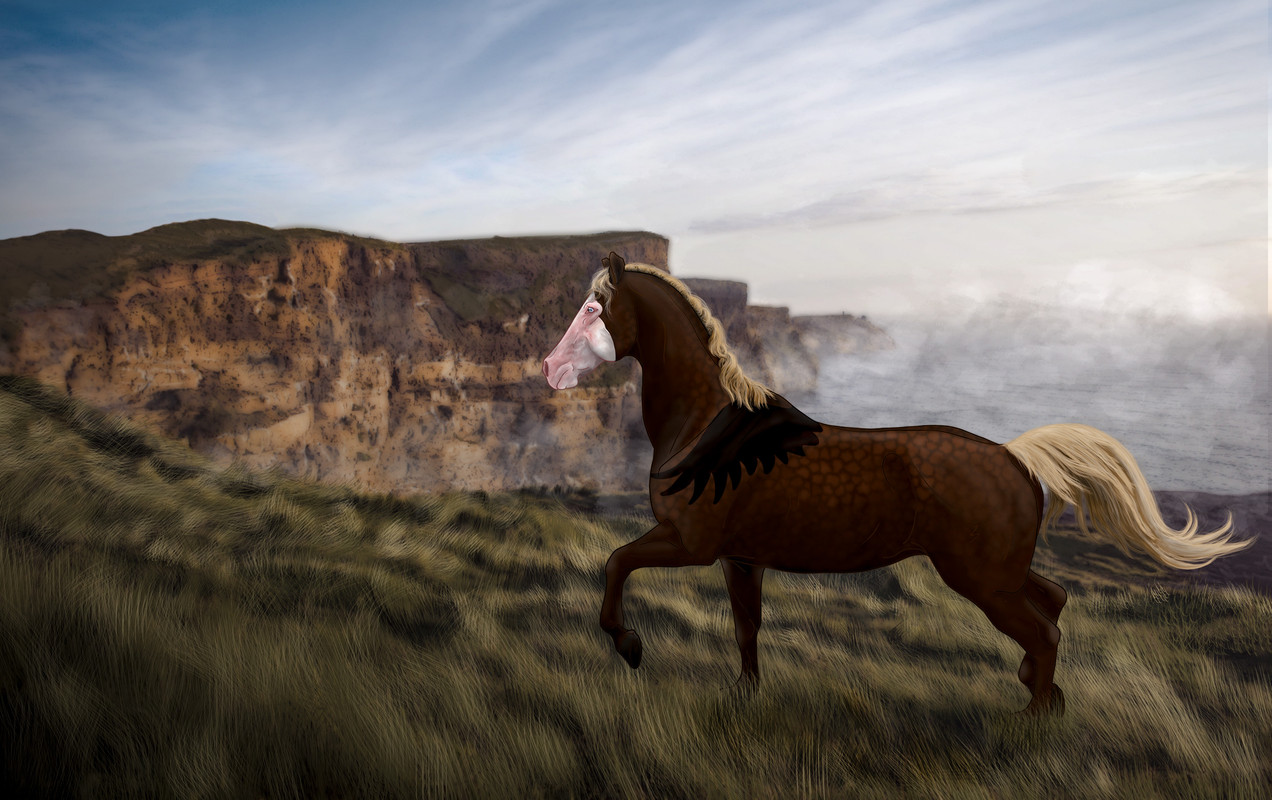 Image by Ratty