QOTY
"Because if she had not met him, she knew she would have been searching her whole life for the piece that he filled her heart with." -- Eva, written by Shelbi
Kellyn
girl who talks to ghosts and walks in time
Age: 57
Gender: Mare
Breed: Hybrid
Height: 14.1 hh
Player: Devin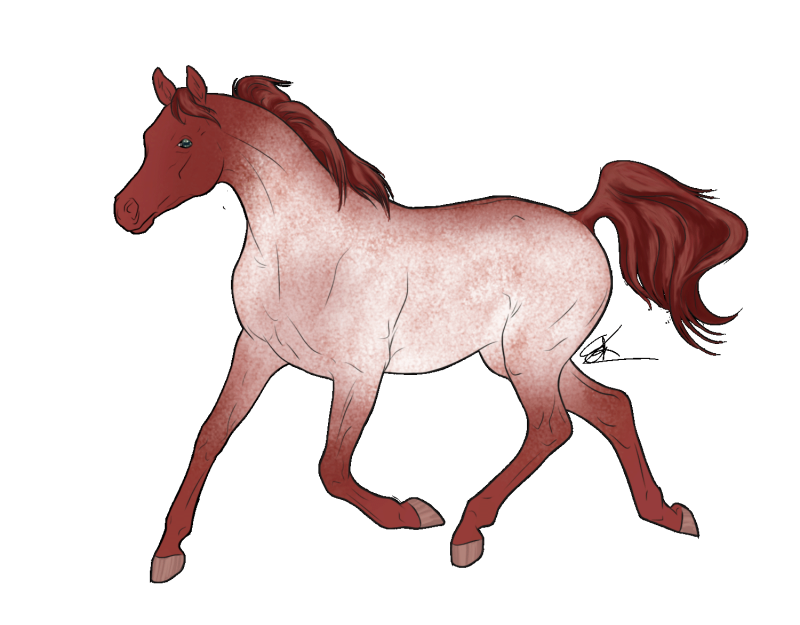 lineart by chronically here
Appearance
Color: Strawberry Roan (ee/aa/Rn)
Eyes: Green/Hazelish
Markings: None
Mane & Tail: Reddish Chestnut
Personality
Kellyn is a contradiction, and her personality depends on when you catch her. She is naturally curious and impetuous, and has always been protected by her abilities so she isn't afraid of much. She was raised to be friendly, outgoing, polite, and generally a good person but she has always been fascinated by her mother (Elite) and grandfather (Carnage) and so she is constantly toeing the line between mischievous and truly bad, wondering what it would be like to do whatever she wanted like Elite. She is mercurial and tries to act like she does care about anyone or anything except herself, though she sometimes weakens and proves to care about her family. The only reason she still has a conscious at all is because when she quested for Carnage to search for Gail, she met her aunt and uncle, who then followed her back into this life when she got mediumship and spend a lot of time trying to ensure she doesn't end up like Elite.
Lineage
Parents: Cagney x Elite

Children:

> Cassady (x Carnage) - f; ghost shifting, undead appearance

>> Puce (x Raelynx) - m; undead appearance

>> Cyrus (x Korr) - m; wolf shifting, ghost whispering

> Carwyn (x Sorenson) - f; wings, immortal, bone-bending

>> Aeghir (x Ivar) - m

>> Twyll (x Ivar) - m; wings, porpoise shifting

> Cleary (x Kirin) - f; wings, temporal manipulation

> Noah (x Rhonen) - f; wings, disease manipulation, flora revival*

> Casimir (x Ivar) - m; temporal manipulation, scales, kelpie mimicry*

> Cygnus (x Despair) - m; snake mimicry, water immunity, temporal rewind
Traits
Genetic Traits: Temporal Manipulation
Non-Genetic Traits: Mediumship (Quest, 5/15)
Trait Genetic Code: tegteg [TEMPORAL MANIPULATION][MEDIUMSHIP*][disintegration][wings]
Defects: None
History
Kellyn was conceived shortly before Elite created an epic war in the Valley. She would have died along with her mother, unborn, but Cagney saved Elite and sequestered her in a cave deep in the Tundra. Elite was unconscious, but nature took over, and the filly was born: healthy, if small. Cagney and her older brother Vader raised Kellyn, hidden away from the rest of the world in the caves.

Kellyn grew braver as she grew up and her territory expanded to the entire Tundra. She spent most of her time with her grandfather Brennen, her father, and her brother. She lived an uneventful life, with only a short excursion to meet Zilpah and Kreios in the Deserts, until she was summoned to go on a Quest for her maternal grandfather, Carnage, where she earned the ability to speak to the dead.

Kellyn had a difficult few years; first she discovered she was pregnant by Carnage from during the quest, and because of the space and time travel she had a complicated, multi-year pregnancy in which she lost all control of both of her traits. She made a brief attempt to be a mother but didn't do well, and dumped her first daughter mostly on Brennen in the Tundra. Then she got pregnant again while time-traveling in the past with her half-uncle Sorenson, because she didn't realize she could conceive in the past. She didn't make much of an attempt to raise the second daughter, leaving her with Brennen. She lived with them in the Tundra off and on until the Reckoning, when they got separated. Lost without her traits, she traded two years' loyalty to Pollock in Pangea for Harmonia to restore her powers.
Kellyn's Forum Info
Joined:
03-03-2015
Last Visit:
01-16-2020, 11:54 AM
Total Posts:
43 (0.02 posts per day | 0.06 percent of total posts)
(Find All Posts)
Total Threads:
13 (0.01 threads per day | 0.08 percent of total threads)
(Find All Threads)
Time Spent Online:
12 Hours, 4 Minutes, 35 Seconds
Kellyn's Threadlog · View Profile
Thread
Forum
Participants
Posts
Last Post
I wish I could feel it all for you;

on 08-14-2019

Beach
N/A
1
Last post by Kellyn

on 08-14-2019

[private]

I wish I could feel it all for you; Ivar

on 08-05-2019

Ischia
Ivar
2
Last post by Ivar

on 08-12-2019

I wish I could feel it all for you; Birthing (Carwyn/Ivar/Any)

on 01-27-2019

Ischia
N/A
1
Last post by Kellyn

on 01-27-2019

I wish I could feel it all for you; Ivar or Carwyn

on 12-22-2018

Ischia
Ivar, The Plague
5
Last post by Ivar

on 01-16-2019

give me something to believe in; any, wallace

on 04-09-2017

Pangea
Pollock, Wallace, Sabrael, Kerberos
5
Last post by Wallace

on 04-15-2017

I wish I could do it all for you; Ea/Wallace/Sabrael

on 04-08-2017

Ischia
N/A
1
Last post by Kellyn

on 04-08-2017

I wish I could feel it all for you; any

on 03-19-2017

Pangea
Alight
2
Last post by Alight

on 03-21-2017

Points/Rank Info

on 02-23-2017

Pangea
Shelbi, Harmonia, Pollock, sinew, Waylan, Aditi, Despayr
8
Last post by Aditi

on 05-07-2017

I wish I could feel it all for you; Pollock/Any

on 02-21-2017

Pangea
Pollock, Waylan
4
Last post by Kellyn

on 03-02-2017

We Had To Get Away (Any)

on 02-06-2017

Pangea
Siba
3
Last post by Siba

on 02-22-2017

please don't rhy [kellyn]

on 02-04-2017

Pangea
Rhyfelwr
2
Last post by Kellyn

on 02-05-2017

[kellyn/any] devil with a black dress on

on 01-31-2017

Pangea
Harmonia
3
Last post by Harmonia

on 02-25-2017

I wish I could do it all for you; Elle pony

on 01-11-2017

Meadow
Minerva
3
Last post by Kellyn

on 01-21-2017

i'm falling to pieces; any.

on 01-08-2017

Meadow
Thiago
6
Last post by Kellyn

on 02-24-2017

I wish I could do it all for you; Harmonia

on 12-30-2016

Meadow
Harmonia
10
Last post by Harmonia

on 01-30-2017

wrynn, ramiel, kellyn, rhy.

on 08-21-2015

Meadow
Nihlus, Ramiel, Rhy
4
Last post by Rhy

on 09-14-2015

time to take time [Mythical Kingdoms/Amazons]

on 05-31-2015

Field
Malka, Zilpah
7
Last post by Kellyn

on 06-05-2015