QOTY
"He only knows home in his dreams and even those dreams do not mimic large, centuries-old redwoods. Lio doesn't remember the last time he laid his head down and truly felt comfortable." --Elio, written by Phaetra
Titanya
one with war
Age: Immortal
Gender: Mare
Breed: Hybrid
Height: 16h
Player: Mirage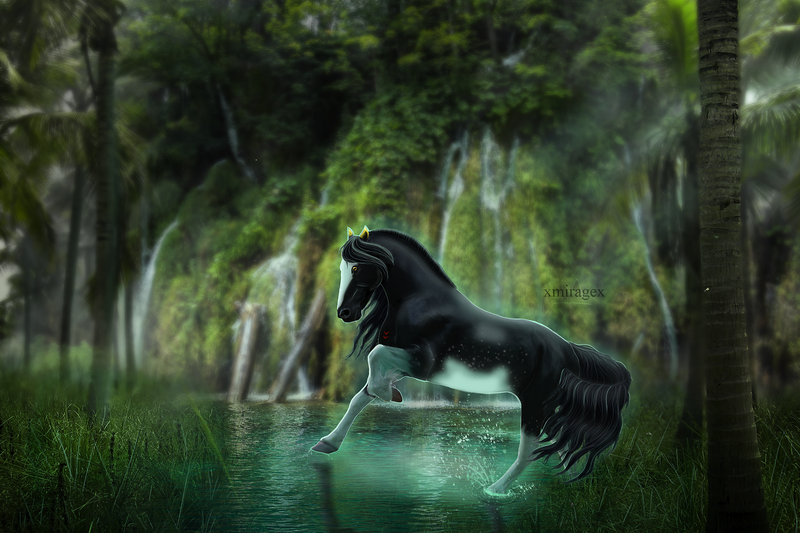 Appearance
Color: Black sabino (Ee/aa/nSb)
Eyes: Amber
Markings: Gold-tipped ears, four white stockings, wide blaze, 2 red Vs on the right side of her chest
Mane & Tail: Black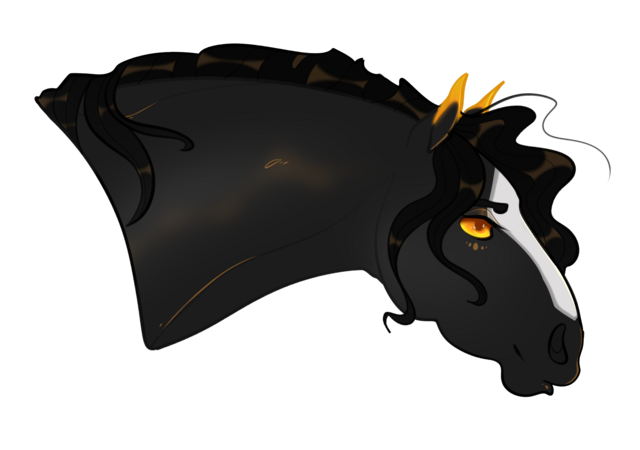 Personality
Fiesty - Tempermental - Loyal - Confident

Titanya is quick to anger, but is also quick to take up the causes she (or those she cares about) believes in. She has a great sense of survivor's guilt for the Bellringer quest she was a part of, and believes she is a danger to Beqanna as a whole because of War's seal that she has been charged with keeping safe.
Lineage
Parents: Tiberios x Talulah

Children:
Nekane (x Halcyon) f, twin to Volos
Volos (x Halcyon) m, twin to Nekane
Arrowe (x Mimicry) f, twin to Audric
Audric (x Mimicry) m, twin to Arrowe

Traits
Genetic Traits: Density manipulation, Tiger shifting, Phoenix-type immortality
Non-Genetic Traits:
Trait Genetic Code: tegteg [DENSITY MANIPULATION][TIGER SHIFTING][PHOENIX-TYPE IMMORTALITY][fire breathing][immortality][white fire manipulation]
Defects:
History
Birthed in the Dale alongside her twin brother Terran, both grew up thinking that Tiphon (rather than his son Tiberios) was their father. Titanya was always the more feisty twin, quick to anger and slow to recover. She loved Terran more than anyone and resented her parents for being emotionally and physically absent at times. When she was young, she heard the sound of bells ringing in her head and followed them only to get caught up in the Bellringer's quest. During the apocalyptic adventure, she faced the Four Horsemen and helped to reclaim and protect the seals that would banish them once again. At the end of the quest, Death struck her down with his hooves and "killed" her. When she awoke, however, she was charged with keeping the seal of War within her (as the other 3 protected Famine, Conquest, and Death's). She was also gifted with density manipulation.

Titanya abandoned Beqanna entirely after the quest, believing that she was protecting the realm by doing so. When she returned, she reunited with her twin Terran and his small clan of his mare Jinju and their son Ander. She lived with them in Taiga for a few years. She participated in the Alliance, earning tiger shifting. After Terran's death, she abandoned Beqanna again for several years, now as an old mare. She discovered her immortality was phoenix-based and was rebirthed as a young mare upon her return to Beqanna.

- Met Halcyon in the Meadow and taught him about hunting
- Traveled to Ischia and found Halcyon lived there alongside his mother, Aquaria. Decided to stay there for a time
- Competed in her second Alliance, facing Nashua in the first round and falling to Jamie in the second round. Earned her second red 'V' marking to go under the first one on the right side of her chest.
- Went back to Ischia after the Alliance and birthed her first children (despite not wanting children), twins, a female named Nekane and a male named Volos.
- Met Nashua, her Alliance competitor, one day as she was swimming in the River. On her way home after talking with him, she met a stranger named Mimicry who shifted into a tiger and spent the night with her.

Titanya's Forum Info
Joined:
11-03-2015
Last Visit:
01-05-2021, 10:03 PM
Total Posts:
56 (0.03 posts per day | 0.07 percent of total posts)
(Find All Posts)
Total Threads:
9 (0 threads per day | 0.05 percent of total threads)
(Find All Threads)
Time Spent Online:
13 Hours, 22 Minutes, 18 Seconds
Titanya's Threadlog · View Profile
Thread
Forum
Participants
Posts
Last Post
blood in the water; any

on 01-03-2021

Ischia
Aquaria
4
Last post by Aquaria

on 01-08-2021

[private]

give my all just to watch you fall; Nashua

on 12-05-2020

River
Nashua
6
Last post by Nashua

on 01-03-2021

give my all just to watch you fall; any

on 11-14-2020

Meadow
rapt
6
Last post by rapt

on 01-06-2021

[private]

a wildfire on the inside

on 11-08-2020

Ischia
Halcyon
6
Last post by Titanya

on 12-16-2020

ROUND TWO: Titanya v. Jamie [Update 10/22/2020]

on 10-20-2020

Plains
devin, Leah, Officials, jamie
8
Last post by Officials

on 11-25-2020

ROUND ONE: Nashua v. Titanya

on 10-02-2020

Plains
Leah, Officials, Star, Nashua
8
Last post by Officials

on 10-20-2020

LAST CHANCE! One open Alliance slot!

on 09-28-2020

Plains
kahzie, hanna, Leah, Kagerus, Starsin, litotes, Anomaly
8
Last post by Titanya

on 09-30-2020

[open]

i've never fallen from quite this high | anyone

on 09-27-2020

Ischia
Pteron
6
Last post by Titanya

on 11-06-2020

blood in the water; Aquaria

on 06-16-2020

Ischia
Aquaria
4
Last post by Aquaria

on 07-27-2020

[open]

blood in the water; halcyon/any

on 02-26-2020

Ischia
Halcyon
11
Last post by Titanya

on 06-10-2020

[open]

blood in the water; any

on 01-19-2020

Meadow
Halcyon
6
Last post by Halcyon

on 02-13-2020

O enemy, do I terrify? // any

on 06-05-2018

Meadow
vulgaris
3
Last post by vulgaris

on 06-06-2018

ROUND THREE: Kagerus v. Titanya

on 05-09-2018

Plains
Leah, Beqanna Fairy, Mirage, Kagerus, Officials
10
Last post by Beqanna Fairy

on 06-07-2018

ROUND ONE: Titanya v. Solace

on 03-05-2018

Plains
Leah, Beqanna Fairy, Lavender, Solace
8
Last post by Beqanna Fairy

on 04-05-2018

in the middle of the night; anyone

on 02-11-2018

Taiga
Amanita
4
Last post by Titanya

on 02-18-2018

somewhere between the sand and the stardust; any

on 02-09-2018

River
Levi, Rapture
6
Last post by Titanya

on 02-25-2018

THE ALLIANCE (sign ups)

on 02-01-2018

Plains
Krone, Leah, Rhonen, Warrick, Hestia, Oakheart, Carwyn, Officials, Faulkor, Solace, Ashhal, Sabra, Allegria, Jesper, Lepis
17
Last post by Leah

on 03-02-2018

I've got no roots; Terran/Any

on 12-17-2017

Taiga
Jinju, Terran, Ander
9
Last post by Titanya

on 01-30-2018

I've got no roots; Terran/Any

on 10-17-2017

Meadow
No Crosses Count, Terran, Ander
8
Last post by Ander

on 12-04-2017