QOTY
"(souls are not meant to live more than once — death was not meant to be temporary, and she is so sure that every time her heart starts to beat again that irreversible damage is further inflicted)" -- Anonya, written by Colby
Raelynx

Age: 15
Gender: Stallion
Breed: Friesian hybrid
Height: 16.3hh
Player: insane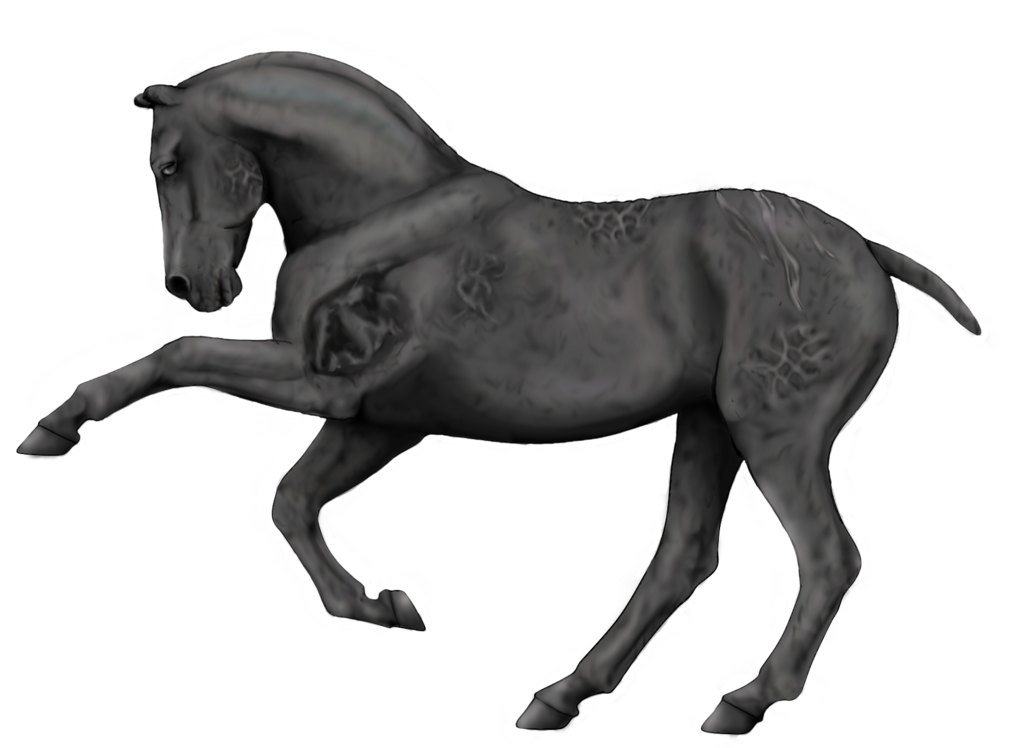 Appearance
Color: Black, will gray (EE/aa/Gg)
Eyes:
Markings:
Mane & Tail:
Personality
Raelynx is inclined towards both masochism and sadism. He is slightly deranged, believing that the cruelty and torture he often gives are gifts. He believes that it is his responsibility to teach others of pain and that death is a gift granted to those who cannot understand what he offers. He is constantly looking for new pupils, and while he does not see himself as being deliberately cruel to others, he often is quite unintentionally.
Lineage
| | |
| --- | --- |
| Parents: Khaos x Eyrie | Children: Nemisis (x Maladie) Blazed (x G'ren Fire) *Blazing Sunfall (x Carnage) Halchon (x Galilee) Anyx (x Maladie) *Arx (x Michaelis) *Pal (x Kirin) Phlexus (x Wishing Glass) Real Fire (x G'ren Fire) |
Traits
Genetic Traits: Fire Exoskeleton
Non-Genetic Traits:
Trait Genetic Code: tegteg [FIRE EXOSKELETON][equus ferrum]
Defects: Hairless, Mutilated (heavy scarring, no ears, missing a portion of his muscle on left front shoulder)
History
Raelynx was born in the meadow. One of his very first experiences shortly after birth was a painful one, leading him to believe that life equates pain. He was discovered by his siblings in the Playground, where he learned that he carries the exalted blood of Khaos, whom his siblings believe to be a god. He was offered a place with them in Silver Cove, though he did not immediately accept. Instead he wandered for about a year and ended up meeting Cordis, a silver mare with magical powers she knew little about. Raelynx was entranced by her, and when Cordis struck him with her lightning repeatedly, he learned to true ecstasy of pain. Shortly thereafter, he was found by Carnage (who had only found him because of Cordis, though this was not known to him) and brought back to his lair to be tortured. There in the dark god's lair, he was subjected to inexplicable torments and learned that even his tolerance for pain has limits. Eventually he was released, but he was forever changed. He had been burned alive and as a result was left heavily scarred and completely hairless, with a brand in the center of his forehead. Additionally, Carnage gifted him with a fire exoskeleton so that he would forever be reminded of his time in his lair. Once released, Raelynx made his way to Silver Cove and took up residence there with his siblings. He and his siblings began leading, claiming, and kidnapping others so that they could bring them to the Cove in order to torture or breed with them (often both) so that they could continue Khaos' line.
Raelynx's Forum Info
Joined:
08-07-2015
Last Visit:
10-26-2018, 11:00 AM
Total Posts:
72 (0.04 posts per day | 0.1 percent of total posts)
(Find All Posts)
Total Threads:
6 (0 threads per day | 0.03 percent of total threads)
(Find All Threads)
Time Spent Online:
4 Hours, 59 Minutes, 10 Seconds
Raelynx's Threadlog · View Profile
Thread
Forum
Participants
Posts
Last Post
they all go into the dark; ALL

on 10-21-2018

Pangea
Tithe, auric, Sid, Rocinante, Nihlus, Cress, Ramiel, Kingslay, Zoryn, Carnage, chantale, Rhonen, Cassady, Raeg'n, Dovev, leliana, Kolera, Ryan, Nightlock, sochi, Zain, Raul, Rajanish, Warlight, Maleficar, Leokadia, Yidhra, Leander, shroud
31
Last post by Rhonen

on 10-29-2018

[mature]

it's something within me; raelynx

on 09-15-2018

River
Disastardly
15
Last post by Disastardly

on 10-08-2018

I love the way that your heart breaks; any

on 03-07-2017

Pangea
Pollock
5
Last post by Raelynx

on 03-30-2017

and lord, I fashion dark gods too; all

on 09-14-2016

Pangea
Harmonia, Carnage, Tioga, Pollock, Igni, Gunsynd
7
Last post by Gunsynd

on 09-19-2016

I will face god and walk backward into hell; team formation

on 09-08-2016

Meadow
Carnage, Harmonia, Tioga, Pollock, Igni, Gunsynd, Rodrik, violence, bruise, sinew, Belgarath
12
Last post by Belgarath

on 09-12-2016

[open]

Those I Don't Know.. {Family Meeting - DRAMA}

on 07-19-2016

Forest
SaphiraG1rl, G'ren, Real Fire, Rael Fire, Mandalocks
5
Last post by SaphiraG1rl

on 08-19-2016

i love the way that your heart breaks... {G'ren, any}

on 02-02-2016

Silver Cove
G'oreal, SaphiraG1rl, G'ren, Blazed
5
Last post by Blazed

on 03-11-2016

i love the way that your heart breaks... {Cordis}

on 12-28-2015

Meadow
Cordis
4
Last post by Cordis

on 02-10-2016

Chasing the Sun {Raelynx/ANY}

on 12-27-2015

Silver Cove
Anyx
2
Last post by Raelynx

on 01-03-2016

I'm looking for the sky to save me; birthing, any

on 12-03-2015

Silver Cove
Carys, Kirin, Kersey
10
Last post by Carys

on 01-07-2016

I came... And of Course, You were Here

on 11-26-2015

Silver Cove
insane, SaphiraG1rl, Blazed
10
Last post by SaphiraG1rl

on 02-03-2016

A new darkness

on 11-03-2015

Silver Cove
Kirin, Nicia, Kersey, Ethaethe
13
Last post by Kirin

on 11-14-2015

Blazed's Breath

on 11-03-2015

Meadow
SaphiraG1rl, G'ren Fire, Blazed
9
Last post by SaphiraG1rl

on 11-22-2015

Scream and Shout {Raellynx/Any}

on 11-02-2015

Meadow
G'ren Fire, Tiny
9
Last post by Raelynx

on 12-23-2015

i love the way that your heart breaks... (drow)

on 10-10-2015

Meadow
Drow
3
Last post by Raelynx

on 10-11-2015

Family Gathering

on 10-07-2015

Silver Cove
Kirin, Nicia, Calli, Kult, Kersey
11
Last post by Kirin

on 11-30-2015

i love the way that your heart breaks... (any)

on 09-24-2015

Silver Cove
Kult, Kersey
10
Last post by Raelynx

on 11-06-2015

Looking Lonely

on 09-24-2015

Meadow
SaphiraG1rl, G'ren Fire
22
Last post by G'ren Fire

on 10-28-2015

Is it sick of me to need control of you? (Khaos kids/any)

on 08-23-2015

Playground
Kirin, Kernick, Nicia
6
Last post by Kirin

on 08-30-2015

the cinders are falling like snow; raelynx

on 08-10-2015

Meadow
Cordis
12
Last post by Raelynx

on 09-06-2015

every scar will build my throne; T/w any

on 08-04-2015

Playground
Vercingetorix, Kult
10
Last post by Kult

on 08-25-2015