QOTY
"There is still something of himself - something of the Wolfbane who would always love her - that rallies against the slime. It says, 'lie in the bed you've made'. So he gathers the covers and tucks himself in." -- Wolfbane, written by Calcifer
Age: -
Gender: Mare
Breed: Arabian Hybrid
Height: 15.3 hh
Player: Kiara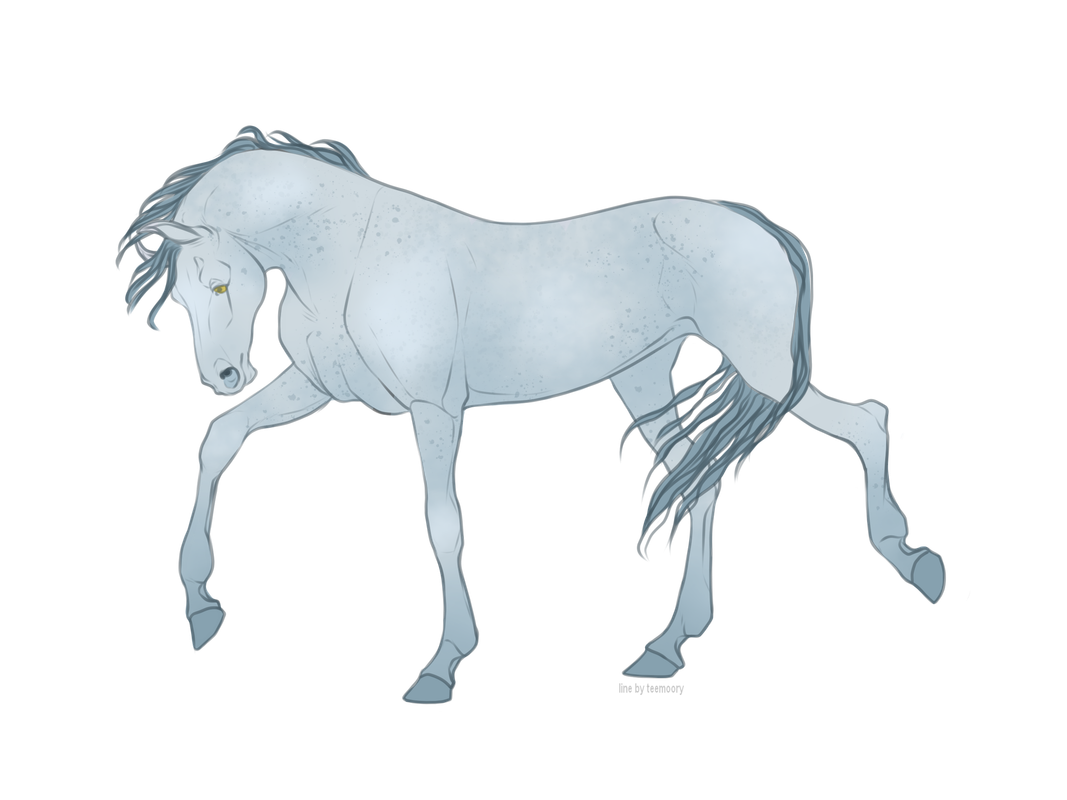 Appearance
Color: Blue tinted gray (Ee/aa/Gg/bluetint)
Eyes: Amber
Markings:
Mane & Tail:
Blue tinted gray with some dapples, darker blue points. Navy mane and tail beginning to lighten only at ends.
Personality
Nadya was the forgotten daughter of Trashlip and Anaxarete born long after her siblings and after her father had risen from the dead. Nadya has existed between realities, which has twisted her mind and caused her to be skittish and withdrawn following her experience. She is not afraid of others, but of herself and what she she has done - both in this world and the next.
Lineage
| | |
| --- | --- |
| Parents: Trashlip x Anaxarete | Children: None. |
Traits
Genetic Traits: Wound Transferal
Non-Genetic Traits: none
Trait Genetic Code: tegteg [WOUND TRANSFERAL][darkness manipulation][immortality][mind reading]
Defects: none
History
Final child of Trashlip and Anaxarete. Full Sibling to Cronus, Ossetia, Aurore, and Panzer.
Nadya's Forum Info
Joined:
07-26-2015
Last Visit:
01-04-2020, 11:33 PM
Total Posts:
8 (0 posts per day | 0.01 percent of total posts)
(Find All Posts)
Total Threads:
1 (0 threads per day | 0.01 percent of total threads)
(Find All Threads)
Time Spent Online:
16 Hours, 7 Minutes, 42 Seconds
Nadya's Threadlog · View Profile
Thread
Forum
Participants
Posts
Last Post

[open quest]

come along to the river; round 3

on 11-15-2019

Mountain
Lucrezia, Cress, October, Wishbone, Warlight, brigade, Vox, Nikkai, Larva, antidote, Frostreaver, Dillan, Satan, Whisteria, Ozzie, Red Mare
17
Last post by Whisteria

on 11-18-2019

[open quest]

come along to the river; round 2

on 11-09-2019

Mountain
Lucrezia, Cress, October, Faulkor, Wishbone, Warlight, brigade, Nikkai, Larva, antidote, Frostreaver, Dillan, Satan, Whisteria, Ozzie, Red Mare
17
Last post by Cress

on 11-12-2019

[open quest]

Come Along to the River; Round 1

on 11-06-2019

Mountain
Lucrezia, Cress, October, Faulkor, Wishbone, Warlight, brigade, Vox, Nikkai, Larva, antidote, Frostreaver, Dillan, Satan, Whisteria, Ozzie, Red Mare
18
Last post by Red Mare

on 11-09-2019

[open]

help, i'm alive - anyone

on 06-12-2019

Forest
Kha
2
Last post by Kha

on 06-12-2019

tracker take two.

on 02-25-2019

Trackers
Kiara, Anaxarete, Thia, Najya, Heloise, Reem, Sidhra, Fern, Beulah, Vela, Anomaly, Millicent, Ozark, Stalag, Livinia
17
Last post by Livinia

on 01-12-2020