QOTY
"He only knows home in his dreams and even those dreams do not mimic large, centuries-old redwoods. Lio doesn't remember the last time he laid his head down and truly felt comfortable." --Elio, written by Phaetra
Fenestra

Age: 4
Gender: Mare
Breed: Iberian Cross
Height: 16.0
Player: Pumpkinschmutz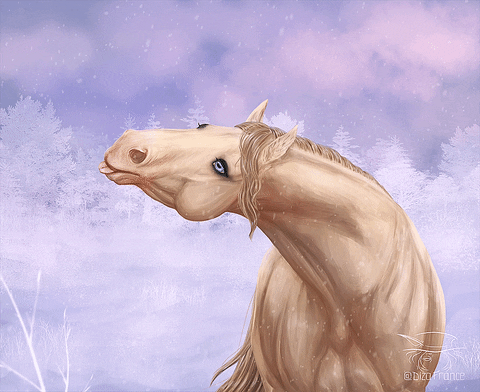 Appearance
Color: Palomino (nCr aa ee)
Eyes: Blue
Markings: Black Eyeliner
Mane & Tail: Shades of Gold
An eclectic heritage is evident in every muscle of her sleek, lissome body: Iberian Horse, Crabbet Arabian, Akhal-Teke, Marwari, Noriker, Spanish Mustang and Gypsy Cob. So far removed from the purebreds of her past, she might as well represent a new breed.
The mare is neither tall nor short, standing at a respectable 15.3 hands. Despite a baroque silhouette, she is not heavy or course like some drafts. She has a long, snaking neck with a high, arched crest. Her powerful, leanly muscled hindquarters convey youth and fertility. Strength is apparent in the width of her chest, depth of her heart girth, spring of her ribs and circumference of her cannon bones. She might pass for a full-blooded Iberian if not for her delicately chiseled features, inward-curving ear tips, exotic coat color and the silky feathering that runs down the backs of her cannons.
Her mane and tail are exceptionally long and lustrous, and her coat sparkles in the light with a healthful iridescence. Their metallic luster is reminiscent of the Akhal-Teke horses of the Turkoman desert. The sheen is so intense that her mane and tail might as well be liquid gold, the varying vibrant shades of highlights and lowlights giving her hair a streaked appearance.
Her eyes, like deep, clear pools littered with icy sapphires, glitter with an inner charisma. Those long-lashed, wintery eyes are framed by thick black eyeliner like some white-faced horses are blessed with, although she has no white markings herself.
She moves with an unrivaled grace and lightness that make her a pleasure to behold, exuding an aura of power, confidence and authority. She arches her neck grandly, tail flagging as it has a tendency to do, and comes to a halt before you. Seemingly endless locks cascade down the sides of her neck and the back of her muscled hindquarters like a frothing golden waterfall, so shiny they're nearly holographic. Her forelock hangs well beyond the end of flared nostrils.
The flick of her expressive ears betrays the subject of her attention: You.
Personality
Despite a gentle and soft-spoken nature, Fenestra has a leader's assertive aura, commanding respect without saying a word. This quality tends to draw others to her, but sometimes also inspires strong dislike from those who lust for a power they will never naturally possess.
Fenestra is somewhat of an enigma, a reluctant catalyst for change. She's eccentric rather than crazy. Generally kind hearted and fair, but not infallible. Slow to anger and even slower to let go of a grudge. Intelligent with a good sense of humor. On the surface she appears pure, innocent and feminine, but in actuality she is independent, intense, and resourceful. A fierce but hesitant lover.
Those who do not like her might describe her as indecisive, foolish or a risk taker.
Traits
Genetic Traits:
Non-Genetic Traits:
Trait Genetic Code:
Defects:
Fenestra's Forum Info
Joined:
01-10-2021
Last Visit:
01-24-2021, 08:30 PM
Total Posts:
2 (0.11 posts per day | 0 percent of total posts)
(Find All Posts)
Total Threads:
2 (0.11 threads per day | 0.01 percent of total threads)
(Find All Threads)
Time Spent Online:
6 Hours, 11 Minutes, 4 Seconds