Year:

219

Season:

Spring

SWP: Baltia
QOTY
"He watches her, noticing first the way she moves beneath moonlight, and he is reminded of a time before magic ran rampant as it does now. How back then there were some that simply seemed to be magic without actually having it, the kind that could capture your attention and keep it." --Eadoin, written by Colby
Reave
Age: 6
Gender: Stallion
Breed: Hybrid
Height: 16.1
Player: insane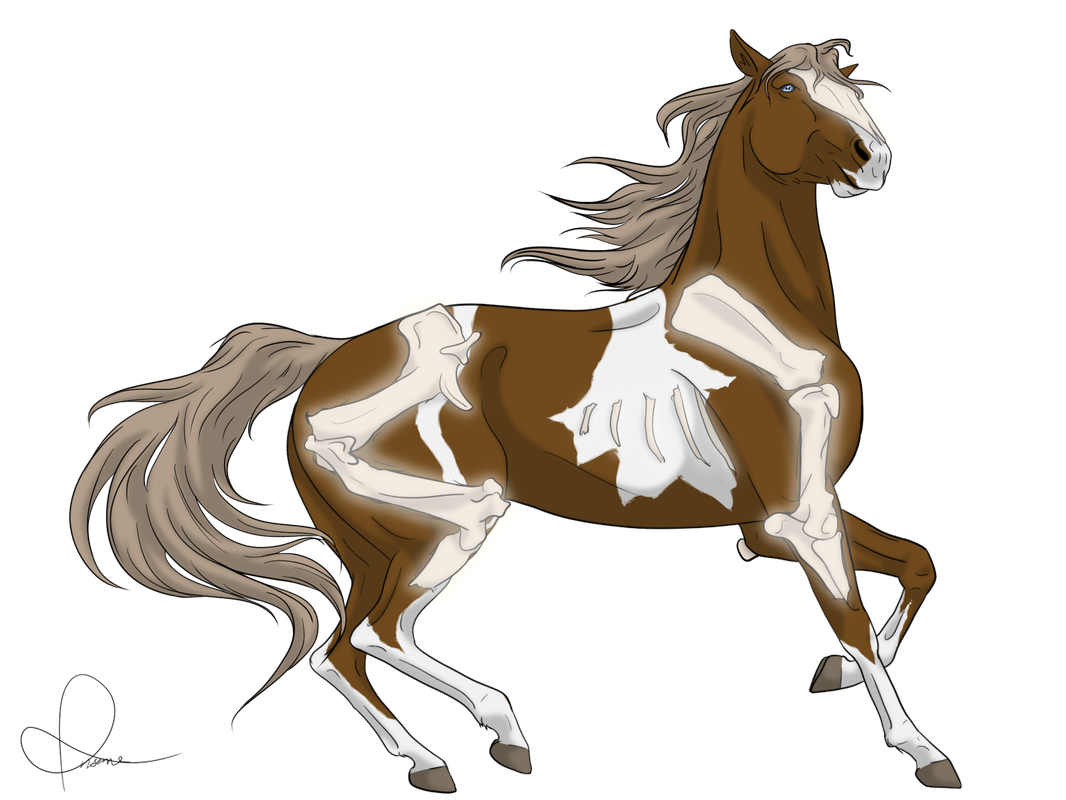 Appearance
Color: Chestnut tobiano (ee/Aa/nT)
Eyes: Blue
Markings:
Mane & Tail: Flaxen
Personality
Bold | Curious | Impulsive | Combative | Assertive | Persistant
Lineage
Parents:
Lilliana x Brazen

Children:
Traits
Companion: Harpy Eagle (Rune)
Genetic Traits: Vision Manipulation, Glowing Bone Armor, Immortality, Foresight
Non-Genetic Traits: Empathic Echoes
Trait Genetic Code: tegteg [GLOWING BONE ARMOR][VISION MANIPULATION][IMMORTALITY][FORESIGHT][EMPATHIC ECHOES*][glowing markings][immortality][starlight companion][stoneskin][telepathic bond][cape buffalo horns][phoenix-type immortality]
Defects:
History
Reave was born in Taiga. His birth mother Brazen died in childbirth, leading him to be raised by Lilliana. During this time, he met a fellow vision manipulator, Galadriel as well one of his many cousins, Cheri. Shortly after, Brazen's hollow stone 'statue' was stolen by Popinjay. Reave followed her to retrieve it, alerting his mother Lilli and confronting Poppy with her. The movement caused the statue to break down into ash, but fortunately this allowed Brazen to be reborn. The three returned to Taiga, whereupon the darkness fell and the monsters came.
Reave's Forum Info
Joined:
11-27-2020
Last Visit:
(Hidden)
Total Posts:
200 (0.48 posts per day | 0.23 percent of total posts)
(Find All Posts)
Total Threads:
22 (0.05 threads per day | 0.11 percent of total threads)
(Find All Threads)
Time Spent Online:
(Hidden)
Reave's Threadlog · View Profile
Thread
Forum
Participants
Posts
Last Post

[open]

a fish out of water

on 12-27-2021

River
Rezza
2
Last post by Reave

on 01-11-2022

[private]

I saw the end in the mist of the river

on 12-13-2021

Nerine
N/A
1
Last post by Reave

on 12-13-2021

[private]

I'm not a number, I can't be defined

on 12-13-2021

Forest
N/A
1
Last post by Reave

on 12-13-2021

[open]

i've no language left to say it, any

on 12-12-2021

Forest
glean
2
Last post by Reave

on 01-11-2022

[open quest]

will you fight? or will you perish like a dog?; round III

on 11-22-2021

Mountain
Carnage, Tiasa, thorax, Elliana, bible, Tumult, brunhilde, alleria, Wherewolf, bolder
11
Last post by bolder

on 11-30-2021

[open quest]

violence for violence is the rule of beasts; ROUND II

on 11-16-2021

Mountain
Carnage, brunhilde, Tiasa, bible, alleria, Wherewolf, Elliana, Tumult, bolder, thorax
11
Last post by brunhilde

on 11-20-2021

[open quest]

do you think god stays in heaven because he too lives in fear of what he's created?

on 11-07-2021

Mountain
Carnage, Tumult, Tiasa, bible, Elliana, thorax, Wherewolf, alleria, brunhilde, bolder
11
Last post by bolder

on 11-14-2021

[open]

I won't be a grain of sand slipping down the hour glass; any

on 10-26-2021

River
Ilma
3
Last post by Reave

on 12-13-2021

[private]

and he will smell like the sea

on 10-09-2021

Nerine
Elliana
6
Last post by Reave

on 12-13-2021

[challenge]

I love the trouble and the trouble loves me; Mazikeen

on 10-01-2021

Hyaline
insane, Kyra, Mazikeen
11
Last post by Kyra

on 10-28-2021

[private]

forever trusting who we are

on 09-28-2021

Taiga
galadriel
2
Last post by Reave

on 10-01-2021

[private]

tear down hollows, take back eternity; Nashua

on 08-31-2021

Icicle Isle
Nashua
15
Last post by Reave

on 10-05-2021

Ascending to the Stars as one | The Great Accord

on 08-30-2021

Loess
Leilan, Oceane, Nashua, Cheri, Obscene
14
Last post by Oceane

on 10-12-2021

[open]

i taste the bitterness [Reave; Any]

on 08-26-2021

Nerine
Cassiell
4
Last post by Reave

on 08-30-2021

[private]

rules were made for breaking so lets burn this machine; Crowns

on 08-24-2021

Nerine
N/A
1
Last post by Reave

on 08-24-2021

[private]

but damn you've got the sharpest teeth

on 08-21-2021

Nerine
galadriel
10
Last post by Reave

on 09-17-2021

[private]

the truth is in the gallows

on 08-17-2021

Nerine
Mazikeen
19
Last post by Mazikeen

on 09-22-2021

[private]

we blaze the trail and we'll never fail; Revelrie

on 08-09-2021

Brilliant Pampas
revelrie
11
Last post by Reave

on 10-12-2021

[private]

Pink Elephant in the room - Reave

on 08-03-2021

Nerine
Cheri
10
Last post by Reave

on 08-31-2021

[private]

Lately I've been so disconnected

on 07-29-2021

Nerine
crowns, Obscene
6
Last post by Reave

on 09-10-2021

[private]

I've pulled you in, nowhere to hide now; Elliana

on 06-30-2021

Nerine
Elliana
12
Last post by Elliana

on 10-03-2021

[private]

tell me they begin again

on 06-29-2021

Nerine
Israfel
24
Last post by Reave

on 10-26-2021

I am dark matter, your road to ruin; Djuna

on 06-25-2021

Meadow
Djuna
5
Last post by Reave

on 07-06-2021

you're a bolt of lightning in the sky now; Obscene

on 06-25-2021

Brilliant Pampas
Obscene
17
Last post by Reave

on 08-09-2021

[open]

heaven forbid you end up alone and don't know why

on 06-22-2021

Forest
Brinly
6
Last post by Reave

on 09-01-2021

[private]

She's A Mercenary With Perfume - Reave

on 06-11-2021

Nerine
Cheri
8
Last post by Reave

on 06-30-2021

Bittersweet and strange;

on 06-10-2021

Field
Nereza, Obscene
9
Last post by Obscene

on 09-10-2021

[private]

I watch them break, divide, the rich and deprived; Elliana

on 05-27-2021

River
Elliana
16
Last post by Elliana

on 06-28-2021

Sorry for an inconvenient end of your world; Wu

on 05-27-2021

Nerine
N/A
1
Last post by Reave

on 05-27-2021

[private]

keep thinking about those angel eyes

on 05-26-2021

Nerine
Aela
20
Last post by Reave

on 07-29-2021

You will hear thunder and remember me // Reave

on 05-24-2021

Nerine
Locheed
2
Last post by Reave

on 05-24-2021

Activity Check

on 05-20-2021

Nerine
Vanilla Custard
2
Last post by Vanilla Custard

on 05-20-2021

[open]

go ahead and say death is a thief.

on 05-20-2021

Field
hanna, Wu
9
Last post by hanna

on 05-26-2021

and I can still remember just the way you taste; reave/any

on 05-18-2021

Nerine
Lior
2
Last post by Reave

on 05-20-2021

[private]

my name is adrenaline; Galadriel

on 05-06-2021

Forest
galadriel
15
Last post by Reave

on 06-30-2021

[open]

you know i'm never alone

on 05-03-2021

Nerine
crowns
4
Last post by Reave

on 05-24-2021

[private]

I love the light I've found

on 04-29-2021

Meadow
Israfel
18
Last post by Reave

on 06-23-2021

[open]

If you don't believe, then let me show you; Leilan, any

on 04-29-2021

Nerine
Leilan
5
Last post by Reave

on 05-03-2021

[private]

I'll make my own future, won't leave it to fate

on 04-29-2021

River
camellia
9
Last post by Reave

on 07-01-2021

[open]

I am in every lane; any

on 04-20-2021

Meadow
Aela
19
Last post by Reave

on 05-20-2021

[private]

Soon you'll be reaping what you have sown; Aestas

on 03-01-2021

Tephra
aestas
3
Last post by Reave

on 03-30-2021

[private]

Don't come looking for salvation; Rare

on 02-18-2021

River
Random Event, Rare
7
Last post by Reave

on 03-24-2021

[open]

cuts you like an arrow

on 02-04-2021

Forest
Mazikeen
18
Last post by Reave

on 04-28-2021

Catch my heart on a string [Reave]

on 01-14-2021

Taiga
Memorie
12
Last post by Reave

on 03-30-2021

[private]

don't come looking for salvation; Reynard

on 01-13-2021

Taiga
Reynard
3
Last post by Reave

on 02-05-2021

[private]

Kids with guns - REAVE

on 12-09-2020

Taiga
Cheri
18
Last post by Reave

on 03-24-2021

I am the creator of chaos, the order of life; Poppy, Lilli

on 12-09-2020

Nerine
lilliana, Popinjay
5
Last post by lilliana

on 01-15-2021

[private]

they all know we don't aim to lose

on 11-27-2020

Meadow
galadriel
5
Last post by Reave

on 01-07-2021

[private]

I will be your sword and shield; Lilliana, birthing

on 11-14-2020

Taiga
Brazen, lilliana
6
Last post by lilliana

on 12-03-2020