Year:

219

Season:

Spring

SWP: Baltia
QOTY
"He watches her, noticing first the way she moves beneath moonlight, and he is reminded of a time before magic ran rampant as it does now. How back then there were some that simply seemed to be magic without actually having it, the kind that could capture your attention and keep it." --Eadoin, written by Colby
Age: Unknown
Gender: Mare
Breed: Welara
Height: 14.2
Player: Elle Belle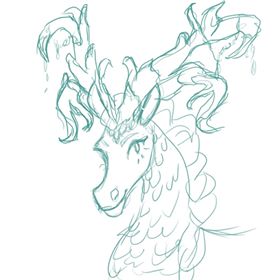 Appearance
Color: White ()
Eyes: Seaglass Green
Markings: None yet
Mane & Tail: White
Currently:
Plain white mare
Thick, seaglass green antlers
Personality
Quiet, a thinker, observer.

Merewen is a as most natural kirins are. She is a omen of peace, a diplomat between warring parties. She is a sound judge of other's natures and knows when those are of good or dark, as it resonates like an aura or mist from them.

But without her abilities, Merewen is a simple white mare who is frightened and nervous. She has never known a life like this.
Traits
Companion:
Genetic Traits:
Non-Genetic Traits:
Trait Genetic Code:
Defects:
History
Merewen is a equine from another land. Her usual form is that of a an all white Kirin mare. She typically wears heavy seaglass plating from her throat to her chest. The scales are upon her brow like a jeweled headpiece.

Upon her head is a heavy rack of seaglass antlers that are clean and eye catching.

In typical kirin fashion, Merewen's tail is long and full with thick, white hair. She has the ability to curl it and hold it at different potions. Also in kirin fashion, her hooves are made from the same thick green seaglass of her antlers.

-----

Merewen finds herself 'born' into Beqanna without her scales or heavy rack of antlers. She is feeling vulnerable and naked without her her natural attributes but the mare has chocked it up to her phoenix-like immortality that allows her to be reborn at her death...this time around has resulted her in losing her traits and she must earn them back.
Merewen's Forum Info
Joined:
11-03-2019
Last Visit:
11-04-2019, 08:07 PM
Total Posts:
2 (0 posts per day | 0 percent of total posts)
(Find All Posts)
Total Threads:
1 (0 threads per day | 0 percent of total threads)
(Find All Threads)
Time Spent Online:
2 Hours, 1 Minute, 15 Seconds