QOTY
"(souls are not meant to live more than once — death was not meant to be temporary, and she is so sure that every time her heart starts to beat again that irreversible damage is further inflicted)" -- Anonya, written by Colby
Rebelle
Age: 7
Gender: Mare
Breed: Abstang Hybrid
Height: Will mature to 14.6hh
Player: Bruja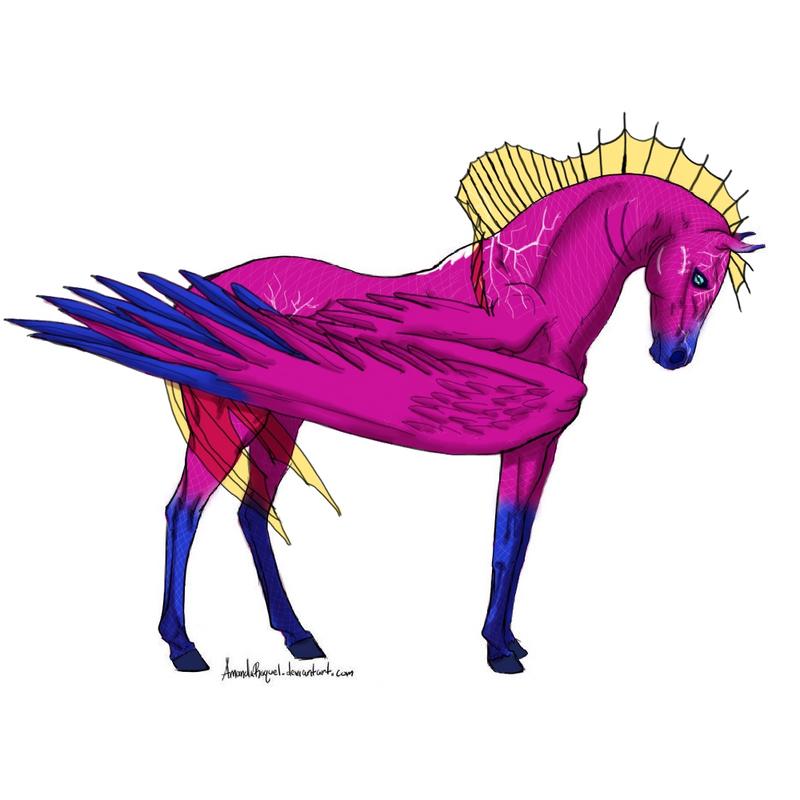 Appearance
Color: Magenta with Sapphire points, Opal sheen ()
Eyes: Sky Blue
Markings: Flickering lightning
Mane & Tail: Golden fins
Personality
Self-serving, Sarcastic, Curious, Vindictive, Petty, Aggressive.

At her best, Rebelle is strategic and cunning. Her rather terrible interpersonal skills mean that she has had to learn how to defend herself and to make quick adjustments to plans. She tends to gravitate towards others like herself, though this is often only to prove that she is tree cleverer or stronger of them.

At her worst, she is obsessive and spiteful, going to great lengths to gain the advantage in any perceived altercation. Her first and usually only concern is her own well being, which leads to some very selfish decisions often at the cost of those around her. If she is doing you a favor, it is because she believes she is getting the better end of the deal.
Lineage
| | |
| --- | --- |
| Parents: Sabra x Ivar | Children: Tarte (x Draco) |
Traits
Genetic Traits: Fish Mimicry (Finned mane/tail, gills, scales), Wings, Lightning Markings, Poisonous Bodily Fluids
Non-Genetic Traits:
Trait Genetic Code: tegteg [FISH MIMICRY][WINGS][LIGHTNING MARKINGS][POISONOUS BODILY FLUIDS][rage induction][immortality]
Defects:
Rebelle's Forum Info
Joined:
08-23-2019
Last Visit:
06-03-2020, 09:30 PM
Total Posts:
44 (0.14 posts per day | 0.06 percent of total posts)
(Find All Posts)
Total Threads:
12 (0.04 threads per day | 0.07 percent of total threads)
(Find All Threads)
Time Spent Online:
1 Day, 8 Hours, 4 Minutes
Rebelle's Threadlog · View Profile
Thread
Forum
Participants
Posts
Last Post
In Hell I'll be in good company // Leilan

on 05-20-2020

Icicle Isle
Leilan
6
Last post by Leilan

on 05-29-2020

[private]

In Hell I'll be in good company // Lilliana

on 04-30-2020

Pangea
lilliana
4
Last post by lilliana

on 05-09-2020

In Hell I'll be in good company // Draco, Any

on 04-06-2020

Pangea
draco
6
Last post by draco

on 05-06-2020

[private]

leader of the landslide, bru & aeris

on 01-15-2020

Forest
gospel, Reia
3
Last post by Rebelle

on 01-16-2020

In Hell I'll be in good company // Draco

on 12-19-2019

Forest
draco
9
Last post by Rebelle

on 01-16-2020

[private]

another twist of the knife; turn of the screw [brujo]

on 12-18-2019

Forest
Warbird
4
Last post by Rebelle

on 01-03-2020

In Hell I'll be in good company // Reia

on 12-14-2019

Taiga
Reia
9
Last post by Rebelle

on 02-10-2020

In Hell I'll be in good company // Any

on 11-09-2019

Loess
Oriash
6
Last post by Oriash

on 01-13-2020

[private]

call upon the wild

on 10-11-2019

River
saint
5
Last post by saint

on 10-17-2019

[PQ]

As within, so without

on 10-10-2019

Mountain
Ice Fairy
4
Last post by Ice Fairy

on 11-06-2019

[open quest]

Will you join us on our lonely peaks? ROUND III

on 09-26-2019

Mountain
Kha, Pteron, Aislyn, Velkan, lilian, larke, Popinjay, Beulah, Aedan, Voracious
11
Last post by Pteron

on 09-30-2019

[open quest]

Can you guess our secrets? ROUND II

on 09-24-2019

Mountain
Kha, Pteron, Aislyn, Velkan, lilian, larke, Popinjay, Beulah, Aedan, Demetyr, Voracious, flutter
13
Last post by Rebelle

on 09-25-2019

[open quest]

will you dance with us? ROUND I

on 09-20-2019

Mountain
Voracious, Velkan, Demetyr, lilian, Kha, Popinjay, Aedan, Beulah, Aislyn, larke, Pteron, flutter
13
Last post by flutter

on 09-23-2019

Just like you, only prettier // Reia

on 09-17-2019

Loess
Reia
3
Last post by Rebelle

on 10-11-2019

Thought I'd died and gone to Hell // Mary

on 08-29-2019

Loess
Mary
10
Last post by Mary

on 09-19-2019

[mature]

In Hell I'll be in good company // Any

on 08-23-2019

Brilliant Pampas
saint
5
Last post by Rebelle

on 09-03-2019