Year:

218

Season:

Summer

SWP: here
QOTY
"She approaches the cave and there is nothing but that anticipation and her ever-present fire inside her. No fear, no flickering echoes of love. It's all been consumed for now. She is a wildfire contained only by the thin layer of her flesh." --Mazikeen, written by Squirt
Tiercel

Age: 18
Gender: Stallion
Breed: Hybrid
Height: 15hh
Player: Kuna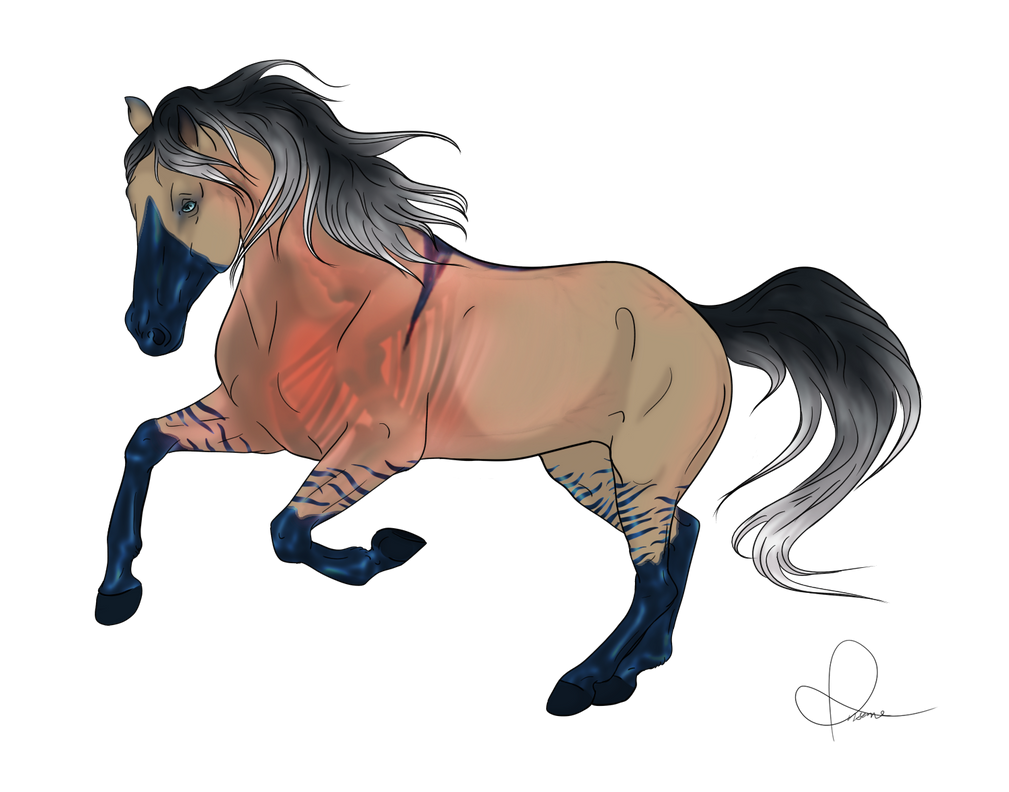 Appearance
Color: Dunskin (Ee/Aa/nCr/Dd)
Eyes: Cerulean blue
Markings: Iridescent navy leg stripes, stockings, and cross-shaped dorsal stripe
Mane & Tail: Black to white ombré
Tiercel is built like an Anglo-Arabian, with long legs and a compact body. He has a wide chest and prominent withers. The majority of his body is a dun color, with iridescent navy stockings and stripes on his legs. He has an iridescent navy cross-shaped dorsal stripe and navy bald-face marking that almost reaches his cerulean blue eyes. After returning to Beqanna from the Underworld, his heart and blood vessels began to glow with every heartbeat, illuminating his body in time with his pulse. Tiercel's mane and tail begin dark and then fade into white, with some strands highlighted in the navy of his markings.
Personality
ZODIAC: Capricorn. MYERS-BRIGGS: ISFJ. ENNEAGRAM: 8. TRAIT SPACES: Self-healing (2) + Invisible wings (1) + Empathic projection (2) + Glowing (0) = 5 trait spaces.
Lineage
| | |
| --- | --- |
| Parents: Wolfbane x Lepis | Children: Kamaria (x Islas, female) Isaure (x Islas, female, twin to Tiernan) Tiernan (x Islas, male, twin to Isaure) |
Traits
Companion:
Genetic Traits: Self-healing, Invisible wings, Empathic projection, Glowing heart/blood
Non-Genetic Traits: —
Trait Genetic Code: tegteg [INVISIBLE WINGS][GLOWING][EMPHATIC PROJECTION][SELF-HEALING][wings][carnivore][love illusionism][wings][immortality][spinal mane]
Defects: —
History
BQ YEAR 202 — MAR-APR 2019 Tiercel was born to Wolfbane and Lepis in Loess, alongside his siblings Gale and Eyas. While Wolfbane and Lepis had many children blossom from their romance, Tiercel was the only one to be born wingless. He spent much of his childhood tolerating his triplet counterparts and feeling like the black sheep of his family. With his parents as strong political influencers in Beqanna, it wasn't long before trouble arrived in Loess.

BQ YEAR 203 — MAY-JUN 2019 Just past his first birthday, a magician named Leliana created a magical maze of vines and thorns that ensnared Tiercel. As he was caught in the thorns and vines, Tiercel discovered both his self-healing and his empathetic projection. While Lepis and other various helpers attempted to rescue Tiercel, Wolfbane assisted in marching an army into Tephra. Little did anyone know, Gale had flown after his father and gotten caught up in the war at Tephra. Knocked off-balance by the fighting, Gale plummeted into the volcano's mouth and burned. Tiercel was able to break free from the maze with the help of Lepis and company, but he suffers from survivor's guilt after the presumed death of his triplet brother.

As his whole family dealt with the death of Gale, Tiercel began to distance himself, learning how to use his invisibility to hide from his family. He started wandering further from Loess and met a mare named Islas in the Meadow, where he practiced his empathetic projection. When Wolfbane and Lepis took their family to Taiga, Tiercel officially broke ties with his family and became a nomad. BQ YEAR 212 — NOV-DEC 2020 Tiercel spent several years alone in the forgotten corners of Beqanna. One day, he woke up to find himself in Tephra, a kingdom he had never visited before. He narrowly escaped a giant albino anaconda, which became a legendary animal in Tephra, and received a companion animal anaconda from the quest, which felt more like a dream than reality. Not long after this, Tiercel visited Loess for old time's sake. There, he met the leader named Oceane, and learned that Lepis and Wolfbane had died not long ago. Oceane offered Tiercel a home in Loess, and he began to stay in the land. While in Loess, Tiercel came across Islas, his old friend from the Meadow. Where Tiercel is full of emotion, Islas lacks them, and this quickly brought the pair closer together. That fall, Islas became pregnant with their child. While Oceane had suggested Tiercel visit Islandres, she had not told him why. He hadn't worked up the courage to visit the kingdom quite yet when he had been learning to swim in Tephra and a sudden thunderstorm came upon him. He was carried by the current to Islandres, where he hit his head and woke up the next day to reunite with his triplet siblings. Thinking Eyas was playing a trick on him when Gale showed up, Tiercel attacked his sister. Eyas defended herself by using her possession on Tiercel, then the siblings explained Gale's self-healing. Eyas left quickly after that, threatening Tiercel as she went, and the two brothers spent time getting to know each other again. BQ YEAR 213 — JAN-FEB 2021 While on a walk to think about Islas and his future child, the world became dark from the eclipse. Tiercel met a mare named Chasmata at the River, drawn by her soft glowing, and they discussed the darkness. A sudden wind blew across them and Tiercel gained invisible wings from the eclipse's monsters, though he didn't realize it at the time. With the darkness hiding the stars and the pregnancy, Islas became weary. They talked about how the stars have been gone since the eclipse, and Tiercel vowed to find the stars for Islas. While on a walk, Tiercel swam out to Ischia to explore. Once he reached the beach, Tiercel met the Dame of Ischia, Aquaria. The pair met and discussed the darkness, where Tiercel told her about the monsters on the mainland. Throughout the year, Tiercel explored various places in Beqanna to search for the stars. He went to the top of the volcano, explored Hyaline's mountain range, and went to Nerine's cliffs. When he couldn't find the stars from high up, he began searching lower. Tiercel started by exploring Loess's lakes. During all of these trips, Islas came with him. While on their way out of the ravine where the lake was found, a collection of rocks formed into a mountain lion monster, which attacked the pair. Tiercel defended Islas, but the monster pushed him off the side of the cliff and into the lake. As he fell, the lake transformed into a portal that sent him to the Underworld. BQ YEAR 214 — MAR-APR 2021 Tiercel spent the rest of the eclipse in the Underworld. It appeared like a thick forest with trails illuminated by harsh, bright light. While wandering, Tiercel stumbled upon a winged mare being tortured by a strange creature. It had countless eyes and shifted its form at will, and the mare's heart was placed on a pedestal made out of the black clay of the ground. While in the Underworld, Tiercel was tortured along with the mare by their guardian, who often slowly killed them and then brought them back to life. When the eclipse ended, Tiercel returned to Beqanna much in the same way he left — he swam out from the depths of the lake and stumbled across a gray stallion named Tarian. He looked for Islas from the beginning, but it wasn't until he was walking toward the caves that he found her again. Shortly after, Islas became pregnant with twins. Tiercel attended Icicle Isle's Midsummer festival, where he officially met Mazikeen (his triplet brother's lover) and Nashua (his younger half-brother). He was also reunited with Aquaria at the festival, where the pair were able to catch up since meeting each other during the eclipse.
Tiercel's Forum Info
Joined:
05-01-2019
Last Visit:
07-01-2021, 02:31 PM
Total Posts:
67 (0.07 posts per day | 0.08 percent of total posts)
(Find All Posts)
Total Threads:
11 (0.01 threads per day | 0.05 percent of total threads)
(Find All Threads)
Time Spent Online:
1 Day, 3 Hours, 3 Minutes
Tiercel's Threadlog · View Profile
Thread
Forum
Participants
Posts
Last Post

[private]

wherever you stray I follow, tiercel

on 05-10-2021

Loess
Islas
5
Last post by Islas

on 06-16-2021

A color I couldn't see // Tiercel, Any

on 04-20-2021

Icicle Isle
Aquaria
6
Last post by Tiercel

on 07-01-2021

[private]

let's go out in flames so everyone knows who we are, tiercel

on 04-19-2021

Loess
Islas
6
Last post by Tiercel

on 06-04-2021

[open]

we stand still to see where it comes down | mazikeen + anyone

on 04-18-2021

Icicle Isle
Gale, Mazikeen, Nashua
16
Last post by Mazikeen

on 05-19-2021

[open]

i will not speak of your sin; anyone

on 04-11-2021

Loess
Tarian
7
Last post by Tiercel

on 07-01-2021

[open]

consider how to find a place to stand

on 04-08-2021

Loess
Gale
7
Last post by Gale

on 06-02-2021

track-a-lack

on 02-01-2021

Trackers
Kuna, Wishbone, Nexu, Targaryen, Kamaria
6
Last post by Nexu

on 02-08-2021

[private]

i will not speak of your sin; islas

on 01-26-2021

Loess
Islas
8
Last post by Islas

on 02-18-2021

i will not speak of your sin; aquaria

on 01-04-2021

Ischia
Kuna, Aquaria
15
Last post by Tiercel

on 03-31-2021

[private]

and to a place I come where nothing shines, tiercel

on 01-02-2021

Loess
Islas
7
Last post by Islas

on 01-20-2021

[private]

tip of your tongue, top of my lungs, tiercel

on 01-02-2021

River
Random Event, chasmata
8
Last post by chasmata

on 02-15-2021

i will not speak of your sin; islas

on 12-08-2020

Loess
Islas
9
Last post by Tiercel

on 01-02-2021

i will not speak of your sin; eyas & gale

on 12-01-2020

Islandres
Eyas, Gale
14
Last post by Tiercel

on 02-16-2021

[open]

i will not speak of your sin

on 11-29-2020

Loess
Oceane
7
Last post by Tiercel

on 01-04-2021

i'll never be your chosen one: any

on 01-10-2020

Pangea
Anaxarete, Niklas
4
Last post by Tiercel

on 01-12-2020

[private]

just like the days we'd burn

on 12-12-2019

Taiga
Celina, elio
7
Last post by elio

on 01-15-2020

i'll never be your chosen one: lilliana

on 12-09-2019

River
lilliana
2
Last post by lilliana

on 01-14-2020

[open]

Half Way on a Slow Move [Any Recruiters]

on 07-04-2019

Field
Kensa
3
Last post by Tiercel

on 08-07-2019

tear me to pieces, skin to bone; cal pony

on 05-23-2019

Meadow
Islas
11
Last post by Islas

on 08-24-2019

now watch me burn it down; any / all

on 05-15-2019

Loess
Oxytocin, leliana, Lepis, Noah, Starsin, brunhilde, Oriash, Malone, Morgayne
10
Last post by Tiercel

on 05-17-2019