QOTY
"She presses into him greedily, hungrily, and demands more. She does not know how to be gentle when she is with him—does not know how to quell the aching in her belly, the neediness in her touch. She would devour him whole. She would sacrifice herself completely. She would give and give and give—" --Tabytha, written by Laura
Clayton

Age: 16
Gender: Stallion
Breed: Hybrid
Height: 16.1hh
Player: Nicole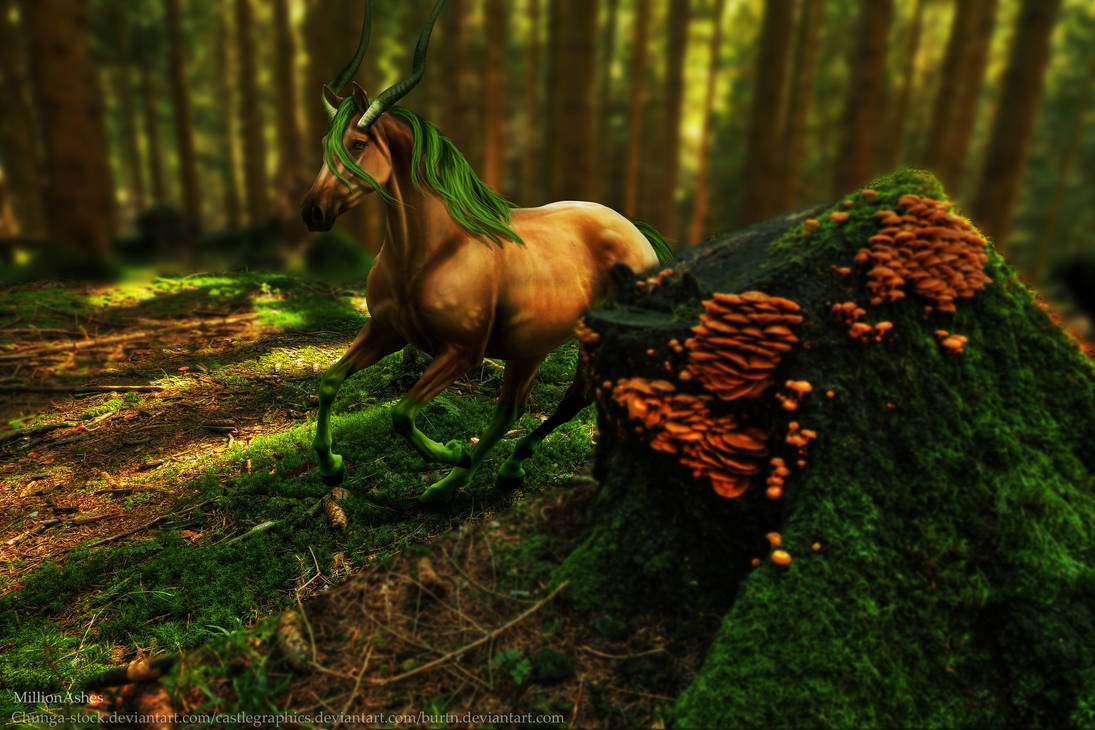 Appearance
Color: Bay with forest green points ()
Eyes: Hazel
Markings:
Mane & Tail: Forest Green
Lineage
Parents: Mandan x Zelena

Children: Nolin- Twin to Athena (xDawn)
Athena- Twin to Nolin (xDawn)

Traits
Genetic Traits: Addax Horns
Non-Genetic Traits:
Trait Genetic Code: tegteg [ADDAX HORNS][telekinesis]
Defects: Scar on right side of neck from bear attack
History
He was born to two nomad parents, though they had love for him they wanted more than a nomad life for Clayton. Mandan, his father, gave Clayton to his sister, Keeper, who brought him to Hyaline. Clayton quickly bonded to his sister who took on a mother role, and together they called Hyaline home. Once in Hyaline Clayton found another who was just like him! Warlight, she had two horns just like him! But hers resembled deer horns. The two were the same age and quickly became best friends, as they grew older Clayton had developed strong feelings for Warlight.....

The plague struck causing chaos in beqanna, Warlight had vanished for nearly half a year! Clayton was sick with worry, never resting until he found her, even catching the plague while doing so. He eventually finds Warlight, but she returned with another stallion, Raul. He admits his love for her, but she turns him down, leaving him heartbroken and angry.

Not only did Warlight reject him, she did so while dangling Raul in front of him. Still angry Clayton went to the forest to clear his head, while doing so he caught up with the familiar face, Kensa. The two shared a deep connection that night, but Kensa soon left to rule Hyaline with her lover.

Again alone, and still heartbroken, Clayton ran many diplomatic duties for the Cove. He unexpectedly ran into his little sister, discovering a family he didn't know was around. And eventually got over Warlight (or pushed his feelings DEEP down).

Litotes, Kensa's lover, was taken captive and it was the perfect time for Clayton to rekindle there flame. He returned to Hyaline to visit Kensa again, to see if the feelings between them were still alive

When he visited Kensa they had a night of passion and he promised to visit her in Hyaline often, which he did. Shortly after Solace and Kagerus announced they were stepping down as care takers and Clayton along with Dawn were announced heirs with guidance from Ilma. As he trained he met Adria and Caelestra whom he grew close too, all the while growing close to Dawn. He found himself in quite the love tangle, his heart tugged in multiple directions but he eventually had to choose one of them...


Clayton's Forum Info
Joined:
06-24-2018
Last Visit:
01-21-2020, 03:38 PM
Total Posts:
104 (0.13 posts per day | 0.13 percent of total posts)
(Find All Posts)
Total Threads:
19 (0.02 threads per day | 0.11 percent of total threads)
(Find All Threads)
Time Spent Online:
1 Day, 4 Hours, 17 Minutes
Clayton's Threadlog · View Profile
Thread
Forum
Participants
Posts
Last Post

[private]

tales of an endless heart; clayton

on 08-09-2019

Silver Cove
Kensa
6
Last post by Clayton

on 09-20-2019

[mature]

Wrapped in skin

on 08-07-2019

Pangea
City, Tähti, Tauti, Sota, Nalka
8
Last post by Nalka

on 09-15-2019

[open]

ALL KINGDOM

on 07-01-2019

Silver Cove
litotes, isilme
3
Last post by isilme

on 07-10-2019

My Heart Has Ached {Dawn}

on 06-12-2019

Silver Cove
Dawn
8
Last post by Dawn

on 08-09-2019

[open]

Take the long way back to me; Clayton, Any.

on 04-16-2019

Silver Cove
Adria, Caelestra
5
Last post by Adria

on 04-21-2019

The Life I Never Wanted {Jenger Pony}

on 04-16-2019

Brilliant Pampas
N/A
1
Last post by Clayton

on 04-16-2019

Two Sides To Every Story {Litotes}

on 04-16-2019

Pangea
litotes
4
Last post by litotes

on 04-22-2019

One For Old Times {Kensa}

on 04-16-2019

Hyaline
Kensa
3
Last post by Clayton

on 04-25-2019

Shine Bright Like A Diamond {Dawn}

on 04-04-2019

Silver Cove
Dawn
4
Last post by Dawn

on 05-03-2019

promise i'll be good if you stay with me, birthing/any

on 03-25-2019

Silver Cove
Ilma, Dawn, litotes, isilme
6
Last post by Dawn

on 04-02-2019

Noteworthy {Amet/Kensa/Dawn}

on 03-23-2019

Hyaline
Amet, Dawn, Kensa
6
Last post by Amet

on 03-30-2019

The Descension; All Kingdom

on 03-15-2019

Silver Cove
Kagerus, Amet, Solace, Ilma, Velk, Dawn
13
Last post by Velk

on 04-01-2019

Say Again {Adria}

on 03-11-2019

Hyaline
Adria
9
Last post by Clayton

on 04-13-2019

so the story goes; clayton

on 03-07-2019

Silver Cove
day, wander
5
Last post by day

on 04-25-2019

The Dark Light [Clayton]

on 02-25-2019

Silver Cove
Velk
2
Last post by Clayton

on 03-14-2019

There Are Two Side To Every Story -[Cael/Any]

on 02-18-2019

Silver Cove
Ilma, Caelestra
13
Last post by Caelestra

on 04-09-2019

[mature]

A Promise I'll Keep {Kensa}

on 02-09-2019

Hyaline
Kensa
13
Last post by Clayton

on 03-11-2019

{ C A E L E S T R A }

on 02-09-2019

Forest
Caelestra
8
Last post by Caelestra

on 02-16-2019

[private]

I Hate That I Love You |Warlight|

on 01-02-2019

Silver Cove
Warlight
9
Last post by Clayton

on 02-19-2019

The Family I Always Wanted [Wander]

on 12-30-2018

Forest
wander
7
Last post by Clayton

on 02-10-2019

I Hate That I Love You ||Any||

on 12-30-2018

Silver Cove
Adria
7
Last post by Clayton

on 01-04-2019

It Was About Time {Kensa, Ivar, Diplomats}

on 12-21-2018

Ischia
Ivar, Kensa
9
Last post by Ivar

on 01-08-2019

[open]

After Us Comes The Flood; Envoys from The East

on 12-15-2018

Taiga
Lilitha, Ruan, Raul, Warlight, The Plague
10
Last post by Lilitha

on 02-01-2019

[open]

wednesday my empty arms were open

on 12-04-2018

Forest
Kensa
10
Last post by Clayton

on 12-29-2018

I Hate That I Love You {Kag}

on 12-03-2018

Silver Cove
Kagerus
8
Last post by Kagerus

on 12-28-2018

Say You'll Never Let Me Go -[Warlight]

on 11-26-2018

Silver Cove
Raul, Warlight
11
Last post by Warlight

on 12-14-2018

Together United; Clayton, any

on 11-06-2018

Hyaline
Knaught
3
Last post by Knaught

on 11-06-2018

ALL HYALINE RESIDENTS.

on 10-31-2018

Silver Cove
Kagerus, kota, Briseis, Solace, Ilma, Tähti, Adria, Velk, Dawn, Kensa, Yidhra, litotes, Kiko, Knaught
19
Last post by Ilma

on 11-11-2018

summer beach party ♥ all young horses WITH PRIZES

on 10-16-2018

Hyaline
Achlyss, Tähti, Eifa, Sviko, Warlight, Rhaegor, Chryseis, Kreed, Kensa, phaetra, litotes, ivy, Knaught
29
Last post by Warlight

on 11-03-2018

Curiosity Killed the Cat -[Tahti, Warlight, Velk, ANY]

on 10-14-2018

Hyaline
Tähti, Velk, Warlight
5
Last post by Clayton

on 10-31-2018

we are one of a kind, irreplaceable; Clayton

on 10-13-2018

Hyaline
Kensa
3
Last post by Kensa

on 10-24-2018

Can you See the Truth Behind a Curtain of Lies? [Clayton, Solace & Family]

on 10-03-2018

Hyaline
Solace, Kreed
7
Last post by Kreed

on 10-24-2018

Cast Your Spell On Me -{ANY, Warlight}

on 09-18-2018

Hyaline
NPC, Tähti, Velk, Warlight
16
Last post by Warlight

on 10-16-2018

Starlight--Starbright -[Warlight]

on 08-07-2018

Hyaline
Warlight
11
Last post by Clayton

on 08-27-2018

mushrooms and moonlight; clayton - any

on 08-04-2018

Hyaline
keeper, Warlight
3
Last post by Clayton

on 08-04-2018

rhaegor, any

on 08-02-2018

Playground
Affirmative, Rhaegor, Dawn
6
Last post by Clayton

on 08-08-2018
Clayton's Signature