Year:

218

Season:

Summer

SWP: here
QOTY
"She approaches the cave and there is nothing but that anticipation and her ever-present fire inside her. No fear, no flickering echoes of love. It's all been consumed for now. She is a wildfire contained only by the thin layer of her flesh." --Mazikeen, written by Squirt
Shahrizai

Age: 30
Gender: Stallion
Breed: Hybrid
Height: 16.1hh
Player: insane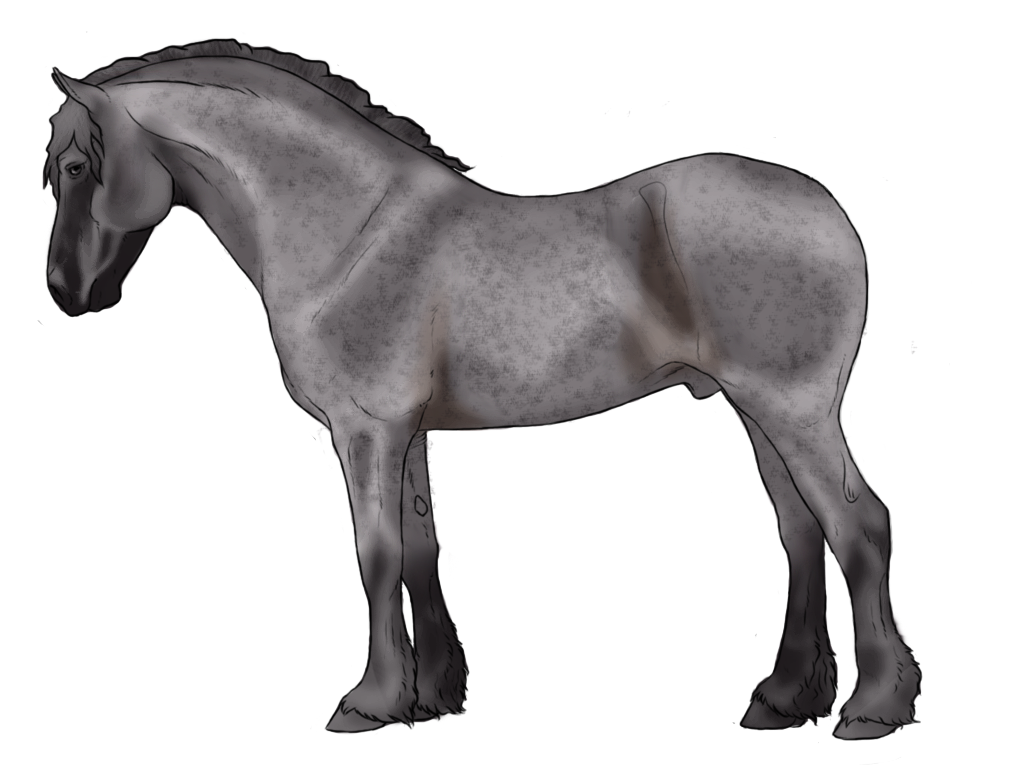 Appearance
Color: Blue Roan (Ee/aa/Rr)
Eyes:
Markings:
Mane & Tail:
Personality
Shahrizai is loyal almost to a fault, but he is terribly indecisive. However, once the decision is made is sticks to it through thick or thin. He has a great sense of humor, though it is often poorly timed. He is curious and will happily talk about anything. He unfortunately does have a tendency to dwell on things, which can cause him to get very depressed and angsty, but inevitably he will spring back. His natural exuberance cannot be repressed for long.
Lineage
| | |
| --- | --- |
| Parents: Hestoni x Scorch | Children: Illum (x Ilka) Heartfire (x Ilka) |
Traits
Companion:
Genetic Traits: Shadow Manipulation
Non-Genetic Traits:
Trait Genetic Code: tegteg [SHADOW MANIPULATION][dragon vision][twilight manipulation][wings]
Defects:
History
Shahrizai was born in the jungle to Scorch and Hestoni. He was well loved and a little bit spoiled as a youth. He was born into the unnatural winter that assailed to Jungle, but he not only survived, he thrived. When he was not quite a year old, he met Librette. She was the first horse he had met that were not his parents or sisters of the Jungle, and he was fascinated. They formed an unlikely friendship. Librette tried very hard to convince Shah to move to the Valley. He found himself torn between remaining in the Jungle or going to the Valley. During this time, he was strongly encouraged by his mother to participate in the Deserts competition for the crown. For this reasons, as well as others he couldn't quite yet name, he chose to compete. He lost in the first round, though the goddess was very kind to him, leaving him with a lasting, very warm impression of the Deserts. After several years, Librette gave birth to twin girls, whom Shah grew quickly attached to. Shortly after the girl's birth, Librette died unexpectedly, shocking Shah and the twins. Shortly thereafter, Val came to the Amazons, giving Shah to friendship and companionship he badly needed then. Shahrizai, though he had called Amazons home, had been drifting more and more. He realized that his home was not meant to be the Amazons, and after a time, came to understand that he had always been meant to go to the Deserts. He decided then that he would make his home in the Deserts. In the meantime, as Val grew into a woman, they slowly came to realize that they had feelings for each other. Unfortunately Val disappeared, leaving Shahrizai alone and very confused. It was then that Shahrizai's parents, Hestoni and Scorch, died within minutes of each other. Shahrizai was devastated. With no one else to turn to, he went to the meadow, where he met Ilka. They developed a strong connection, but before they had a chance to meet again, Shahrizai was pulled unexpectedly into another world where he became humane. The Mistress, the woman who had pulled him into this world, subjected him to several daunting challenges. In the first challenge, he watched a man who had become his friend die, and in the second challenge, he inexplicably changed into a monster and killed his remaining companion. This act horrified him, and in the final challenge, this came back to haunt him, along with all the ways in which he had failed his parents and Val. This broke him, leaving him unable to finish the quest. The Mistress saw something in him however, and decided to grant him the ability to manipulate shadows. Following his return to Beqanna, Shahrizai had to come to terms with his new ability as well as everything that had happened to him. He wallowed in self pity and misery until Ilka found him again. In her he found a kindred spirit and was able to pull himself back together. He returned to the Deserts with Ilka, ready to take his place there. Soon thereafter, he had twins with Ilka, a boy named Illum and a girl named Heartfire, just as war was breaking out across Beqanna.
Shahrizai's Forum Info
Joined:
03-03-2015
Last Visit:
04-02-2021, 10:47 AM
Total Posts:
113 (0.05 posts per day | 0.13 percent of total posts)
(Find All Posts)
Total Threads:
17 (0.01 threads per day | 0.08 percent of total threads)
(Find All Threads)
Time Spent Online:
14 Hours, 58 Minutes, 36 Seconds
Shahrizai's Threadlog · View Profile
Thread
Forum
Participants
Posts
Last Post

[private]

someone's marching through the fire to find you; ilka

on 01-08-2021

Taiga
Ilka
5
Last post by Shahrizai

on 04-02-2021

take me back to november; pangeans

on 09-08-2020

Taiga
Brennen, Maleficar, asphyxea
4
Last post by Shahrizai

on 09-12-2020

i'll learn to breathe deep and make peace with the stars; for shah

on 03-27-2020

Taiga
phosphor
4
Last post by Shahrizai

on 04-29-2020

[private]

thread by thread, i come apart; shahrizai

on 07-05-2019

Taiga
Ilka
2
Last post by Shahrizai

on 07-07-2019

Kingdom Meeting I :: MANDATORY for All who plan to stay/join pls

on 02-03-2019

Islandres
Reilly, woolf, Wallace, Roma, Kerberos, luster, Kali, abashed
9
Last post by Roma

on 02-18-2019

Desolation comes upon the sky // Birthing; Shah, Brennen, any.

on 01-28-2019

Forest
Brennen, Scorch, Arctyrus
5
Last post by Arctyrus

on 01-28-2019

[open]

ISLAND RESORT

on 01-23-2019

Islandres
Kyra, Beqanna Fairy, Affirmative, Reilly, Tiphon, Wallace, Roma, Lior, dark, Kerberos, luster, Zynistra, Castile, sochi, Gilt, abashed
19
Last post by Beqanna Fairy

on 02-02-2019

[open]

a new king will rise from the ashes; everyone

on 01-16-2019

Islandres
Cress, Reilly, Tiphon, Wallace, Roma, Lior, Kerberos, Kharon, luster, Kali, Castile, sochi, Ophanim, Gilt
25
Last post by Wallace

on 01-24-2019

all things are possible: Scorch

on 10-26-2018

Nerine
Scorch
5
Last post by Shahrizai

on 11-29-2018

all things are possible: Ilka

on 10-16-2018

Forest
N/A
1
Last post by Shahrizai

on 10-16-2018

[private]

All things are possible; Scorch

on 02-20-2018

River
Scorch
2
Last post by Scorch

on 02-28-2018

All things are possible; Ilka

on 07-05-2017

Sylva
N/A
1
Last post by Shahrizai

on 07-05-2017

this brilliant light is brighter than we've known; shahrizai

on 02-13-2017

Forest
luster
2
Last post by Shahrizai

on 03-03-2017

fault lines tremble underneath my glass house; shahrizai

on 01-15-2017

Forest
Ilka
4
Last post by Shahrizai

on 01-26-2017

[private]

All things are possible; Ilka

on 09-08-2016

Meadow
Ilka
3
Last post by Shahrizai

on 09-19-2016

[open]

Ack!

on 09-07-2016

Meadow
Reilly
3
Last post by Reilly

on 09-27-2016

Nymphetamine v. Shahrizai

on 07-09-2016

Plains
Leah, Beqanna Fairy, Pride88, Nymphetamine
7
Last post by Pride88

on 07-20-2016

fault lines tremble underneath my glass house; shah

on 12-29-2015

Forest
Ilka
8
Last post by Shahrizai

on 02-24-2016

All things are possible: Anastasia

on 11-12-2015

Meadow
anastasia
11
Last post by Shahrizai

on 12-28-2015

All things are possible: any

on 11-06-2015

Meadow
Sarkis
9
Last post by Shahrizai

on 12-28-2015

It Comes In Waves I Close My Eyes (Any)

on 09-27-2015

Field
MischeifManaged, Hoku
10
Last post by Shahrizai

on 10-08-2015

fault lines tremble underneath my glass house; shah

on 09-25-2015

Meadow
Ilka
12
Last post by Shahrizai

on 11-06-2015

And so the fire dies

on 09-21-2015

Beach
Kagerou, Brennen, Scorch, Rhy, Camrynn, Lagertha, Malka, Noori, Hestoni, Wrynn, Sarkis, Tantalize, Vi, brunhild
15
Last post by Brennen

on 12-22-2015

the wicked shall receive their reward; any

on 09-07-2015

Field
Lyric, Wichita, Anna, Kronk
8
Last post by Kronk

on 09-10-2015

we are just misguided ghosts; any

on 08-23-2015

Field
Lethea + Mnemosine
6
Last post by Shahrizai

on 08-28-2015

All things are possible: any

on 08-20-2015

Meadow
N/A
1
Last post by Shahrizai

on 08-20-2015

All things are possible: Jenger pony

on 06-22-2015

Meadow
N/A
1
Last post by Shahrizai

on 06-22-2015

Don't weep for me, because this will be the labor of my love.

on 06-17-2015

Beach
Covet, Librette, Camrynn, Nihlus, Valkerine
7
Last post by Nihlus

on 06-21-2015

Shah/Wrynn

on 05-26-2015

Meadow
Noori, Wrynn
8
Last post by Shahrizai

on 08-11-2015

what shall we do with a drunken sailor [any]

on 04-17-2015

Meadow
Alptraum, Reilly
11
Last post by Reilly

on 05-24-2015

walking in circles seems to have meaning somehow; shahrizai

on 04-07-2015

Meadow
Carinae
6
Last post by Shahrizai

on 04-23-2015