QOTY
"There is still something of himself - something of the Wolfbane who would always love her - that rallies against the slime. It says, 'lie in the bed you've made'. So he gathers the covers and tucks himself in." -- Wolfbane, written by Calcifer
Joscelin

Age: 17
Gender: Mare
Breed: Hybrid
Height: 15hh
Player: insane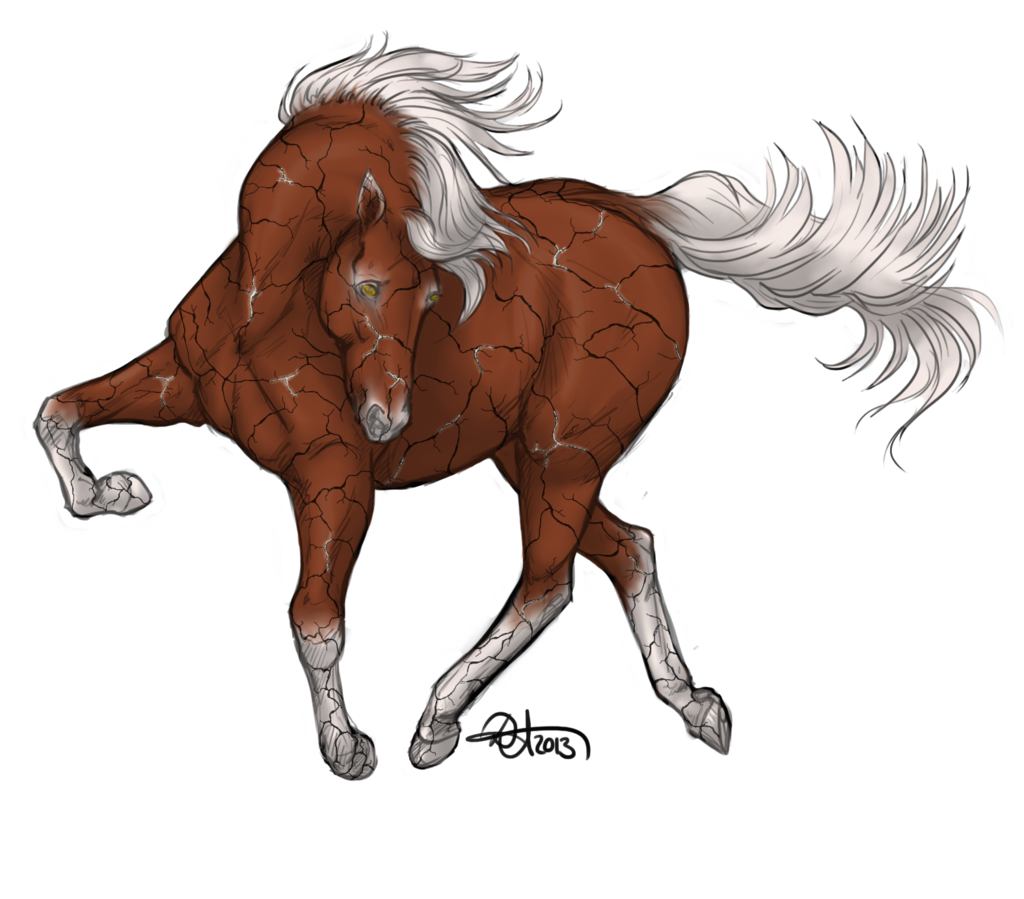 Appearance
Color: Bay with white points (Ee/Aa)
Eyes: Gold
Markings:
Mane & Tail:
Personality
Joscelin is a bold and spontaneous mare. She is typically more reserved and observant in her approach, but she still has her friendly, playful moments. She has a quick temper, which can flare quite dramatically at times. When she wants something, she can be quite calculating and ruthless, and she is not afraid of getting her hooves dirty, so to speak.
Lineage
| | |
| --- | --- |
| Parents: Tiphon x Elysteria | Children: None |
Traits
Genetic Traits: Flight without wings, Light beam emission
Non-Genetic Traits:
Trait Genetic Code: tegteg [WINGLESS FLIGHT][LIGHT BEAM EMISSION][angel][healing][immune to magic]
Defects: Cracked Appearance
History
Joscelin was born in the Dale and spent the first year of her life living quite comfortably. She was spontaneous and outgoing and made friends easily. She and her brother, Ramiel, were quite close growing up. During this time, her father, Tiphon, made a deal with the Amazons wherein they would trade princesses once they were old enough. Joscelin would go to the Amazons and Ea would come to the Dale. Joscelin readily agreed to this exchange. When she was a year old, she volunteered to attempt to retrieve a mare from the end of the universe for Carnage. She wound up getting caught in space, where she froze and shattered. Carnage was able to put her back together, though she was left with cracks covering her entire body. This ordeal changed her irrevocably. She spent a year trying to recover from this as she was prone to sudden outbursts of emotion which manifested itself in her trait, light beam emission, being emitted from all of the cracks in her body. It took her some time to learn to control this. However, due to this, her light can still sometimes be seen through the cracks. After she had recovered, Joscelin went to the Amazons as agreed upon in her youth. She fought and won a battle against Killdare of the Chamber, contributing to the already high tensions between the two kingdoms. In the meantime, Joscelin met a mare named Perse. Initially, they did not get along well as Perse worshipped Carnage and somehow recognized that he was the reason for Joscelin's appearance. Joscelin, still angry over the entire ordeal, took offense. Even so, she struggled with her attraction towards the mare. This is when Joscelin first realized she had a preference for women to men, and for the years afterwards, she would continue to harbor a secret attraction to Perse, one she did not realize was returned, despite seeing her again several times after that initial meeting. For a time, Joscelin lived well in the Jungle, doing her part and climbing the ranks of the kingdom. Not long thereafter, the Chamber rose and raided the Gates, sparking a war. Joscelin participated in this war against the Chamber, which turned into a terrible mess but taught Joscelin a great many things. Having become a quieter and less emotional mare, she continued her residence in the Jungle much more quietly. During this time, she adopted a young filly, Celeana, whose parents had been killed. She brought the girl back to the Jungle and raised her as her own, giving her a home and teaching her how to fight. She was present through the stripping of the magical entities and when Beqanna was destroyed and replaced with entirely new lands. She joined the small group of Amazons who had come through the Reckoning together in an effort to claim one of the new kingdoms for themselves. They were successful and Joscelin took up residence in the newly created Nerine. Shortly after, Carnage once again took notice of her, having become aware of her and Perse's interactions. For his own amusement, he stole her memories from her.
Joscelin's Forum Info
Joined:
03-27-2015
Last Visit:
12-29-2018, 11:26 PM
Total Posts:
106 (0.06 posts per day | 0.15 percent of total posts)
(Find All Posts)
Total Threads:
11 (0.01 threads per day | 0.07 percent of total threads)
(Find All Threads)
Time Spent Online:
9 Hours, 47 Minutes, 12 Seconds
Joscelin's Threadlog · View Profile
Thread
Forum
Participants
Posts
Last Post
I feel it running through my veins; Perse

on 11-16-2018

Meadow
perse
11
Last post by Joscelin

on 12-29-2018

I feel it running through my veins; Tiphon

on 11-10-2018

Forest
Tiphon
7
Last post by Joscelin

on 12-29-2018

[open]

there's a song in your lung and a dream in your eye; any

on 03-08-2017

Forest
Marlyn, Celeana
7
Last post by Celeana

on 03-09-2017

[complete]

panthers in the aisles...stalking

on 09-13-2016

Mountain
Naga, Beqanna Fairy, Nayl, Hestia
5
Last post by Beqanna Fairy

on 09-16-2016

There's a song in your lung and a dream in your eye. (Celeana)

on 09-12-2016

Meadow
Celeana
2
Last post by Celeana

on 09-18-2016

anyone;

on 09-09-2016

Meadow
Tiphon
4
Last post by Joscelin

on 09-16-2016

cat scratch fever (Ashara, Draconis, other Amazonians and any other mares)

on 09-06-2016

Forest
Naga, Lagertha, Nayl, Vakarian, Hestia, Celeana
13
Last post by Nayl

on 09-12-2016

The whispers, do you hear them? (Joscelin)

on 01-07-2016

Adoption Den
Celeana
5
Last post by Celeana

on 02-08-2016

this is the light that shines; Munroe, Joscelin

on 12-16-2015

Forest
Ramiel, munroe
4
Last post by Ramiel

on 01-24-2016

put out the stars - [joscelin]

on 11-07-2015

Meadow
Astri
7
Last post by Astri

on 12-13-2015

SUPER POWER FIGHT - any/all

on 09-21-2015

Meadow
Lokii, Calcifer, Tiberios, Belgarath
5
Last post by Belgarath

on 10-03-2015

burn everything you love then burn the ashes; anyone fun

on 09-04-2015

Meadow
Annihilate, Zeik
3
Last post by Zeik

on 09-14-2015

feral, though it's trivial

on 08-18-2015

Field
Roushe, demian
4
Last post by Joscelin

on 08-20-2015

There's a song in your lung and a dream in your eye. (Perse)

on 08-10-2015

Meadow
Cassi, perse
28
Last post by perse

on 02-10-2016

she's my cherry pie | any

on 07-29-2015

Meadow
e v e r d e e n
2
Last post by Joscelin

on 07-29-2015

you can't bargain with smoke - anyone

on 07-06-2015

Meadow
Anaxarete, Shaytan
3
Last post by Shaytan

on 07-06-2015

i am dust and shadow; any

on 05-24-2015

Meadow
Kingslay
8
Last post by Joscelin

on 07-13-2015

There's a song in your lung and a dream in your eye. (Any)

on 04-11-2015

Meadow
Ramiel, Girr, Ea
10
Last post by Girr

on 05-05-2015