07-02-2019, 01:10 PM (This post was last modified: 07-06-2019, 03:27 PM by neverwhere. Edit Reason: html )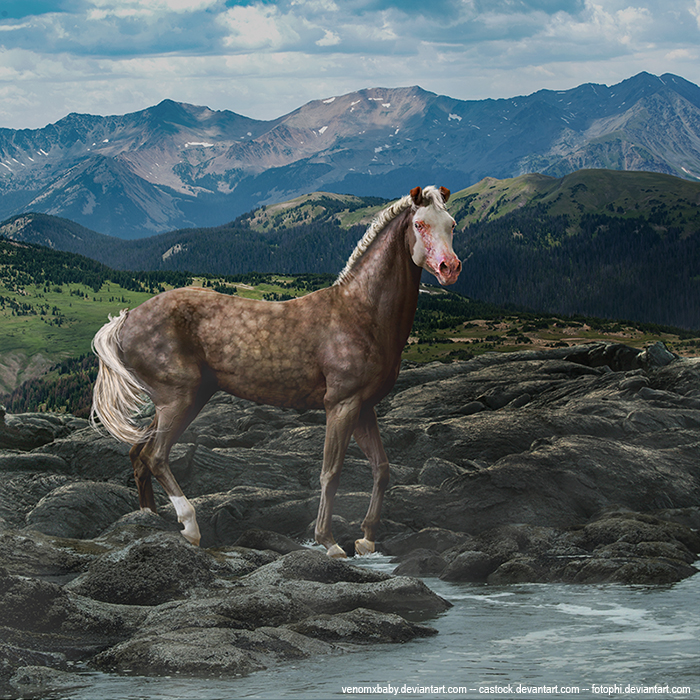 Her breath comes in brief clouds against the frosty air, like a dragon out of fire, insistent and interrupted. The air smells of ice, it freezes in her whiskers and gives few clues about her surroundings. The scents are anemic, familiar and alien at the same time. Horse. So many horses have crossed through here, but none known to her. The soil sleeps, the grass is drab, dry, dead, the water is too cold to taste, and it bites - at her lips, her tongue, her teeth and belly. The young mare lifts her head and crosses the small creek, heedless of the skim of ice that scrapes at her fetlocks. 
Even near midday, the winter sun is not bright, it is weak and spiteful, and yet…
And yet, it forces her to squint against it as it glints off snow and ice, and off some of the more fantastical horses littering the land. The bear cub stumps of her frostbitten ears flatten in feeble frustration at the sight as her eyes burn and freeze simultaneously. Her eyelids have gone bright pink with the cold and the light exposure. It was a previous year that took her ear tips, the first one, and now those that follow seem intent on taking what remains. 
No use, she peers through narrowed eyelids, pale blue eyes rimmed in angry red. It is a decidedly unfriendly expression, this glowering, as she strains through the haze of tears to see the horses before her. The usual and the unusual mingle, and if she is surprised or concerned by their appearances she gives no hint of it. The wind is kicking up now, surely storms are on their way. The branches of the trees pop and groan under the weight of the ice they carry, and in the distance, 
Some great forest king breaks beneath its load. An ear swivels forward at the sound, the other remaining back, a guarded look with pink-skinned nostrils chapped and flaring, warm breath rattling noisily out of them now like gambler's dice.
She has come. Why? It seemed like a good idea at the time... No, that isn't true. But it was an idea, and she was bored.