Diable Rouge
>
He is a big believer in time. 
Time, to him, was both good and bad. Time had helped him to heal, helped him to grow. Time ha helped him face Solace, time had helped him move forward from his mother's murder. And it was time that was also taking its toll on the old stallion. 
He was no longer the exuberant, young four year old he had been when he first traveled to Beqanna all those years ago. The deep russet of his coat was speckled with gray, his once capable blue eyes becoming dark with blindness. His muscles ached when he woke, his energy nearly nonexistent.
Time had taken those he loved and cared about. It took the Bewanna he once knew (and dare he say,
loved
). Ellyse had disappeared along with Dahmer, Offspring (who he had been loyal to for much of his adult life, was nothing but a distant memory. Fleeting people with fleeting hearts, he knew one day they would leave him (didn't he?). Phoebus had grown before his eyes, the boy of fire taking his leave from Tephra to find something new, to find himself (the boy was truly like the volcano Rou loved so much, he could not be tamed). 
AuroraElis was nowhere to be found...vanished. He had looked (oh
god
had he looked), trying desperately to find any trace of his one true love. But it seemed she had been completely erased. Perhaps, the fairies gave her wings the gift of flight, and she had taken off to find something better. Perhaps, she had just grown tired of him and snuck away under the blanket of night. Whatever the case, he knew she wasn't there with him. And god, did he miss her. 
It was in these moments (that despair of loneliness that clouded his thoughts), that his mind wandered to Kaiode.  
And it frustrated him, how much he still missed the little boy who was taken from the world (from him) too soon. He had talked to Solace, hadn't he? And AuroraElis had given him another child, right? So why was there that ever-present agony within him? 
He keeps to himself most nights, and tonight was no different. He had walked through the playground, galloped through the field, sneaked through the forest, and waded across the river back to Tephra. Back to the land that had raised him, back to the smell of salty sea brine and sulfur, and there he emerged, body soaked with warm summer water, onto the beach. 
 He finds himself wander along the shoreline, towards the great heap of rocks that lay on the beach's north-end. Here, he stumbles towards Kaiode's grave, the lump that had once been there now disintegrated. Dust and bones. Fragments of the beautiful child he once was. 
He once was.
Diable Rouge shakes his head at the thought...he could barely remember the child's face anymore. Time gives and it takes, and today it had taken away the memory of Kaiode's face. His eyes well with tears, and soon they are pouring; a steady stream down his face. 
"What would you give for one last chance to talk to him...?"
A slow, meaningful whisper into the stallion's ear causes him to lurch sideways, nearly falling. 
The goddess is tall, nearly his height, with a sturdy build. Her coat is a deep sorrel, her eyes a stunningly bright hue of blue. She smiles at him through crooked teeth, her fawn mane traveling in soft waves down her back. Two golden antlers stick out from the top of her head, they were glowing in the black of the night.
"Who are you?"
He questions curiously. 
"What would you give?"
She asks again, more sternly this time. 
He doesn't hesitate to answer the stranger.
"I'd give anything."
He tells her. The Erotes' grin stretches further across her lips, and she nods behind him. Diable Rouge furrows his brow, and looks over. 
And he is there. His bay coat glistening, every broken bone his body had endured, healed. His Kaiode, his love, his son.
"Kaiode..."
The child does not move.
"...Kaiode?"
"He can't move, Rou,"
The soothing voice comes from beside him.
"But he can hear you and feel you. Go on, talk to him while you can."
The large stallion steps towards his son, wrapping him in his tight embrace. For a brief moment, nothing is said, and he only weeps. 
"Oh...oh Kaiode,"
He steps away, sniffing.
"I loved you from the moment I saw you. You were my miracle. I've...never stopped thinking of you...or loving you. I hope you're proud of me, and I hope...I hope you're at peace. That's...all I ever wanted, my son."
 Diable Rouge wraps him in one last hug, and as quickly as he had appeared, the boy is gone. Rou looks to his side, but the goddess has already left, leaving him confused and broken.
But beneath the initial hurt, the stallion will wake up the next day feeling at ease. The words he never got to say to his son were finally told, not to Aurora, not to Warrick, but to
him
, in the flesh. 
That's all he ever needed. 
in the eye of a hurricane, there is quiet.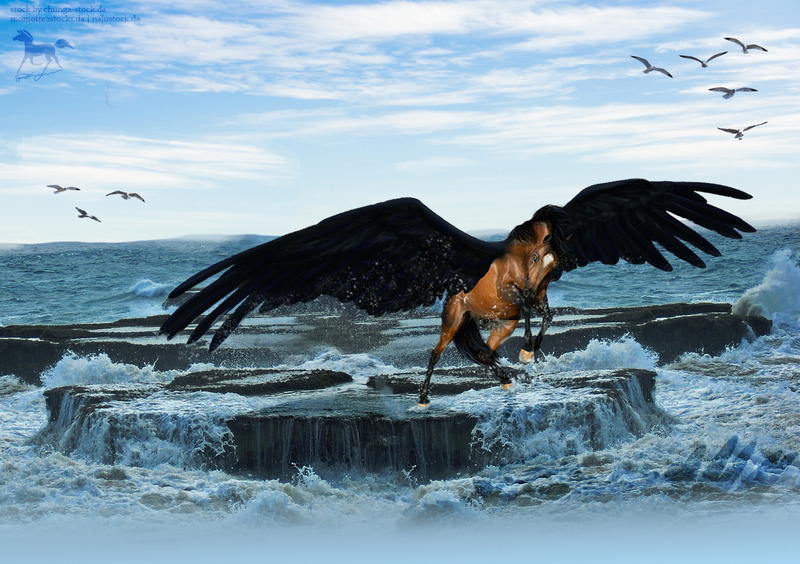 hold me in this wild, wild world
'cause in your warmth I forget how cold it can be
It is the last stretches of daylight; colors of the sunset have begun to paint the water and even reflect off of the pale sand, and the first hint of glow is apparent where the phosphorescent organisms have begun to wash onto the beach, where they will paint it with glowing patterns overnight. He stands in the sand, hooves sunk nearly to the coronary band, and the day's warmth mirrored from the sand onto his legs and belly. He is looking out to sea, but his eyes are not really seeing anything in the present. What he can see is them – all of them – wandering across his beach.
Brennen is already prone to fits of melancholy and even disengagement, disappearing to mourn those he has lost and lick his wounds in private; he does not see immortality as a gift anymore. It is not a curse, either, because who would have raised so many of his descendants if he had been dead? Who would have protected the Tundra for as long as he did? No, his long life is not a curse, but it is not a gift. Not when others do die. When they leave him. Today it is prompted by the appearance of a blue-eyed child; his grandson. Neraza's grandson. So today he is missing her, specifically.

"I can show her to you," the words are softly spoken but almost chirpy, and the stallion slowly turns his head to look where a large colored bird has landed on the sand. It looks, at first glance, like their loud parrots that live all over the island…if they were three times their usual size, and weirdly kind of faded. Not pastel, but not bright either. He blinks honey-gold eyes but does not otherwise visibly react, but he does reply in his typical lazy drawl. "She's dead." It would have been flat coming from anyone else, but his drawl changes the tone just slightly, makes it sound more polite. A tool he has used many times to disguise his feelings.

"She may have passed, but that isn't out of my reach," the parrot replies, with a sudden tilt of his blue-and-orange head. "She won't be able to talk to you. But you can see her, and feel her, and talk to her." Its beak clacks shut and it stares at Brennen out of big white eyes while he digests this information and then, very slowly, nods his head. The bird mimics the motion (faster, jerky) and then turns to look at the ocean and so the aging general turns to look as well, and this time he can't prevent the physical reaction. He flinches, because she is standing right in front of him, so solid the waves are washing across her hooves, painting them a glowing blue as the sun dips below the horizon and true night falls. "You have until sunrise," the parrot's voice is as gentle as a bird's can be, and he barely registers the words as the avian takes off and flies away.

He is too busy staring at her.

"Neraza," the bay stallion breathes her name, and then he smiles for the first time tonight, his entire body and face softening for her. "Ah, Neraza, I have missed you. I met our grandson today – Bethanie's little boy, somehow. I don't know how. It doesn't matter. But he has your eyes." And he stares into those eyes now; the bright blue eyes shining out of her white face. She never grayed, even though she was quite old when she died, and so she stands before him now in all of her bay-and-white glory, the same compact little body that had captivated him from the start. She stands even shorter than Brennen, and looks up at him silently. Her eyes are as gentle as ever.

He steps forward and wraps himself around her, inhaling the familiar scent (and isn't that bizarre? a little part of his brain is thinking; you can't touch and smell ghosts) and closing his eyes while history washes over him. Their history, but beyond that.

Brennen was young. Actually young – and he was in love (his first love) with the raven-black Lucitania. But the bay-and-white Falls diplomat had captivated him. She was beautiful and soft-spoken, almost delicate, and if he hadn't had Lucitania, he'd have been in love. So the bay general had courted her friendship, and when she asked him for a baby he'd been happy to oblige. They'd agreed that if it was a son she would bring him to Brennen in the Tundra; a daughter she could keep in the Falls but introduce to her father. Neraza had a daughter. Bethanie, chestnut with white and her mother's blue eyes. I twas good, and so the next season, there was another filly. Brennen met her, once, when she was very small in the Meadow – she was bay, darker even than Brennen, and lovely like her mother. Lucitania also bore him a child - a son, bay splashed with white. Brennen was naïve, and he never connected any of the dots.
Of course, it went terribly sideways when the babies were big enough to become independent. He'd discovered that the docile mare actually had a backbone of steel when she felt she was backed into a corner. While she was pregnant, she'd been made Queen of the Falls, and when she delivered a son (a son who looked just like her), she couldn't leave the Falls to raise him in the Tundra like she'd planned, because she was tied to the Falls. But a promise was a promise, and so she'd been on the way to deliver him to his father and come across Lucitania, passed out beside her newborn filly. She'd swapped them, and nobody had been the wiser until Alisdaire had dragged her father's name out of Neraza and wandered into the Tundra to meet him – and met her half-brother Sorenson, who looked just like her mother.

Or not her mother, as it turned out.

And yes – he'd been frustrated, even angry, at first. But unlike his lover and his King, Brennen understood Neraza. She was a desperate parent who couldn't bear to be left with nothing. And neither child had been deprived; both had grown up happy, with loving families. He had talked his King down from rash action against the Falls, but the whole thing had lost him Lucitania. She couldn't forgive Neraza, and she couldn't forgive Brennen for doing so.
But he did, and she had given him two beautiful children and despite youthful mistakes, she had one of the purest souls Brennen had ever met. Young friends became old friends, and she found the love of her life – and he knew enough to let her go. He never admitted that he had loved her beyond simply friendship, because she could grow old with Edmond. They ruled as a team and they grew old together and they died peacefully, from old age, side-by-side in their beloved Falls. And all Brennen could do was watch, because he didn't grow old with them.

And she had come to him and asked him to protect her children and her Kingdom, and Brennen had done so as faithfully as he could ever since. She had great-great-more greats than he could count-grandchildren now, and sometimes he lost track of branches of her family because they didn't know about him. "I tried," he whispers into the silence, stepping back from the mare so that he can look into her face, and as he opens his eyes the star-studded sky stretches out around them, the warm breeze a caress on his face. "But Beqanna took the Kingdoms – took the Falls – and it's so hard to herd your brood when they no longer have a home to flock back to." It called them, the waterfall kingdom. Her family had returned to it like migrating birds, and it had made it easy for him to track them. Until the Falls, like everything else he ever loved, was gone.

He realizes that he's been quiet, looking for her words. Her forgiveness, or her condemnation, but the parrot had said she would be unable to speak. This was a time for Brennen to clear his own mind, but she could not communicate back with him. It was his stage for the night. "I love you," the great warrior is soft tonight, his eyes soft and his voice gentle. "I know I am not Edmond. I'm not your great love, my darling, but I loved you too. For a long time. And I did my best for your brood because I love you, but also because they were worth protecting. You built a great thing, Neraza. You always did the good things." His touch is feather-soft as he runs his muzzle down his best friend's neck, tracing the places where white and brown meet. He's always wanted to do that, but his chances to do so had been so few when they were just friends. As he is pulling back, he uses his head to wipe away a tear that is sliding down her face, and rests his head there for a moment, memorizing the feel of it. The feel of her. When dawn comes, he won't be left with just his imagination anymore. He will have this memory of holding her.
When he draws back again, she has stopped crying. The gentle smile is back, and though there is sadness in her eyes there is love and joy as well. He can read this in her face because they were great friends – epic friends – and he knew her. He knew her. Turning his face to the sky, he judges they have hours left until dawn. She cannot speak to him, but he will not waste a moment of this stolen time. "Did I tell you I met our grandson? His name is Jesper. He's so handsome, and polite like you. Not a hooligan in the making like his mother. Yes, I know, that's because she took after me…"

And so it goes. He alternates telling her things about his life, about her descendants, with just looking at her and touching her. Thus passes the time, and the sound of wings heralds the return of the bird along with the very first lightening of the sky at the edge of the world. "It's time to say goodbye," the parrot says quietly, and Brennen presses a last kiss to the side of her neck and steps back, sighing and smiling slowly at her. "Bye," is all he says, in the teasing tone of their youth, because he has said everything else already. There is nothing left unsaid, not on his side.

Then sun pierces the sky in colorful rays (when had he ever thought it was gradual? No, there is a distinct moment between light and dark, he knows that now) and for a single moment she is illuminated like something out of a fairy tale – but then all that is left is dust. "She doesn't want you to be alone." it says, and Brennen turns to glance at it, eyes full of the wisdom of several lifetimes. "I'm not alone. She left me her children, and her children's children, so I would never be alone. Because she loved me, too." The bird hums some sad melody a moment and then he is gone too, flying away into the forest behind Brennen.

But as he watches the sun rise, he can't find it in himself to be sad – he finally was able to tell her that he loved her, and realized she loved him in her way too, that is only a joyful thing.

hold me in this wild, wild world
and in your heat I feel how cold it can get
BRENNEN